Strawberry Rhubarb Mint Simple Syrup for cocktails, for pancakes, for ice cream, for life.
You're looking at me like, "what. am I going to do with that syrup? Julia."
I've got two words for you: cock. tails.
Okay, I have another two: pan. cakes.
And two more: ice. cream.
Are you over me yet?
. . .
If you like dabbling in the kitchen, chances are you've tried your hand at making some sort of homemade syrup or compote to put in or on top of…everything. Hold the phone. What's the big diff between compote and syrup? Compote is stewed fruit with sweetener. Chunky syrup, if you will. If you've taken a looksy at my gluten-free pancake recipes, you are ever so familiar with both homemade compote and syrup.
Since you are (because everyone is) a child of the Aunt Jemima era, you are already familiar with syrup. When you make syrup at home using fruit, you take compote one step further by mashing the fruit into an oblivion and straining the pulp from the juices. Bamboozle: syrup.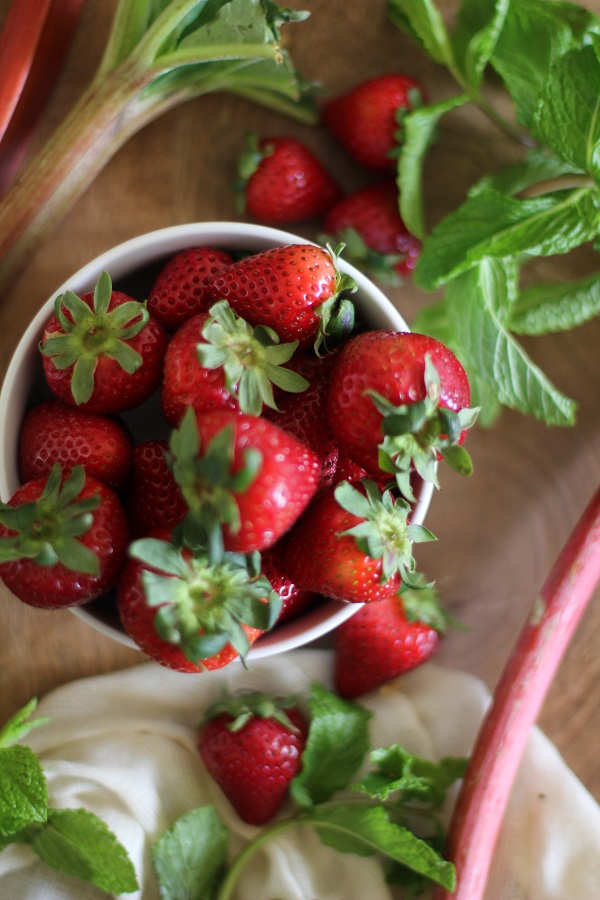 A couple of weeks ago, I got a wild hair and combined three of the things I had in abundance – strawberries, rhubarb, and fresh mint – in order to make syrup. Because I like to keep all my sweet stuff au natural, I used pure maple syrup instead of sugar to sweeten it. If your raging sweet tooth surpasses mine (doubtful), you can add more maple syrup than the recipe calls for.
Fancy a pictorial? Okay!

Boil, simmer, mash, strain. Delish.
Check back here tomorrow for a fancy recipe that puts your strawberry rhubarb mint simple syrup to use!
Strawberry Rhubarb Mint Simple Syrup
Strawberry Rhubarb Mint Simple Syrup is a fresh, flavorful addition to any homemade cocktail
Ingredients
2

cups

ripe strawberries

chopped

1

pieces

large stalk rhubarb

chopped into small (about 2/3 cup)

1/3

cup

mint leaves

chopped

1

cup

water

3

tablespoons

pure maple syrup

agave, or sweetener of choice
Instructions
Add all ingredients to a medium-sized pot and bring to a full boil.

Reduce the heat to a simmer, cover the pot and cook for 20 to 25 minutes.

Remove from heat, mash the fruit with a fork, and allow mixture to cool for 15 minutes.

Using a small fine strainer, strain the juices into a cup. Press down on the fruit using a spoon or fork in order to get all of the juices out.

Discard the fruit pulp or use it in your baking recipes.

Allow simple syrup to chill in the refrigerator before adding it to your cocktails, lemonade, or iced tea!
Nutrition