Spring Vegetable Stir Fry with Lemon-Ginger Sauce. It's a wok of freedom.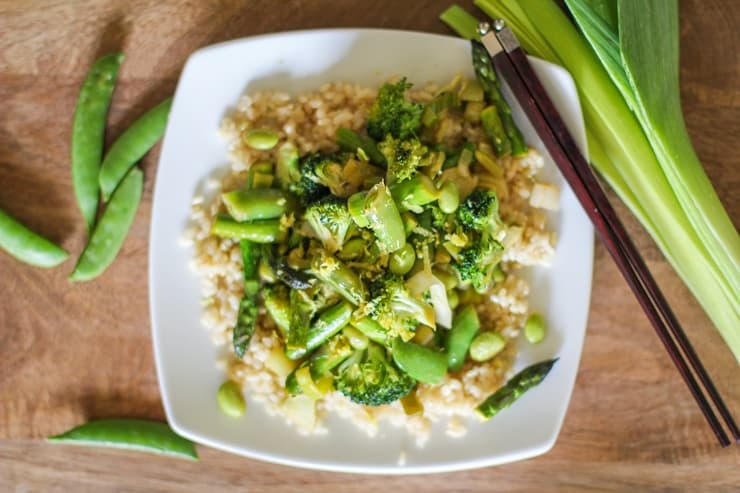 It's time for some spring green-ing. Get it? Spring. Green. Ing. ?? Sorry.
As you know, I'm big on the ol' stir fryage. Pounds of vegetables getting jiggy in the biggest fry pan I own? Lay it on me. For the longest while, I've wanted to make an all-green stir fry. Because spring green vegetables are just so utterly stir fry-able, I figured now was the time to hop to it. Asparagus, sugar snap peas, broccoli, edamame, and leek compose this green only symphony. It's the lemon-ginger sauce that really makes this whole thing come together.
This isn't an ordinary stir fry. It's pretty much the easiest stir fry you've ever fixed yer eyeballs on. Typically my stir fry sessions are a progressive add-as-I-go, where I begin by sautéing the hardiest veggies first, then add in the softer veggies that require less time to cook. This means a lot of pacing, checking for done-ness and instruction-writing. Such is not the case here and now.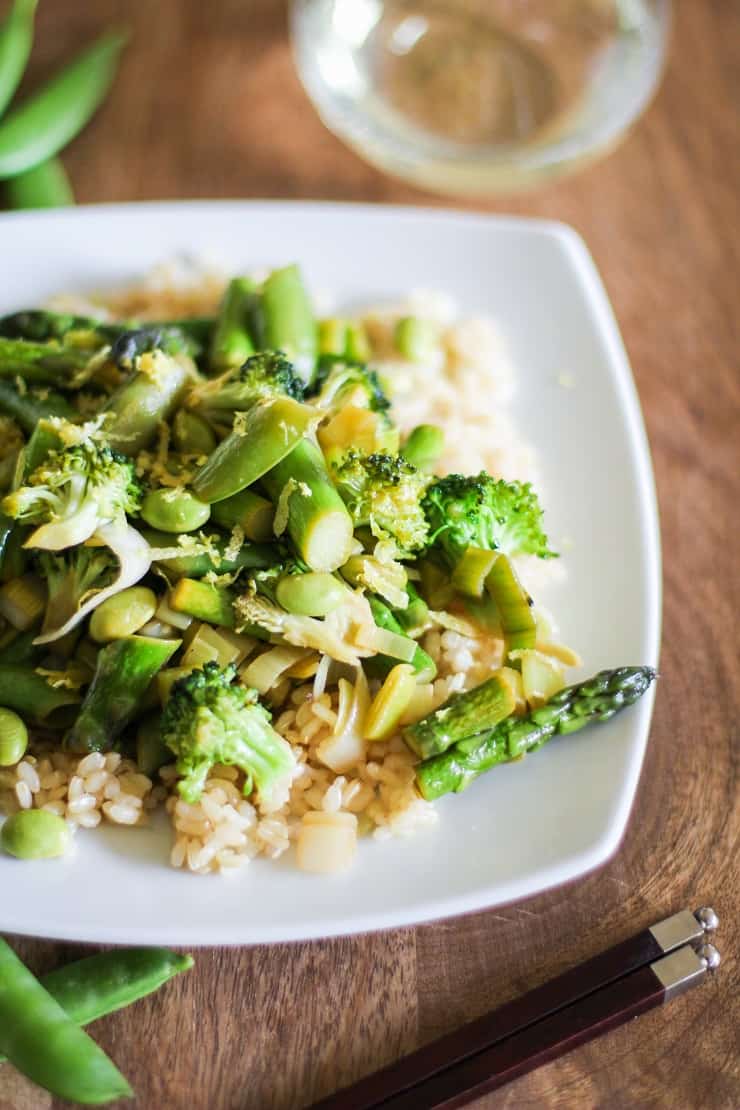 When I was fixing to make this meal, I was standing in front of my wok, looking around at all my chopped greenery, scratching the hairs on my chinny chin chin, thinking to myself, "which of yous bad boys take the longest to cook?" It then dawned on me that every vegetable in the recipe requires about the same amount of time.
You mean I can throw EVERYTHING in the wok at THE SAME TIME?!! And it will just cook? No getting my ticker in a wod about which veggie takes what amount of time to sauté?? Queue the trombones and kazoos, we're taking easy street to dinner.
Real talk: sautéing up a huge batch of vegetables is an inexpensive, healthy, and easy way to feed a crowd. The best part about stir fry is volume and variety. You can incorporate just about any vegetable, meat, and sauce to create a full-fledged thing of beauty. You can even color-code your stir fry. Green. Red. Orange. Taste the rainbow.
Stir fry. It's a wok of freedom.
Spring Green Vegetable Stir Fry with Lemon-Ginger Sauce
A fresh, vibrant stir fry recipe featuring spring produce.
Ingredients
Zest of 1 lemon

2

tablespoons

fresh lemon juice

1

tablespoon

sesame oil

1

tablespoon

avocado oil

3

tablespoons

coconut aminos

or low-sodium soy sauce

2

teaspoons

fresh grated ginger

1/2

teaspoon

sea salt

or to taste

1

large broccoli crown

chopped into florets

½

large leek

chopped

1

bunch of asparagus

trimmed and chopped

1

cup

shelled edamame

I used frozen

1

cup

sugar snap peas

sliced in half

4

cloves

garlic

minced
Instructions
In a small bowl, stir together the first 7 ingredients to make the lemon-ginger sauce and set aside.

Rinse and chop all of your vegetables.

Pour the lemon-ginger sauce into a large wok or sauté pan and heat to medium-high.

Once hot, add all of the vegetables and stir well.

Cover the wok for 2 minutes to allow the vegetables to come to a boil.

Uncover and cook, stirring frequently for 8 to 10 minutes or until vegetables have reached desired done-ness. I like to leave mine al dente.

Serve over cooked brown rice (I cooked 1 cup of dry brown rice, which was the perfect amount for the meal).

If desired, add your choice of protein to the recipe – chicken, beef, or tofu/egg to keep it vegetarian.
Notes
I use coconut aminos to replace soy sauce. It's a gluten-free and soy-free product and is exctracted from coconuts. The flavor is similar to low-sodium soy. 🙂
Nutrition