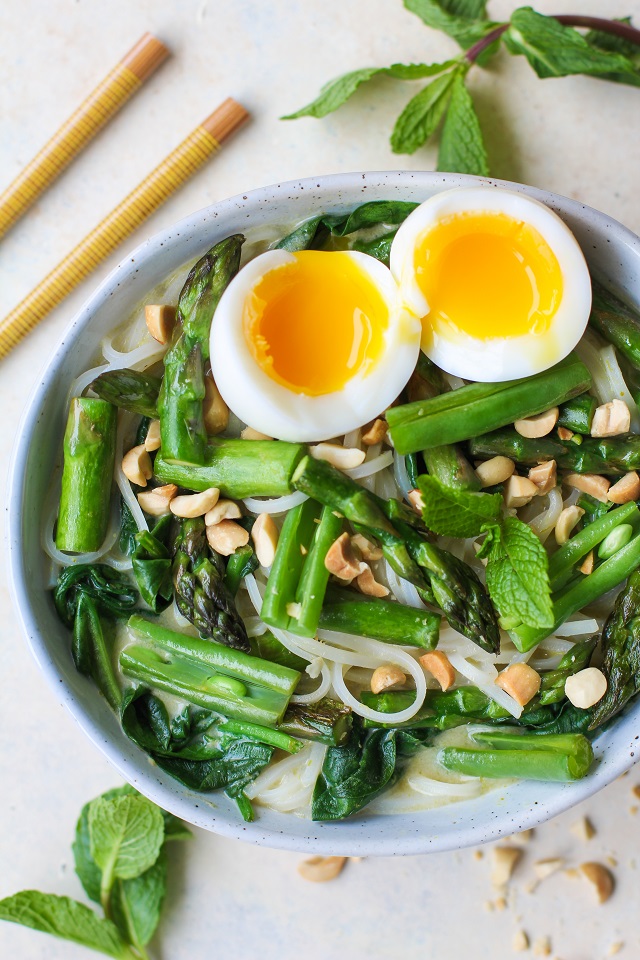 Spring veggies! Oh my gaaah they're just so crisp.
As you saw with my Garam Masala Vegetable Bowls on Friday, I'm still loving the comfort of winter's hearty carb-laiden vegetables, but also dig the fact that I can get my hands on Spring's snappy veggies in order to enjoy the best of all vegetable worlds. The way I see it, this is a great time of year to break out the skillet (or wok) and saute or stir fry Spring's bounty in a big veggie medley, as all of the in-season produce pairs perfectly together. As it turns out, green curry noodles wear sauteed spring vegetables like a champ.
These noodle bowls are just the funnest. You just saute asparagus, green beans, and spinach, and plunk them down on top of rice noodles. Pour in the most slurpable green curry sauce-broth ever and serve with a soft boiled egg, peanuts, and some fresh mint (or basil).
The sauce-broth is where it's at with this recipe…all's it is is coconut milk, green curry paste (you can use homemade or store-bought. I used this brand), and vegetable broth. Easy, messy, fun for all ages.
Change ups? If you like super spicy food, go ahead and add a Thai chili to the veggie saute, or add red chili sauce to the broth. If you're in need of some additional protein, include some chicken or tofu. You can add/substitute veggies to your liking. Bok choy, leek, and/or broccoli would be marvelous substitutions. If you're more into rice than rice noodles, feel free to replace the noodles for rice.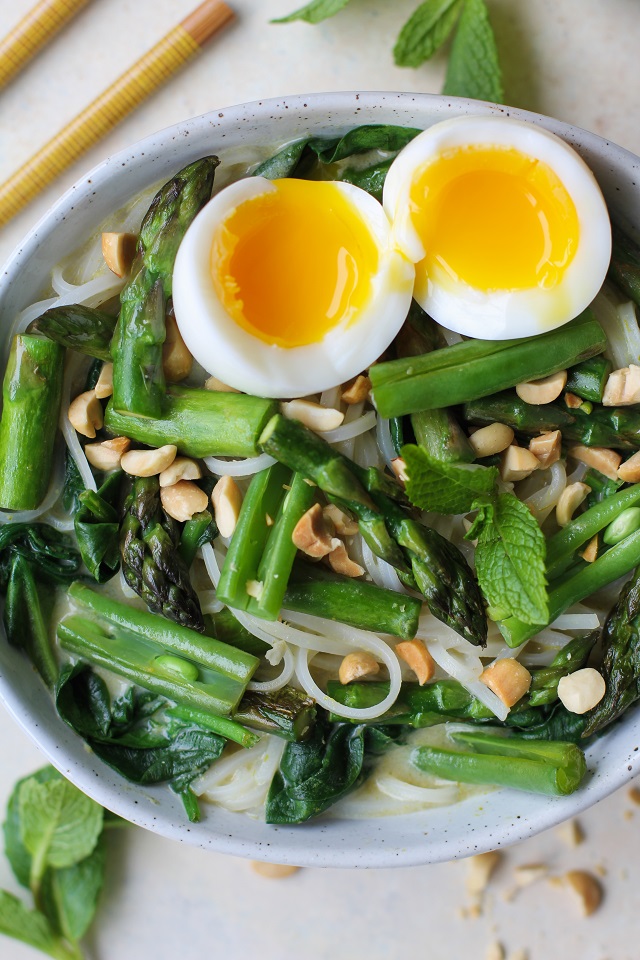 Sluuuuuuuuuuuurp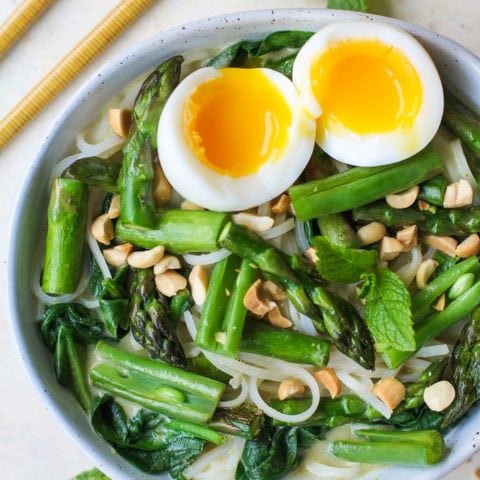 Spring Vegetable Green Curry Bowls
Spring Vegetable Green Curry Bowls are a Thai noodle infusion and a delicious way of taking in your veggies!
Ingredients
8 ounces rice noodles
3 tablespoons coconut or olive oil
1 bunch asparagus, , trimmed and chopped into 1-½-inch pieces
2 cups green beans, chopped into 1-½-inch pieces
3 cloves garlic, minced
4 cups loosely packed baby spinach
1 14-ounce can full-fat coconut milk
5 tablespoons green curry paste
2/3 cup vegetable broth
sea salt
For serving:
Fresh mint or basil
Soft boiled eggs
Roasted peanuts, chopped
Instructions
Cook rice noodles according to package instructions. Strain and set aside until ready to use.
Heat the oil over medium-high in a large skillet. Add the asparagus and green beans and saute, stirring occasionally, until softened, about 8 to 10 minutes. Add the garlic and spinach, cover and cook until spinach has wilted, about 3 minutes.
Add the coconut milk, vegetable broth, and green curry paste to a saucepan (to reduce cleanup, use the same pot you used to cook the noodles, and to save time, do this step while the veggies are cooking). Heat over medium-high until mixture is well combined and comes to a gentle boil. Remove from heat.
Divide noodles and vegetables among 3 to 4 bowls. Pour green curry broth into bowls and serve with chopped roasted peanuts and soft boiled eggs.
Nutrition Information
Serving Size

1 grams
Amount Per Serving
Unsaturated Fat

0g