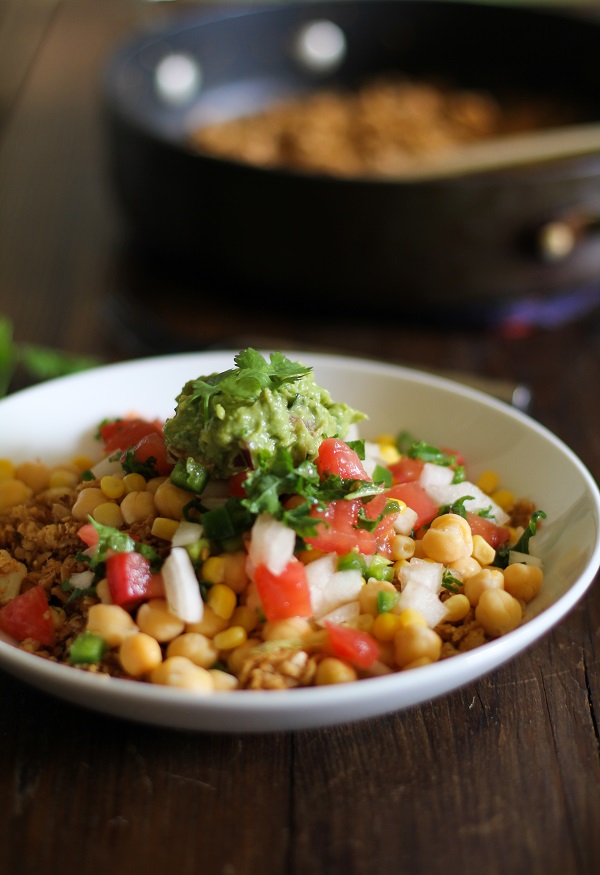 There are things we food bloggers do in order to tell you things. The vague train's pulling up to the station, all aboard!
For instance…
I may show you something chocolaty to let you know I've been watching waaaaay too much Grey's Anatomy. If you spy chocolate on this blog, it's probably because I need a neuro consult, Dr. Shepherd.
The salad I show you immediately following said chocolate-filled treat is my way of telling you chocolate goes down reaaaaal nice and kale is excellent at rectifying high density Grey's Anatomy-induced chocolate situations.
I may show you butter creamed with sugar (when have I done that ever? Bad example, Julia) in order to let you know I adore Darius Rucker but I love Hootie & the Blowfish WAY more. You see? That sentence doesn't make a lick of sense, but now you know how I feel about the D.R. versus Hootie topic.
What's that you say? You wish Hootie was still together, too? Get out of my mind.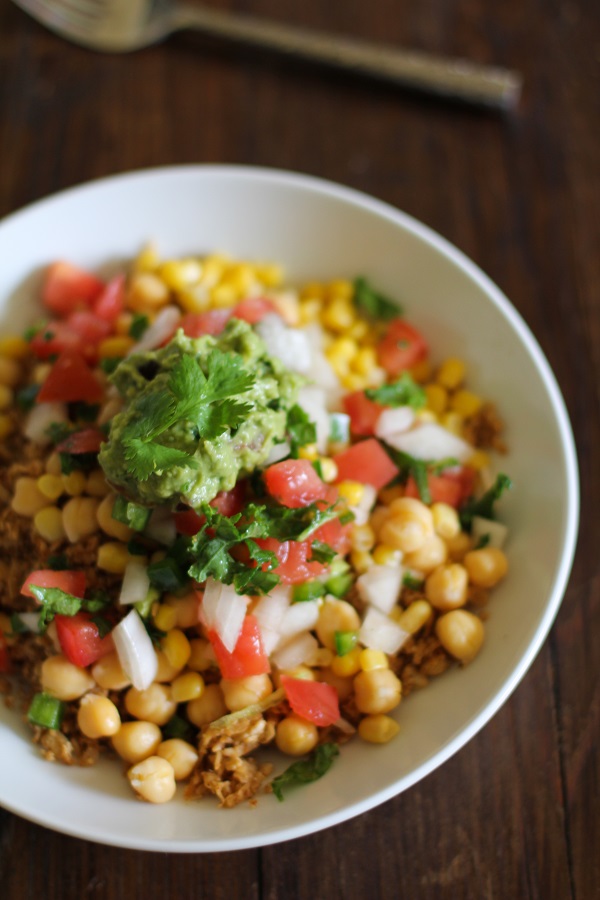 And finally. . .
I may (as in most definitely will) show you a burrito bowl complete with cauliflower rice, 'banzo beans, corn off the cob, pico de gallo and guacamole in order to tell you this is how I eat the majority of my meals. A conglomeration out of a bowl. It looks all neat and tidy sitting there on that table, but when your back is turned, I add 3 times the amount of guacamole and mix it all up like I'm trying to spin precipitate out of a centrifuge.
Check out this pico: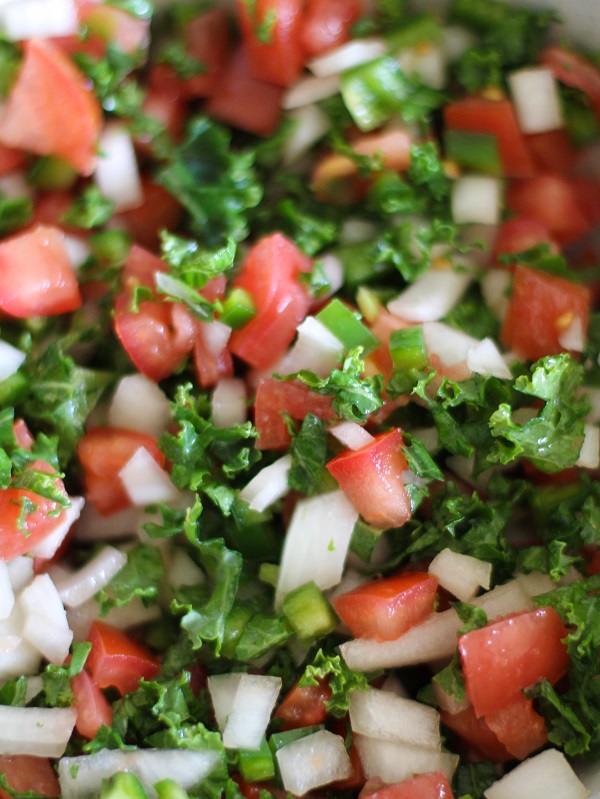 Do you see the kale? Good eye, mate, good eye. I made pico de gallo with kale for my cookbook, Let Them Eat Kale!
, which you can pre-order now and devour (the pico, not the book), in a few months time. But for now, this recipe from Coupon Clipping Cook for pico de gallo will get you by.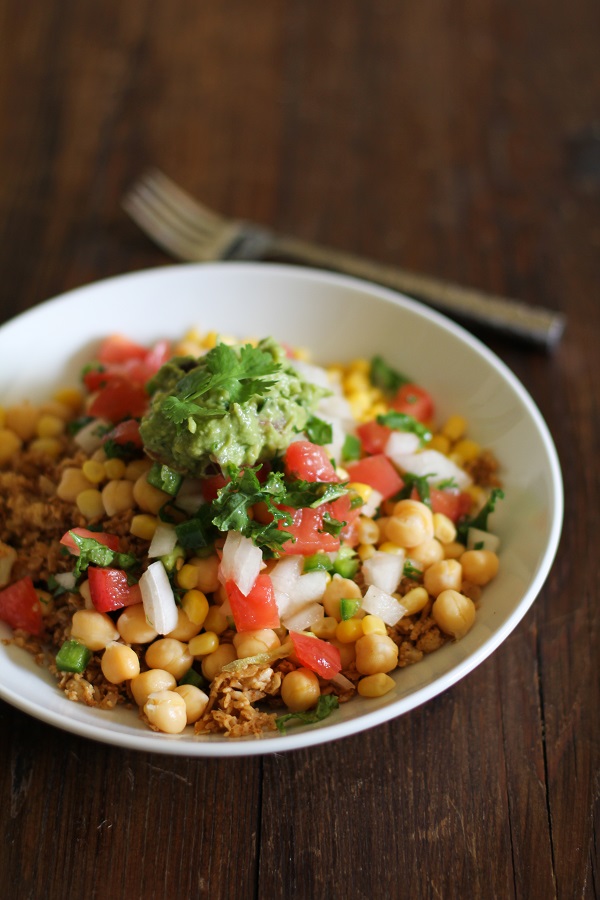 Writing about burrito bowls is tough business when your belly's stuffed with burrito bowl…and pumpkin bread. It's like going to Costco when you've sworn off free samples. That's actually not at all what it's like, but you should never go to Costco when you've sworn off free samples. That's pure masochism.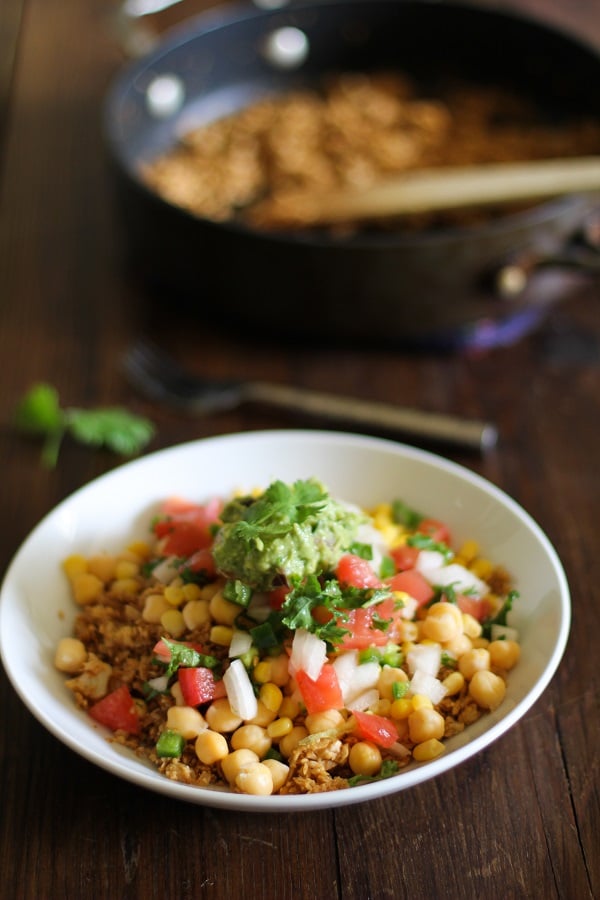 Ultimately, I showed you burrito bowl so that I could tell you cauliflower rice is a staple in my house. It actually takes less time to make than regular rice, and of course you get all the wonderful health benefits of cauliflower…since it's made out of cauliflower. Entirely. Another version you can make is my Jalapeño Ginger Cauliflower Rice.
It is not recommended to eat a whole head of cauliflower (or whole skillet of cauliflower rice) if you have roommates; however, this is, indeed, in truth, indivisible with liberty and justice for all, how you eat an entire cauliflower in one sitting. I did it. I regretted it. But it hurt so good. Bygones.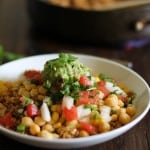 Cauliflower Rice Burrito Bowls
Print
Ingredients
For the Cauliflower Rice:
2

tablespoons

grapeseed or olive oil

1

head cauliflower

grated

1

lime

juiced

1

tablespoon

chili powder

2

teaspoons

onion powder

¾

teaspoon

kosher salt
For the guacamole:
2

ripe avocadoes

2

cloves

garlic

minced

1

lime

juiced

2

tablespoons

red onion

chopped

1

jalapeno

seeded and chopped

1

roma tomato

seeded and diced

1

tablespoon

fresh cilantro

chopped

Salt to taste
For the Burrito Bowls
1 14-

ounce

can garbanzo beans

1

ear corn

cooked and kernels removed

Guacamole

Cauliflower Rice

Pico de Gallo

Cilantro for serving
Instructions
To Prepare the Cauliflower Rice:
Remove the green stems off the cauliflower and chop the head of cauliflower in half.

Grate the whole head (one half at a time) on the box grater. It's okay if you leave some small florets.

In a large skillet, heat oil to medium-high heat.

Add the cauliflower, lime juice, chili powder, onion powder, and salt. Stir everything together and cover the skillet.

Cook the cauliflower, stirring consistently, until it is softened and browned, about 15 to 20 minutes.
To Make the Guacamole:
Peel and pit the avocados and place them in a bowl.

Add the lime juice, garlic, onion, jalapino, and mash with a fork or chop with a knife (to leave the guacamole chunky, use a knife to chop everything together).

Add the chopped tomato and cilantro and fold into the guacamole.
To make awesome burrito bowls:
Add the garbanzo beans to a saucepan and heat on medium to medium-high until hot.

Steam an ear of corn about 5 to 8 minutes. When it's cool enough to handle, carefully remove the kernels using a knife.

Dish desired amount of cauliflower rice, beans, and corn into a bowl. Add pico de gallo and guacamole and go to town!