Soft, chewy, gooey paleo chocolate chip cookies that have a nice crispy outside and that delicious molten inside. You'd never know these cookies are grain-free and refined sugar-free!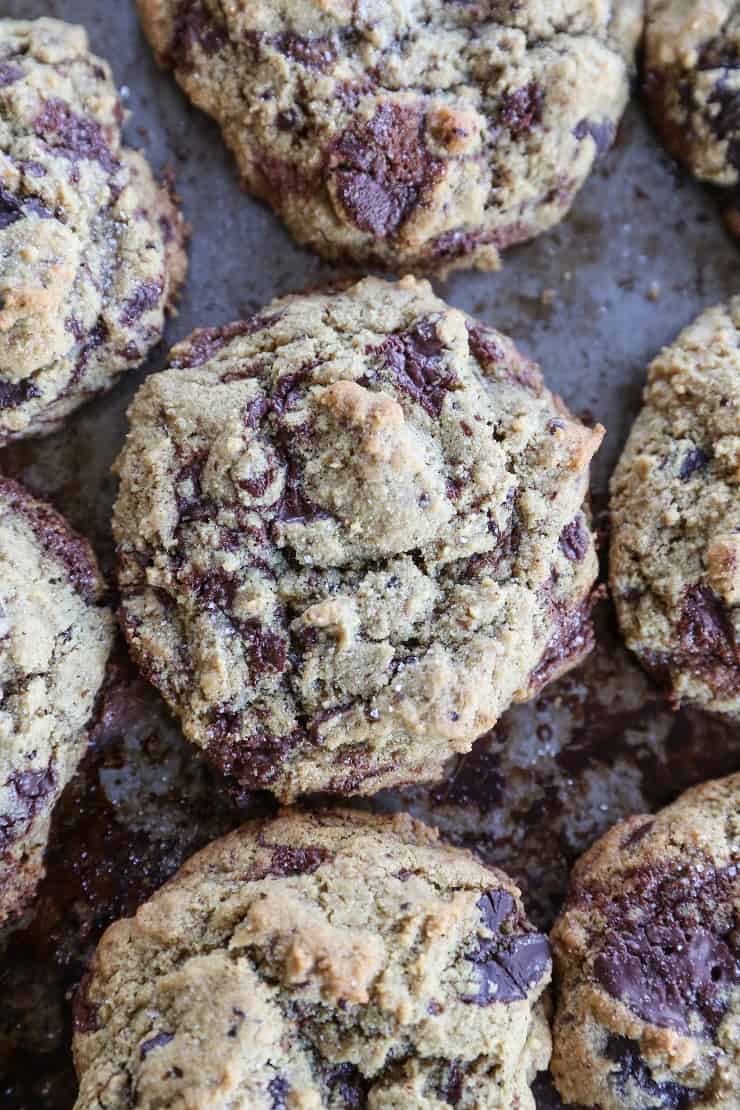 I had zero intention of giving you all yet another cookie recipe, but then something happened: a ginormous hankering for gooey, chewy, ultra chocolatey chocolate chip cookies struck me in my stomach chakra and before I knew it, I was conjuring up ways of improving my original recipe for Paleo Chocolate Chip Cookies to come out with a version 2.0. Sometimes you just need an ultra comforting cookie, and so…
Version 2.0 is here, and let me just tell you…
Bangarang!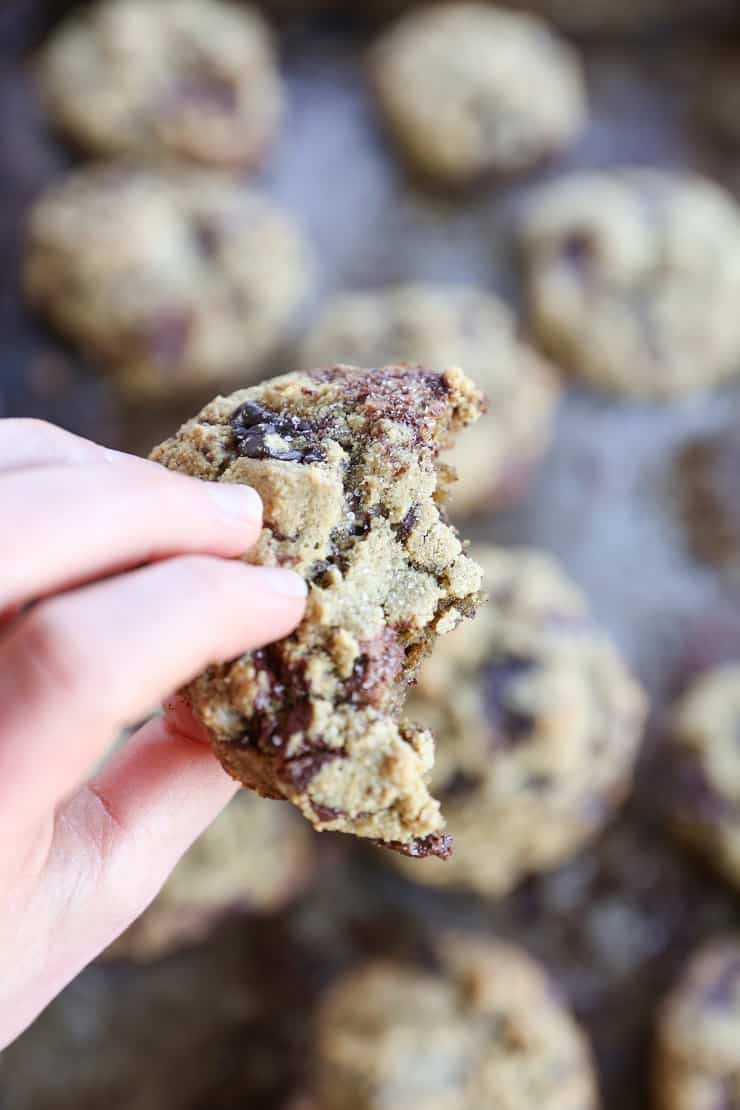 I wanted to title these The BEST Paleo Chocolate Chip Cookies In all the Land, but then I figured at some point in the future I would add one more tablespoon of ghee (for instance) or an additional tablespoon of pure maple syrup only to find out these cookies could be improved by yet another subtle adjustment…you catch my drift? ..That said, it's hard for me to imagine them getting any better!
I made a few subtle changes to the same recipe I've been making for years, and those subtle changes made all the difference. I added tapioca flour for fluffy texture, some almond butter, and I used ghee instead of coconut oil. PLUS, I sprinkled the cookies with Himalayan Pink Salt when they came out of the oven, because: fancy and because: salt + sweet = epic mind meld.
The salty-sweet combo, the goo, the soft and chewy yet exterior crisp (it's ALL ABOUT the crinkle top, can we agree?!) of these cookies makes them nearly indistinguishable from a regular chocolate chip cookie. My guess is if you handed one to a friend, he or she would never be able to tell the difference.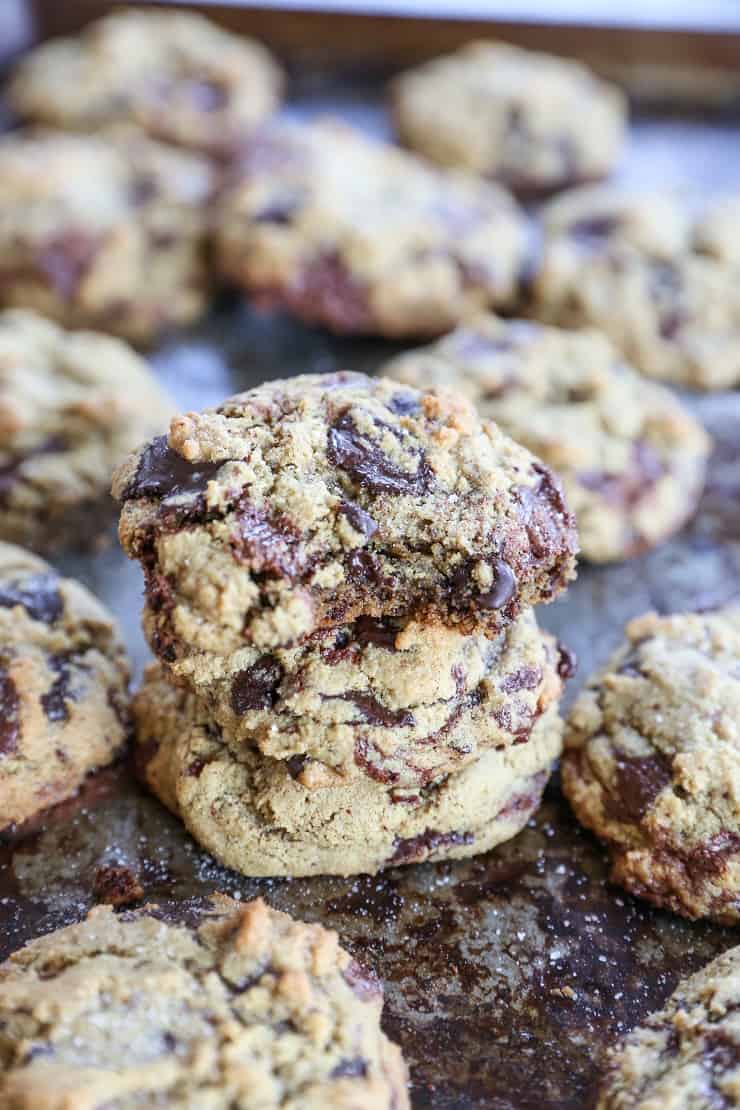 So if you're tired of all the holiday hubbub, take a therapeutic baking moment for yourself and whip up a batch of (sorry ->) THE BEST paleo chocolate chip cookies I've ever had the pleasure to consume.
Feel free to play around with it, too! Add more ghee, more pure maple syrup, try swapping out the pure maple syrup with a zero-sugar sweetener if you're looking for a super low-carb cookie, etc. And of course, let me know in the comments what you did to modify the recipe…crowdsource baking at its finest right here!
But pace yourself. Don't do as I did and eat 4 off the bat…they're definitely sultry little temptresses, but you'll want to save some for breakfast and of course share one or two them with your beloved humans.
12/23 UPDATE!: After posting this recipe, I had a number of people ask if they could substitute coconut oil for ghee. I whipped up the same recipe using 1/3 cup softened coconut oil instead of 1/3 cup ghee, and the result was also fabulous!
Now lettuce discuss how we go about baking the cookie dough.
There comes a time in everyone's baking life when he or she questions if the dough should be rolled into a ball or not. Really, that's a matter of preference. Here is what the cookies look like when you roll the dough into a ball prior to baking it: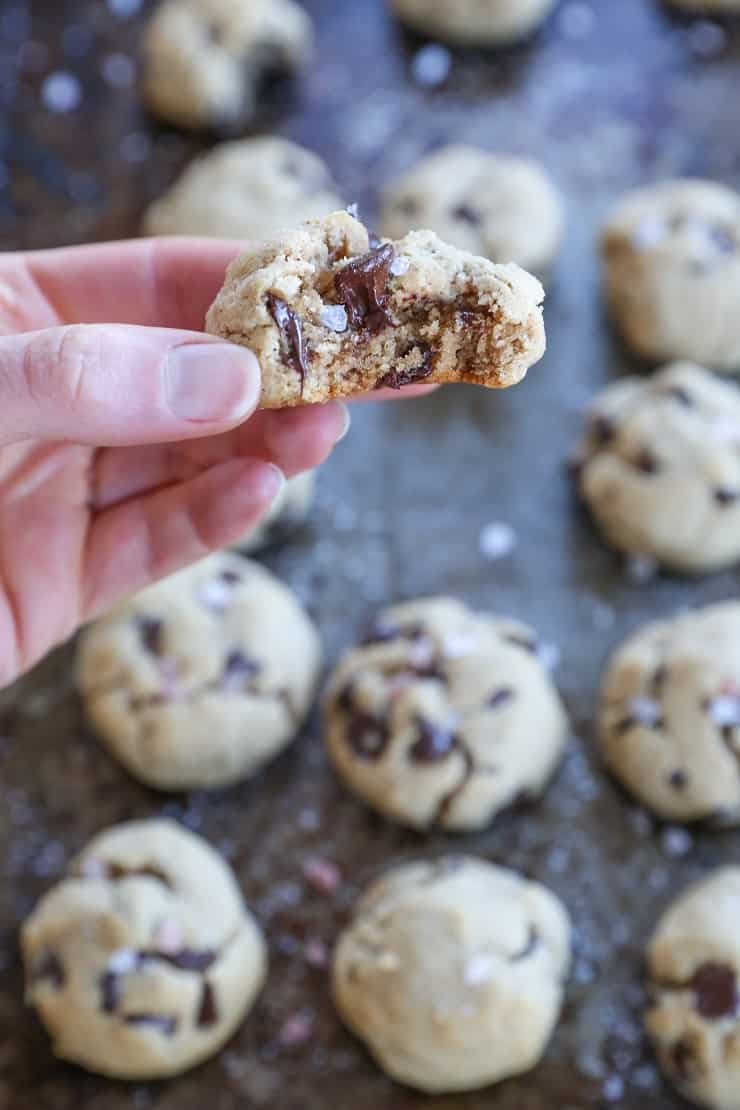 Both baking methodologies yield insanely delicious results, HOWEVER!:
My preference from a texture standpoint is to not dough roll. Simply dropping spoonfuls of dough onto the baking sheet yields that crispy crinkle top. They seem to be gooey-er this way, too!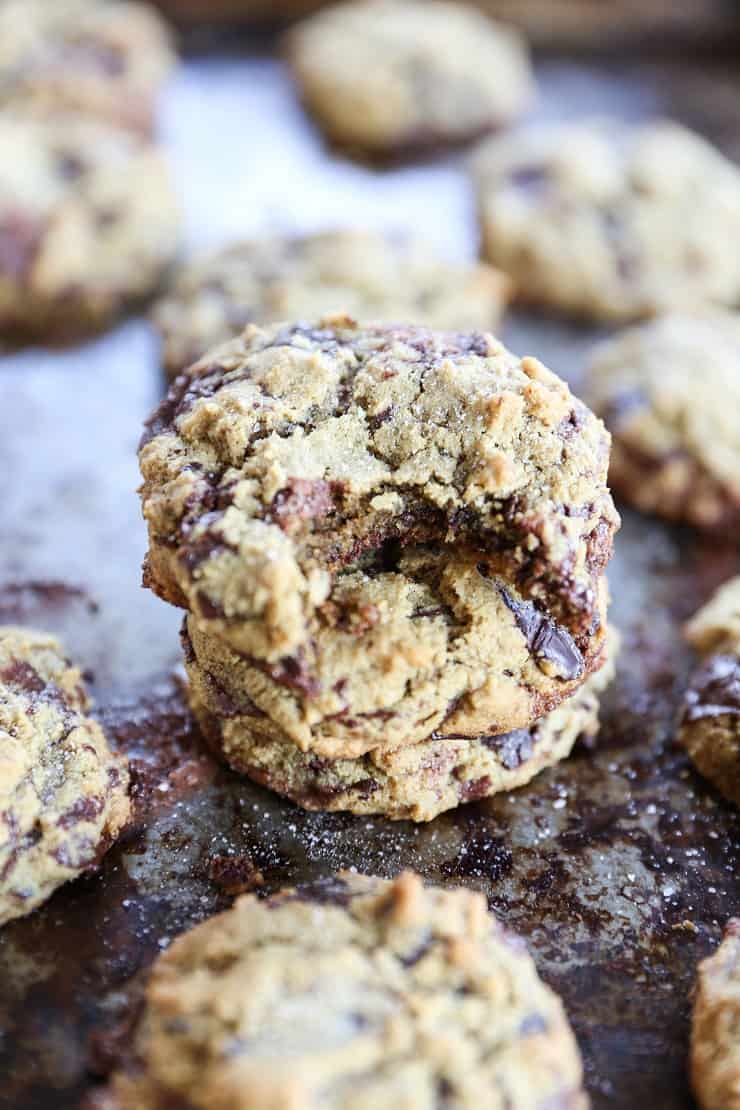 You can also use dark chocolate chunks (as seen in the photo above) instead of chocolate chips. I chopped up a Lindt Lindor 60% Chocolate Bar for these cookies and was blown away by how amazing the cookies turned out. Of course adding a chocolate bar made with dairy and cane sugar makes this recipe un-paleo, but you guys…WE NEED THIS!
Happy cookie baking!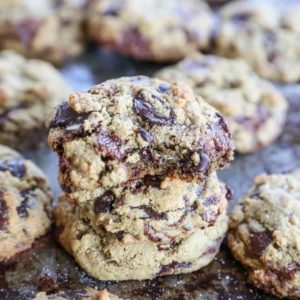 Gooey Paleo Chocolate Chip Cookies
Print
Instructions
Preheat the oven to 350 degrees F.

Mix together the ghee, pure maple syrup, almond butter, and vanilla extract in a stand mixer fitted with a paddle attachment until very creamy. Add the egg and mix just until combined. (these are the wet ingredients)

In a separate bowl, stir together all dry ingredients (almond flour, tapioca flour, cinnamon, baking soda, and sea salt).

Mix the dry ingredients in the mixer with the wet ingredients until a dough forms. Mix in the chocolate chips until well-incorporated.

Drop wads of dough onto a large baking sheet (you can also roll the dough into a balls and place balls on the baking sheet). Bake on the center rack of the oven 8 to 12 minutes (I baked mine for 10 on the dot for the ghee version and 12 on the dot for the coconut oil version), depending on desired level of goo or crisp.

Remove from oven and allow cookies to cool 2 minutes before transferring them to a wire rack to cool the rest of the way. Consume fresh out of the oven!
Recipe Notes
*You can replace the ghee with 1/3 cup softened (and packed) coconut oil.
**You can also chop up a dark chocolate bar, which in my opinion makes the cookies even more over-the-top delicious
Nutrition Facts
Gooey Paleo Chocolate Chip Cookies
Amount Per Serving
Calories 236
Calories from Fat 162
% Daily Value*
Total Fat 18g 28%
Total Carbohydrates 18g 6%
Protein 4g 8%
* Percent Daily Values are based on a 2000 calorie diet.