Thanksgiving's over folks, which means it's time to break out our mixing bowls, muffin trays, cookie sheets, and loaf pans…or in this case, our food processor and a spoon.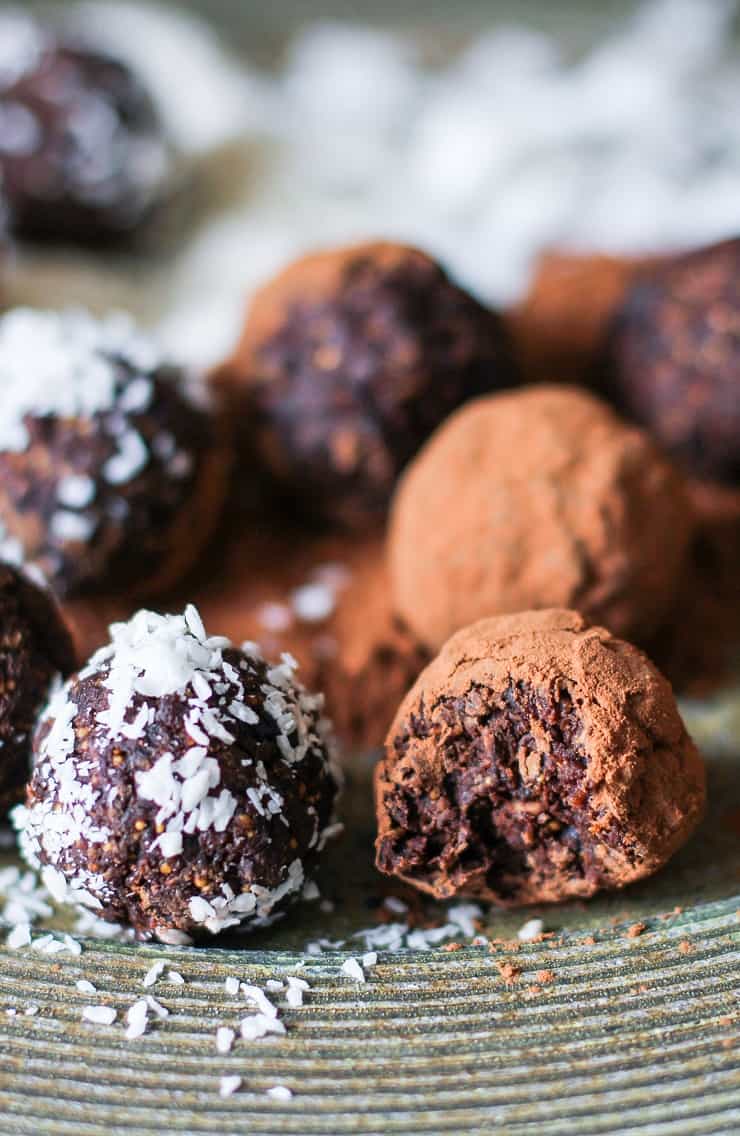 When I was a kid, I didn't know there was a difference between chocolate truffles and fungi truffles. This made for very confusing times. It didn't make sense to me that in the days of yore, folks would take pigs into the forest and hunt for man-made chocolate truffles…Like why would the truffs be chilling next to moss if they were so dang valuable? Why not just keep those things indoors? It goes without saying that down the line, the record was set straight. While my experience with fungi truffles is limited to a batch of otherworldly truffle oil fries I ravaged on a work trip in Healdsburg, CA with my boss when I was 21, chocolate truffles and I have shared a substantial amount of FaceTime.
Which is where we are today. FaceTime-ing truffles.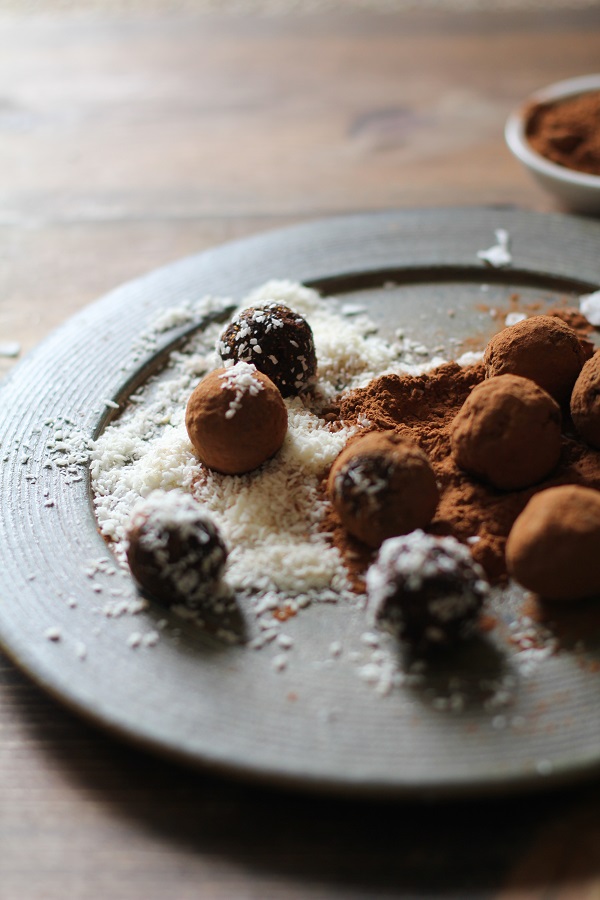 Deez truffs…
These truffles are so many things. Let's talk about them in the form of buzz words! Vegan, naturally sweetened (refined sugar-free), healthy, easy to make right in the comfort of your own food processor, great for holiday gifting, almost paleo, chocolate, chocolate, chocolate, spiced up with rum and cardamom. All the things.
Bonus points: They taste like a Boozy Fig Newton. So there's that.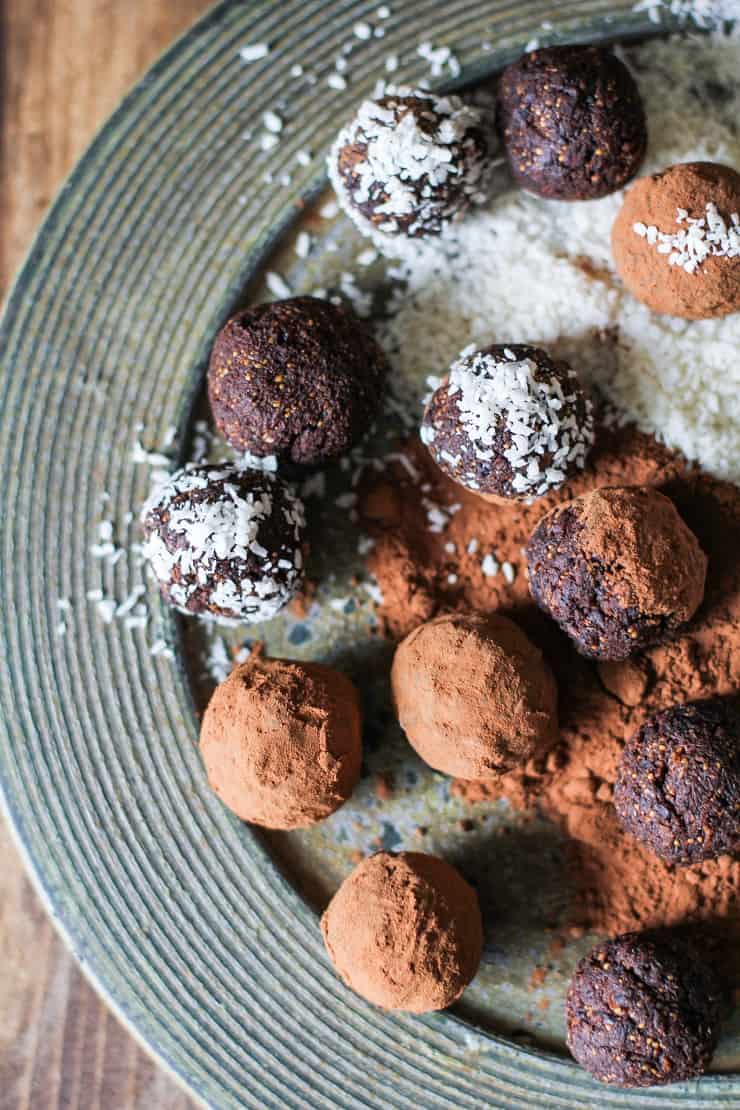 Fancy a Truffles 101 lesson? Did you know there are differences between French, California, American, Harvey (Canadian), Beligian, and Swiss truffles? Peeps take their chocolate ruuuul suuuurious, and I can't say I blame 'em. You just can't argue with deliciousness. Truffles typically include a soft center made out of chocolate ganache and are topped with chopped nuts, cacao powder, or a chocolate coating. Each variety has its own take on the types of ingredients used. For instance, the classic French truffle is made with fresh cream and chocolate and rolled in cocoa or nut powder, while the American truffle is a half-egg shaped chocolate-coated truffle with a mixture of dark or milk chocolates, butterfat and sometimes hardened coconut oil. Belgian truffles are made with dark or milk chocolate filled with ganache, buttercream or nut pastes, and vegan truffles eliminate the dairy by using nut milks and nut butters, or – like in this recipe – dried fruit.
For this go at healthy truffles, I used dried figs, which gives them fruity, nutty flavor with the poppy fig texture. If you aren't into figs, you can replace them with medjool dates for a smoother consistency. In order to give the truffles a little something special, I added rum, ground cardamom and vanilla extract from.
This isn't our first go-round at the healthy truffle on The Roasted Root. I've also presented you with Almond Joy Truffles (made with avocado), and Easy Vegan Truffles (made with dates). I like that truffles made with dried fruit are easy to make and require no milk boiling or chilling in the refrigerator. They can be made in large batches and require only a few minutes, which is ideal now that Christmas cookie season is upon us. These are a great low-glycemic treat for including in your holiday goody bags…or for popping in your mouth at home while marathon watching Blacklist on Netflix.
Eat the whole batch!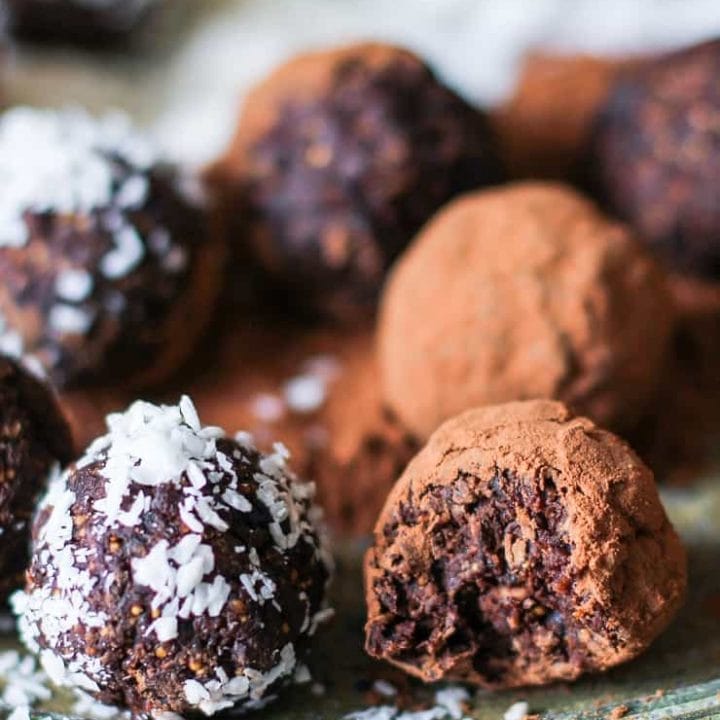 Rum Cardamom Fig Chocolate Truffles (Vegan)
Yield:
12 chocolate truffles
An incredibly unique and easy truffle recipe made with dried figs for a naturally sweetened treat!
Ingredients
7 ounces dried mission figs, stems removed
1 tablespoon rum
Pinch salt
Instructions
Remove and discard the stems from the figs and place the figs in a large bowl. Cover the figs with boiling water and allow them to soak for 30 seconds to 1 minute. Drain, pat dry, and place in a small food processor.
Add the remaining ingredients to the food processor and pulse until ingredients are well-combined and a thick dough forms.
Form truffles by rolling the mixture in the palms of your hands.
If desired, you can roll the truffles in more cacao powder or shredded coconut.
Enjoy!
Nutrition Information
Yield

12
Serving Size

1 grams
Amount Per Serving
Unsaturated Fat

0g