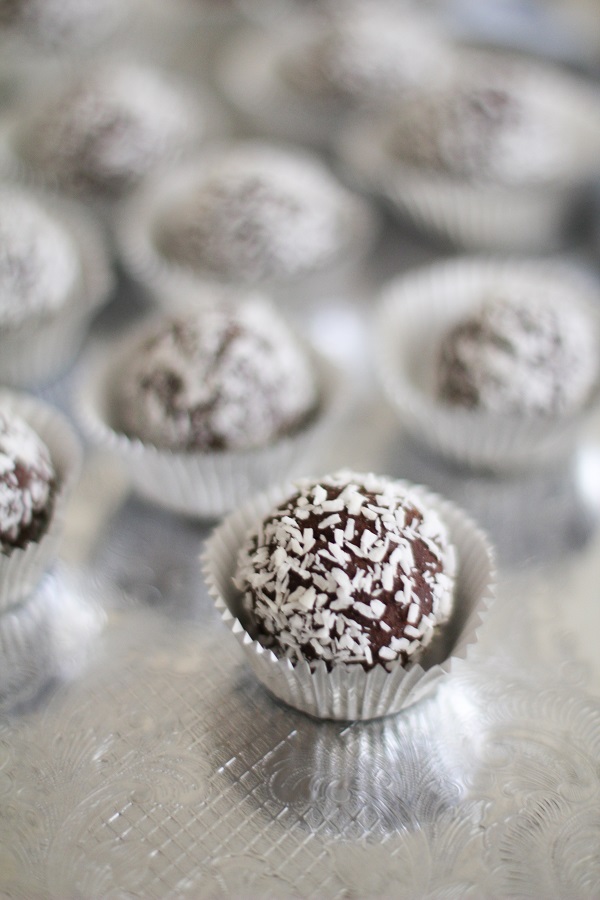 Step one on the eightfold path to enlightenment: make truffles out of avocados. Putting guacamole in your chocolate truffle may not sound like your jam, but I swear to you: it works. Trust. Faith. Avocado. Chocolate. Delectable.
Does it appear as though The Roasted Root has turned into a holiday treat box as of late? I hardly recognize this place, myself. I had considered showing you a tutorial on how to roast spaghetti squash today, but then I realized your eyeballs have selective vision around the holidays, so I figured I had better back-burner it. Jan 1 we'll be all about kale smoothies and yoga classes. Pre-Jan 1, we're fixated on guacamole chocolate truffles.
I made these Almond Joy Truffles from Food Faith Fitness over the weekend along with the Gluten Free Gingerbread Cookies I posted yesterday. These truffles melt in your mouth in rich almond joy splendor…or in my case, pistachio joy splendor because pistachio extract is all I had. You can't taste the difference. Except you can. Pistachio truffles are joyful, too.
You can't taste the avocado by any stretch of the imagination. Maybe you love avocados, maybe you don't. The point is moot, because all you get out of these truffles is almond-y (pistachio-y) rich dark chocolate velvet.They're silky smooth, require very few ingredients, and there's still time to make them before Christmas!
Almond Joy Truffles
If you like the classic Almond Joy candy bar, you'll go bonkers over these healthier truffles.
Instructions
In a small bowl, mash the avocado with a fork until creamy. Add the cacao powder and extracts and mix until well combined (this requires a little bit of elbow grease, so get in there).

Put chocolate chips in an oven-safe bowl or measuring up (I left my chocolate chips in a metal measuring cup), and place in a hot oven. Stir every couple of minutes until chocolate chips are melted.

Pour the melted chocolate into the bowl with the avocado/cacao mixture. Mix well to combine. Your truffle mixture should be thick and paste-like.

Cover the bowl and refrigerate for 2 hours.

Spread the shredded coconut on a plate.

Using a spoon or a mellon baller, scoop small amounts of the truffle mixture and roll them into balls. Roll the balls in shredded coconut.

Devour.
Nutrition
Serving:
1
Truffle (of 24)
|
Calories:
40
kcal
|
Carbohydrates:
3
g
|
Fat:
3
g
|
Saturated Fat:
2
g
|
Fiber:
1
g
|
Sugar:
2
g