Stacked enchiladas with roasted peppers, sweet potato, cauliflower, and salsa – a healthful yet comforting vegetarian meal perfect for sharing with guests.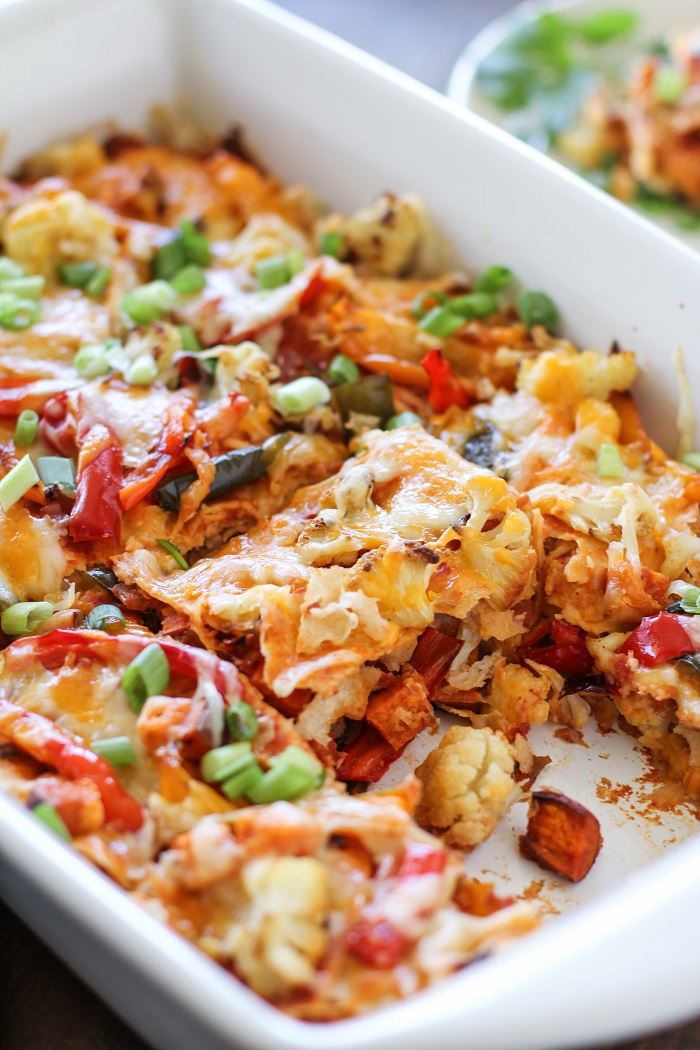 Cheesy, filling, baked, comforting, share-able, desireable, flavorful flavorful enchiladas. I couldn't tell you a single occasion in which I'd turn something of this nature down. Which makes me curious to know…
When it comes to enchiladas, what's your theory?
Do you make your own enchilada sauces? Do you take the authentic corn tortilla route, or do you prefer flour tillas? What's your favorite enchilada meat (if any)? Can you dig a less traditional chile verde or salsa enchilada as much as I?
While I'm up for a meaty enchilada most days of the week, I like how filling yet healthful vegetarian enchiladas are. Let the Mushroom, Zucchini, and Black Bean Enchiladas, Small Batch Sweet Potato and Black Bean Enchiladas, and Roasted Vegetable Enchiladas I showed you in posts past be your Exhibits A – C.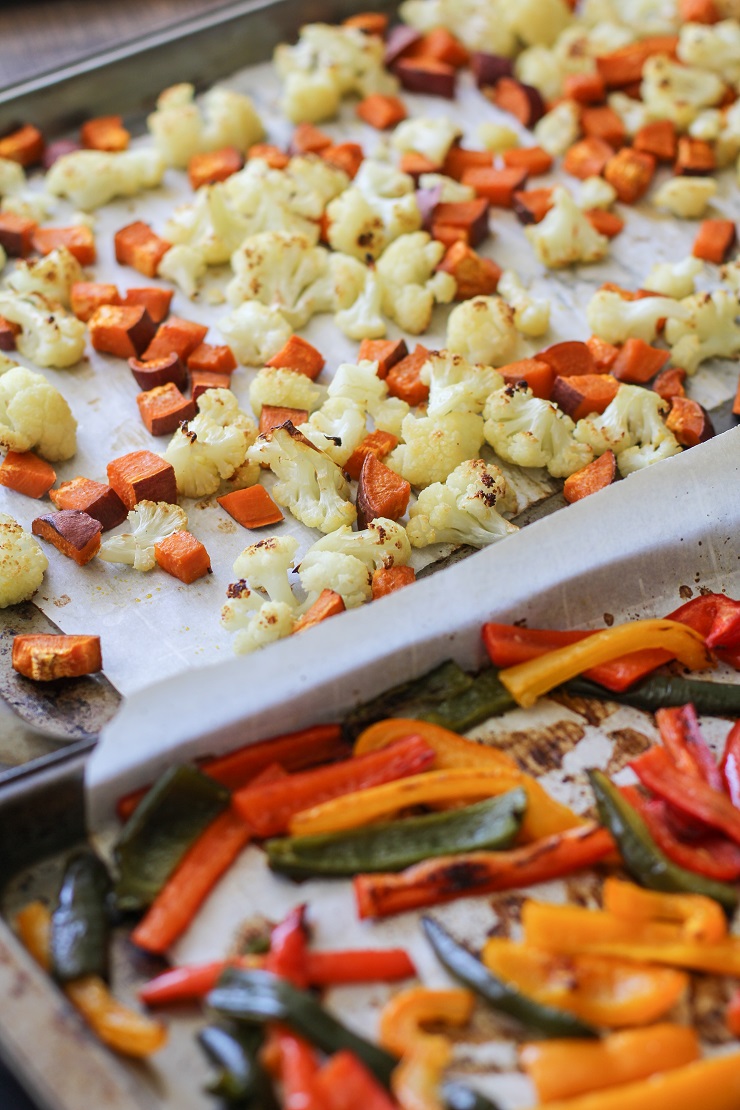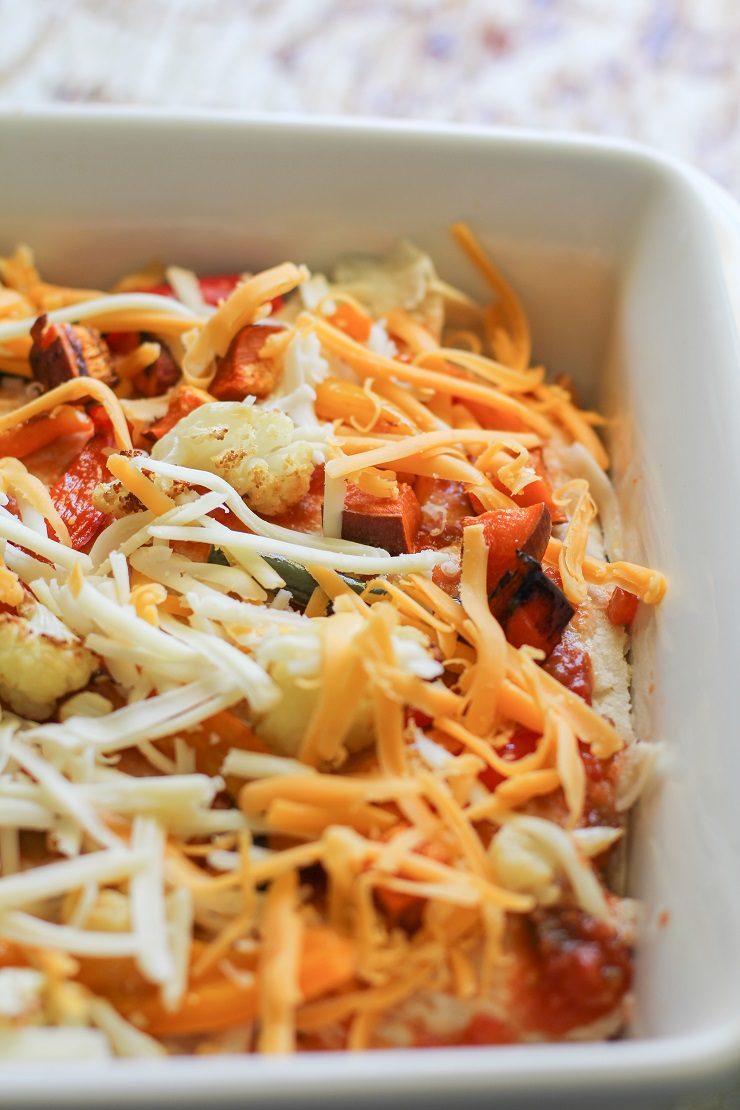 In addition to my loads-of-vegetables enchilada theory, I also subscribe to the stacked-like-lasagna theory when it comes to enchiladas. I find they're actually easier to make, PLUS, they feed more mouths. Rather than rolling the enchiladas in tortillas, you use the tortillas similarly to noodles, as stacking mechanisms, creating a sort of enchilada casserole.
The result?: A show stopping easy-to-serve, palate-pleasing, comforting-yet-healthful, gluten-free meatless meal to get your week headed in the right direction.
And the sauce? For this batch, I used a store-bought salsa rather than enchilada sauce. You can use any homemade or store-bought salsa or enchilada sauce you please.
Way I see it, these stacked enchiladas are perfect for sharing with the whole family, entertaining guests, or for making ahead of time and eating throughout the week.
Recipe Adaptations:
These enchiladas can be made any time of year using in-season veggies. For instance, you can use broccoli, any summer squash, any winter squash, kale, spinach, black beans, corn, etc.

You can also use any of your favorite cheeses – if you want to be really fancy, you can use gouda, gruyere, or aged white cheddar. My go-to when it comes to enchiladas is classic combo of Jack and cheddar cheese.

In addition to changing up the vegetables in this recipe, you can also use any type of salsa you'd like, including salsa verde, or even traditional enchilada sauce.
Swap the corn tortillas for flour tortillas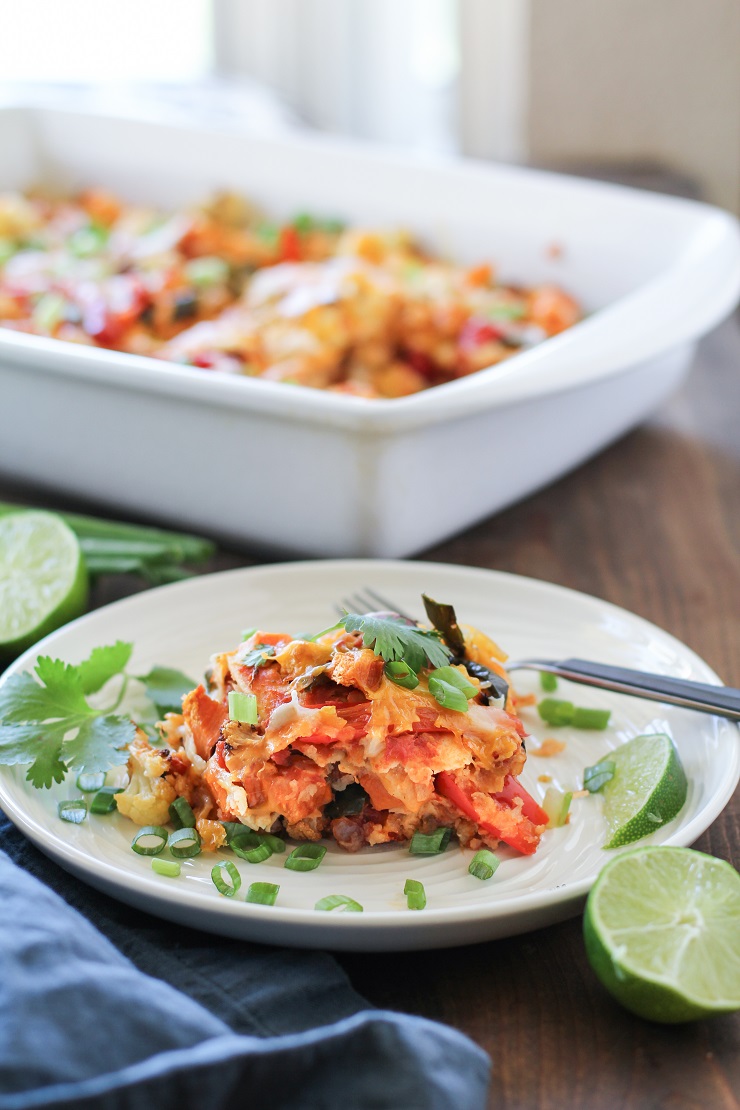 My cookbook,
Paleo Power Bowls
, is now available! CLICK HERE to check it out. Thank you for your support!
If you make this vegetarian Stacked Enchiladas recipe, please feel free to share a photo and tag @TheRoastedRoot on Instagram!
Roasted Vegetable Stacked Enchiladas
Roasted Vegetable Stacked Enchiladas are an easy, nutritious approach to enchiladas.
Servings:
6
to 8 servings
Ingredients
1

medium sweet potato

chopped

1

medium head cauliflower

chopped into florets

1

medium yellow onion

diced

1

red bell pepper

cut into matchsticks

1

orange bell pepper

cut into matchsticks

1

pasilla pepper

cut into matchsticks

¼

cup

avocado oil

divided

1

tsp

sea salt

1

Tbsp

chili powder

12

corn tortillas

halved

1

16-ounce jar salsa, or homemade salsa of choice

1

cup

mild cheddar cheese

grated

1

cup

Jack cheese

grated
Instructions
Preheat the oven to 375° F and line 2 baking sheets with parchment paper. Place the chopped vegetables in a large mixing bowl and drizzle with olive oil, salt and chili powder. Toss everything together so that the vegetables are coated in oil and seasoning. Spread the vegetables over the two baking sheets and bake for 20-30 minutes, or until golden-brown and cooked through. Lower the oven temperature to 350°F.

Pour ¼ cup of salsa into the bottom of a large casserole dish and spread it around. Arrange 8 of the corn tortilla halves (or 4 whole corn tortillas) in the bottom of the casserole dish (it's okay for the tortillas to overlap).

Add 1/3 of the roasted vegetables, followed by 1/3 of the grated cheese and 1/3 of the salsa. Repeat for two more layers using the remaining ingredients, ending with the roasted vegetables and grated cheese as the top layer.

Place the casserole dish on the center rack of the oven and bake for 30 minutes, or until the cheese is melted. Remove from the oven and allow enchiladas to cool at least 20 minutes before cutting into squares and serving. Note: If transporting the enchiladas, allow them to cool to room temperature, then cover with plastic wrap or foil.
Nutrition