Mushroom, Zucchini, and Black Bean Vegetarian Enchiladas are loaded with flavor and can be made vegan using vegan cheese. This hearty yet healthy main dish for Cinco de Mayo will surely please your friends and family.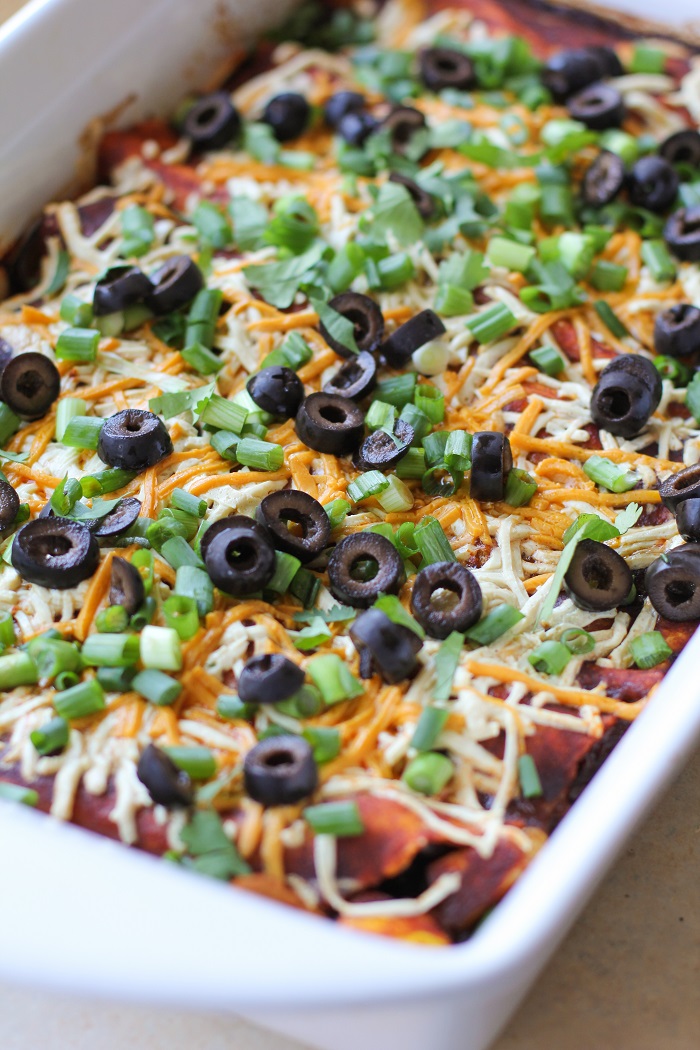 With Cinco de Mayo coming up, tacos, burritos, and enchiladas are basically all I can think about.
Let's be real: there's just no getting sick of Mexican food, so why not turn a single day of feasting on Mexican-inspired meals into a week? Or even a month? Cinco de Año?
Don't mind if I do! The "Ugh, I'm tired of eating all these delicious burritos," is a conversation that just never takes place in this reality, so way I see it, let's make the celebration last as long as possible.
Back in my college days, I worked as an administrative assistant for a plumbing & heating company (probably my favorite job aside from this one!).
Because I rarely had the forethought to bring food to work for lunch, I'd typically pick up a couple enchiladas on an errands run.
Which meant the roof of my mouth was perpetually burned, because honestly, who waits for a delicious enchilada to cool off prior to consuming? No one. Molten lava encho just hurts so good.
While I'm all about a good pulled pork or chicken enchilada, I can always dig a vegetarian Mexican-inspired meal, especially when packed with hearty fresh ingredients like mushrooms, bell pepper, yellow and zucchini squash, and black beans.
Just thinking about the soft tortillas that turn into heaven goo when drenched in sauce create an epic face meld makes me go into a mind trance.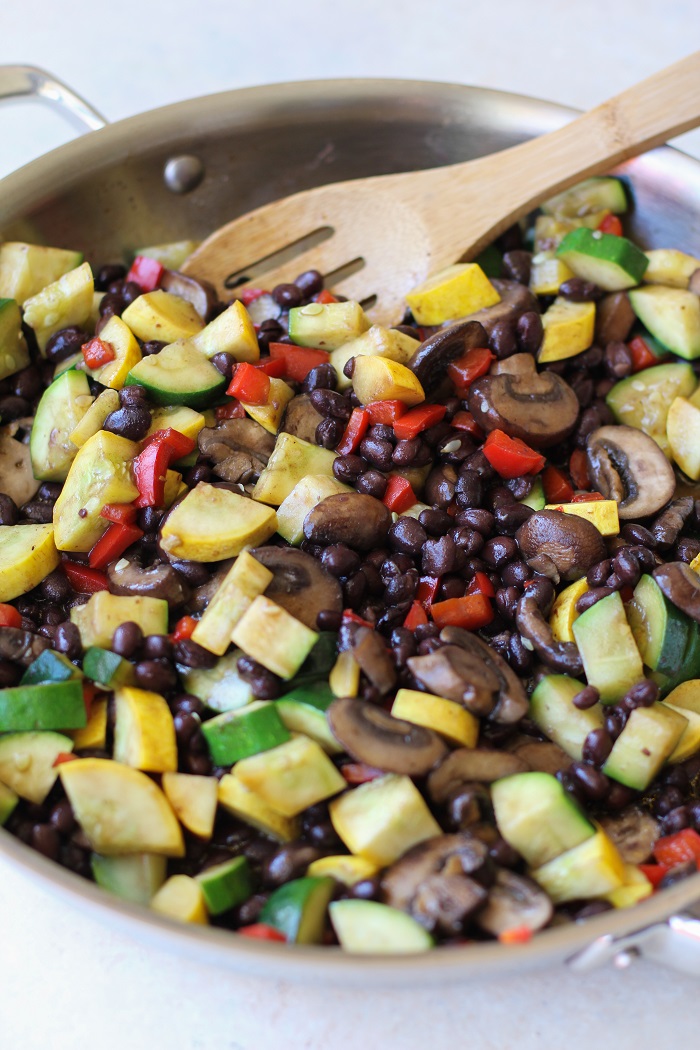 These enchiladas are filling without weighing you down or making you feel overly stuffed. You can change up the vegetable filling based on what you have on hand – for instance, consider adding yellow or red onion, broccoli, spinach, kale, cauliflower, sweet potato, butternut squash, etc. You can even use leftover sauteed, grilled, or roasted veggies to make recipe prep a real cinch!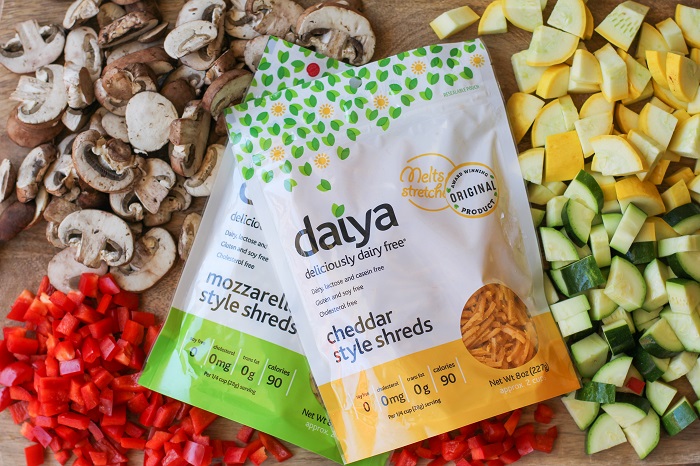 I used Daiya Mozzarella-Style Shreds (with a little spritz of Cheddar-Style Shreds) for the cheese portion of these vegan enchiladas. For those of you who are unfamiliar with Daiya's products, they are all gluten-free, soy-free, nut-free, and dairy-free. The shreds are made primarily with tapioca flour, non-GMO canola oil, coconut oil, and pea protein, making them a healthful alternative to dairy products.
I've found many dairy-free mock cheeses tend to include soy, which I try to avoid. The shreds give the enchiladas such rich, cheesy flavor, making this a super comforting, yet nutritious, meal.
How to Make Vegan Enchiladas:
If you're new to enchilada-making, it's a real cinch.
Simply sauté the veggies, then give each tortilla a quick soak in some enchilada sauce – this ensures the tortillas get nice and soft while baking in the oven for optimal goo factor.
Put a little bit of the veggie mixture in the center of each tortilla, roll them up, and stick them in a casserole dish.
Douse everything liberally with enchilada sauce (much of the moisture bakes off in the oven, so it's fine to go sauce crazy here), sprinkle with cheese, and bake!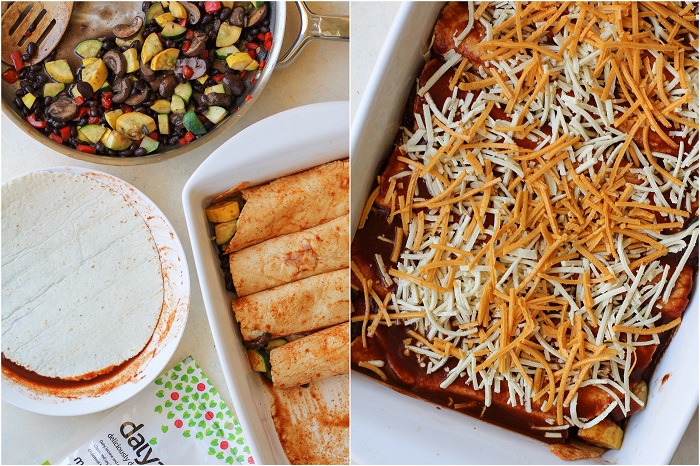 This recipe can easily be vegan so long as you use vegan tortillas. I used gluten-free tortillas that contain eggs, so just be sure you read the ingredient label when selecting tortillas for a vegan enchilada bake. You can also use corn tortillas if that's your preference, or even go so far as to make cauliflower tortillas to keep the recipe grain-free.
Because most store-bought enchilada sauces contain sugar, you can whip up a healthier sugar-free version by following this recipe from The Iron You for Homemade Paleo Enchilada Sauce or even go with my homemade Chile Colorado Sauce.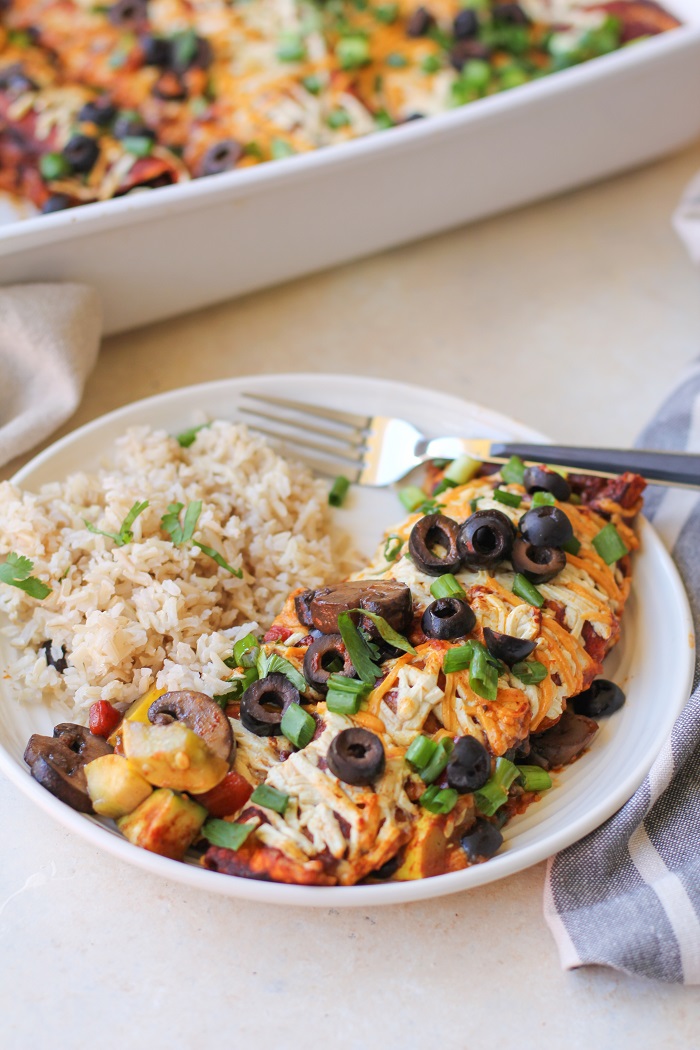 Feast!
Mushroom, Zucchini, and Black Bean Vegetarian Enchiladas
Mushroom, Zucchini, and Black Bean Vegetarian Enchiladas are a magically delicious vegetarian enchilada
Ingredients
3

tablespoons

olive oil

10

ounces

baby bella mushrooms

chopped

1

small red bell pepper

chopped

4

cloves

garlic

minced

1

yellow squash

chopped

1

zucchini squash

chopped

1

14-ounce can black beans, drained

1

bunch green onion

chopped

8 to 10

flour tortillas

I used gluten-free

1

12-ounce can red enchilada sauce

8

ounces

grated cheese of choice
For Serving:
Sliced black olives

Fresh cilantro
Instructions
Preheat the oven to 400 degrees F.

Heat the olive oil over medium-high in a large skillet and add the mushrooms and bell pepper. Saute, stirring occasionally until mushrooms have softened and begin to brown, about 3 to 5 minutes. Add the garlic, yellow squash, zucchini squash, black beans, and green onion and continue cooking, stirring occasionally, until garlic is fragrant, about 3 minutes.

Spread ¼ cup of enchilada sauce on the bottom of a large casserole dish. Add about ½ cup of enchilada sauce to a wide-mouth bowl. Dip a tortilla into the enchilada sauce to coat. Flip and coat the other side in sauce. Add about ¼ to ? cup of the vegetable mixture to the center of the tortilla and roll to create an enchilada. Place in the prepared casserole dish and repeat with the remaining tortillas and filling.

Pour the rest of the enchilada sauce over the prepared enchiladas and evenly layer the shredded cheese on top. Bake on the center rack of the preheated oven (uncovered) for 20 minutes, or until cheese has melted and enchilada sauce is bubbling. Remove from the oven and allow enchiladas to cool at least 10 minutes before serving. Serve with sliced black olives and chopped cilantro.
Nutrition
Serving:
1
Enchilada
|
Calories:
437
kcal
|
Carbohydrates:
39
g
|
Protein:
15
g
|
Fat:
25
g
|
Fiber:
5
g
|
Sugar:
4
g
This post is sponsored by Daiya. All opinions are my own.