When choosing your shmear, choose roasted garlic kale hummus.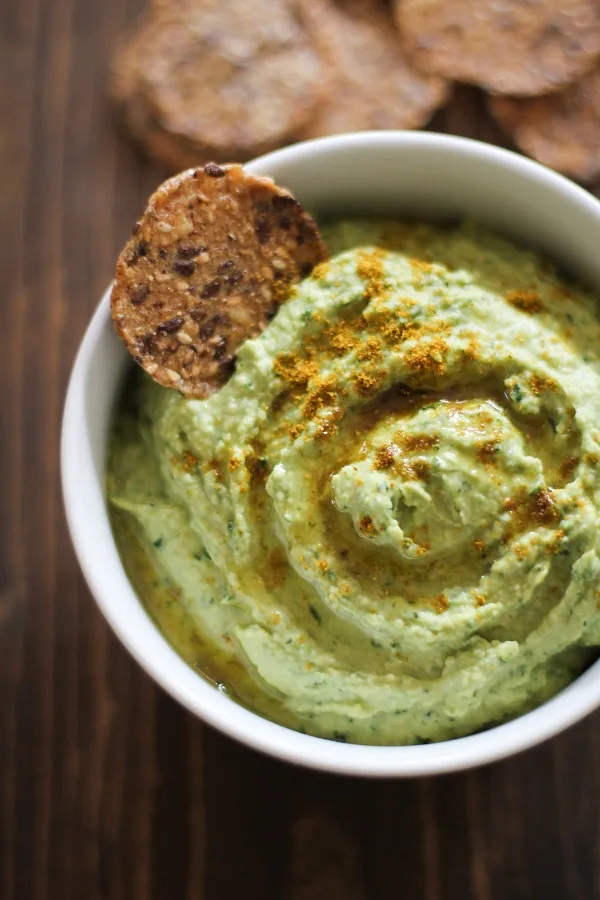 How much kale would a kalechuck chuck if a kalechuck could chuck kale?
What's a kalechuck? Beats me, but whatever it is, it wins at all things dietary and awesome.
Betcha didn't realize this week was going to turn into kale week! Have you counted up your bushels and determined you have ample kale to supply a small army with it's daily value of Vitamin K and then some? That's good, because on Tuesday, I announced Let Them Eat Kale! is Published and then shared my Spanish Cauliflower Rice with Kale recipe straight from the book on Wednesday. Because I'm so interested in your kale tank and must co-dependently make it as full as mine, I'm sharing another recipe from the book with you today.
This one's for all your shmearing and dipping needs. If you're a hummus lover, you had better get on the K Train and take it straight to 'banzoville.
Head over to Oh My Veggies to get my recipe for Roasted Garlic Kale Hummus.
Bonus fact: Kiersten over at Oh My Veggies is graciously giving away 3 copies of my cookbook, plus one lucky winner will receive a $100 Gift Card to Whole Foods and one of my Give 'em Kale t-shirts. You can enter her Let Them Eat Kale! + $100 Whole Foods Gift Card Giveaway and wear kale inside and out. Get it? Wear kale? Inside and out?
Except you're not actually wearing kale, per se, so much as you're eating the living crap out of it and then motivating passersby to grab life by the stalk via your oh-so-cozy threads. Regardless. Take the K Train. You deserve to go places. Wherever they may be. So long's there's kale there, all things will be hunky dory.
I'muhnuh go now.