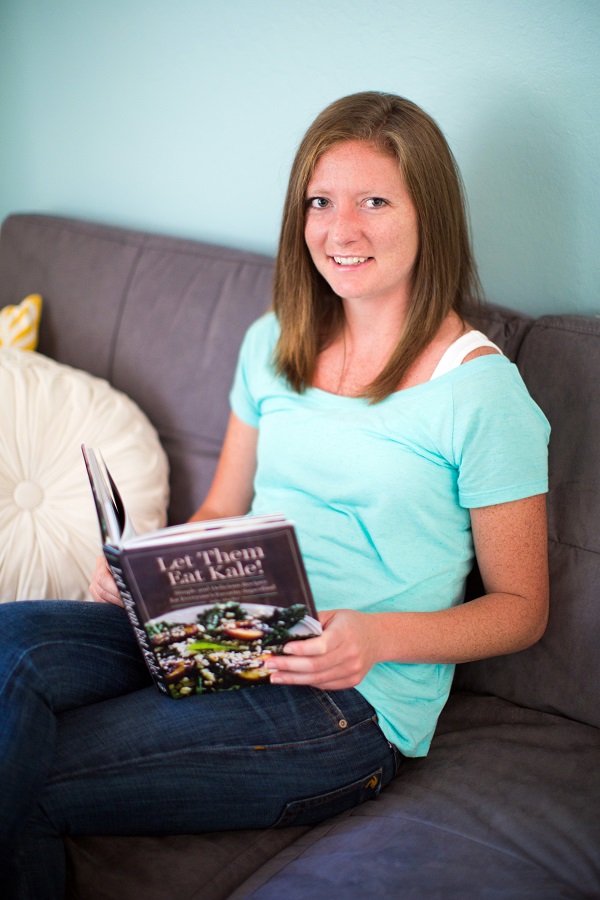 All photos by Jen Schmidt
After a year of blanching, sautéing, massaging, roasting, and eating my weight in kale, my second cookbook, Let Them Eat Kale!
has been published! I can't begin to tell you how excited I am that the book is finally on the shelf. While I was developing recipes for the book, I was so giddy and anxious to share all the tasty eats, and that day has finally come!
Kale is far more than a tough-to-chew bitter green. It is a powerful superfood and it can be incorporated into your diet in so many ways. While some people find kale unpalatable, I assure you that a little love goes a long way in making it just as tasty as it is nutritious. If there is one vegetable you want to have a solid relationship with, it's kale.
My good friend, Jen Schmidt and I teamed up to snap photos of Let Them Eat Kale!. And eat kale. Because that's what you do to excel at life. You eat all the kale.
We whipped up one of the recipes from the book, which I will show you tomorrow! Big thanks to Jen for all the beautiful photos in this post!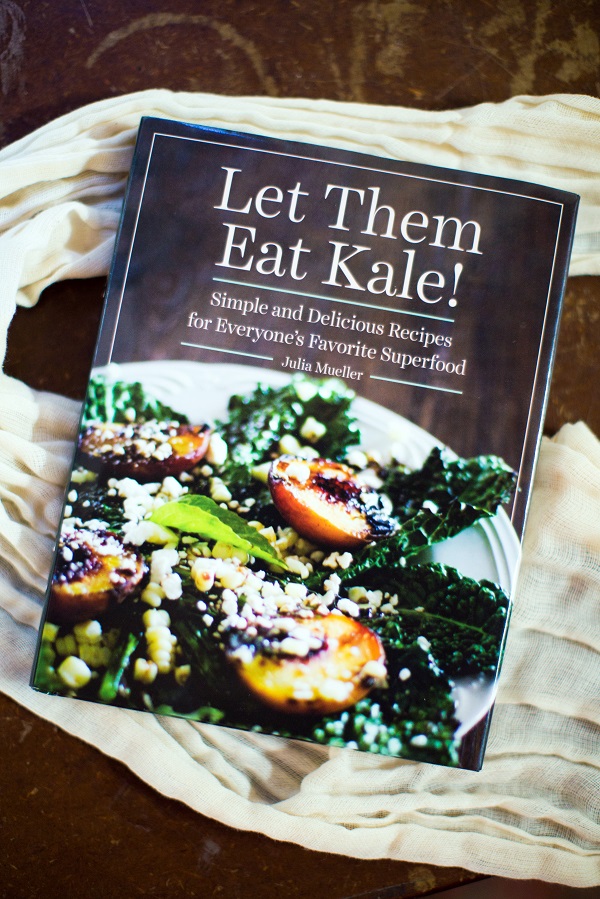 About the Book
If you're looking for recipes to incorporate more kale into your diet, this book'll do ya real good. The book includes information on the health benefits of kale, instructions on various methods of preparation, some gardening tips, and 75 recipes to keep your kale tank full. All of the recipes are easy to prepare, making kale that much more approachable.
You don't have to be an all-star cook in order to benefit from this book – in fact, this book is perfect for people who are just getting started with kale and simply need a resource to get the leafy green in their kitchen. For seasoned kale experts, the book provides new ideas and delicious recipes for maintaining your undying love for the leafy green.
All of the recipes in the book are gluten-free, minus a couple of burger buns, which can easily be replaced with gluten-free buns or omitted from the meal. Let Them Eat Kale! is not a vegetarian cookbook – there are animal protein recipes as well as vegetarian, vegan, and paleo recipes.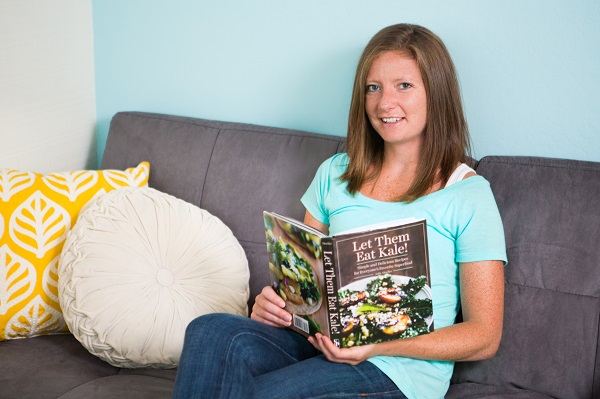 Why do we eat kale?
Many of you are already familiar with the health benefits of kale, so forgive me for sounding like a broken record, but let's do a brief recap. These are all of the fancy things kale does for your body:
Rich in antioxidants. Antioxidants protect your body against the damage free radicals have on your body's cells. Free radicals are introduced into your system through regular food and alcohol consumption, sunlight, stress, pollution, radiation, and tobacco smoke. Antioxidants help prevent cell oxidation, which ensures your cells stay healthy and are doing their job efficiently. Eliminating damaged cells from your system prevents disease and cancer.
High in iron, copper, potassium, manganese, and phosphorus. Iron is crucial in forming hemoglobin and enzymes. It helps transport oxygen throughout your body and promotes liver health. Potassium reduces your risk of stroke, helps keep the mineral density in your bones healthy, and helps lower your blood pressure Studies show those who eat more potassium have lower risk of cardiovascular disease.
High in Vitamin K, which helps fight and prevent cancer, assists in blood clotting, and strengthens your bones by helping the absorption of calcium. One cup of kale gives you 680% of the Vitamin K you need for the day.
High in Vitamin A, C, B6. Vitmain A is great for your eyes and skin and can prevent lung and oral cancers. Vitamin C works wonders for boosting your immune system, and also helps keep you hydrated. Vitamin B6 is crucial for healthy brain function, as it aids in the synthesis of dopamine and serotonin (your happy neurotransmitters). Studies have found sugar cravings are linked to an imbalance of these neurotransmitters, so having enough Vitamin B6 in your system can help quench those cravings. Goodbye, Skittles, hello kale.
Helps lower your blood sugar, which is helpful in alleviating diabetes.
Anti-inflammatory. Inflammation is very normal and can also be harmful. We tend to eat a high inflammation diet, rich in grains and legumes, which can put our bodies in a state of prolonged stress. While eliminating all inflammation from our system is difficult, it is important to lower it in order to keep our cells and organs healthy and prevent disease. Kale is a natural anti-inflammatory, which means you'll not only feel great after eating it, but it will help ease some of the inflammation that other foods cause.
Full of fiber, not full of calories. Fiber is important in maintaining digestive regularity and for keeping your digestive system healthy. A diet rich in fiber protects against colon cancer and other bowel ailments and also boosts your metabolism. In addition, kale is a low-calorie food, making it a desirable go-to for those who are trying to maintain a healthy weight.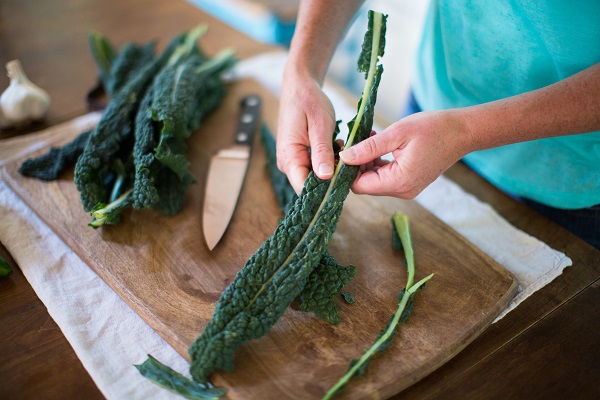 What does all of this mean?
Healthy cell function, strong immune system, digestive regularity, cardiovascular health, increased metabolism, anti-inflammatory, overall happiness.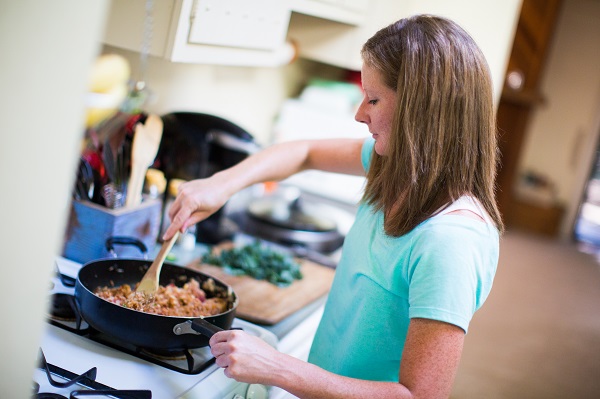 Where you can buy the book
Let Them Eat Kale! is available for sale on Amazon
, Barnes & Noble and WalMart. You may also find it in your local book shop!
If you love kombucha, ginger beer, or other fermented drinks, be sure to check out my first cookbook, Delicious Probiotic Drinks on Amazon, Barnes & Noble, or WalMart.
Giveaway
I'm giving away three copies of my book! PLUS, one winner will receive a copy of Let Them Eat Kale!, one of my Give 'em Kale t-shirts, and a $50 gift card to Whole Foods. All you have to do for a chance to win is comment on this post. The giveaway ends Thursday, July 31 at midnight EST.
I thank you, my readers, from the bottom of my heart. You've been a huge inspiration to me and I can't tell you how appreciative I am of your continued support. I'm shaking your hand, giving you a high five, and sending you a ginormous bear hug. Thank you, thank you!
Now let's go eat kale!