Vegan Roasted Eggplant and Mushroom Curry – an Indian curry recipe that is gluten-free, dairy-free, vegetarian, and nutritious! Make it as a meal prep recipe or for stunning your guests!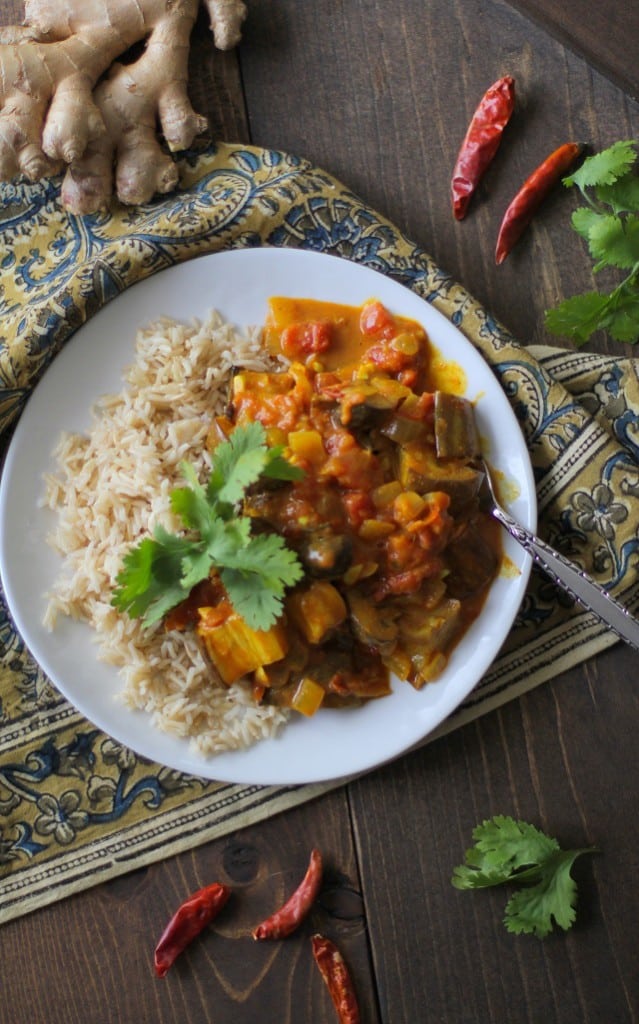 Eggplant season, everybody get pumped!
Those deeply purple-d bulbous bodies of meaty spongy versatility, glorious day, what a vegetable.
I know, I know.
Some of us are Eggplant People and some of us Are Not.
To those of you who Are Not, I implore you to try your eggplant bathed in coconut milk and spices. Just once.
Just to say you've been there, done that, et that eggplant. It really is just the darndest thing, the curry o' eggplant.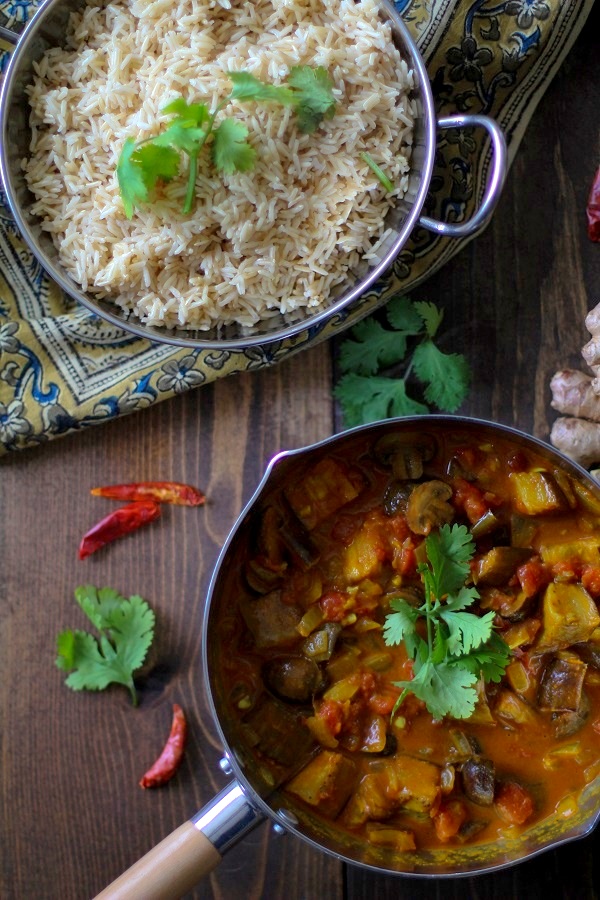 Eggplants are one of those faux meat veggies that serve well as a filling meatless meal.
They're hearty, they absorb flavor like a chameleon changes color, they can be made into just about anything.
One of my first experiences with eggplant was an eggplant curry I tried from a local Indian restaurant.
It was so flavorful, so mooshy, so spicy, my tongue was on overload in joy.
I showed you an eggplant curry 17,000 years ago, and this is basically a deconstructed version of that with mushrooms added in.
Eggplant season runs from July through October, which means we have many-a-month to enjoy eggplant curry, eggplant sandos, eggplant burgers, you name it. Time is on our side, yes it is.
Eggplants absorb oil like whoa, so I coat them with a generous portion when I roast them lest they stick to the baking sheets.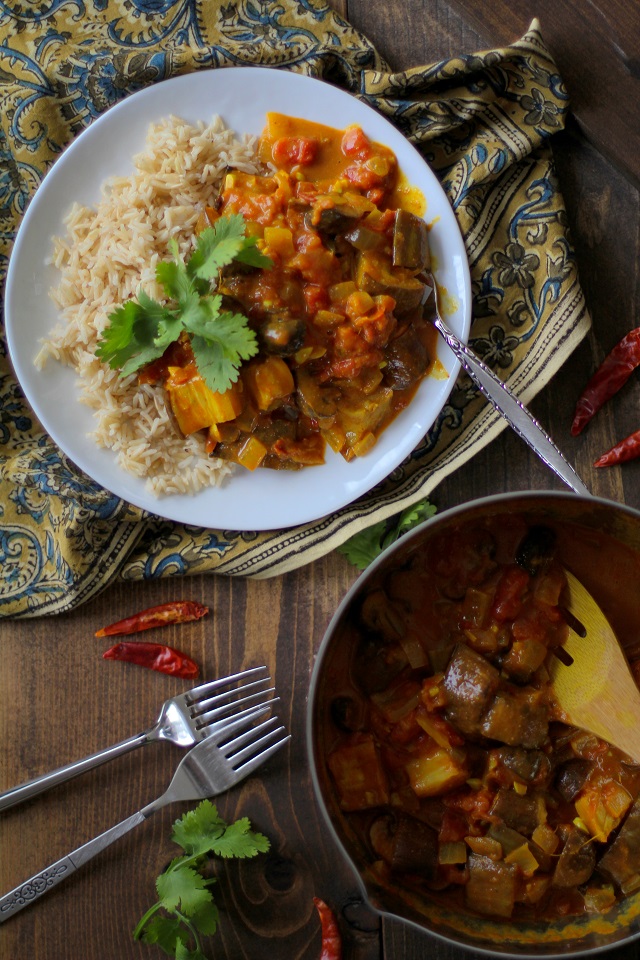 While the eggplant and mushrooms were roasting in the oven, I made a yellow coconut curry sauce on the stove top.
After simmering the sauce for a hot minute, I added the roasted veggies and served it all up on rice. BOOM meatless Monday.
Be sure to save a smidge of the curry for your work lunch, because a.) nothing rustles your coworkers's tail feathers like the scent of curry wafting from the breakroom, and b.) curry is always better the next day.
It's a real rumpus, that curry.
Get that Monday!
My cookbook,
Paleo Power Bowls
, is now available! CLICK HERE to check it out. Thank you for your support!
If you make this recipe, please feel free to share a photo and tag @The.Roasted.Root on Instagram!
Roasted Eggplant and Mushroom Curry
Vegan Roasted Eggplant and Mushroom Curry - an Indian curry recipe that is gluten-free, dairy-free, vegetarian.
Ingredients
1

large eggplant

diced into 2- cubes

8

ounces

baby bella mushrooms

halved

1 14-

ounce

can full-fat coconut milk

divided

½

yellow onion

chopped

1

tablespoon

fresh ginger

peeled and grated

3

cloves

garlic

minced

1

dried red chili

seeds removed and crushed

1

teaspoon

paprika

1

tablespoon

ground cumin

2

teaspoons

ground corriander

1

teaspoon

ground turmeric

1

teaspoon

sea salt

or to taste

1 14-

ounce

can diced tomatoes

drained
For Serving:
Cooked Brown or White Rice

Fresh cilantro

Greek yogurt

optional
Instructions
Preheat the oven to 400 degrees F.

Spread the eggplant and mushrooms on two baking sheets. Drizzle generously with olive oil and sea salt. Place in the oven and roast for 15 minutes. Remove from the oven, flip the veggies, and roast an additional 10 to 15 minutes.

While the vegetables are roasting, make the curry sauce. To do so, add about 1/3 cup of the coconut milk to a saucepan, along with the onion, ginger, and garlic. Saute, stirring occasionally, until the onion is soft and translucent, and the coconut milk has been absorbed, about 10 minutes. Add the spices and saute an additional 3 minutes. Add the remaining coconut milk and diced tomatoes. Bring to a full boil, then reduce the heat. Allow the sauce to continue cooking at a controlled boil, stirring occasionally, until thick, about 15 minutes.

Add the roasted vegetables to the saucepan, stir well to coat, then serve curry with cooked brown rice, quinoa, or cauliflower rice.
Nutrition
Serving:
1
of 4
|
Calories:
224
kcal
|
Carbohydrates:
11
g
|
Protein:
5
g
|
Fat:
19
g
|
Fiber:
2
g
|
Sugar:
6
g
More eggplant recipes for your enjoyment:
Gluten Free Skillet Eggplant Parmesan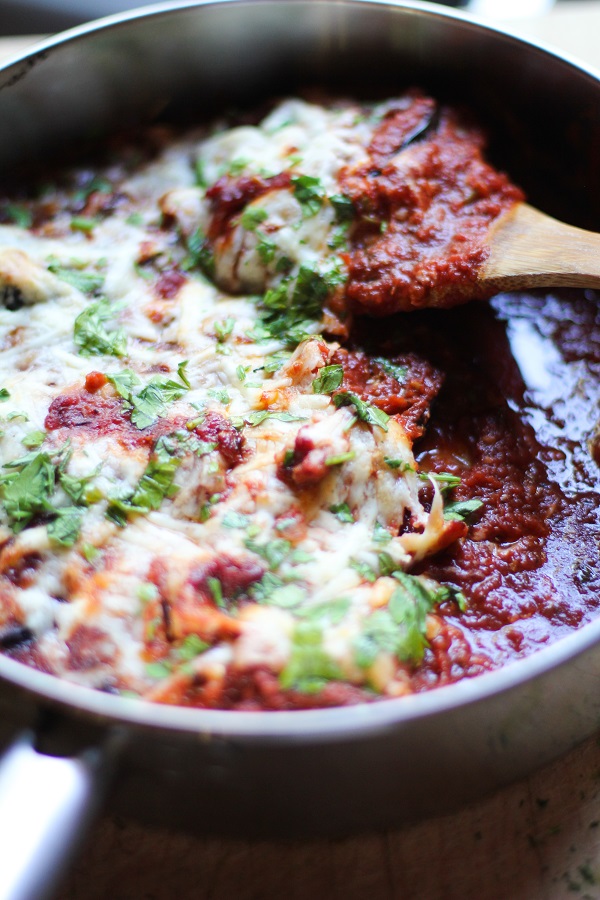 Indian Eggplant Curry (Bhaingan Bharta)
Roasted Eggplant Pesto Sandwich