Superfood roasted beet and berry salad with goat cheese and raspberry-fig vinaigrette – a light and healthful dish perfect for Spring.
More often than not, at the end of a long day in the kitchen, all I want is some fresh vegetation in my belly – in spite of the fact that I have all sorts of filling meals prepared and packed conveniently in the fridge.
I typically have roasted beets or sweet potatoes (or even a plethora of mixed roasted veggies) on hand, so come feeding time, I simply plunk some greens down in a huge bowl, add said roasted veg, a fruit or three, a cheese, often some nuts, and drizzle with homemade dressing that I whip out in my little Magic Bullet blender.
Which brings me to my next point: roasting veggies ahead of time for a busy week.
When I have the forethought to do so, I snag a bunch of beets from the grocery store, chop one up, wrap the hunks into a big foil packet, and roast at 375 for 45 to 50 minutes.
One big beet will last me a full workweek, and chopping the thing before roasting cuts down on the bake time significantly.
This is convenience, my friends.
Plus, there's nothing like the satisfaction after a healthful meal – feeling full but not too full, knowing you'll wake up feeling ready to take on the world the next day.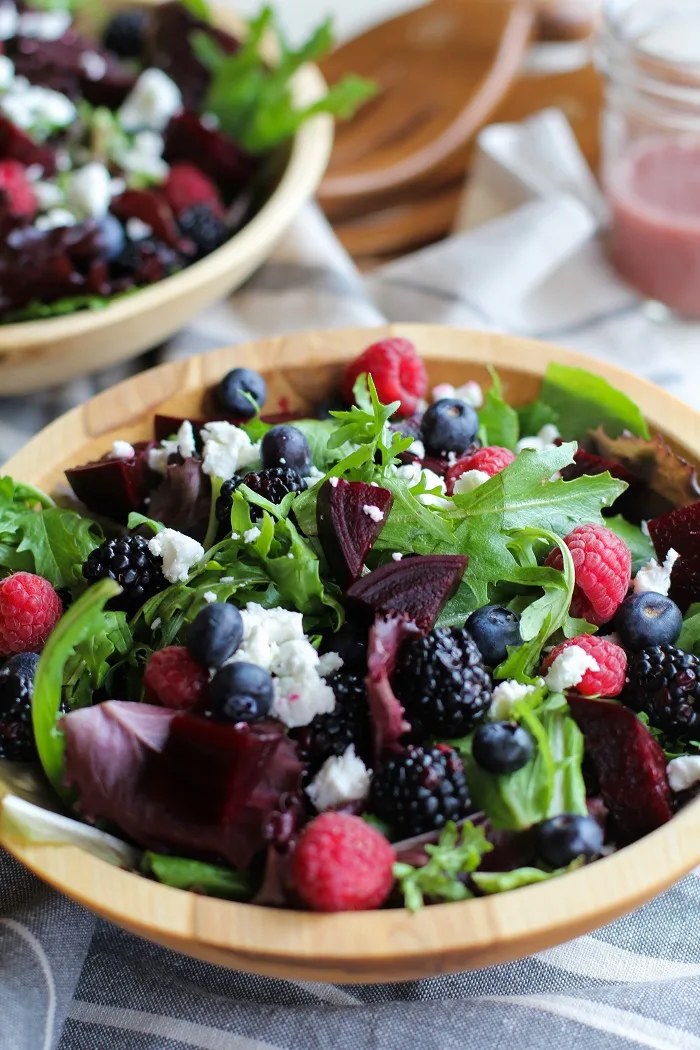 If you've tried my Winter Citrus Roasted Beet Salad or my Roasted Beet and Arugula Salad with Maple Balsamic Vinaigrette, I just know you'll love this one too!
Recipe Adaptations:
Change ups to the recipe? Here are some ideas:
Omit any of the berries
Substitute blueberries for raspberries in the vinaigrette
Add grilled chicken for animal protein
Use kale, spinach, or green blend of choice as opposed to spring greens.
I've been blown away by how tasty berries have been lately.
Blueberries, raspberries, and blackberries are marvelous when they're in season and are most excellent in salads.
The raspberry-fig vinaigrette is the real meal maker here, tying all the ingredients together into a lovely fresh flavor meld.
I hope you enjoy this flavor fest!
Also try my Steak Salad with Berries Avocado and Goddess Dressing, my Thai Chicken Chopped Salad, and my Strawberry Spinach Salad with Poppy Seed Dressing.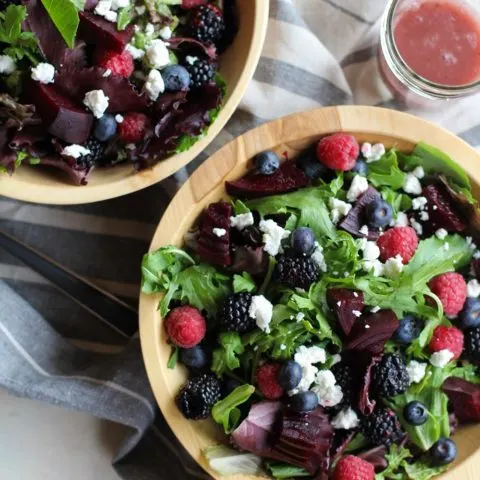 Roasted Beet and Berry Salad with Raspberry-Fig Vinaigrette
Roasted Beet and Berry Salad with Raspberry-Fig Vinaigrette is a delightfully fresh and flavorful salad perfect for a side dish
Ingredients
Beet and Berry Salad:
1 medium beet, chopped and roasted
½ cup blueberries
½ cup blackberries
½ cup raspberries
1/3 cup goat cheese crumbles*
5 ounces spring green mix
Raspberry Fig Vinaigrette:
¼ cup raspberries
1 tablespoon fig preserves, or more to taste
1/3 cup grapeseed, avocado, or olive oil
1/3 cup rice vinegar or cider vinegar
Pinch cinnamon, optional
Instructions
Prepare the Raspberry-Fig Vinaigrette:
Add all of the ingredients for the vinaigrette to a small blender and blend until combined. Refrigerate until ready to use.
Prepare the Beet and Berry Salad:
Preheat the oven to 375 degrees F.
Scrub the beet and pat it dry. Chop it into 1/2-inch to 1-inch chunks, then wrap the pieces in foil packet. Place packet on a baking sheet and bake for 45 to 50 minutes, or until beets are soft and juices are seeping out. Allow beet to cool to room temperature.
Add the ingredients for the salad to a large serving bowl. Toss in desired amount of raspberry fig vinaigrette and serve (keep leftover vinaigrette in a sealed jar in the refrigerator for future salads).
Nutrition Information
Serving Size

1 of 2
Amount Per Serving
Calories

366
Total Fat

18g
Unsaturated Fat

0g
Carbohydrates

43g
Fiber

12g
Sugar

12g
Protein

11g