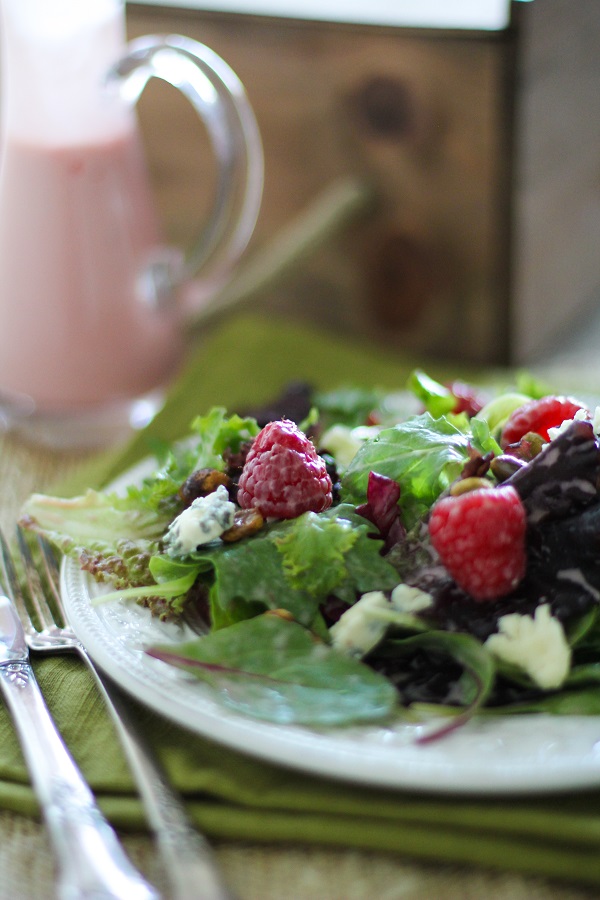 Let this summer go down in history as the summer of salad and burgers.
I've made some attempts to show you non-salad and non-burger recipes but ever since the earth reached its maximum axial-tilt one month ago (ohhh yeah, Wikipedia-ed that, son!) leafy greens and hunks of meat have had my full attention. Resistible? I think not!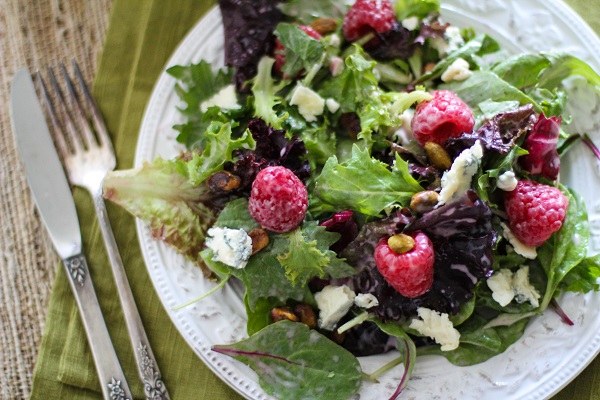 I can't seem to even oil up a skillet for pancakes. Ludicrous. Loaf of bread? Get yo'self right out of town. Haven't even touched the ice cream maker, the oven's pretty much off limits, and the only thing that's going in the blender these days is…wait for it, wait for it….salad dressing. If it's not coming straight from the ice box or hot off the grill, I ain't interested. Until I am…but you'll know when that time comes.
Last summer, I posted Massaged Kale Salad with Creamy Blueberry Vinaigrette and ever since, I've been wanting to re-make the vinaigrette recipe using raspberries. Done. So great! So pink!
Drizzle it a-top mixed greens, fresh raspberries, pistachios, and blue cheese and you're looking at…skyyyyy rockets in flight! What. is. wrong. with. me.
Onward and upward, my furry friends. Go get your salad and tell someone you love them.
Here's where you get the Creamy Raspberry Vinaigrette recipe.
Raspberry and Pistachio Salad with Creamy Raspberry Vinaigrette
A flavor-blasted salad recipe loaded with fresh spring produce! Raspberry and Pistachio Salad with Creamy Raspberry Vinaigrette is a true delight.
Ingredients
6

cups

spring green mix

1

pint

fresh ripe raspberries

¼

cup

pistachios

shelled and salted

¼

cup

soft blue cheese

crumbled

3

tablespoons

creamy raspberry vinaigrette dressing* or to taste
Instructions
Add spring green mix and creamy raspberry vinaigrette to a salad bowl and toss to coat the greens. If more dressing is desired do so now and toss.

Add the remaining ingredients and toss everything together.

Serve immediately, as leftover salad is lame.
Notes
* Recipe for creamy raspberry vinaigrette here: https://www.theroastedroot.net/creamy-raspberry-vinaigrette/
Nutrition