Massaged kale salad with candied walnuts, goat cheese, and creamy blueberry vinaigrette is a super nutritious and flavorful salad perfect for the summer months.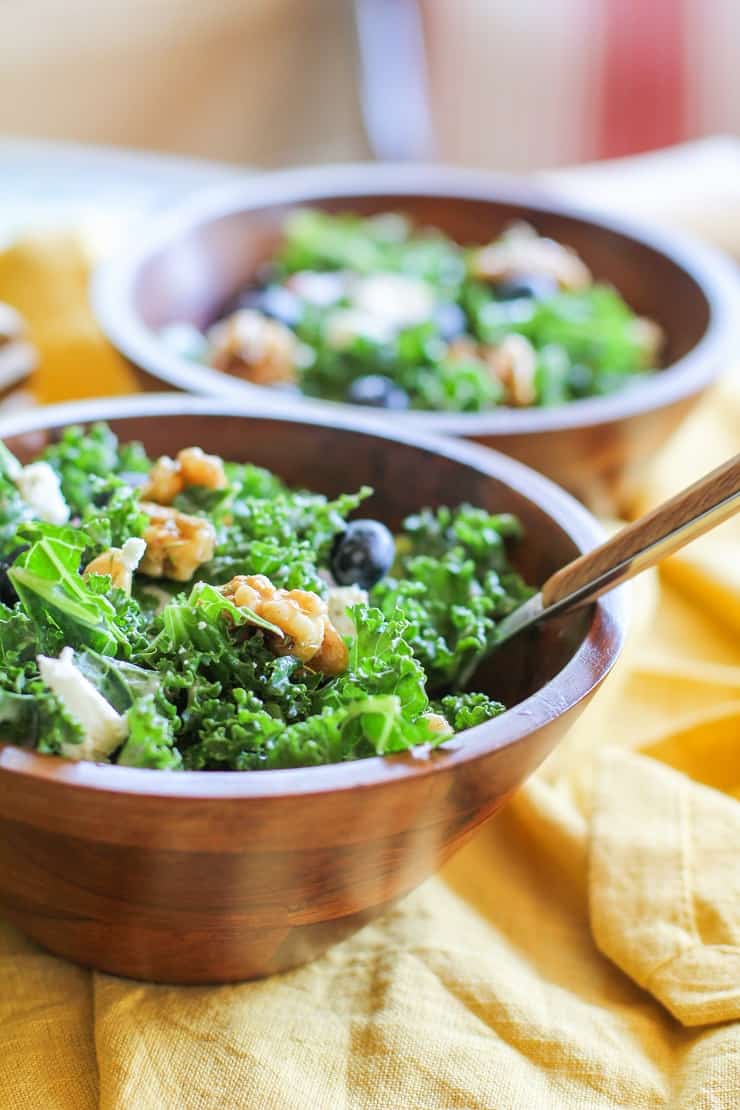 If you've never tried massaging your kale, I promise it is a game changer! The added step of massaging kale helps break down the fibers in the leafy green, which yields a much easier-to-chew result. In my opinion, massaging kale is paramount when you're using it as the main green in a salad, because it really decreases the amount of time you spend chewing.
All you do is remove the leaves from the stems (discard the stems or save them for a smoothie), place the leaves in a large bowl and drizzle with a couple tablespoons of lemon juice. Assertively massage the lemon juice into the kale leaves for 2 to 3 minutes, until the leaves begin to soften. Allow the leaves to sit for about 10 minutes, then you're golden! I promise you'll never make kale salads sans massage ever again!
To make this salad extra delicious, I candied some walnuts in honey (you can also use pure maple syrup) and fresh rosemary and a dash of cinnamon…you'd never guess such simple ingredients could create something so mouth-wateringly delicious! I'm addicted!
In addition to candied walnuts, I love adding blue cheese crumbles for tang and creaminess. You can replace the blue cheese with feta or goat cheese, or omit the cheese altogether.
The creamy blueberry vinaigrette is show-stopping delicious, and it brings the whole salad together famously! You can go with a raspberry vinaigrette as well, but I do recommend using a homemade version so the salad stays tasting nice and fresh!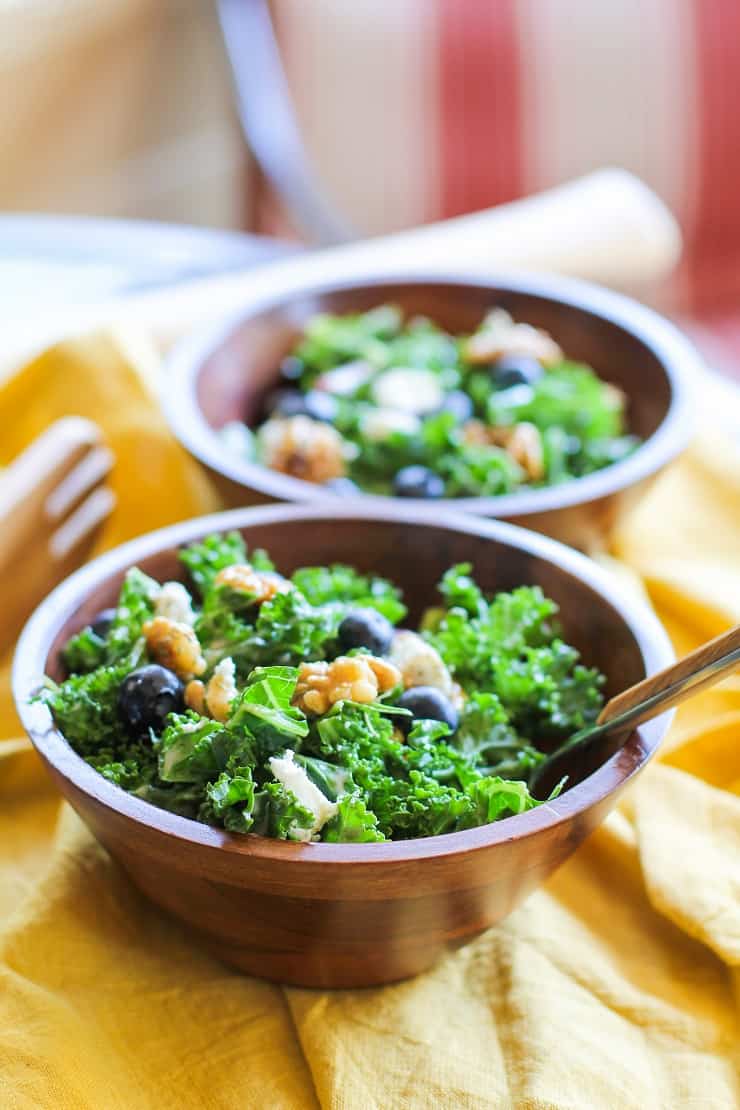 Feel free to get creative with adapting this recipe to your personal taste. It's a fabulous staple in the home, and is perfect for sharing during the summer months!
Massaged Kale Salad with Creamy Blueberry Vinaigrette
Massaged Kale Salad with Creamy Blueberry Vinaigrette, rosemary candied walnuts, and blue cheese. An amazingly flavorful healthy salad recipe!
Ingredients
For the massaged kale salad
1

large head kale

chopped

2

tablespoons

lemon juice

¼

red onion

thinly sliced

1

pint

blueberries

1

cup

rosemary candied walnuts

recipe below

½

cup

Blue cheese crumbles

Blueberry vinaigrette

recipe below
For the Creamy Blueberry Vinaigrette
1/3

cup

grapeseed oil

3

tablespoons

white vinegar

1-1/2

cups

fresh blueberries

makes about half cup of syrup

2

tablespoons

honey

or pure maple syrup

1/3

cup

plain Greek yogurt

½

teaspoon

salt

to taste
For the Rosemary Candied Walnuts:
1

cup

walnut halves

1

teaspoon

grapeseed or olive oil

2

tablespoons

honey

or pure maple syrup

1

teaspoon

fresh or dried rosemary

Pinch

of salt

Dash of cinnamon

Dash of ground ginger
Instructions
Prepare the blueberry vinaigrette first.
In a saucepan, heat the blueberries and honey over medium heat, covered until blueberry juices are seeping out and bubbly.

Mash blueberries with a fork to help get juices out and cook an additional 5 minutes but don't allow the mixture to boil over.

Remove from heat and strain blueberry syrup using a fine wire strainer.

Discard the blueberry pulp and place blueberry syrup in refrigerator to cool.

Once cool, combine blueberry syrup with all other ingredients for the vinaigrette and mix vigorously with a whisk until smooth and creamy (or place everything in a blender and blend until smooth and creamy). Place in refrigerator until ready to use.
Prepare the salad.
Place the chopped kale leaves in a salad bowl and drizzle the lemon juice over the leaves. Massage leaves with your hands about 2 minutes and let sit about 10 minutes in order to allow leaves to soften. Add all other salad ingredients to salad bowl and set aside.
Prepare the Rosemary Candied Walnuts.
Using a small skillet, heat the grapeseed oil, honey and rosemary over medium low heat.

Add the walnuts and stir to coat.

Sprinkle a touch of cinnamon, ground ginger and salt over the walnuts and allow nuts to continue to toast another 3 to 5 minutes, stirring consistently.

Don't allow nuts to sit without stirring because the honey will burn onto the nuts quickly when unattended. The nuts are ready when they are soft yet toasty, warm all the way through and have a nice sweet glaze on the outside.

Sprinkle the walnuts over the salad and drizzle blueberry vinaigrette over everything to taste. Toss with your hands or salad tongs to ensure everything is evenly coated. Enjoy!
Notes
Use leftover vinaigrette for other salads
Nutrition
Serving:
1
of 3
|
Calories:
558
kcal
|
Carbohydrates:
29
g
|
Protein:
13
g
|
Fat:
47
g
|
Fiber:
7
g
|
Sugar:
20
g