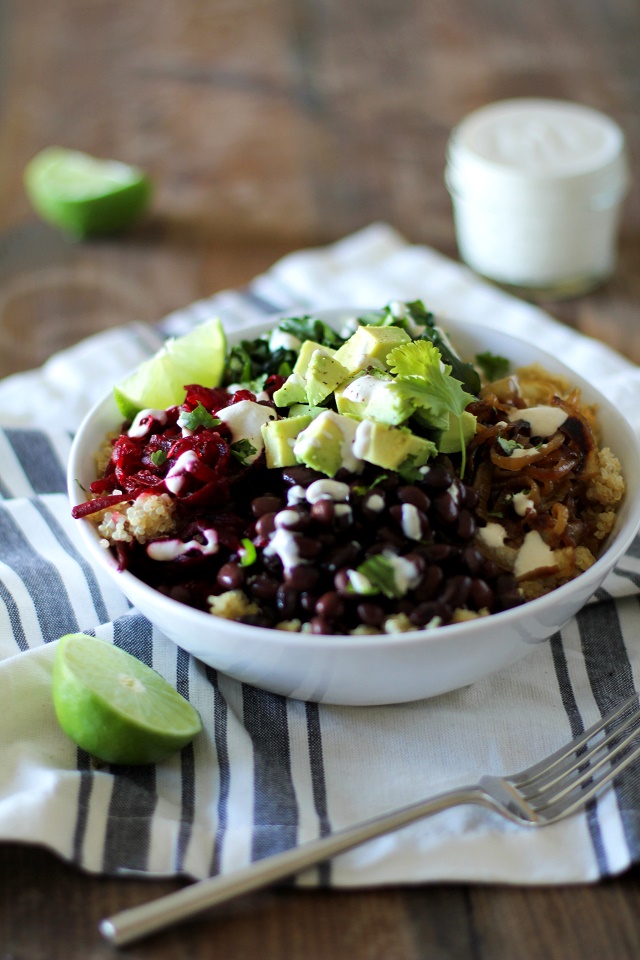 This burrito bowl has approximately 1 thing in common with an actual burrito, but try to experience what I'm about to chirp in your lobes, okay, cool? <- Encino Man reference. You're so very welcome.
Have you ever met a burrito bowl you didn't like? Let's be honest, they're dang near impossible to beat. Really, the way I burrito my bowls bears little to no resemblance to authentic Mexican fare, but we can still consider my version to be of the burrito bowl varietal, because: black beans.
I like to jam pack all sorts of fresh veggies in with my goods…and maybe swap out the salsa for sauce…and substitute the rice for quinoa…and leave the whole thing tortilla-less, cheeseless and meatless, because: gluten free, dairy free, vegan, and healthy…yet still call it all Mexican-inspired.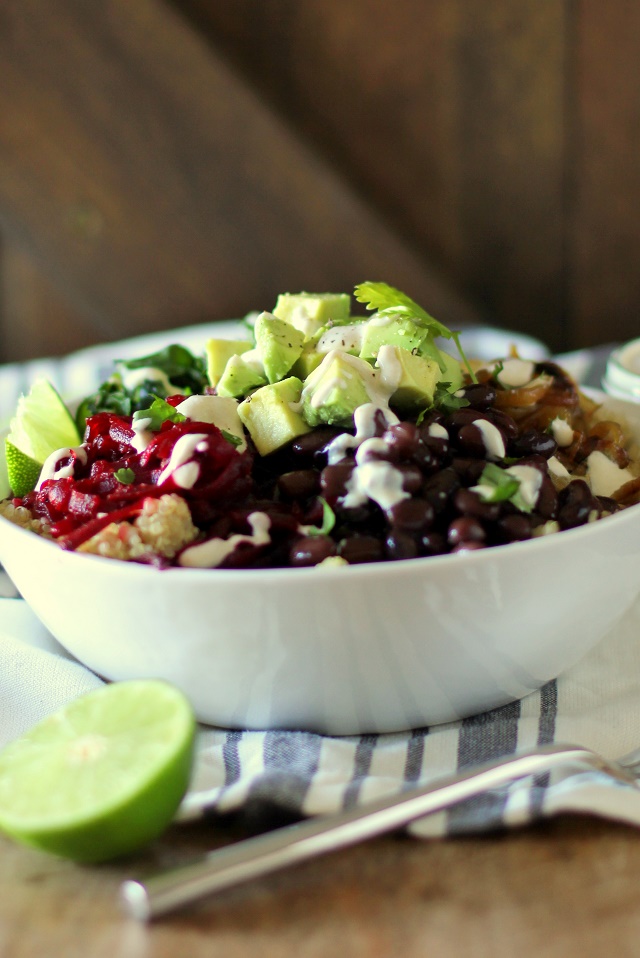 We can do all sorts of fresco things to our 'rito fiesta bowls, and looky here:
This one's got shredded beets in it, don't panic.
Along with our shredded freaking beets, we have quinoa, kale, black beans, caramelized onions of all dang things, and hunks of avo. You.people. Deez bowlz are amazebowlz. For realskis.
You hate me.
Caramelized onions, people. You LOVE those!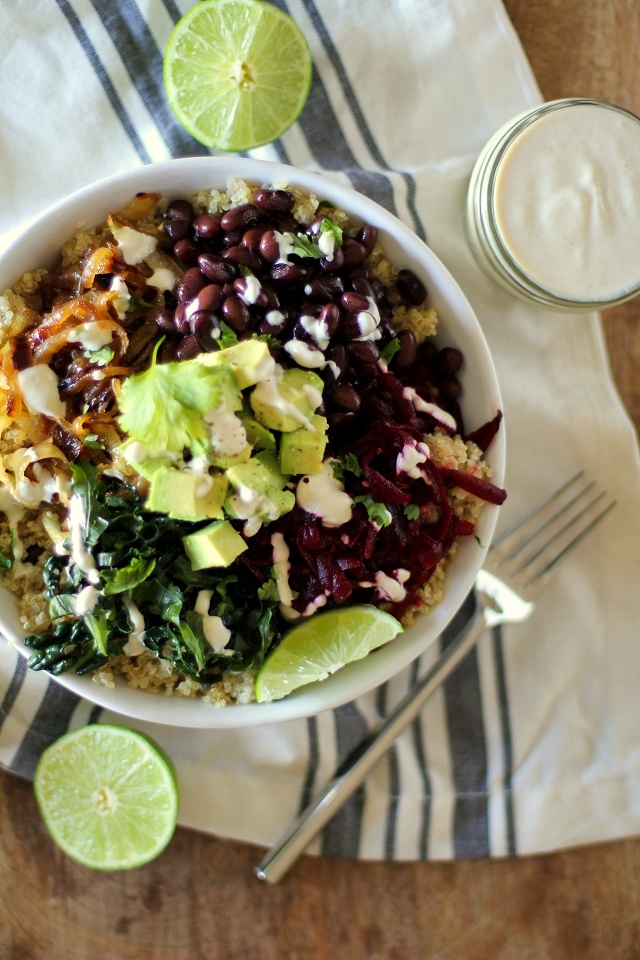 Lately, my bodacious bod has been needing bowls of this type of nutrition caliber because I can't seem to cease and desist it with the wines and the ice creams.
Do you hate it when I refer to my bod as, "bodacious?" Does it make you want to wheeze the juice with Brendan Fraser? <- Encino Man reference #2, we've got this ish.
The way I see this going down, you can whip out all the ingredients for this burrito bowl and lunch or dinner on it continuously, or share it with your friends and family. A healthier and inauthentic take on Cinco de Mayo, anyone? Anyone? Hold the cheese? Do you feel punished? Don't answer that.
I admit, the caramelized onions take foreeeeeevah to get all perfect and squoooshy, but they're so worth the wait. And the beet situation: you can grate up a large raw beet or cooked beets, depending on the texture you're going for. Since I made this recipe for Love Beets, I went the cooked route in this particular instance.
Have I told you about the ludicrous cumin-lime tahini dressing that goes on this bowl o' veg? You'll just have to taste it to believe it.
Phew! So much information. You look like you could use some sustenance. Hop over to Love Beets for the Quinoa Beet Burrito Bowls recipe! Boom! Fiesta de los dioses.
For more burrito bowl recipes, check these out:
Cauliflower Rice Burrito Bowls with chickpeas, kale pico de gallo, guacamole, and corn (vegetarian)
Salmon and Quinoa Burrito Bowls