A quick and easy recipe for gluten-free (or grain-free) turkey meatballs. Make them in bulk and freeze them, or eat them throughout the week!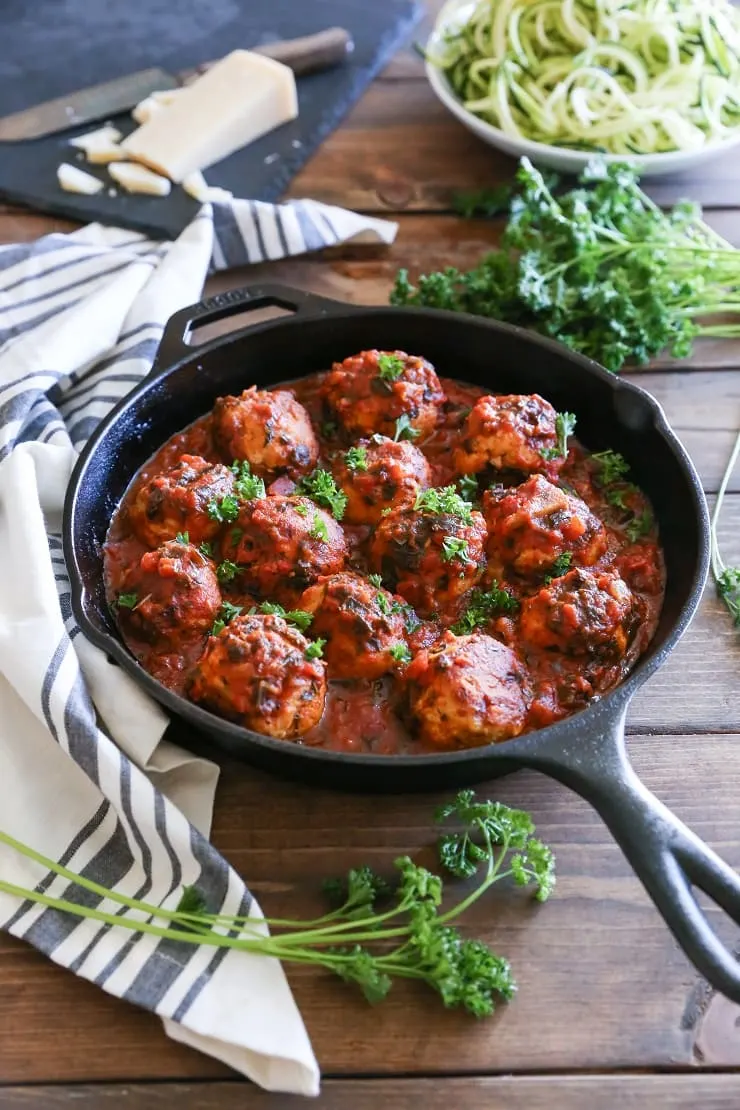 Do you ever think to yourself, "If I don't get a meatball STAT, I'm going to throw myself on the ground like a limp ragdoll and pitch a fit?"
No?
Well, then you're a better person than I, because when I need a meatball, man, I need it BAD!
Did I ever tell you the story about how meatball subs were my absolute favorite growing up? It's true. The toasty crunchy bread?
The saucy McSaucedOut Meatballs with all the cheese…so thick I could barely fit it in my mouth hole?
There's just something about a tender, flavorful meatball, engulfed in steamy melty cheese that satisfies the soul so thoroughly, the experience cannot be replicated in any non-ball form. Simply unparalleled.
So now that we've covered my impertinent love for meatballs, we can move on.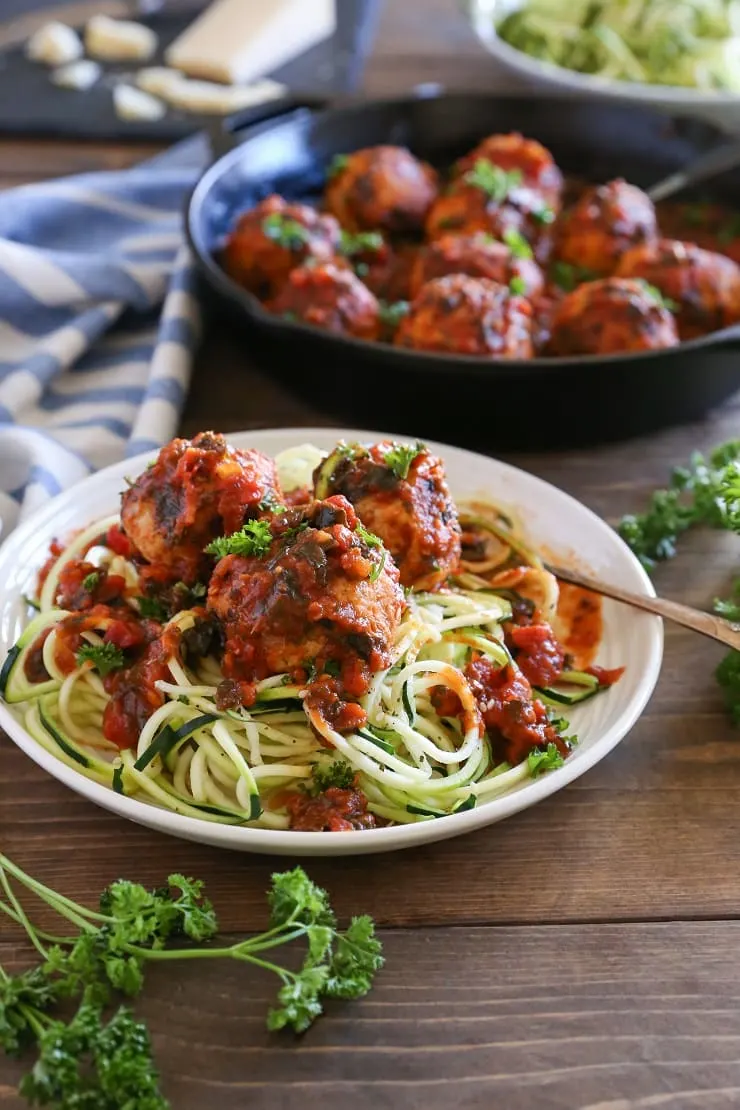 How to Make Turkey Meatballs:
Preparing this turkey meatball recipe is very simple.
All I do is mix the ingredients using a stand mixer (hint: you can also use your bare hands if you don't have a mixer!), form any sized ball my heart desires (I make them large and in charge), then sear them in a cast iron skillet.
I always recommend using Diestel Turkey, as their birds are humanely raised, and all of their products are are antibiotic-free (plus, their sausage is nitrate-free).
Once the meat has browned, I add a jar of my favorite store-bought sauce (be sure to buy extra if you're a mega sauce lover!…slash make your own if you have a recipe you love!).
I then cook the turkey meatballs the rest of the way in the sauce for optimal flavor.
JUST BE SURE to use a really great store-bought sauce if you aren't making your own.
I always go for quality, organic sauces that are made with fresh ingredients and don't contain preservatives…for me, they always yield the tastiest result.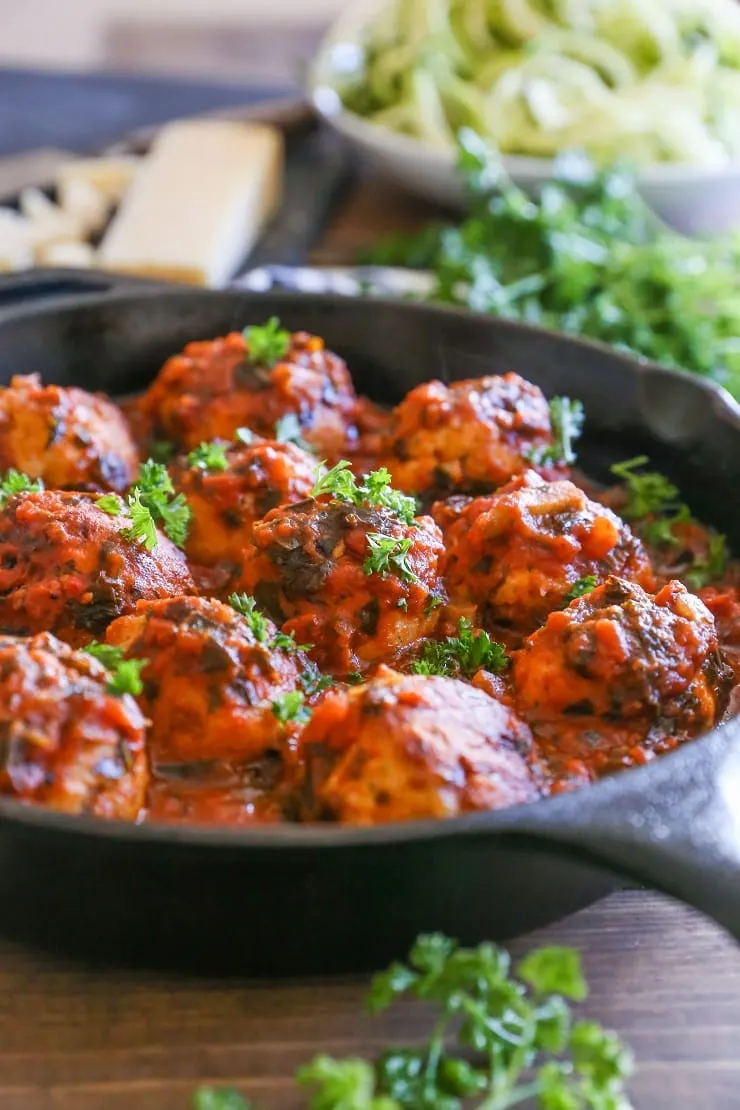 Let's talk timing.
Cook time here for me was about 30 minutes (prep time, about 15 to 20). If you aren't under a time crunch, cooking the meatballs extra slowly to really jazz up the flavor is a wise choice, but definitely not mandatory.
Heck, you can even transfer the balls to a slow cooker and finish them off there.
Would you like to make these meatballs grain-free (paleo)?
You can omit the gluten-free breadcrumbs and add ¼ cup of almond flour + 1 tbl tapioca flour.
One more note: I used all ground turkey for these meatballs, but you can go with half ground turkey and half ground turkey sausage (this would be the more traditional way of preparing the ball).
You can also change the meat selection to chicken, pork, beef, lamb, bison, elk, you name it. If you change the meat to pork, beef, or lamb (a fatty meat) omit the oil from the recipe.
Recipe Adaptations:
Use equal parts ground turkey and ground turkey sausage. If you know you like your meatballs with a little sausage flair, definitely consider implementing this adaptation.

Double the recipe to make more meatballs. This recipe can easily feed 3 to 4 very hungry individuals, but if you're looking to feed more people, it's very easy to double the recipe. If doubling, consider adding 1 pound of ground turkey sausage as opposed to another pound of regular ground turkey.

Incorporate various dried herbs and spices into the meat to play with the flavor.

Add booze. Somehow somewhere. Red wine? You do you, girl.
As you can see, I served some of the meatballs atop a bed of zucchini noodles.
If you aren't a fan of zoodles but still want a gluten-free option, you can always go with a different veggie noodle, gluten-free pasta noodles, rice, or risotto.
And we're meeeeat…meat baaaaallin'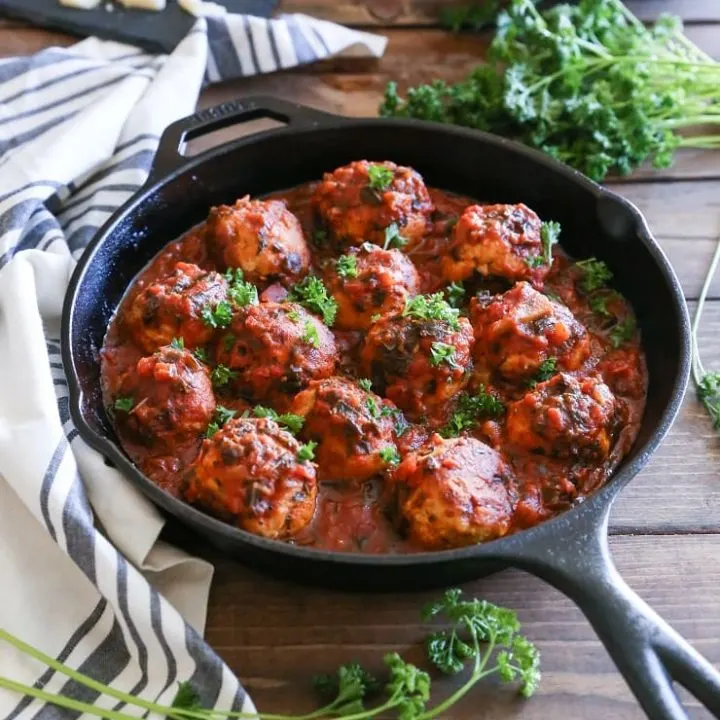 Quick & Easy Gluten-Free Turkey Meatballs
The BEST turkey meatballs in red sauce! Serve it up over your choice of pasta noodles, zoodles or rice!
Ingredients
1 pound lean ground turkey, see note*
1 egg
1/2 cup gluten-free breadcrumbs, see note**
1/3 cup yellow onion, finely chopped
2 cloves garlic, minced
1 teaspoon dried oregano
1 teaspoon dried parsley
1 (28-ounce) jar pasta sauce of choice, see note***
Instructions
Add all of the ingredients to a stand mixer fitted with the paddle attachment. Mix until the ingredients are well-incorporated and the meat begins to ball up. Note: If you don't have a mixer, you can mix everything by hand (yes, with your actual hands) in a mixing bowl.
Form balls out of the turkey meatball mixture (mine were 1-1/2 to 2 inches in diameter), and place them on a plate.
Heat a large (10-inch) cast iron skillet to medium-high and add enough olive oil (or algae oil or cooking oil of choice) to generously coat the surface. Once the skillet is hot, carefully place the meatballs on the hot surface, giving ample room between each ball.
Cook for 1.5 minutes, flip the meat balls over, then cook an additional 1.5 minutes. Turn the meatballs a couple more times to get a good sear on them, but don't cook them all the way through. Reduce the heat to medium.
Carefully add the sauce to the skillet (if the skillet is too hot, the sauce will splatter out..watch out for sauce debris). Cover the skillet and allow the meatballs to cook at a gentle boil for 20 minutes (or cook over medium-low at a simmer for an hour).
Serve meatballs over choice of zoodles, rice, pasta, gluten-free noodles, etc.
Notes
*You can use 1/2 pound ground turkey + 1/2 pound ground turkey sausage for a more traditional meatball flavor.
**If making paleo or Whole30 meatballs, omit the GF breadcrumbs and add 1/4 cup almond flour and 1 tablespoon tapioca flour. You can also use regular breadcrumbs if you don't follow a GF or paleo diet.
***If using store-bought red sauce, red the label to be sure there isn't any added sugar. I like the Primal Kitchen Brand of marinara sauce. Or follow the marinara sauce recipe from this post.
Nutrition Information
Yield

12
Serving Size

1 of 12
Amount Per Serving
Calories

169
Total Fat

10g
Unsaturated Fat

0g
Carbohydrates

7g
Fiber

1g
Sugar

3g
Protein

11g