Peanut butter chocolate chip chickpea blondies are gluten-free, grain-free, dairy-free, refined sugar-free, and super easy to prepare in your blender. Plus, they're vegan and packed with fiber and protein for a healthful dessert!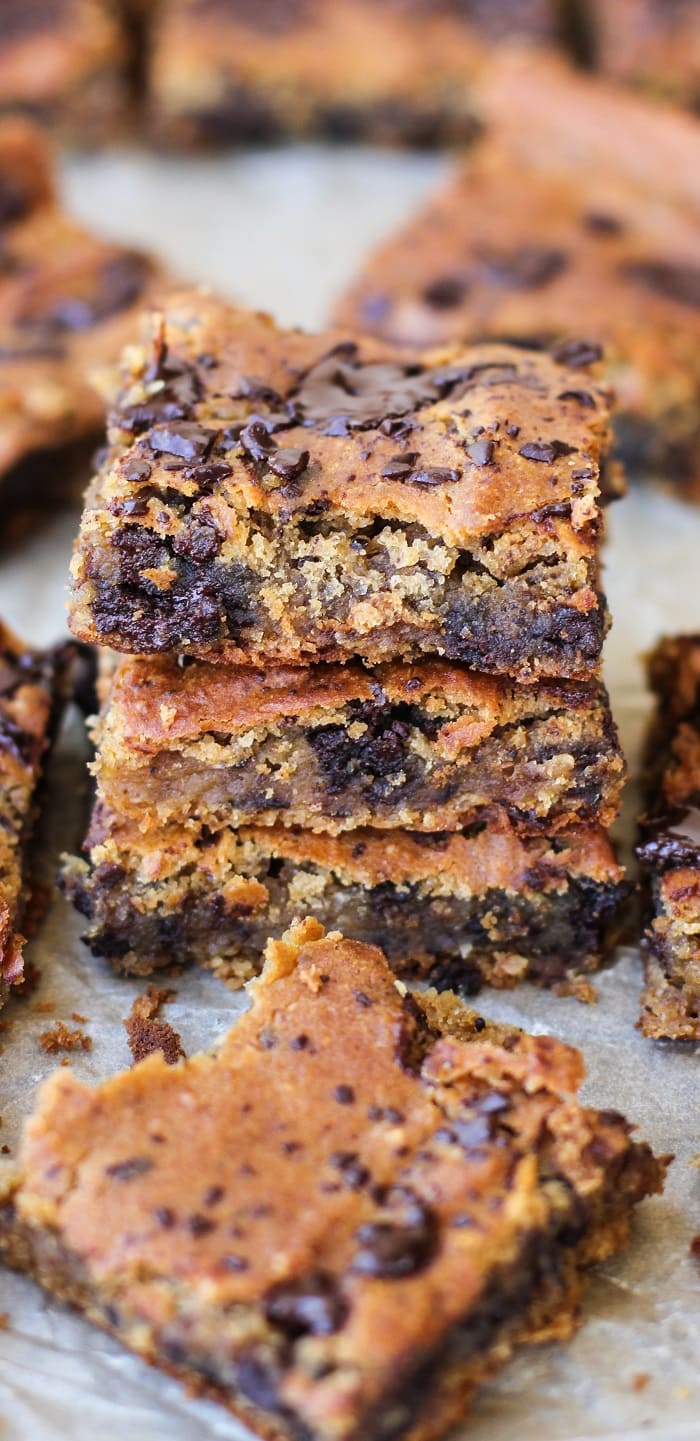 Looky here, it's the cousin to the Double Chocolate Chickpea or Black Bean Brownies recipe I showed you a couple weeks back! Did you try them? Are you sold on bean-based treats yet?
For this rendition of baked beans, we have a peanut butter-packed chocolate-studded chickpea blondies type of scenario made out of garbanzo beans…and you guys…UGH! It definitely gives the brownie a run for its money.
Oh, and, hey peanut butter lovers! Guess what day Wednesday was? That's right…it was National Peanut Butter Lover's Day.
Regardless of what day Wednesday was or wasn't, it has been quite a long time since I've posted a peanut butter treat. In fact, the last one was the Flourless Peanut Butter Skillet Cookie I showed you circa October 2015, and prior to that, the Dairy-Free Chocolate Peanut Butter Swirl Coconut Milk Ice Cream from August of 2014. Methinks we were long overdue.
Back to my story.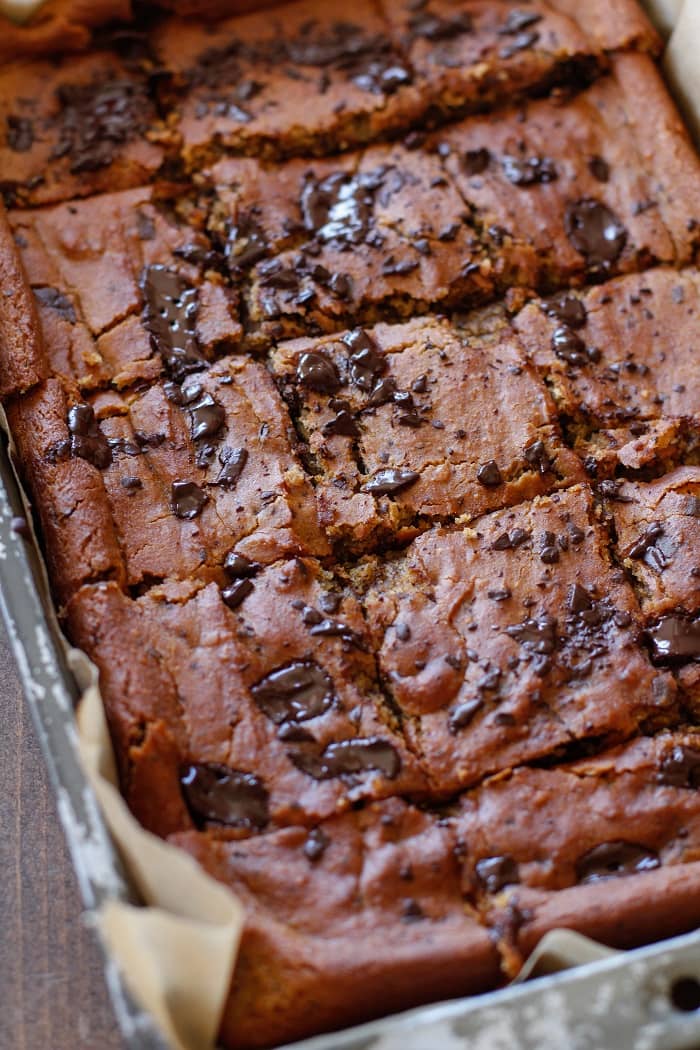 I did some serious contemplating over what to name these…
Chickpea Blondies

Chocolate Chip Cookie Bars

Peanut Butter Chocolate Chip Bites of Pure Bliss

Barway to Heaven

Stop in the Name of Peanut Butter Love
..were some of the options I thought of.
Name calling aside, really all you need to know is they are PACKED with peanut butter flavor…they're not one of those hint-o-pb situations…they are a HOLY peanut butter, there's peanut butter in there, no mistaking it, no sir types of scenarios.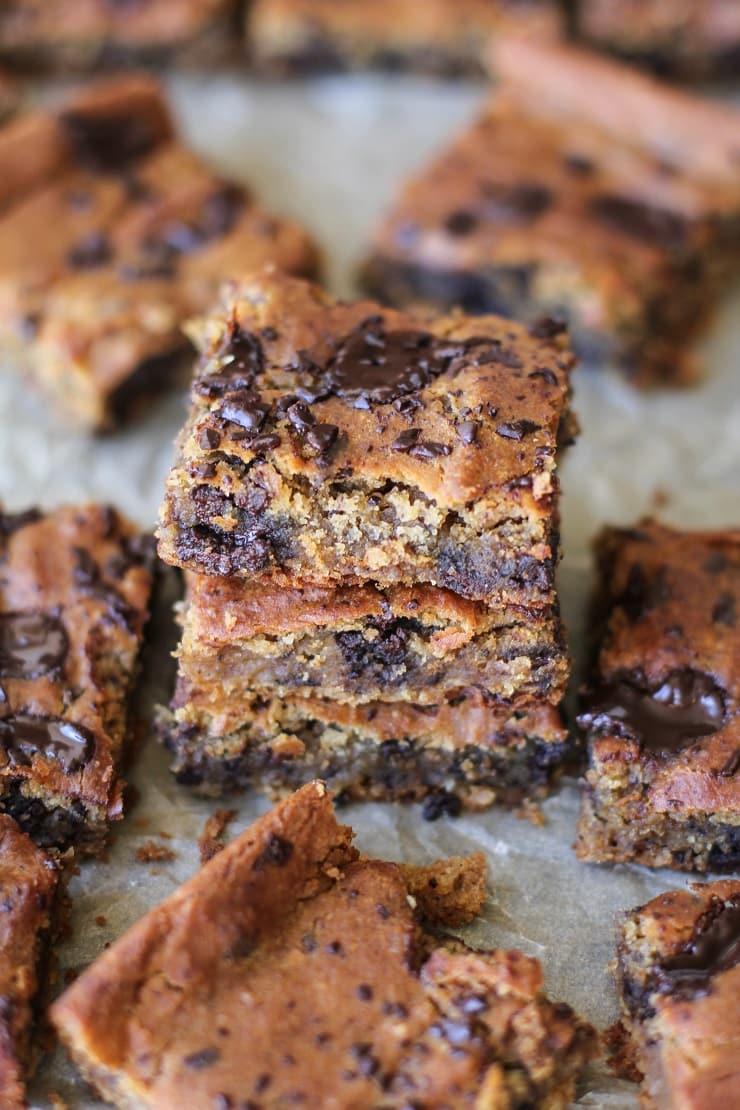 Which reminds me…if you like peanut butter or if you're intolerant/allergic to it, you can use any nut butter you'd like. Cashew butter would be my #1 recommendation for replacement, because have you had cashew butter? Dream boat.
And the chocolate…don't forget the chocolate. I used a chopped up dark chocolate bar, but you can use your favorite chocolate chips – semi-sweet, milk chocolate, white chocolate, peanut butter for some double peanut butter action…you catch my drift.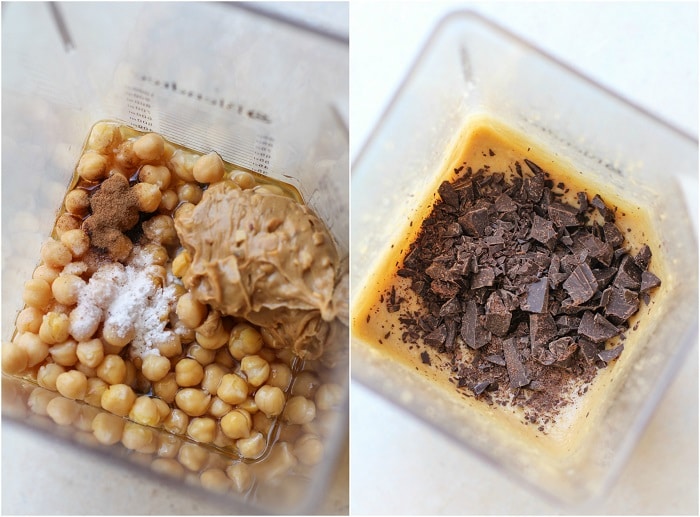 How to Make Peanut Butter Chickpea Blondies:
So we prep the bar batter in a blender by whizzing up everything but the chocolate. Add in the chocolate, transfer the batter to a baking pan, bake, and wait patiently as our home fills with the most amazing peanut butter-scented fog.
All in all, we end up with a grain-free, dairy-free, eggless, refined sugar-free vegan treat that we may as well call health food.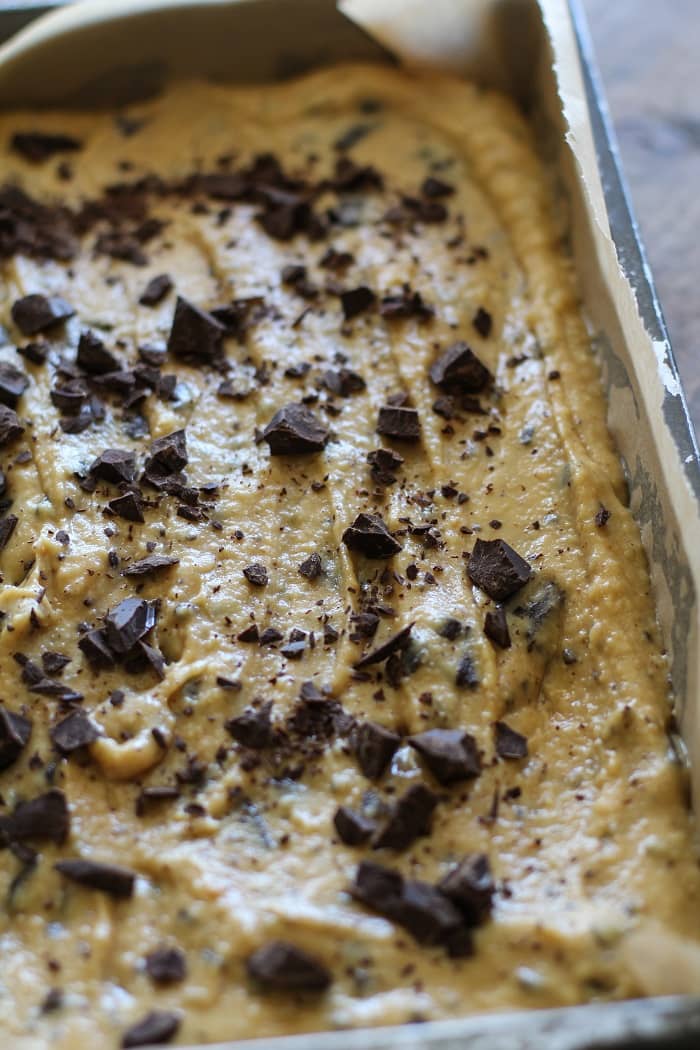 Notes and Options for Change-Ups:
The peanut butter I used was a no-stir peanut butter. If you use an oilier or drier peanut butter, it could affect the consistency of the bars. If the peanut butter is on the dry end, consider adding more coconut oil. If on the oily end, consider omitting the coconut oil.

You can also prepare this recipe with cannellini beans (or black beans…it will just look kinda weird with black beans is all) instead of chickpeas.

For a cake-like consistency, omit the coconut oil and add 1 egg. Bake for the same amount of time.

You can use any liquid sweetener for this recipe, including coconut palm syrup, agave, and honey. If using honey, keep close watch on the bars, as honey has a lower burn temperature than other liquid sweeteners – check the bars after 25 minutes and go from there.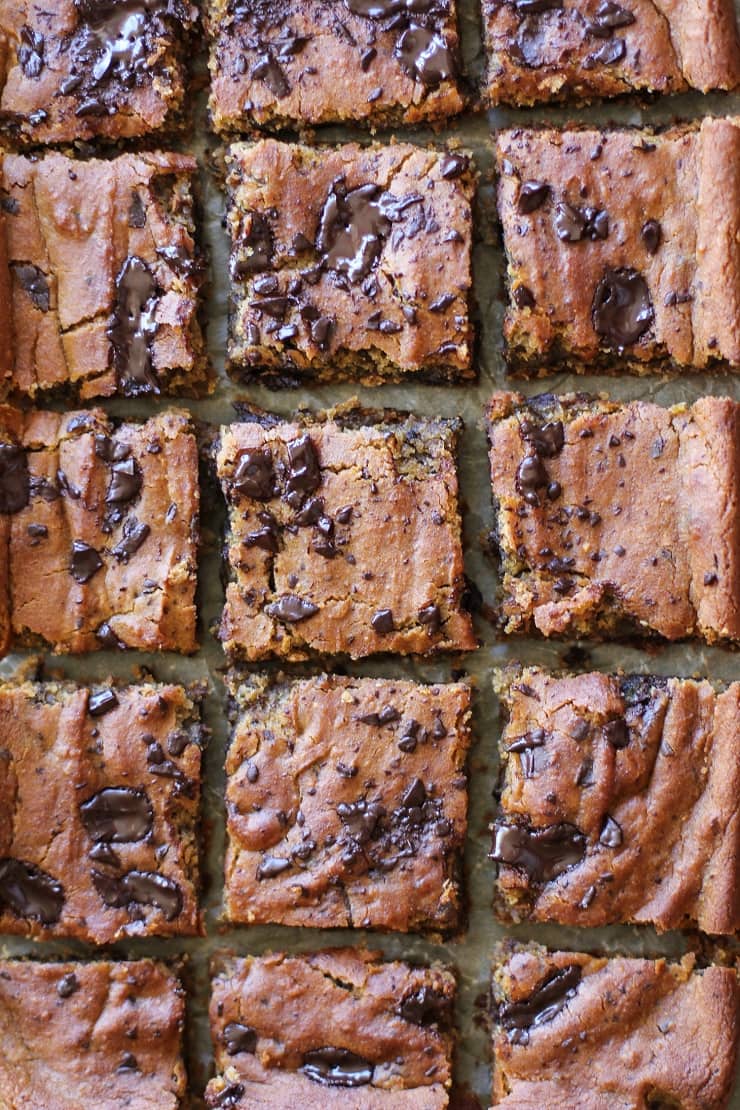 It's your party and you'll peanut butter if you want to.
My cookbook,
Paleo Power Bowls
, is now available! CLICK HERE to check it out. Thank you for your support!
If you make this recipe, please feel free to share a photo and tag me at @The.Roasted.Root on Instagram!
Peanut Butter Chocolate Chip Chickpea Blondies
Flourless gluten-free chickpea blondies made vegan
Instructions
Preheat the oven to 350 degrees Fahrenheit, and line an 8" x 8" baking pan with parchment paper.

Add all of the ingredients for the bars to a blender except for the chocolate. Blend until completely smooth. Stir the chocolate chips/chunks into the batter.

Transfer the batter to the prepared baking dish and smooth into an even layer. Bake on the center rack of the oven for 25 to 35 minutes (mine took 35).

Allow the bars to sit 1 hour before cutting to help them set up (if you cut them before an hour, they will fall apart very easily). Cut, serve, and enjoy!
Notes
*You can also use cannelini beans or black beans
**you can also prepare this recipe with coconut palm syrup or agave nectar.
Nutrition
Serving:
1
of 15
|
Calories:
169
kcal
|
Carbohydrates:
23
g
|
Protein:
3
g
|
Fat:
8
g
|
Sugar:
14
g