This week's Paleo Weekly Meal Plan features six seasonal dinner recipes and one dessert! Complete with a printable grocery list, these meal plans are designed to make life easy and nourishing!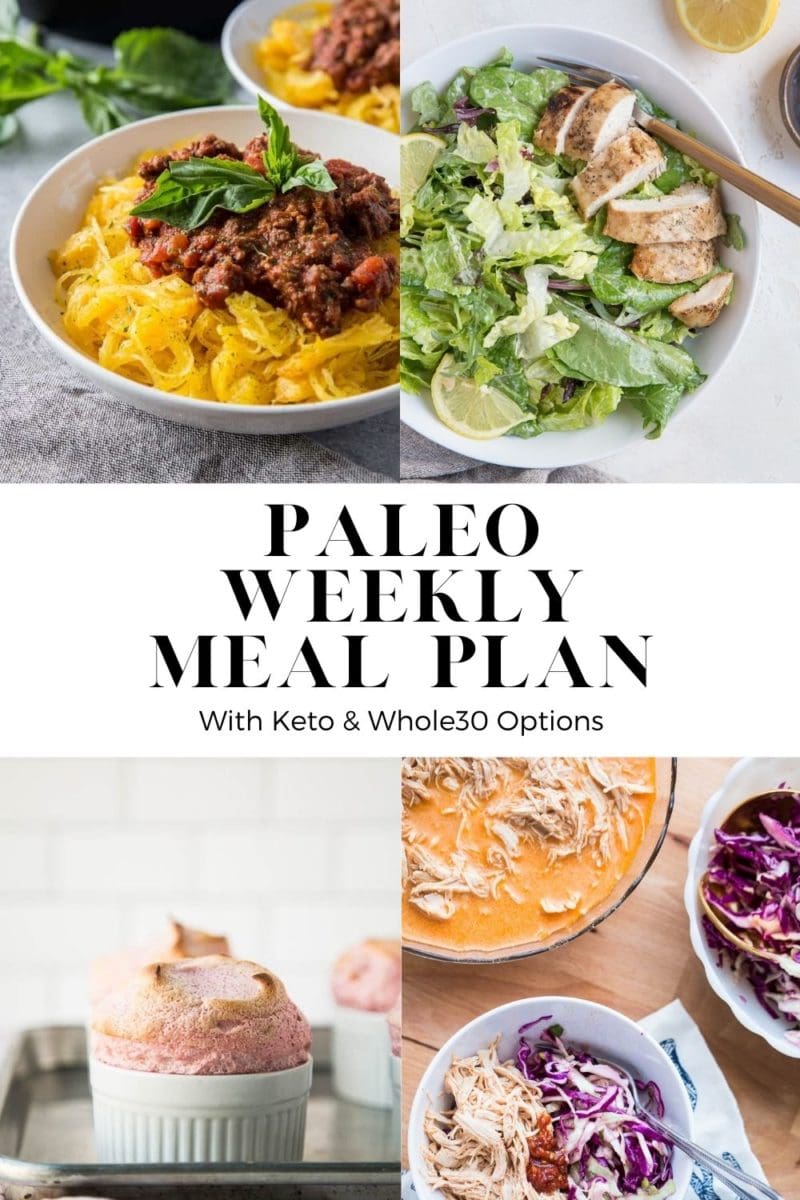 Hello there!
Welcome to this week's Paleo Weekly Meal Plan! We'll get into the meal plan, but first, I have a question for you.
What have you been craving lately?
I've been in a creative lull the few weeks, and have been making the same meals on repeat. Because I rarely get bored of eating the same foods daily, I sometimes get stuck making the same meals over and over.
This is always fine by me, except I always welcome fun, different, creative meals!
Feel free to drop a comment below letting me know what you've been loving lately, and/or what you've been craving!
This week's meal plan is all about easy comfort food! Trust me, you're going to love the simplicity and the deliciousness of all these flavorful meals!
Do note we have a couple of main entrees only, so you can always serve them with your favorite side dishes. I typically go with My Easy Go-To Stir Fry Vegetables Recipe or my Crowd-Pleasing Roasted Vegetables. If you're a rice eater like me, try Coconut Rice or Aromatic Turmeric Ginger Rice!
Also, if you didn't catch my 4-Ingredient Healthy Samoa Cookies or my Paleo Lemon Poppy Seed Blondies last week, be sure to have a gander! They're both magically delicious and require only basic whole food ingredients 😉
And now for the food! I hope you enjoy this week's meal plan. As always, let me know if you have any questions or requests.
xo
Sunday:
Shredded Red Curry Chicken & Slaw – We never tire of this flavorful chicken and sweet slaw! It's a great make ahead meal option, too!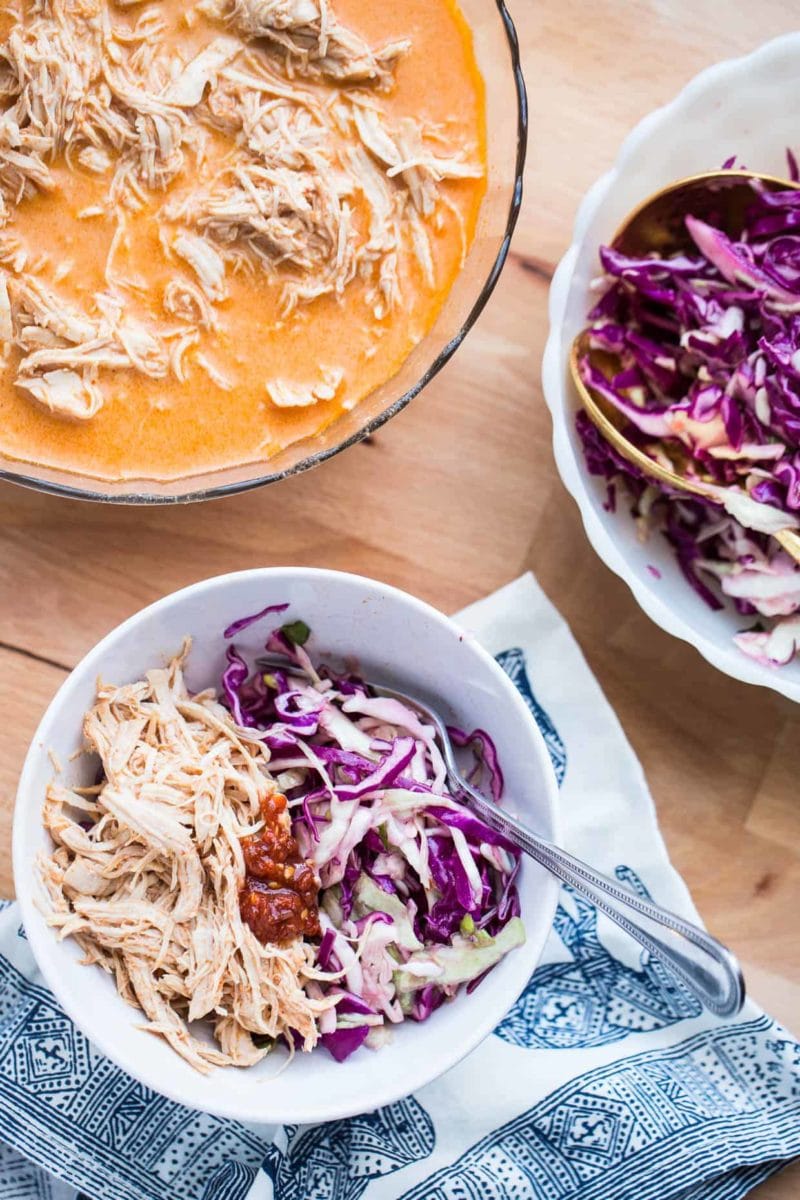 Special Diet: Recipe is paleo & Whole30 compliant (watch ingredients lists on curry paste & chili paste)
Prep Ahead: Slaw can be made 3-4 days in advance.
Substitutions/Notes: Recipe can be made in a slow cooker or Instant Pot.
Monday:
Mediterranean Salmon in Parchment Paper – Mediterranean-inspired salmon in parchment paper with sun-dried tomatoes, dill, capers, artichoke hearts, kalamata olives, and pesto sauce is a mouth-watering experience for a lovely evening in.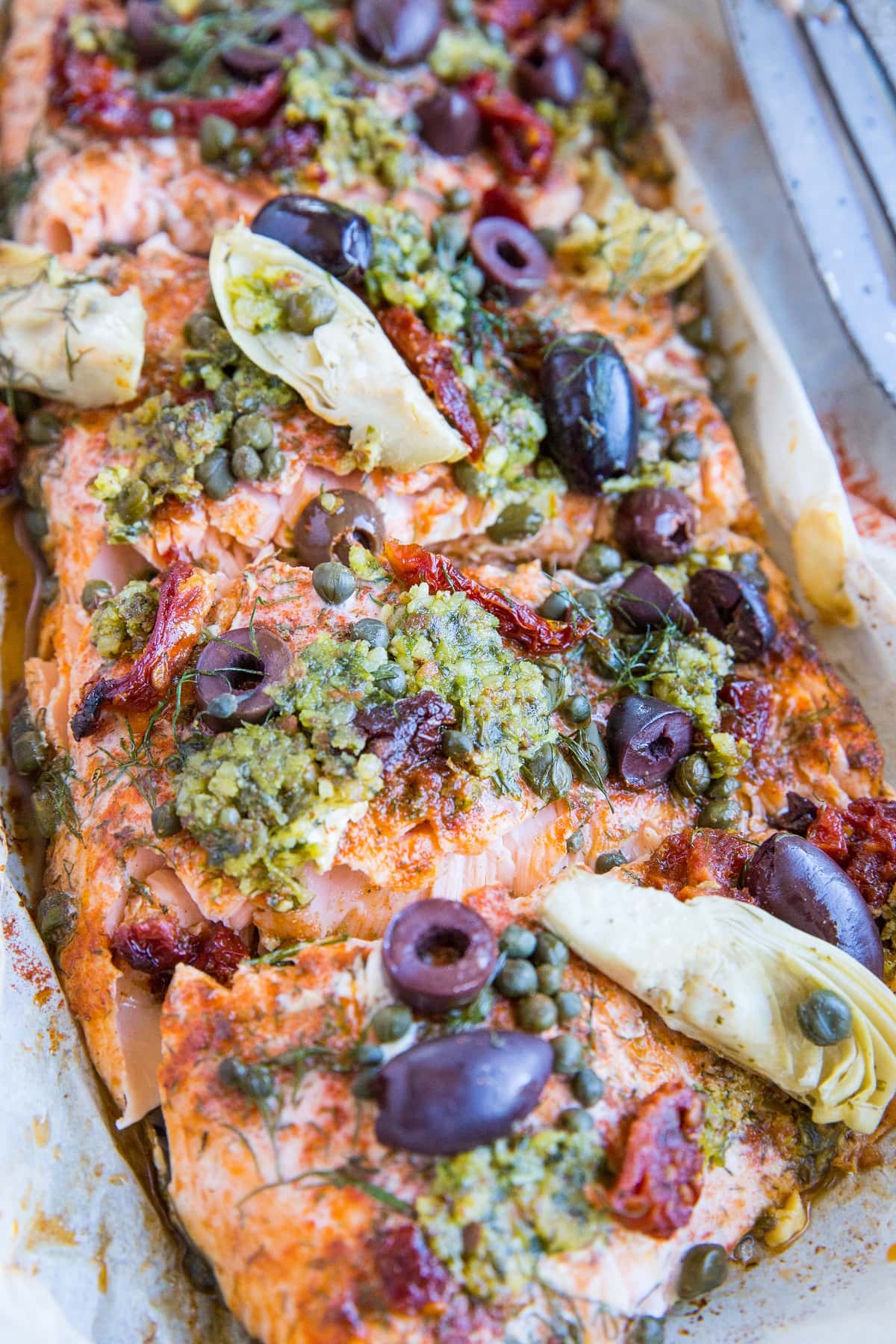 Special Diet Notes: Recipe is paleo, keto, and whole30. Just be sure to use homemade basil pesto without parmesan cheese to keep it whole30 and paleo..or omit the pesto altogether.
Prep Ahead: No advance prep needed.
Substitutions/Notes: Use homemade or store-bought pesto sauce.
Tuesday:
Instant Pot Zuppa Toscana: Zuppa Toscana (an Olive Garden knock off) is a snap in an Instant Pot and one of our favorite family dinners. Paleo, Whole30, and Keto versions, too!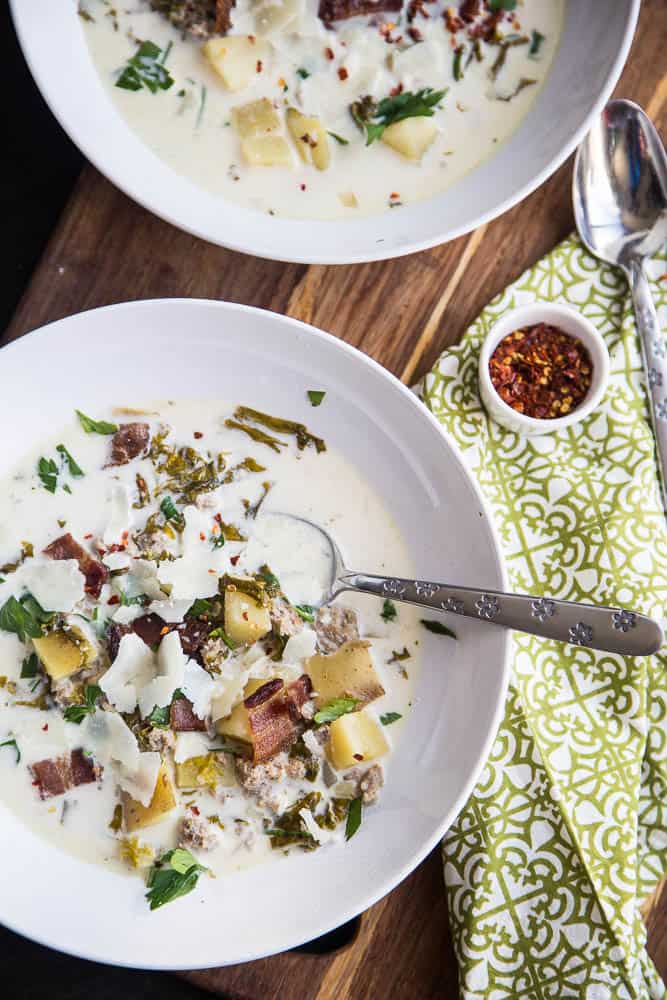 Special Diet Notes: Recipe is primal. Paleo & Whole30 if you use coconut milk and omit Parmesan garnish.
Prep Ahead: No need to prep ahead.
Substitutions/Notes: Recipe can be made in an Instant Pot, slow cooker, & stove top. (See notes in the recipe.)
Wednesday:
Spaghetti Squash Bolognese – Easy, comforting Spaghetti Squash Bolognese made with straight-forward, simple ingredients. This gem of a dinner is perfect for meal prepping and also easy to throw together any night of the week.
Special Diet Notes: Recipe is Paleo, whole30, and low-carb
Prep Ahead: Spaghetti squash can be roasted up to 4 days in advance, and the bolognese sauce can also be made up to 4 days in advance.
Substitutions/Notes: Swap ground turkey, chicken, or pork for the ground beef. Use your favorite store-bought red sauce instead of making your own.
Thursday:
Roasted Butternut Soup with Carrot & Ginger – This Roasted Butternut Squash, Carrot, and Ginger Soup is perfect for a blustery fall or chilly winter meal. It's also paleo and Whole30 friendly, so eat up!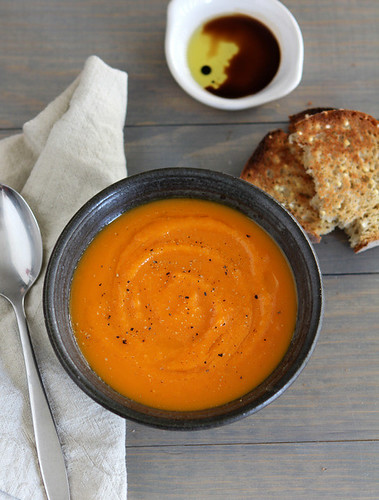 Special Diet Notes: Recipe is paleo, Whole30, & Vegetarian
Prep Ahead: Butternut squash can be roasted 3-5 days early.
Substitutions/Notes: Feel free to add some protein — leftover shredded curry chicken would be delicious in this!
Friday:
Balsamic Baked Chicken Caesar Salad – The best Chicken Caesar Salad with balsamic baked chicken and homemade lemony caesar salad dressing. This delicious approach to Caesar is paleo, low-carb and worthy of putting on repeat.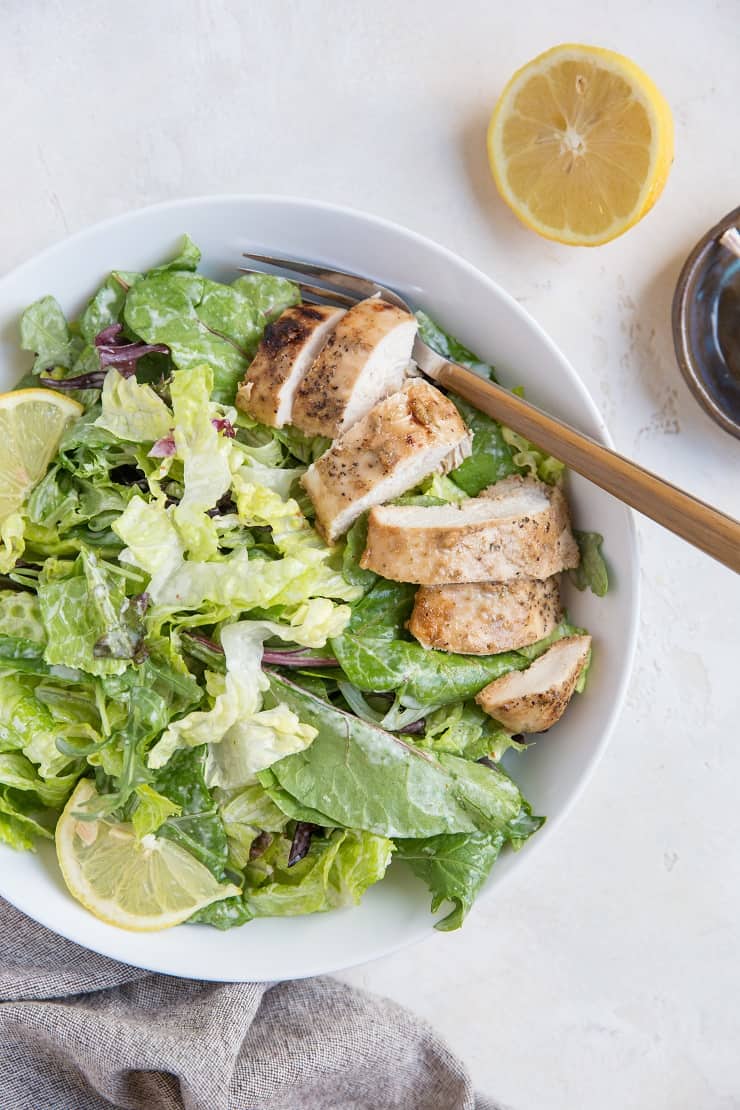 Special Diet Notes: Balsamic vinegar isn't technically paleo, but you can swap it for cider vinegar if you're stricly paleo. Doing so will also make the recipe Whole30. Omit the pure maple syrup in the dressing to make the recipe keto.
Prep Ahead: The Caesar dressing can be made up to 1 week ahead of time, and the chicken can be baked up to 4 days ahead of time and stored in the refrigerator
Substitutions/Notes: Use your favorite store-bought or homemade Caesar dressing. Serve the salad with baked salmon instead of chicken, or use store-bought rotisserie chicken.
Dessert:
Paleo Strawberry Souffles – These tasty cloud-like strawberry soufflés are only FOUR ingredients! They're paleo friendly and easily made keto/low-carb, too.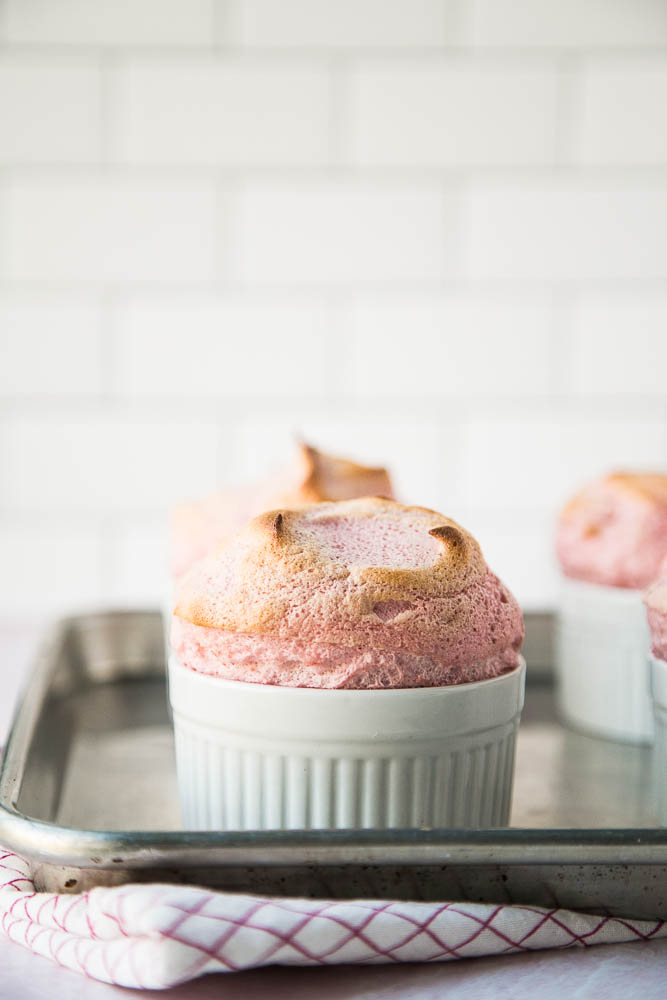 Special Diet Notes: Recipe is Paleo.
Prep Ahead: Strawberries should be thawed ahead of time.
Substitutions/Notes: Try swapping out the berries for a different flavor!
Grocery List:
Click HERE to print this week's grocery list!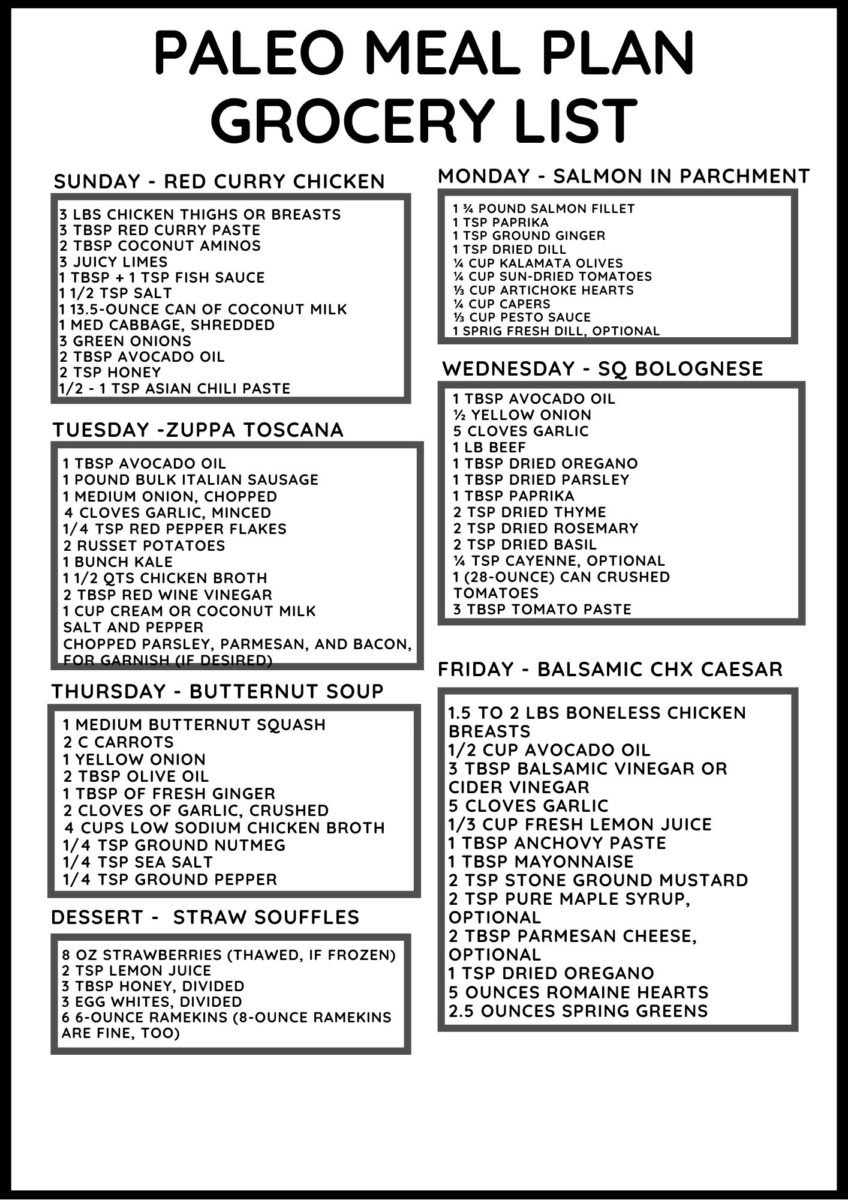 Enjoy!
xo