A nutrient-dense Paleo Meal Plan including six anti-inflammatory dinner recipes and one healthy dessert! This easy and convenient meal plan includes a grocery list, which you can print and taking shopping with you to get everything in one haul!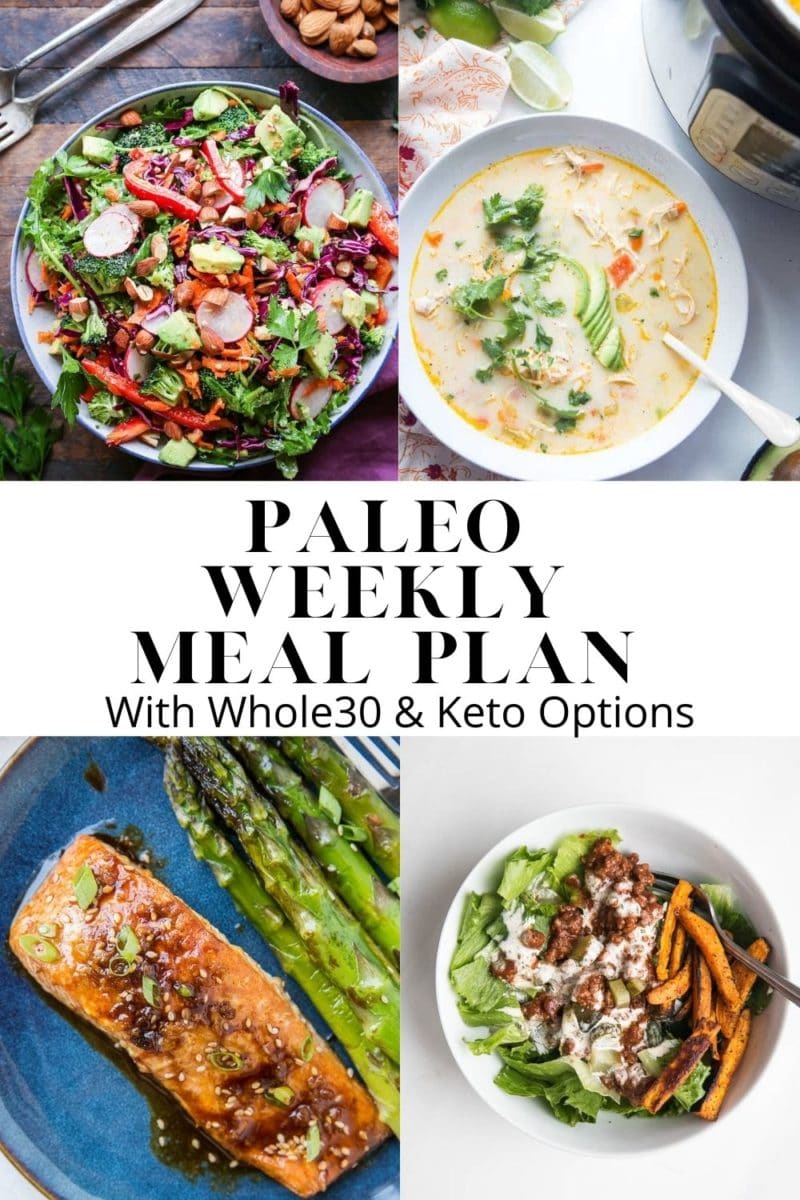 Hey there!
How was your week? We finally got snow here in the Sierras, so our mountains are engulfed in white and there is plenty to play in.
Weekend plans? Go for a swim in said snow 😉
On this week's meal plan, we have lots of variety!! The menu consists of a Green Chile Chicken Spaghetti Squash Bake, Detox Salad, Asian Salmon & Asparagus, Southwest Chicken Soup, Sloppy Joe Salad and Cuban Shredded Beef (Ropa Vieja).
All sorts of flavors, textures, produce, proteins and types of meals. I hope you enjoy this colorful week of eats as much as I do!
Remember to print out the grocery list at the end of the post so you can snag your groceries in one haul for the week!
Oh, and if you're looking for a deliciously sinful yet low-carb treat to whip up this weekend, the Dairy-Free Keto Cheesecake has been a MAJOR thing in my own home…my partner and I have been in a race for the last bite.
Enjoy!
SUNDAY:
Green Chile Chicken Spaghetti Squash Bake – This keto/Whole30 friendly spaghetti squash bake is PERFECT for meal preppers or those who like to prep components of a meal ahead of time. I love the addition of green salsa and a splash of paleo ranch to give it some creaminess. Avocados on top are a must!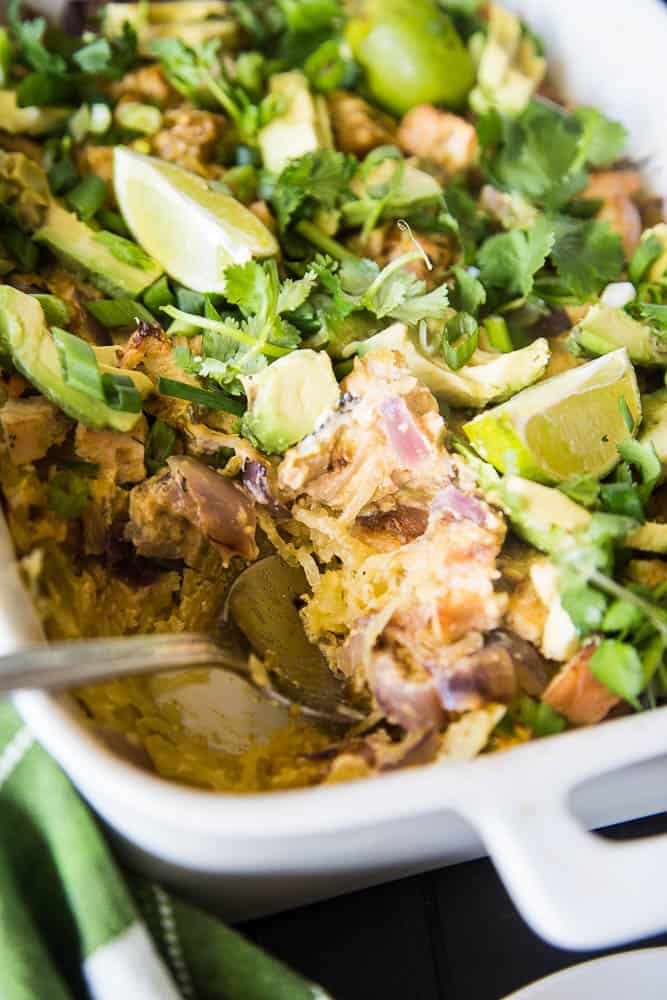 Special Diet Notes: Recipe is paleo, Whole30-friendly, and low-carb as is — if you use paleo-friendly Ranch dressing
Prep Ahead: You can roast the squash, onions, and chicken ahead of time and assemble the dish with the sauce and bake it when you're ready. (1-2 days in advance)
Substitutions/Notes: Use another type of blended salsa in place of salsa verde, if you like.
MONDAY:
Slow Cooker Ropa Vieja (With Instant Pot Option) – Tender, flavorful Cuban-style shredded beef stewed in a pepper tomato sauce. With slow cooker and pressure cooker instructions, you can make this delicious recipe in either your crock pot or Instant Pot!
Special Diet Notes: This recipe is paleo, whole30, and keto if you serve with cauliflower rice instead of potatoes.
Prep Ahead: No advance prep needed!
Substitutions: Serve the shredded beef with your choice of sides instead of roasted potatoes, plantains and cabbage slaw.
TUESDAY:
Salad Joe (Sloppy Joe Salad) – Sloppy Joe's for the paleo, gluten-free, or grain-free eater. We actually prefer them this way!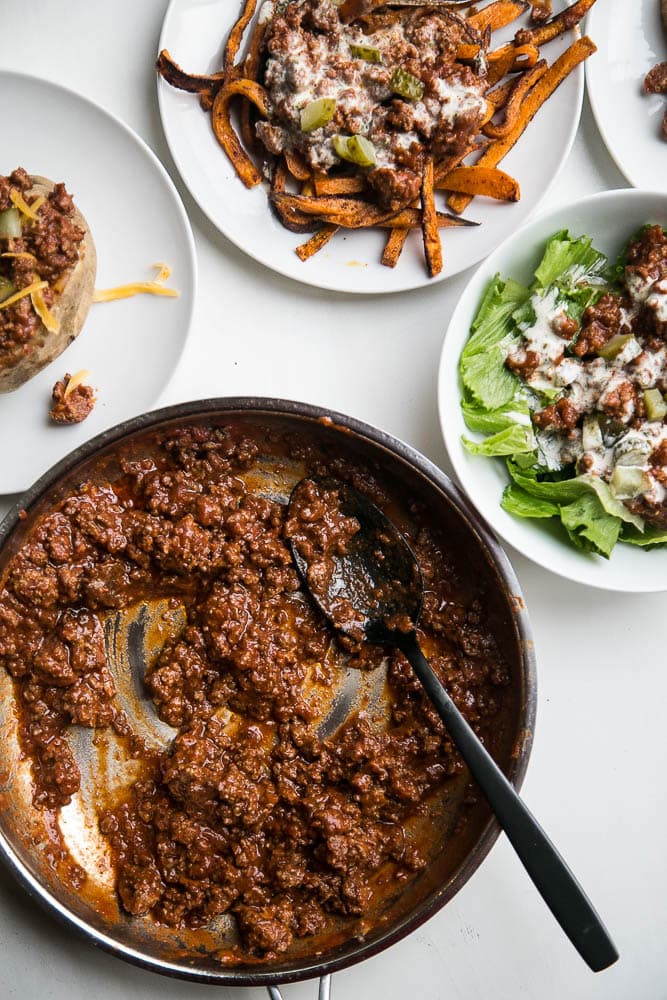 Special Diet Notes: Recipe is paleo as-is. Omit the honey for Whole30.
Prep Ahead: Salad greens and pickles can be prepped ahead of time.
WEDNESDAY:
Paleo Asian Baked Salmon and Asparagus – Asian-inspired salmon made soy-free and refined sugar-free. This amazingly flavorful baked salmon recipe is easy to prepare and is seeping in delicious flavor! Serve it up with roasted asparagus and your choice of side dishes for a nutritious well-balanced meal.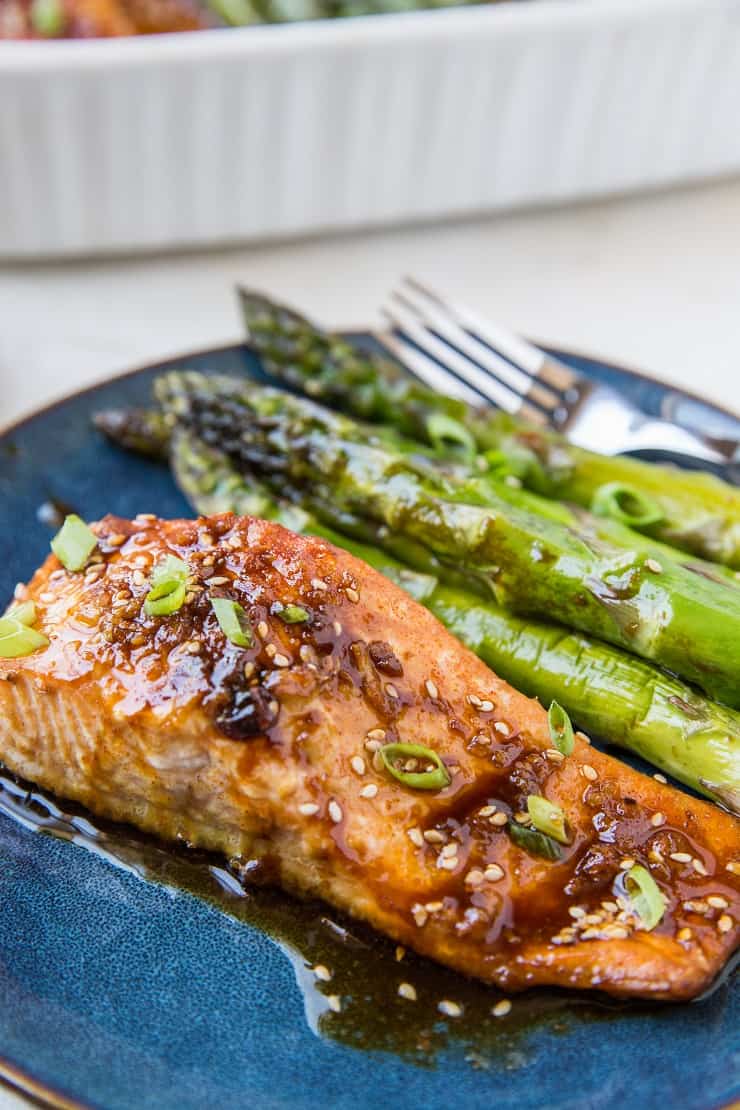 Special Diet Notes: This salmon recipe is paleo.
Prep Ahead: Salmon can be marinated up to 12 hours in advance.
Substitutions: Serve the salmon with your choice of sides – steamed rice, cauliflower rice, roasted or sautéed veggies are great!
THURSDAY:
Creamy Southwest Chicken Soup – This is a southwest version of our favorite chicken soup for Instant Pot! We loved it with a splash of cream, but you can keep it dairy free if you like.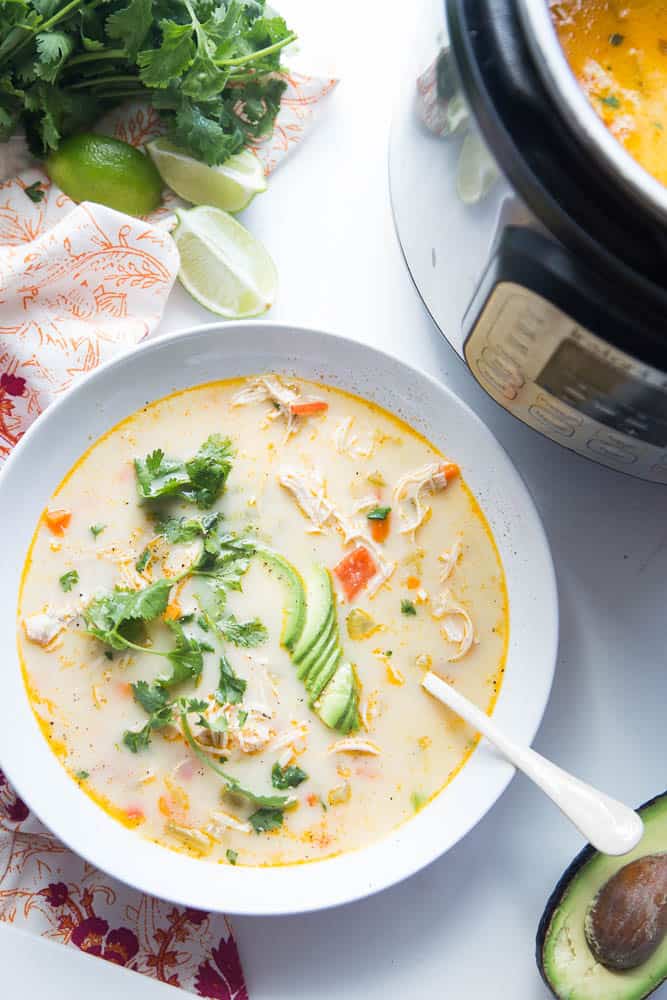 Special Diet Notes: Recipe is paleo, Whole30, and low-carb if almond milk is used to make the soup creamy.
Prep Ahead: Vegetables can be chopped ahead of time. You can even use pre-cooked chicken (maybe roast extra on Monday?) Just coat it in the seasoning either before or after you roast it and add it along with the broth. Reduce Instant Pot pressurizing time to 5 min.
Substitutions: Feel free to swap out vegetables for ones you prefer.
FRIDAY:
All the Good Veggies Detox Salad – An amazing, anti-inflammatory detoxifying salad recipe loaded with antioxidant-rich vegetables and a lemon-parsley dressing.
Special Diet Notes: Recipe is paleo, vegan, and can be made whole30, and low-carb if you omit the honey from the dressing.
Prep Ahead: Make the salad dressing up to 5 days in advance.
Substitutions: Incorporate your favorite vegetables and/or add baked chicken or salmon for a heartier meal
DESSERT:
Toasted Coconut Cashews – Thai Toasted Coconut Cashew Nuts – Great as a grain-free replacement for granola or eaten alone as a healthy snack!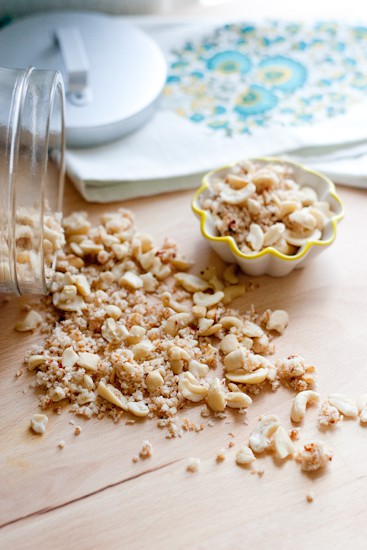 Special Diet Notes: Recipe is paleo as-is. Save this later, after your round of Whole30!
Prep Ahead: No need to prep ahead — it comes together quickly!
Substitutions: Swap out the honey for maple or use another type of nut you prefer.
Grocery List:
Click HERE to print this week's grocery list!