A recipe for paleo, grain-free, gluten-free, refined sugar-free edible cookie dough. This healthier version of the classic chocolate chip cookie can be safely consumed raw and only takes a few minutes to make!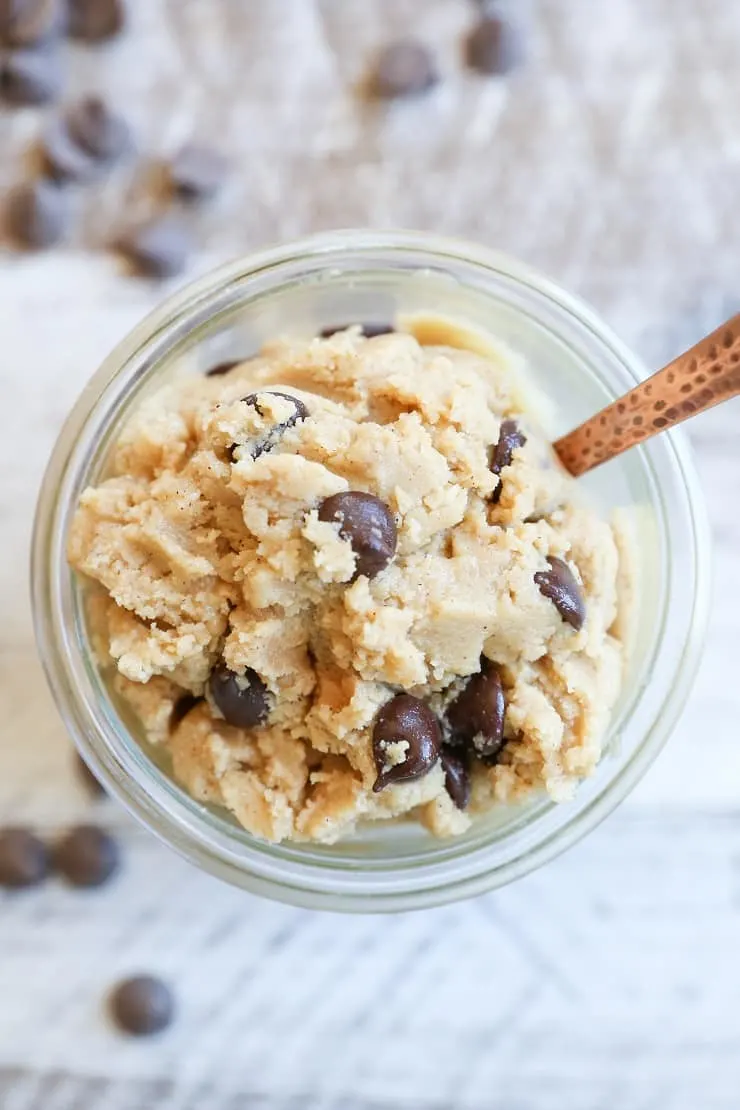 Edible cookie dough! Have you had it??
If you're like me and you're uber late to scene, the basic run-down is edible cookie dough is an eggless, safe-to-consume, highly mouth-watering substance, which you can whip up in mere seconds in your food processor. When I was growing up, half the reason my family baked cookies together was so that we could eat the dough together, not minding the risk for salmonella. Let's just face it: sometimes you need a big ball of dough.
…And that is all.
I'm a complete fiend for anything chocolate chip cookie related, and while I've seen recipes on the internet for edible cookie dough for a number of years, I was never really sold on it…until now. I can't say where the skepticism was coming from (probably stemming from my inner stubborn-as-a-mule cookie dough purist), but the second I made this lump, my thoughts, feelings, and opinions on the matter immediately changed. I made this edible cookie dough on my Instagram story last week, and many of you expressed a deep-seated interest in it, so here we are: full faith and love for the edible cookie dough!
This is where you and your wildest dreams collide.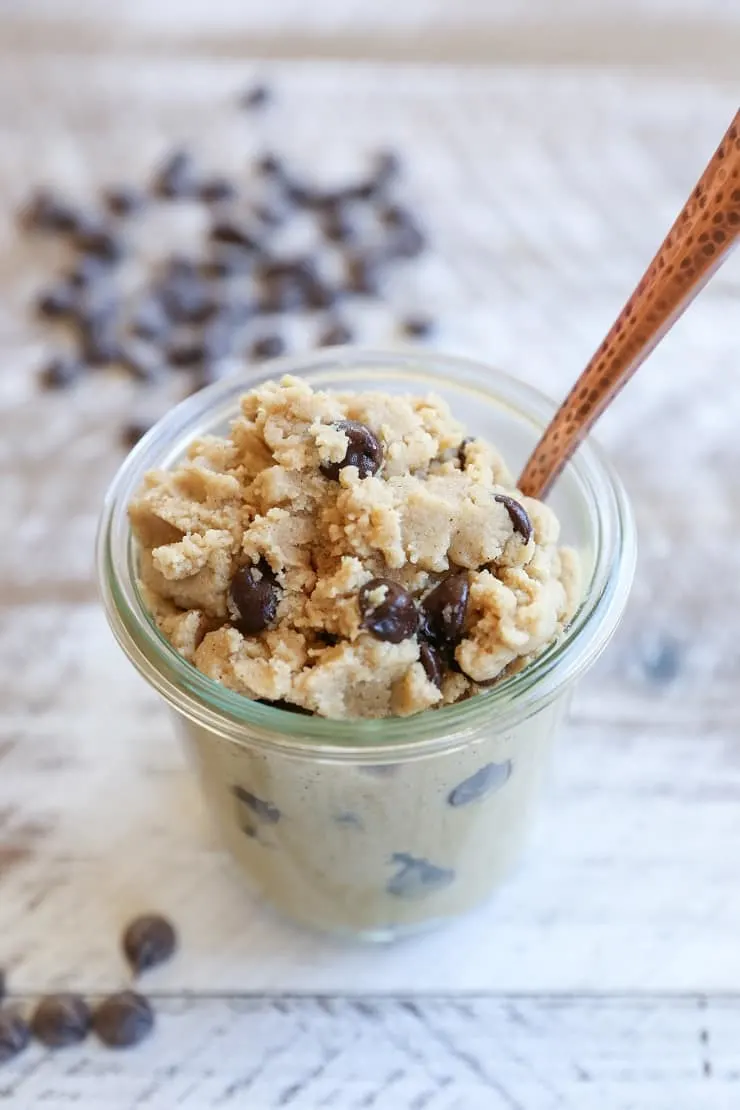 You can go about this edible cookie dough a number of ways – for instance, you can use any nut butter of your choosing – cashew butter works great, because it has a super mild and creamy flavor and the texture is also very silky, similar to sunflower seed butter. You can use all ghee instead of sunflower seed butter (or whatever nut butter you're using), or vice versa. Just note if you replace the ghee with a nut butter, the flavor will be a little less buttery, and the texture will come out a bit more crumbly.
A tirade about ghee versus butter: By now, you're probably all familiar with the different between butter and ghee, but JUST IN CASE, here's a quick rundown. Ghee is clarified butter, wherein butter is cooked on the stovetop until the milk solids separate from the fat. The milk solids are then strained and discarded so that what you're left with is 99% casein and lactose-free pure fat. You can either make it yourself or buy it online. I'm a bit lazy, so I purchase mine on Amazon from 4th & Heart.
If you are not a regular carrier of ghee, are not lactose intolerant, vegan, or follow the paleo diet, you can absolutely use chilled grass-fed butter. Just know that if you go this route, you'll need to chill or freeze the dough just after preparing it so that it sets up and isn't overly oily. While the recipe as written is good to go fresh out of the food processor, and in order to get there using regular butter, you'd need to add a bit more tapioca flour (no big deal).
If you do use grass-fed butter instead of ghee, you will end up with a cookie dough that tastes more authentic. Ghee does have a buttery flavor, but in a different way than actual butter, you feel? What I'm trying to say, is you can choose your adventure when it comes to the fat portion of this recipe, as certain fats (butter) will give the dough more authenticity, whereas certain fats (nut butter) will make the dough healthier and stick together better.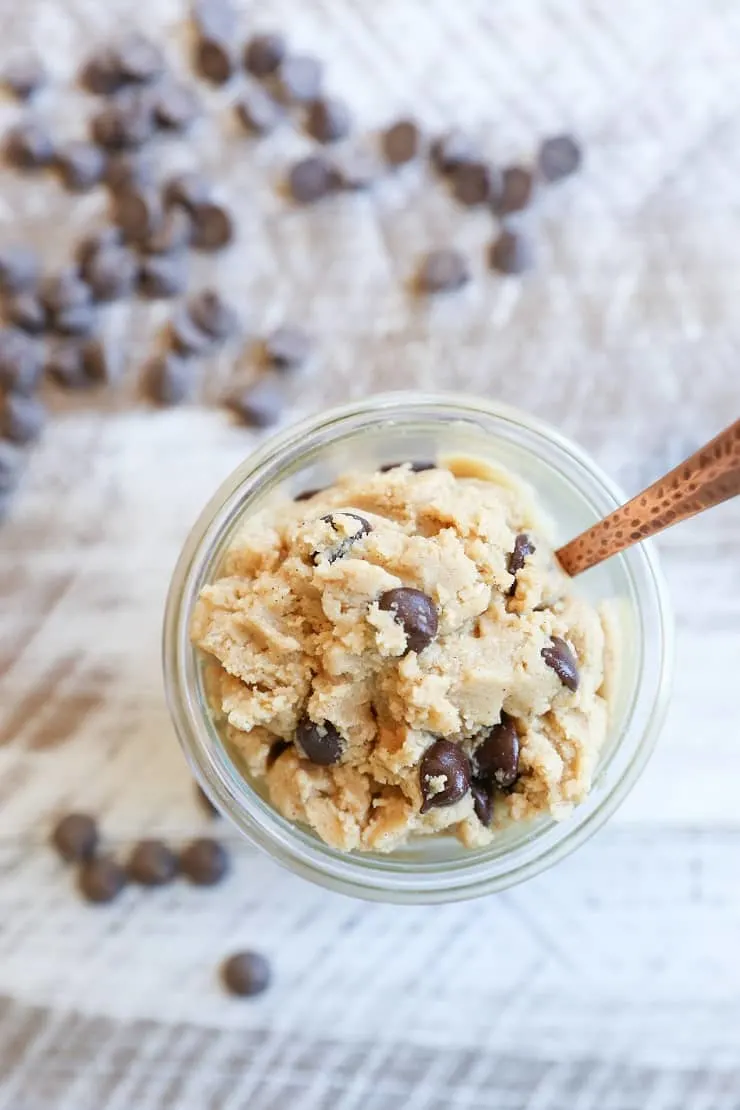 When it comes to the chocolate portion of this recipe, you can choose your passion – I used dark chocolate chips, which do contain dairy and cane sugar, but you can chop up a naturally sweetened and/or dairy-free chocolate bar. I keep my edible cookie dough only lightly sweet, because that's how I prefer my treats – you can absolutely adjust the pure maple syrup to your liking! Just note if you add a ton more pure maple syrup, you'll need to add more tapioca flour to compensate for the additional liquid.
Get that dough!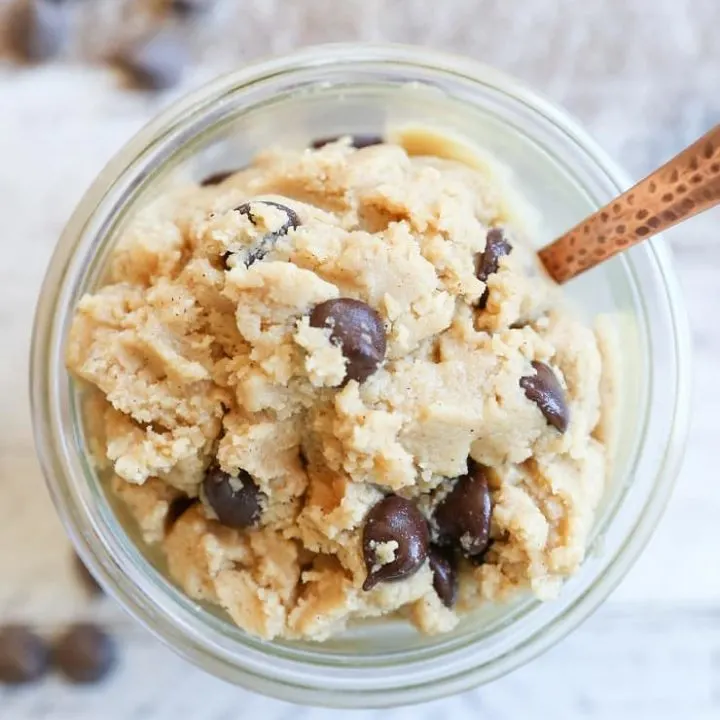 Edible Paleo Chocolate Chip Cookie Dough
Egg-free edible paleo cookie dough is a delicious treat that takes no more than 15 minutes to make!
Instructions
Add all ingredients except for the chocolate chips to a food processor and process until a dough forms. You'll need to stop the food processor and scrape the sides a couple times. First, the mixture will appear crumbly, but keep processing until it comes together in a lump of dough.
Fold in the chocolate chips. Eat immediately, or store dough in a sealed container in your refrigerator for up to 10 days. Note: Dough can be stored in a plastic bag in the freezer.
Notes
*Use coconut butter for vegan
Nutrition Information
Yield

4
Serving Size

1 of 4
Amount Per Serving
Calories

541
Total Fat

44g
Saturated Fat

13g
Unsaturated Fat

0g
Carbohydrates

34g
Sugar

17g
Protein

11g