Combining shrimp gumbo with pasta yields and incredibly comforting dinner, perfect for those who love a Louisiana-style meal AND pasta lovers alike! This one-pot pasta recipe is easy to prepare and comes together quickly!
Waaaaaaituhminute…did somebody say, "pasta?"
!!
You're shocked.
You're out of sorts.
You're wondering if I've taken up the glutens again.
You just jumped out of your chair, ran three laps around your office, slam dunked your apple core into a nearby rubbish bin, yelled to your co-workers that "Julia's lost her maaaaaarbles!!" and are fanning your face while catching your breath in utter buffudlement.
Or at least that's how I'm picturing your reaction.
That's how you reacted, right? I surprised you, right? You're kind of in a disheveled state of affairs…right?
PASTA?! On The Roasted Root?? It's disorienting.
You can take a deep breath and run a comb through your hair, because I'm still a G-free-er.
No glutens were et in the making of this recipe.
But you know what was et? Cajun AND Italian food! In ONE pot. BOOYAHZZLES!
After making this pasta, I'm certain that if two worldly cuisines just haaaaaad to collide and attach to one another in a fusion of spectacular spectacular, they should be Cajun and Italian cuisines. Flavorful spices + meat + pasta? I'm never eating salad again. Unless that salad has shrimp gumbo and pasta in it. Kidding. Not kidding.
Just look at this Cajun-Italian influence: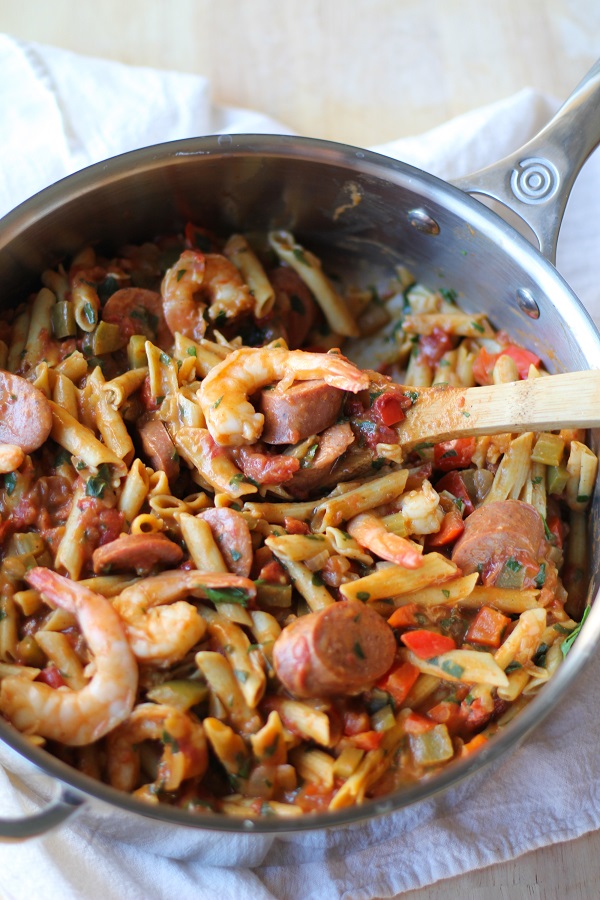 I know what you're thinking. You want it to influence you in the face. This is why we're friends.
As someone who eats a gluten-free diet, I get asked a lot if I miss pizza, bread, and pasta. My response is always, "Naaaah man…nah!" Because I still eat all them good foods in gluten-free form. I first tried Ancient Harvest's gluten-free pastas a few years ago and instantly adored them. Their pastas are made out of quinoa flour and corn flour, and they can be used in any and all of your favorite pasta dishes. You can even make pasta dishes that aren't really pasta dishes…like gumbo pasta. Totally untraditional, but heck, if we're broadening our horizons to GF pasta, we may as well let this
I used Ancient Harvest's gluten-free penne noodles for this recipe in order to participate in their Modern Meal Cook-Off. Myself and four other bloggers are cooking up fresh and healthful recipes using Ancient Harvest's products in order to give you tasty gluten-free recipe options. Now through November 28th, you can vote on your favorite Cook-Off recipe HERE. <- Soooo…. pretty pretty please vote for me! Vote early, vote often, right? For moi? Gumbo? Pasta? Cast your ballot? Bueller?
It's pasta season.
My favorite part about this meal is it's a one-pot dish. As in UNO. No boiling the pasta seperately, no colander necessary. Just you, your ingredients and one big ol' pot o' pasta. This easy-to-prepare and easy-clean-up recipe is perfect for whipping up any night of the week. Prepare for gumbo pasta leftovers in your lunch, because the recipe makes puh-lenty!
Sluuuurp!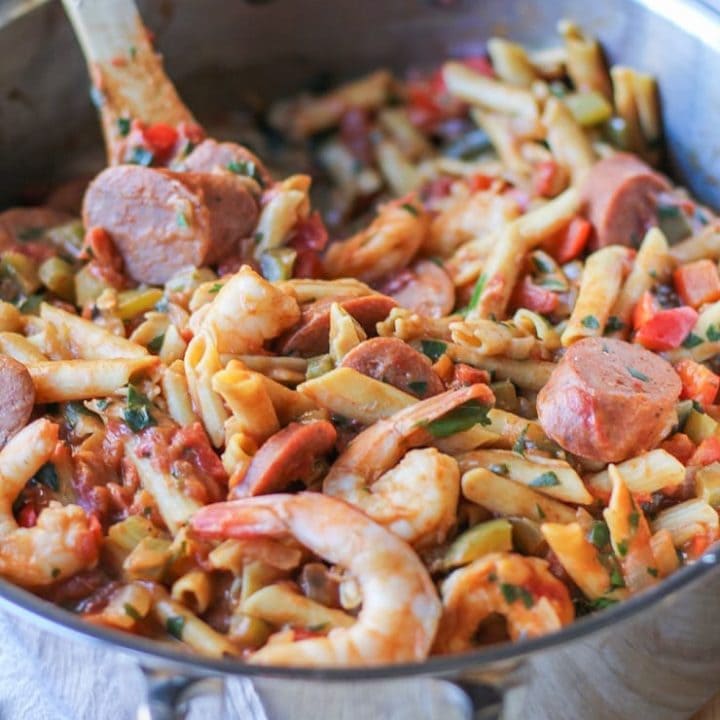 One Pot Shrimp Gumbo Pasta
Combine two of your favorites - gumbo and pasta - in one pot! This Gumbo Pasta recipe is incredibly flavorful!
Ingredients
2 tablespoons olive oil
1 large yellow onion, chopped
2 stalks celery, chopped
1 red bell pepper, chopped
1 green bell pepper, chopped
4 cloves garlic, minced
1 tablespoon Cajun seasoning, I used salt-free
1 teaspoon kosher salt
2 teaspoons fresh thyme, chopped
4 cups low-sodium chicken broth
1 (28-ounce) can no salt added diced tomatoes, drained
1 pound raw shrimp, peeled and deveined
12 ounces chicken andouille sausage links, sliced
1 8- ounce package Ancient Harvest Penne pasta
½ cup fresh flat leaf parsley, chopped
Instructions
Heat oil to medium in a large stock pot or sauce pan. add onion and celery and saute 8 minutes.
Add bell peppers, garlic. Saute 8 minutes.
Add Cajun seasoning, salt and thyme and saute an additional 3 minutes.
Add chicken broth, diced tomatoes and bring to a full boil. Reduce heat slightly and allow mixture to cook at a full (but controlled) boil for 15 minutes.
Add the penne pasta and stir it into the mixture, patting it down into the liquid with a spoon. Add the andouille sausage and shrimp. Again, pat any pasta that's sticking up down into the liquid to be sure it's covered. Reduce heat to low, cover the pot, and allow pasta to cook 6 to 8 minutes, until pasta has reached desired done-ness. Careful to not over-cook!
Stir in the fresh chopped parsley and serve heaping portions!!
Nutrition Information
Serving Size

1 grams
Amount Per Serving
Unsaturated Fat

0g
This post is sponsored by Ancient Harvest. I was compensated for my efforts, and all opinions are my own.