Show of hands: who here ate their way through…err…I mean, watched the Super Bowl last night? I'm still full from the chicken wings, stuffed mushrooms, smashed potatoes (with pesto and Parmesan, people!), lamb shanks, and, well, booze from my SB gathering.
I did pay a lick of attention to the actual game. For instance, you know that one play with all the running? That interception? The Peyton Manning? That time the one guy got all up in the other guy's grill? The psychedelic half-time show? See? I watched. Mmhmm. It's a good thing I don't highlight sports for a living.
Now that the Super Bowl is over, we can focus our efforts on dating each other. We are, after all, a week deep into the romantic month of February. Which brings me to my next point:
Valentine's Day: do you partake?
It doesn't take a rocket scientist to know I'm all about no-frills simplicity. For me, the perfect date night involves a home-cooked meal prepared together and intriguing conversation. I know. I'm so contemporary.
For those of you who are looking to plan a romantic evening in the cozy confines of your indoor arrangement and a.) need recipe ideas that are simple yet show-stopping, b.) want the prep time kept at a minimum, and c.) are keeping to a budget, then this simple mushroom and sausage pasta is for you.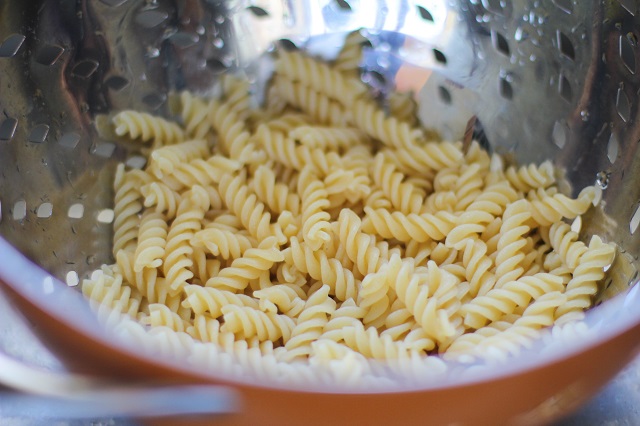 All I did to prepare this recipe was pick up gluten-free pasta, pre-made sauce (I used Bertolli Balsamic Vinegar and Caramelized Onions Sauce), sausage (I used Carando Italian Sausage), and mushrooms from my local Kroger (see store locations here). One ingredients are gathered, we perform the following:
Cook the pasta

Brown the sausage

Saute the mushrooms

Bring it all together + serve
Crazy simple, right? I blush.
Optional change-ups to the recipe? You can use any gluten-free or gluten-filled noodle of choice, and select your favorite Bertolli sauce. Their Riserva Marinara with Parmigiano-Reggiano sauce would also be on point in this application. If you're a try-it-before-you-buy-it kind of guy or gal, sampling events for Bertolli Riserva and Carando Italian Sausage will take place at select Kroger stores. Be sure to ask your local store manager for deets.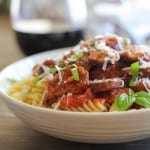 Mushroom and Sausage Pasta + Giveaway!
Print
Ingredients
1

lb

. Carando Italian sausage links

8

ounces

baby bella mushrooms

sliced

1

jar Bertolli® Riserva Balsamic Vinegar and Caramelized Onions sauce

8

ounces

gluten-free rotini pasta

cooked and drained, or spiral

1/4

cup

freshly grated Parmesan cheese
Instructions
Heat a large cast iron (or non-stick) skillet to medium high and place sausage links on the hot skillet. brown sausage until golden brown and crispy, about 5 to 7 minutes. Flip and repeat on the other side. Continue cooking and flipping until sausage is cooked through.. Remove sausage from skillet and cut into 1/2-inch-thick slices. Return slices to the hot skillet and sear on both sides until browned. Transfer sausage to a bowl and set aside until ready to use.

Add mushrooms to the skillet with the sausage fat (if necessary, add oil to the skillet). Cook mushrooms over medium-high heat, stirring occasionally, 5 minutes or until tender.

Return sausage to skillet with the mushrooms. Stir in sauce and simmer covered, stirring occasionally, 5 minutes.

Spoon sauce over hot pasta and sprinkle with cheese.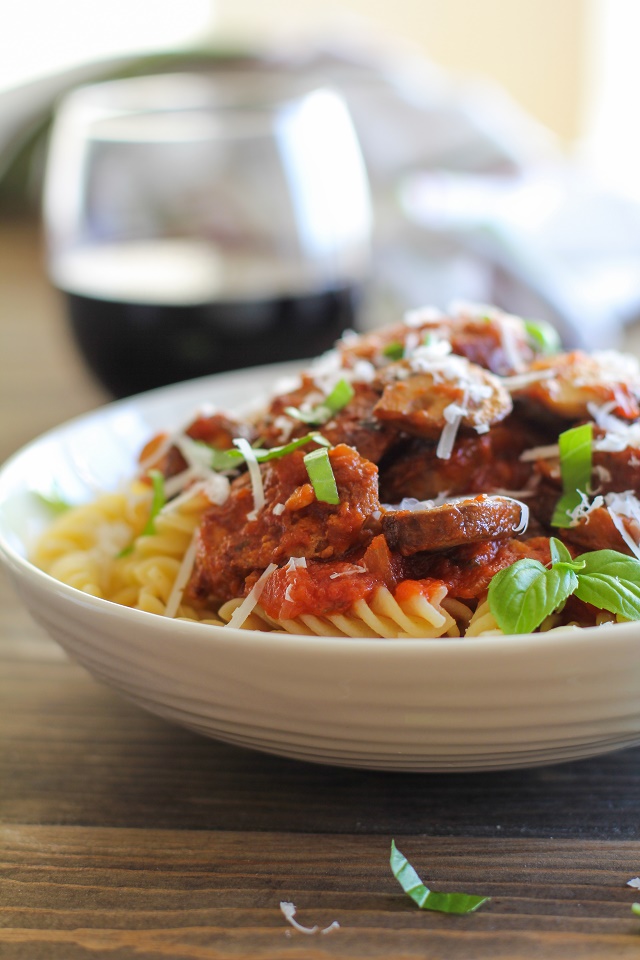 This post is sponsored by Lunchbox. All opinions are 100% my own.