How to Make Pickled Red Onions with just a few basic ingredients! This sweet, savory, tangy condiment is amazing on tacos, pizza, burgers, sandwiches, salads, and more!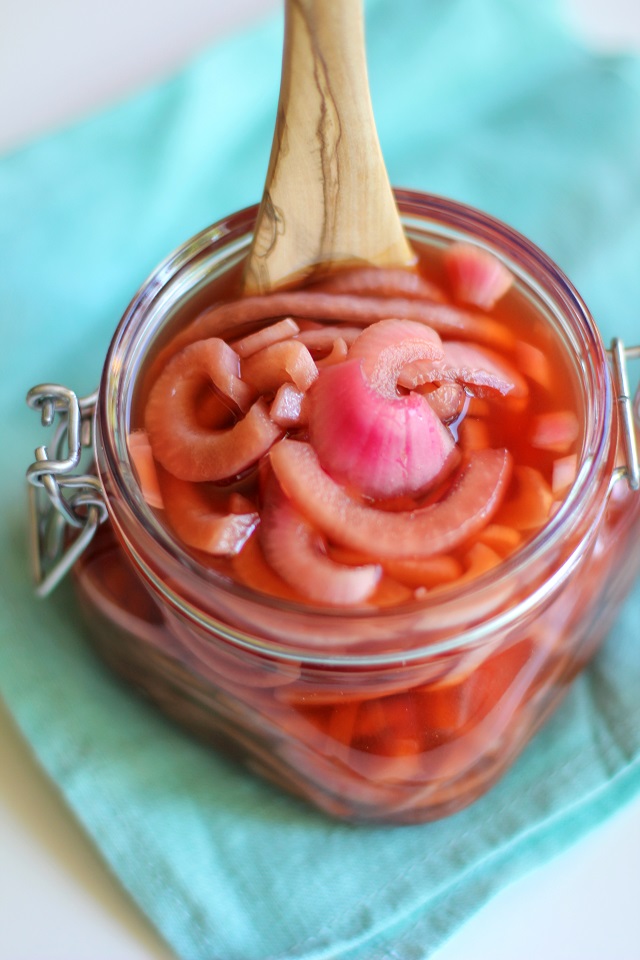 I pickled us some red onions!
Okay, that's not true. I pickled me some red onions.
Since we're on the topic of pet peeves, let me just say it puh-eeeeeves when people say they did something for you, but really they did the thang for him/herself. Like someone telling you they straight up pickled an onion for your facehole, but really it's for her own facehole enjoyment.
Good talk.
Where was I?
Pickled onions are a rodeo for your taste buds.
Seriously, is there anything better than something super briny vinegary snappy-sweet can't stop won't stop condiments for dinner please and thank you?
So glad we're on the same dang page.
How to Make Pickled Red Onions:
So here's how it works.
We get a red onion then slice it, dice it, do what we will with it, just make the whole become un-whole so that we can shove it in a jar, capiche?
You then heat up some vinegars with sugar and salt on your stove top just until it boils and the sugar is dissolved.
I used coconut sugar instead of cane sugar because #ControlFreakAlert.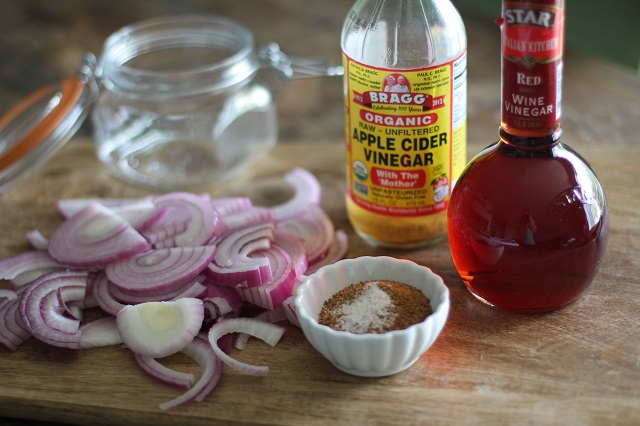 What comes next is interesting.
You put the sliced onion in a bowl and then pour the vinegar-sugar mixture over it, and just let it sit until it cools to room temperature.
You should stir that thing a few times, too.
The onions will soften slightly so that you get the optimal sqoosh-to-crunch ratio in your pickled red onion. Because texture is everything, am I right?
You then jam the onions and vinegar juice into a sealable container and let it sit overnight before tapping in and eating it for breakfast. Just kidding, but also serious.
The longer she sits, the better she gets, folks! But don't let 'er sit too long, because: expiration date.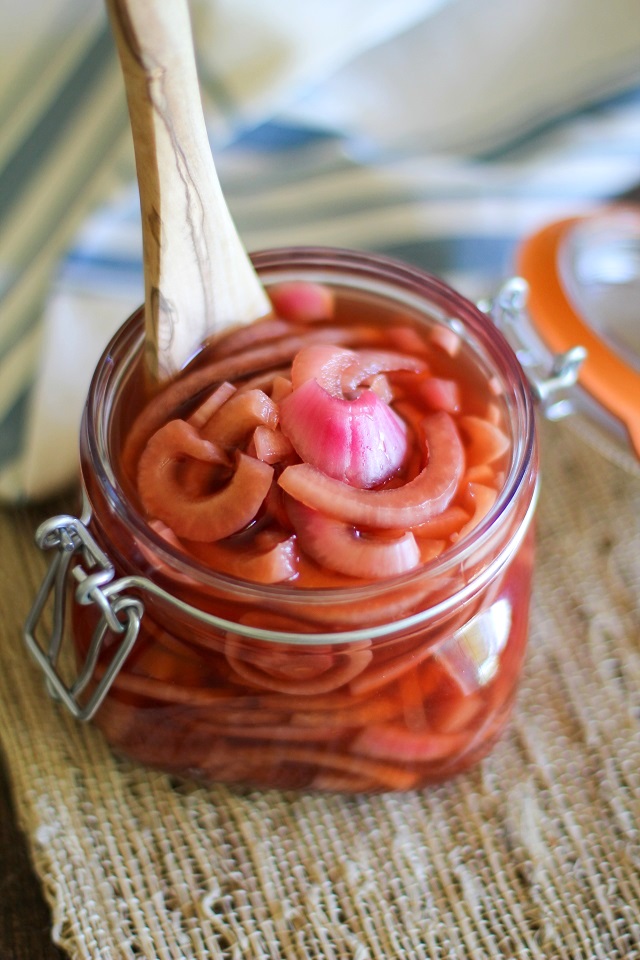 These onions will last in a sealed container in your refrigerator for a month (possibly longer but don't quote on that) if you can even withstand the temptation to eat them on all the things in 2 seconds flat.
I'm all hot to trot about pickled red onions on my salads, but you can put them on your Weiner-sausage-hot-dog situation, burgers, fillet of fish, or anything you please so long's it's not made out of ice cream.
If you're super into pickling vegetables via natural fermentation, here's a great post I found from Fearless Eating on How to Make Lacto-fermented Red Onions.
I love the idea of fermenting vegetables because the natural vitamins, minerals, yeast, and bacteria flourish, creating a super healthful and probiotic-rich result.
If you're willing to wait for a few days (to a week) before eating the pickled onions, this is a stellar method!
But if you're impatient like me and need pickled red onions like yesterday…
Time to have your pickle and eat it too <- just roll with it.
Pickled Red Onions
An easy recipe for pickled red onions to use as a condiment on EVERYTHING! Bring your sandwiches, burgers, and tacos to a whole new level!
Ingredients
1

red onion

3

tablespoons

coconut sugar

¼

teaspoon

sea salt

1/8

teaspoon

allspice

½

cup

red wine vinegar

1

cup

apple cider vinegar
Instructions
Slice the onion and place in a large bowl.

Heat the vinegars, coconut sugar, salt and allspice in a saucepan. Bring to a full boil then immediately move from heat. Pour the vinegar mixture over the onions and allow them to sit until cooled to room temperature, stirring every 10 to 20 minutes.

Transfer the onions and liquid to a sealable jar and refrigerate overnight. Onions are ready when soft and flavorful. Onions will keep in the refrigerator for up to 1 month in a sealed container.
Notes
You can use regular cane sugar in place of coconut sugar.
Nutrition
Serving:
1
of 6
|
Calories:
32
kcal
|
Carbohydrates:
8
g
|
Fiber:
1
g
|
Sugar:
6
g