Lemon Herb Salmon takes only a few minutes to prepare! Make this easy paleo, keto dinner recipe any night of the week for a healthful meal!
This post is sponsored by FoodSaver.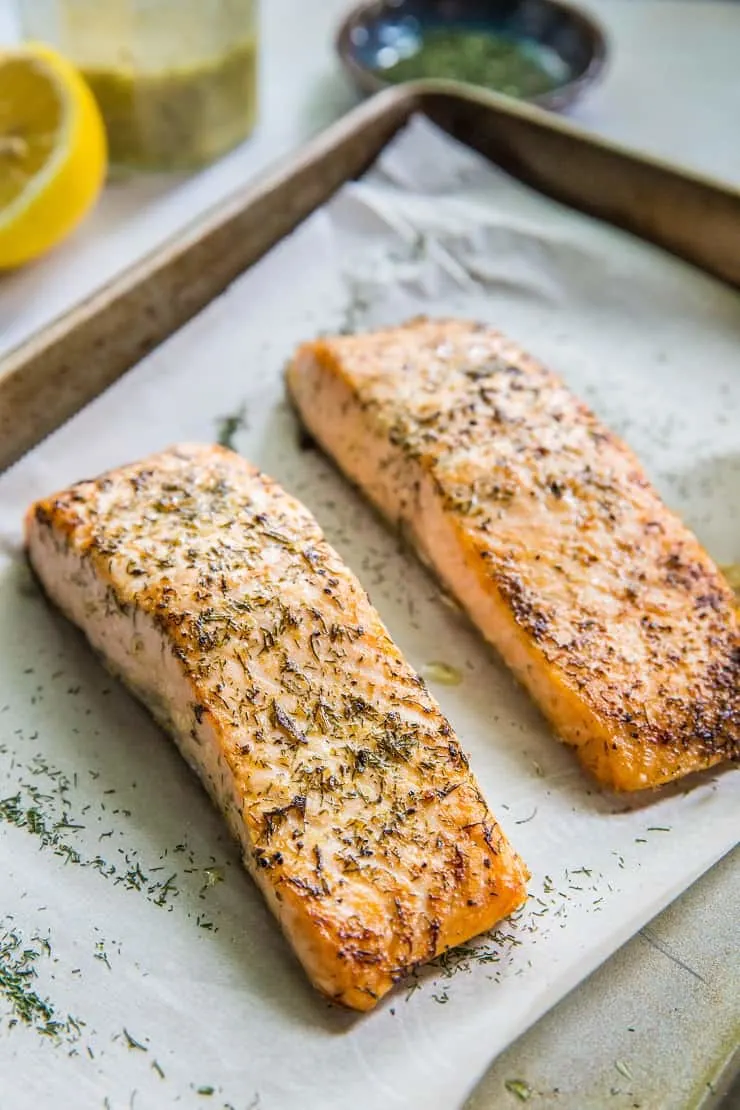 For those of you who are continuously on the prowl for healthy entrée options, you're going to LOVE this lemon herb salmon!
It only requires a few ingredients to make, is awesome for make-ahead meal prepping and is also a cinch to throw together on any given weeknight. Not to mention, it is paleo, whole30, and keto-friendly, PLUS, the marinade can be used on any animal protein!
Because I know a lot of you are health-conscious, busy individuals, let's take a minute to discuss meal prep and also minimizing food waste.
I was sent a FoodSaver FM2000 Vacuum Sealing System, which I find to be insanely convenient and ultra cool! What I use it for the most is marinating animal protein and freezing or refrigerating it for meal prep purposes. When I'm ready to cook, I simply take out one of the portions, open it up, and bake whatever it is in the oven or on the stove top.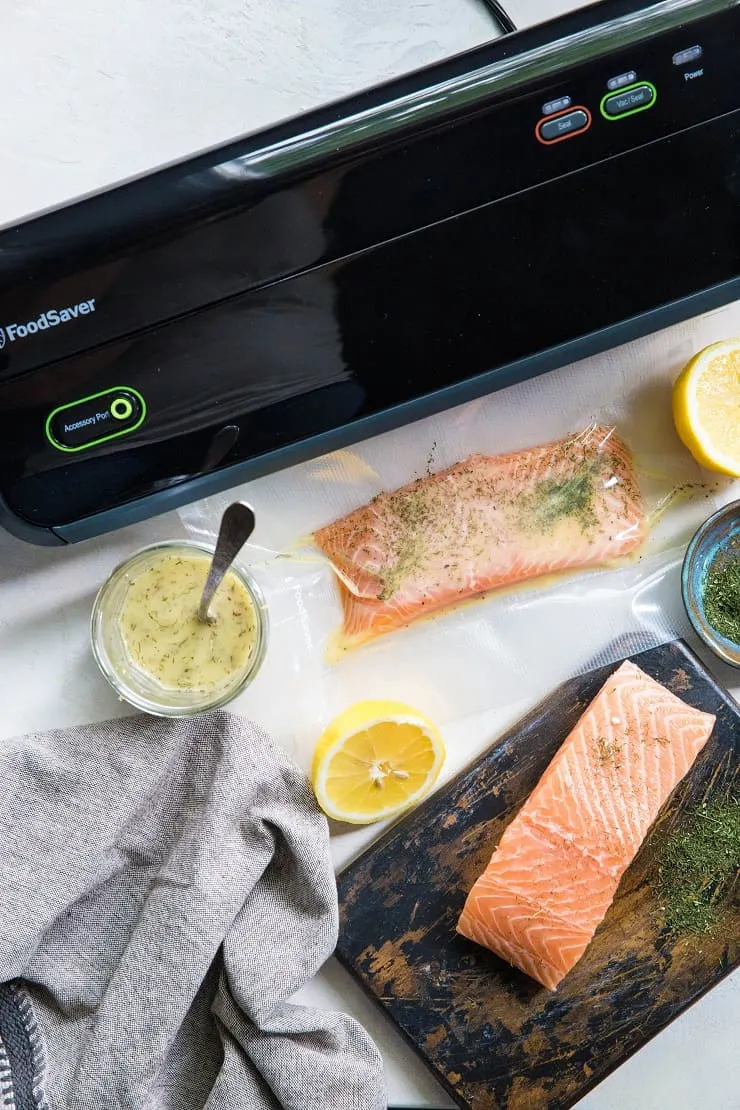 This method saves time, makes for insanely delicious food, and eliminates waste since you can easily just freeze your goods.
In addition to meal prep, I love the concept of using the FoodSaver for saving leftover pancakes, breads, cookies, etc. I often prepare baked treats and freeze them in a plastic bag, but doing so results in freezer burn if I don't eat them up quickly. This way, I can save my goodies for months on end!
The FoodSaver FM2000 Vacuum Sealing System gives you more ways to preserve your food. It is the #1 Best Selling Vacuum Sealing Brand and you can use it to seal FoodSaver zipper bags, canisters, or containers.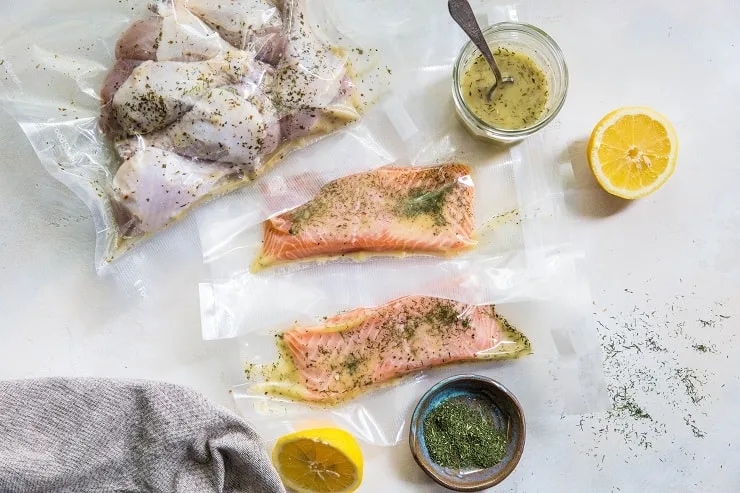 Whether you want to make prep-ahead meals, store leftovers, or freeze meats and produce for longer periods of time, the FM2000 is the sensible way to save money and eliminate food waste.
FoodSaver is the trusted brand for vacuum sealing, includes a 5 Year Limited Warranty, and is ETL Safety Certified.
The instructions for using the FoodSaver are so simple to follow, making batch saving or meal prep a breeze.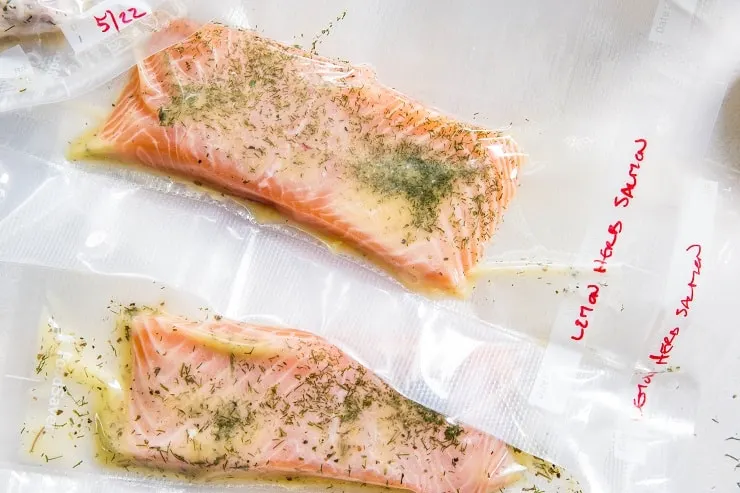 For this particular lemon herb salmon recipe, you can use the FoodSaver vacuum seal system in a few ways. Marinate the salmon in minutes with FoodSaver, for cooking the same day, OR, you can prepare a batch of salmon and freeze it for later use.
Now that we're in-the-know about this very handy kitchen tool, let us discuss…
How to Make Lemon Herb Salmon:
Preparing this recipe couldn't be any easier. Simply blend together the ingredients for the marinade in a blender and use it as a marinade for the salmon.
When you're ready to bake the salmon, turn your oven on the high broil setting. Transfer the salmon, including the marinade, to a casserole dish or baking sheet. Broil on the second-to-the-top shelf of the oven for 12 to 15 minutes, or until salmon is crispy and cooked through.
Serve lemon herb salmon with your favorite side dishes, and enjoy!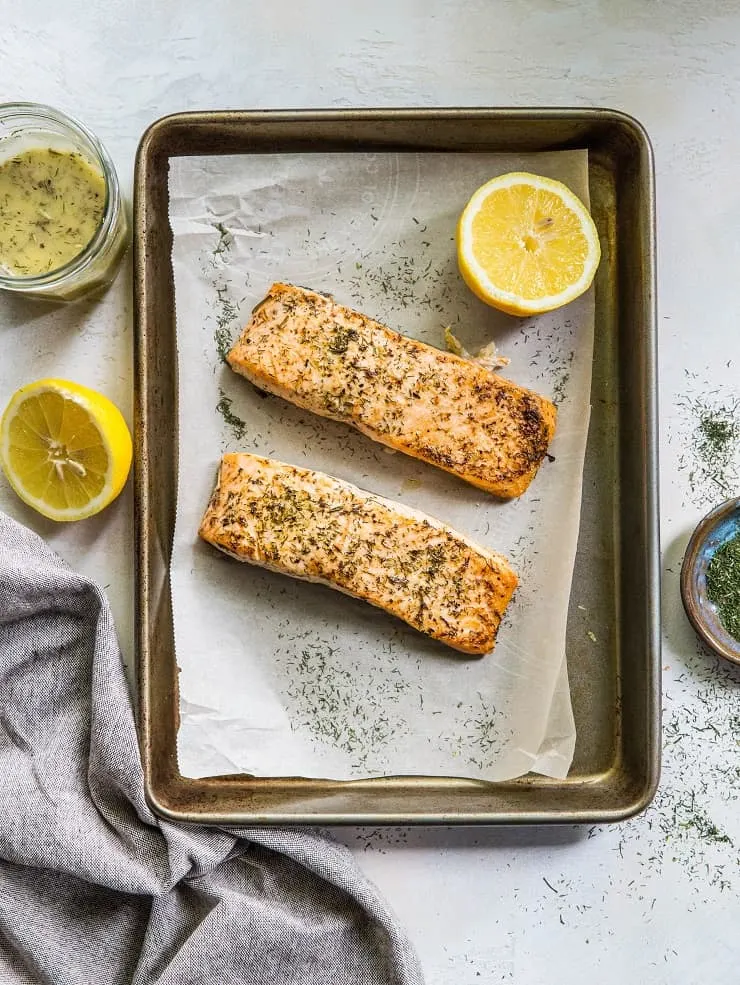 Recipe Adaptations:
Use the lemon herb marinade for any type of animal protein! I love it with chicken and shrimp, but you can also use it for a pork roast or tenderloin, or steak!

Depending on your preferred herbs, change up the dried herbs to your heart's delight. Oregano, parsley, dill, basil, and rosemary are my favorites.

Replace the dried herbs with fresh herbs.

Use a combination of orange juice, lemon juice, and/or lime juice for the marinade.

Replace avocado oil with cooking oil of your choice – my other recommendations are almond oil, algae oil, and grapeseed oil.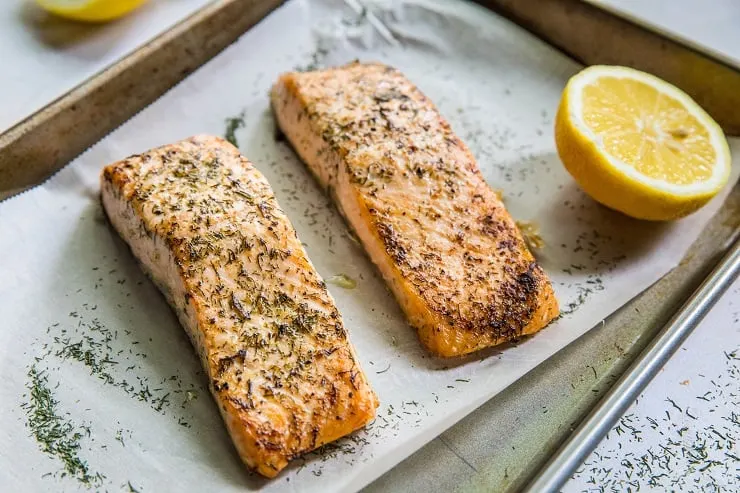 Happy meal prepping!
My cookbook,
Paleo Power Bowls
, is now available! CLICK HERE to check it out. Thank you for your support!
If you make this Lemon Herb Salmon, please feel free to share a photo and tag @The.Roasted.Root on Instagram!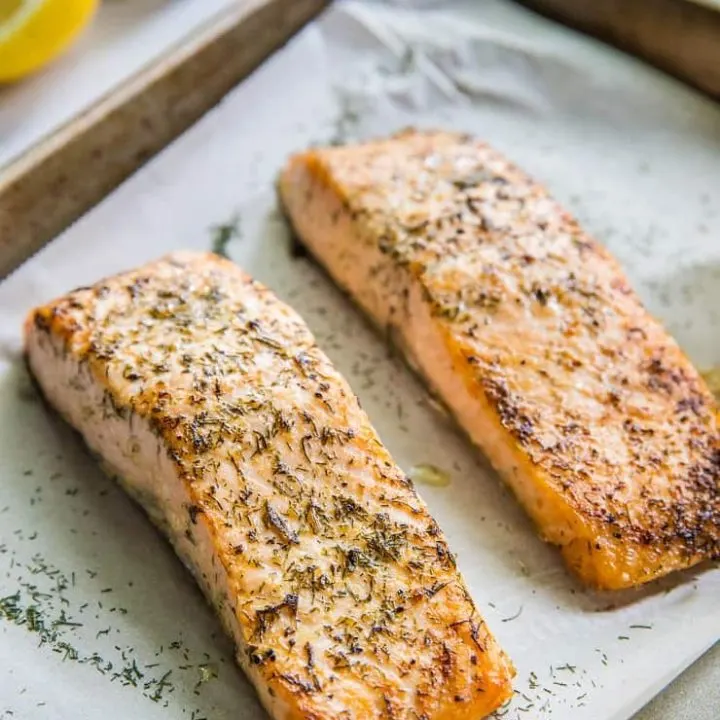 Lemon Herb Salmon
An easy dinner recipe perfect for those who love a good clean meal and/or like to meal prep. Plus it's paleo, keto, and whole30.
Ingredients
1 to 2.5 pounds salmon , cut into single-serving fillets
Lemon Herb Marinade:
1/4 cup fresh lemon juice
2 tsp dried basil
2 tsp dried dill
1 tsp dried parsley
Instructions
Add ingredients for the marinade to a blender and blend until smooth.
Follow the instructions on the FoodSaver. Use 2 tablespoons of marinade for each 1/3 to ½-pound salmon fillet.
Either refrigerate or freeze the vacuum seal packs of salmon. Prior to cooking the salmon, be sure the fillet is completely thawed. Thaw salmon in the refrigerator for best results.
When you're ready to cook the salmon, turn your oven onto the high broil setting and transfer the salmon to a casserole dish or baking sheet, including the marinade. Note: you can cook 1 to 5 fillets at a time!
Place baking sheet on the second-to-the-top self of the oven under the broiler. Broil for 12 to 15 minutes, or until salmon is crispy and cooked through.
Serve salmon with your favorite side dishes.
Nutrition Information
Yield

3
Serving Size

1 of 3
Amount Per Serving
Calories

321
Total Fat

20g
Unsaturated Fat

0g
Carbohydrates

1g
Protein

36g