A quick, easy and filling spinach salad recipe with baked chicken, radishes, cucumber, pumpkin seeds, sunflower seeds, carrot and feta. This low-FODMAP salad is a gut-friendly healthy meal.
This post is sponsored by Fody Foods.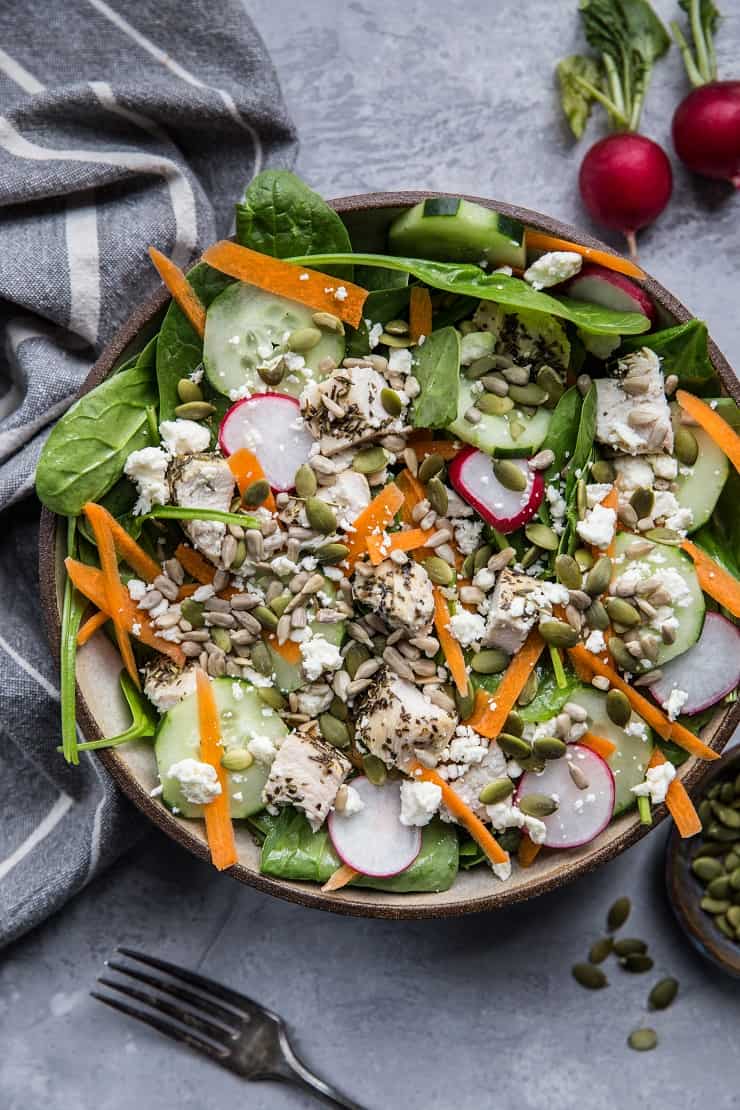 If you follow a low-FODMAP diet to manage digestive issues, you know it can be nearly impossible to find certain products such as salad dressing or pasta sauce that don't contain high-FODMAP ingredients like onions or garlic.
Sure, making everything from scratch is simple once you get the hang of it, but from time to time you want to throw together a meal that is both healthful and easy. Confession: I eat a lot of salad, but I don't always make my own salad dressings. For those of you who love pasta or enchiladas, I'm sure you can relate when it comes to the sauce.
WELL. This just in!:
Fody Foods makes Low-FODMAP products like salad dressing, marinades, salsa, and pasta sauce. They even make snack bars and trail mix that are Low-FODMAP! Cue the record scratch!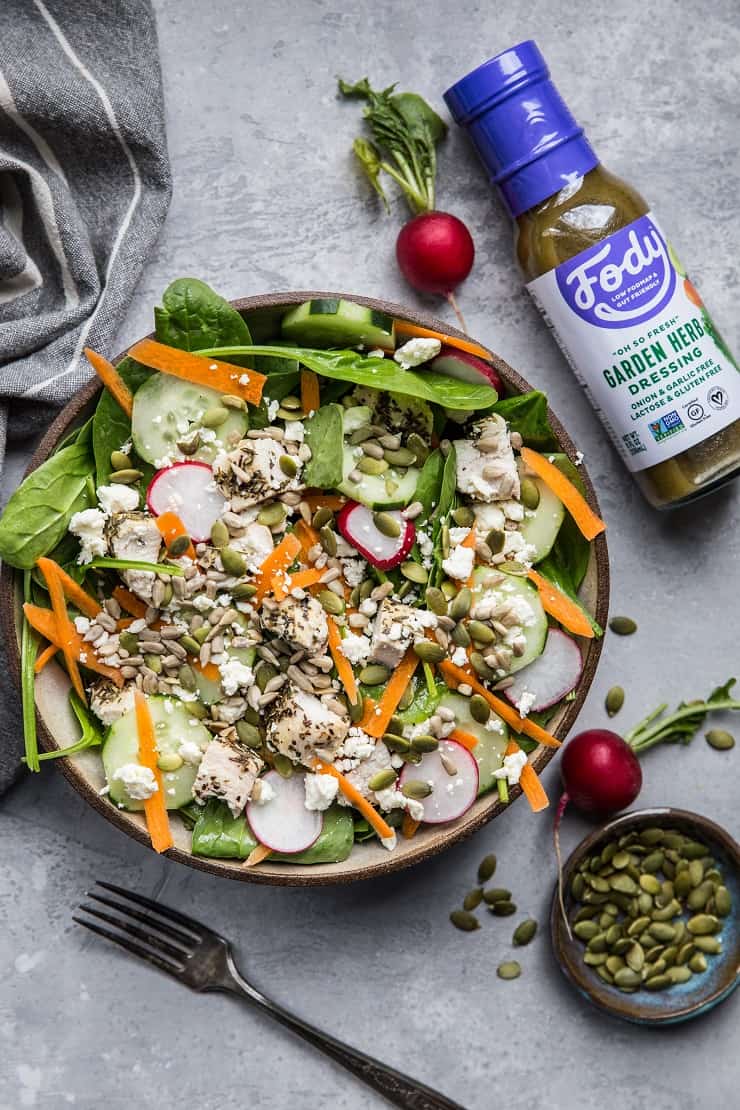 For me, this is huge news because it means I can use a quality prepared product without having to worry it will cause digestive upset. For this salad, I used Fody Foods Low FODMAP Garden Herb Dressing which ties together any salad so beautifully! I'm also a big fan of their Caesar Dressing and have already used it on all sorts of my favorite salad recipes from this site.
If you aren't sure what FODMAPs are, the quick run-down is they are fermentable carbohydrates (FODMAP stands for Fermentable Oligosaccharides, Disaccharides, Monosaccharides And Polyols) that can cause gastrointestinal upset in certain individuals. Those who have IBS, IBD, or another inflammatory disease tend to find relief when they eat a low-FODMAP diet.
So now that we have the basics squared away, lettuce discuss how to make a gut-friendly salad
How to Make a Low-FODMAP Salad:
If you follow a Low-FODMAP diet, your options are somewhat limited when it comes to typical salad ingredients. My favorite Low-FODMAP salad ingredients are animal protein, spinach, arugula, carrots, radishes, cucumber, nuts and seeds, fresh or dried herbs, a small amount of chives, and a sprinkle of feta or other aged cheese.
In general, I like my salads to have a wide variety of texture and lots of crunch, so my salad formula = multiple types of vegetables + a nicely textured animal protein + nuts and/or seeds. If I'm feeling like I want a tangy/sweet element, I'll toss in some dried blueberries or raisins (dried cranberries are great too but can be tough for some people's digestive systems).
For me, the key is making sure I'm getting adequate protein so that the meal is satiating. In the past, I would eat too much fiber in the form of raw vegetables, which would cause IBS symptoms.
In this sense, focusing my food intake on quality protein and healthy fat has been pivotal in keeping symptoms under control.
I have found I can get away with a small amount of high-FODMAP ingredients in salad. In particular, I love avocado because it adds that delectable creaminess.
So long as you aren't consuming a huge amount of it in one meal and don't ordinarily react strongly to it, you can safely add it to a salad for pomp and circumstance.
The same can be said for broccoli (this one is tough for me, so I typically avoid it in its raw form), tomatoes, celery, lentils or black beans, etc.
Let's talk about the animal protein portion of this salad: baked chicken! Specifically, how to make mouth-watering, perfect baked chicken each and every time.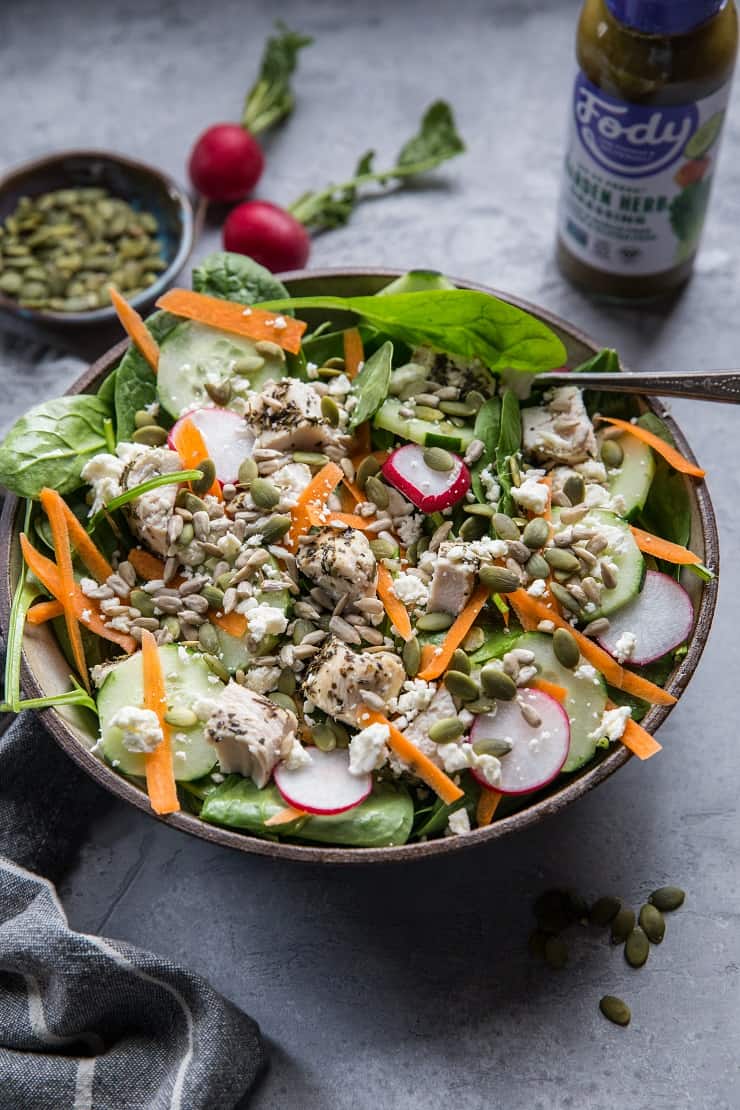 How to Make Perfect Baked Chicken:
Place the boneless skinless chicken breast in a zip lock bag (or sealable container) along with seasonings, oil (my preference is avocado oil), sea salt, and an acidic ingredient such as lemon or lime juice or balsamic, rice, or cider vinegar. For this recipe, we are using avocado oil, dried herbs, sea salt, and lemon juice.
Seal the bag and give it a shake to distribute all the marinade ingredients. Refrigerate for at least 15 minutes, preferably an hour or longer. The longer the chicken marinates, the more flavorful and tender it will be.
SIDE NOTE: have you ever marinated chicken or meat using salad dressing? I have! You can use Fody's salad dressings or marinades for a super easy way of flavoring your meat.
When you're ready to bake, preheat the oven to 350 degrees F. Place the chicken in a casserole dish and include the juices from the marinade as well. Bake 30 to 35 minutes, depending on the thickness of the chicken. The chicken is fully cooked when it is no longer pink in the center and reaches 165 degrees F.
Once the chicken has finished baking, allow it to rest 15 minutes. This is a crucial step! The rest time allows the juices to distribute throughout the chicken, resulting in a tender bite.
After the chicken has rested, you can serve it as a whole piece or place it on a cutting board and slice or chop it. When I'm adding it to a salad, I like to chop the chicken into cubes or serve in slices.
You can refrigerate the chicken so that it is chilled or serve it warm.
Simply toss everything together in a big salad bowl with your desired amount of dressing, and you're good to go!
More Entree Salads:
Be sure to check out Fody Foods online or on social media!
My cookbook,
Paleo Power Bowls
, is now available! CLICK HERE to check it out. Thank you for your all your support!
If you make this Lemon Herb Baked Chicken Spinach Salad, please feel free to share a photo and tag @The.Roasted.Root on Instagram!
Lemon Herb Baked Chicken Spinach Salad
A filling entree salad with baked chicken, cucumber, radishes, pumpkin seeds, and feta cheese. Low-carb, keto, and delicious!
Ingredients
Lemon Herb Baked Chicken:
1

pound

boneless skinless chicken breasts

3

Tbsp

avocado oil

3

Tbsp

lemon juice

1/2

tsp

dried parsley

1/2

tsp

dried basil

1

tsp

dried rosemary

1/2

tsp

sea salt

or more to taste
For the Salad:
5

ounces

baby spinach

1

large carrot

peeled and grated

4

radishes

thinly sliced

1/2

cucumber

thinly sliced

1/3

cup

pumpkin seeds

2

Tbsp

sunflower seeds

1/3

cup

feta cheese crumbles
Instructions
Add the ingredients for the baked chicken to a zip lock bag and seal. Shake the contents of the bag around until the chicken is well coated in marinade. Refrigerate at least 15 minutes, up to 12 hours.

When ready to bake, preheat the oven to 350 degrees F. Transfer the chicken including the marinade to a casserole dish. Bake 30 to 40 minutes, or until chicken is cooked through and has reached 165 degrees F internal temperature.

Remove chicken from oven and allow it to rest 15 minutes. Transfer to a cutting board and slice or chop.

Add all ingredients for the salad, including the chopped chicken, to a large serving bowl. Toss in desired amount of dressing and serve.
Nutrition
Serving:
1
of 2
|
Calories:
485
kcal
|
Carbohydrates:
11
g
|
Protein:
55
g
|
Fat:
30
g
|
Fiber:
5
g
|
Sugar:
3
g