Delicate, flavorful lemon dill cod in parchment paper (or cod en papillote) with capers – a beautiful meal for a date night in that happens to be low-carb, paleo, Whole30, and so easy to prepare!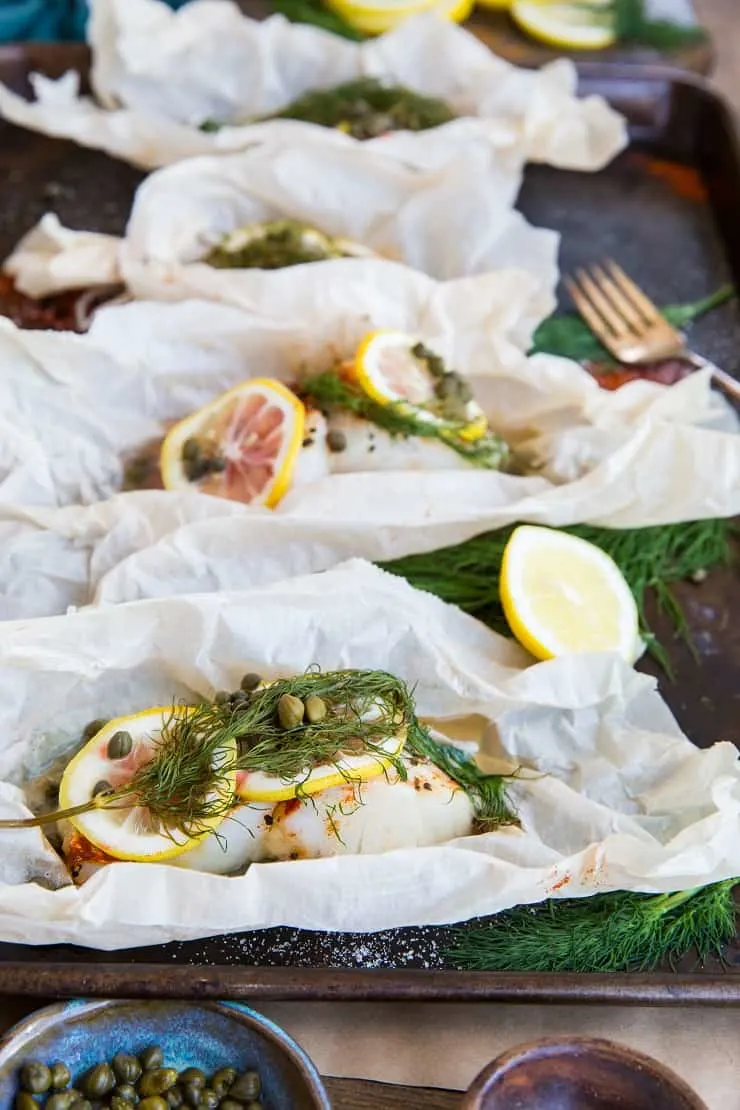 Have you tried my Mediterranean Salmon in Parchment Paper or Citrus Ginger Turmeric Parchment Paper Salmon yet? While I'm a big fan of My Go-To Crispy Salmon, prepared per the broiling method, I also love the way fish and seafood turns out when cooked in parchment paper.
The fish turns out so nice and moist, buttery, flaky, and flavorful. The delicate texture and lovely flavor make it a win for a fancy date night in, yet the recipe is quick and easy enough to prepare for any given weeknight.
Let's hop to it!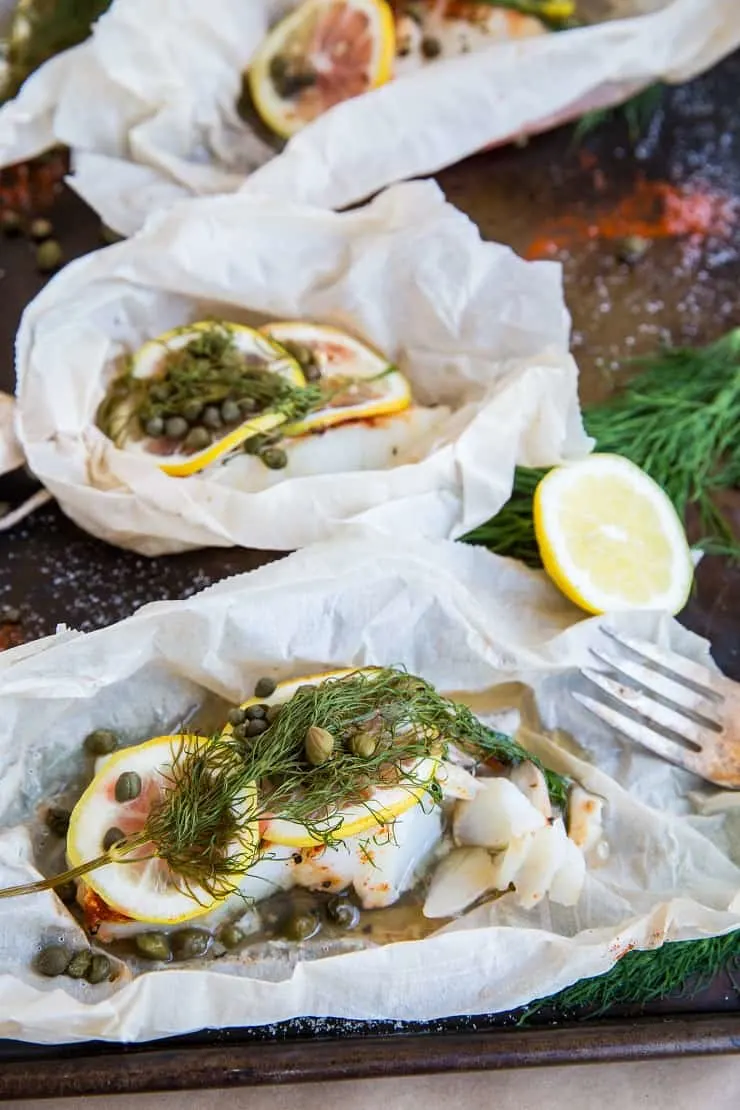 How to Make Cod in Parchment Paper:
You can either cook a whole large fillet in a big sheet of parchment paper, or you can cut it into smaller fillets for individual portion sizes. I like the smaller fillet method for individual serving portions. It gives your guests a fun little project…like opening a little fish gift.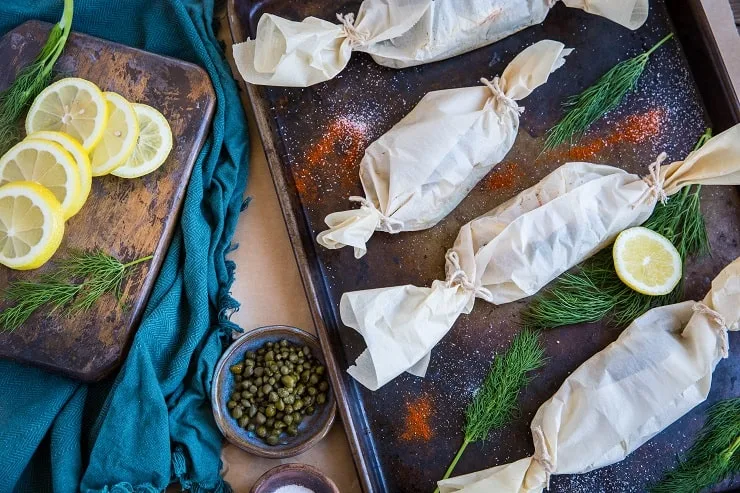 Simply place each fillet on a sheet of parchment paper and drizzle with avocado oil or melted butter. Sprinkle the fish with paprika, garlic powder and sea salt. Add on your sliced lemons, fresh dill, and capers.
Wrap the fillets into little parchment packets, using twine to secure either end. Bake, unwrap, and enjoy.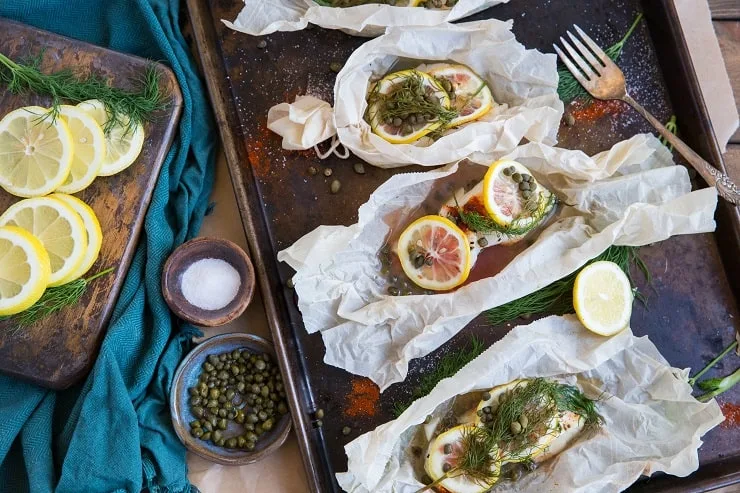 Recipe Adaptations:
You can change up the flavors to your heart's delight!
Incorporate your favorite dried herbs and seasonings.
Add sun-dried tomatoes or fresh cherry tomatoes.
Omit the garlic powder to make low-FODMAP
Add fresh minced garlic or ginger.
Cook the fish as a whole large piece using a longer sheet of parchment paper rather than smaller portions.
Use sliced oranges and fresh rosemary, like so: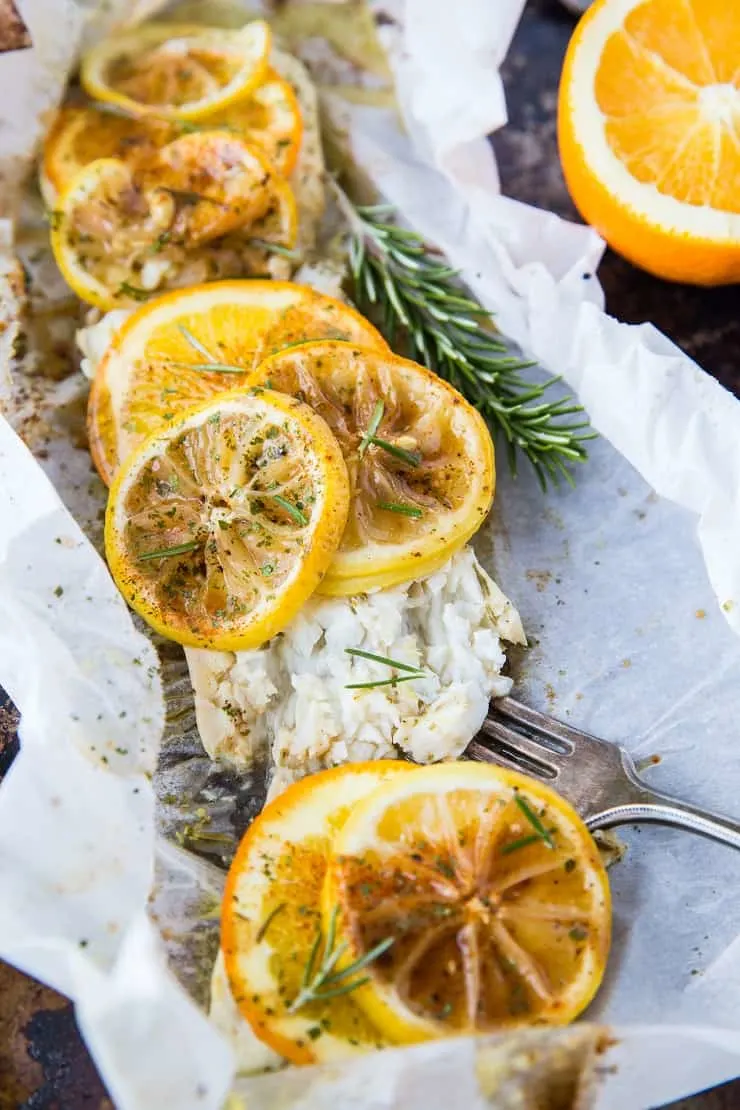 Serving Options:
Serve the cod with your favorite side dishes. I suggest the Roasted Winter Vegetable Quinoa Salad , Pesto Quinoa Salad with Asparagus, Avocado, and Kale, Crispy Baked Avocado Fries, Crispy Baked Sweet Potato Fries, Roasted Fingerling Potato Salad, or Pesto Smashed Potatoes.
Enjoy these joyous nuggets of parchment-wrapped cod.
My cookbook,
Paleo Power Bowls
, is now available! CLICK HERE to check it out. Thank you for your all your support!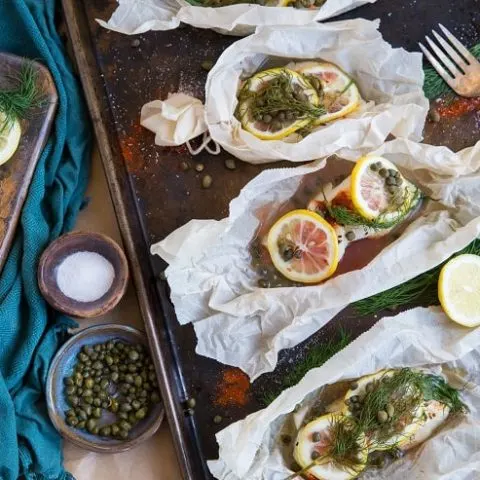 Lemon Dill Cod in Parchment Paper with Capers
An easy recipe for cod in parchment paper with lemon, dill, and capers.
Ingredients
1 (1-pound) cod , cut into 4 fillets
1 tsp garlic powder
1 lemon, thinly sliced
4 sprigs fresh dill
4 Tbsp capers
Instructions
Preheat the oven to 350 degrees F. Cut 4 sheets of parchment paper and place on a large baking sheet.
Cut cod into four fillets and place on squares of parchment paper. Sprinkle each fillet with paprika, garlic powder and sea salt.
Layer lemon slices over each fillet. Place sprigs of dill on each fillet and sprinkle with 1 tablespoon of capers each.
Form packets by folding parchment over the fish and tying the ends with twine.
Place all four packets onto a large baking sheet and bake for 35 to 40 minutes, or until cod is cooked through.
Serve with choice of side dishes.
Nutrition Information
Yield

4
Serving Size

1 of 4
Amount Per Serving
Calories

181
Total Fat

9g
Saturated Fat

1g
Unsaturated Fat

7g
Carbohydrates

1g
Protein

24g