A unique take on potato salad with roasted fingerling potatoes, roasted garlic, kale, whole grain mustard.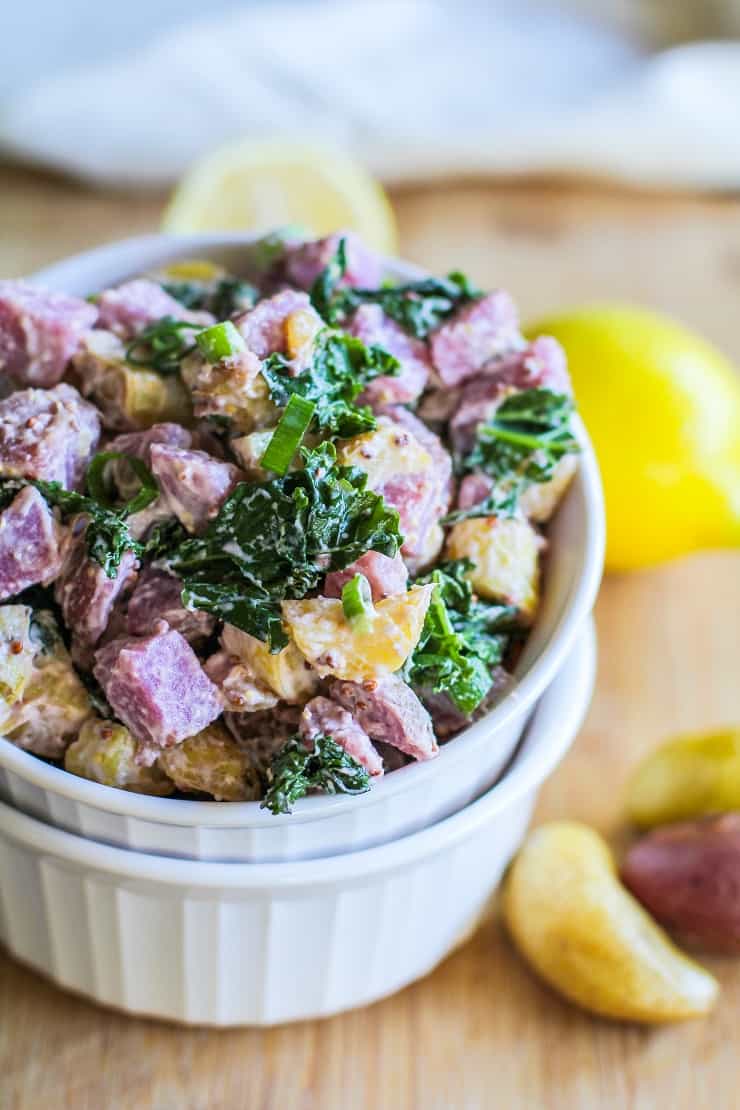 Potato salad is one of those side dishes I absolutely LOVE but only eat under very specific conditions. I admit, I'm a bit of a control freak when it comes to potato salad inputs — it just has to be homemade…typically by my hand…because: preferences.
For instance…
The "dressing" either needs to be mayo-free or include a higher quality mayonnaise or homemade aioli (I do like a store-bought avocado oil mayo), or some sort of mayo situation that doesn't gross me out. What can I say? I startle easily when it comes to mayonnaise.
In addition, I love a potato salad with a nice tangy kick to it – either lemon juice, stone ground mustard, cider vinegar, or horseradish are choice additions for me. You've seen an example of this in my German-Style Potato Salad with Caramelized Onions and Chives.
Lastly, bacon is encouraged, but not mandatory.
This potato salad is a bit different than your classic po' salad. First off, it involves roasted fingerling potatoes as opposed to boiled yukon gold potatoes. Secondly, roasted garlic and KALE is involved. Lastly, the dressing is lightened up a bit from your usual potato salad, making it less fatty. It also has that nice tang I was telling you about earlier.
All things considered, this roasted fingerling potato salad is easy to prepare, perfect for sharing with guests, easy to adapt to your personal taste, and has a beautiful texture and flavor. It's what I would consider to be easy eating.
Recipe Adaptations:
Do you like hard-boiled egg in your potato salad? Chop up two and mix them in!

When in doubt, just add bacon.

Omit the kale if you aren't crazy about it.

Add chives or caramelized onions.
Roasted Fingerling Potato Salad
Healthier potato salad made with fingerling potatoes and the addition of kale makes for an incredible side for all your picnics and BBQs!
Ingredients
28

ounces

fingerling potatoes

2

tablespoons

olive oil

1

bulb garlic

2

stalks green onion

2

tablespoons

avocado oil mayonnaise

or mayo of choice

2

tablespoons

plain Greek yogurt

(or more mayo)

1

tablespoon

fresh lemon juice

or cider vinegar

1

teaspoon

lemon zest

1

tablespoon

whole grain mustard

1/2

teaspoon

sea salt

to taste

2

cups

kale leaves

chopped and sauteed
Instructions
Preheat the oven to 425 degrees F.

Spread fingerling potatoes on a large baking sheet and drizzle with olive oil and sprinkle with sea salt. Use your hands to toss everything together until the potatoes are well-coated. Wrap the garlic in foil and place on the baking sheet with the potatoes. Place potatoes and garlic in the preheated oven and bake 20 to 30 minutes, until potatoes are very soft when poked with a fork.

Remove potatoes and garlic from the oven and allow them to cool. Once cool enough to handle, peel the potatoes and chop them into bite-sized pieces. Unwrap the bulb of garlic and chop the cloves. Add the potatoes and garlic to a large mixing bowl along with the green onion.

In a small bowl, stir together the mayo, yogurt, lemon juice, lemon zest, mustard, and sea salt. Pour this dressing mixture over the potatoes and garlic and toss together.

Saute the kale leaves over medium heat in a small amount of oil until the leaves are wilted, about 2 to 3 minutes. Taste potato salad for flavor and add more sea salt and/or lemon juice to taste. Allow kale to cool then mix it in with the potato salad. Place potato salad in the refrigerator until ready to serve.
Nutrition