Easy shrimp gumbo soup made in less than 45 minutes. This simple meal can be prepared any night of the week, and is paleo and Whole30 approved.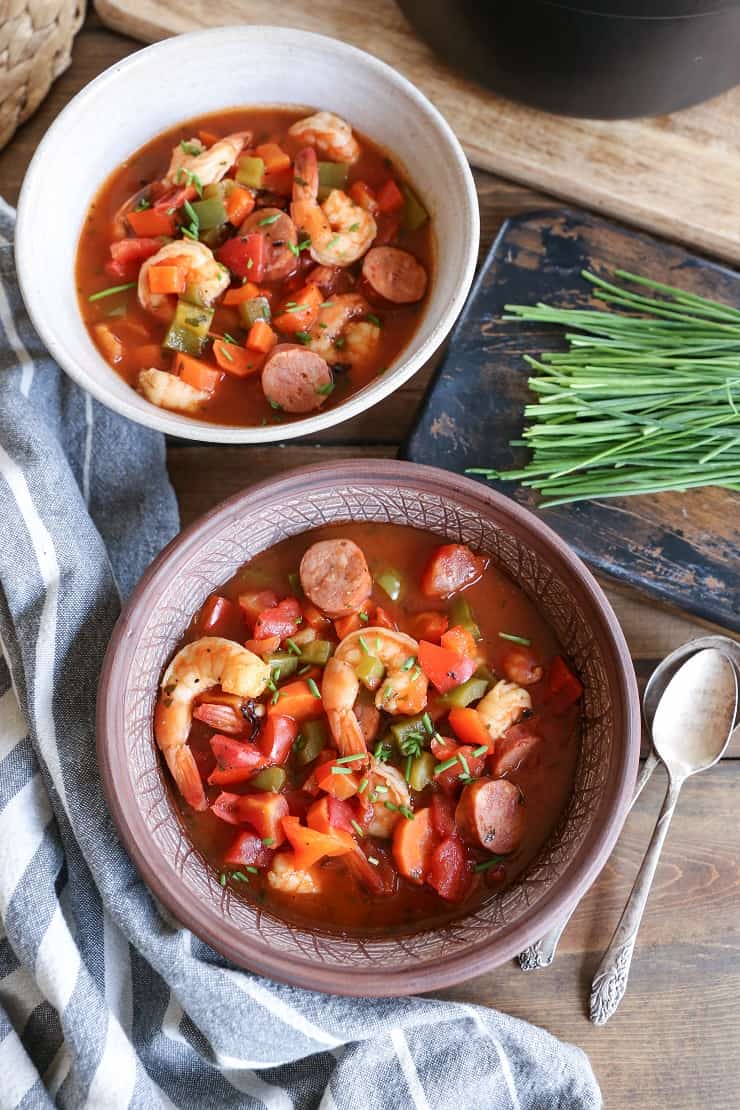 When I was growing up, I thought shrimp gumbo was one of those meals that
a.) Could only possibly be made on special occasions,
b.) Had to be made in a volume so large it could feed a football team, and of course jambalaya HAD to be made alongside it…in a volume so large it could feed the state of Wyoming, and
c.) Needed to be prepared by someone who had a great deal of experience living in Louisiana…and probably that person was wearing hand-crafted alligator boots while fashioning up said shrimp gumbo and also knew how to play in banjo in addition to being a badass cook and alligator hunter (<-I'm nothing if not imaginative).
I had these pre-fabricated notions probably because the first time I consumed shrimp gumbo, it was on a special occasion made by someone who came from Louisiana, filled two of my family's ginormous stock pots to the brim, AND was prepared in conjunction with jambalaya.
Needless to say, on the list of Meals I Couldn't Possibly Pull Off shrimp gumbo went (as did jambalaya).
But after I learned the fine art of Fake it Until You Make It in my mid-twenties, I realized I could me-ify the crap out of shrimp gumbo to
a.) Make it an everyday meal,
b.) Scale it down to feed 4 – 6, and
c.) Pretend I had an aggressive amount of experience living on a bayou with an air boat and the finest of all the alligator boots..
…because fantasy can take you surprisingly far.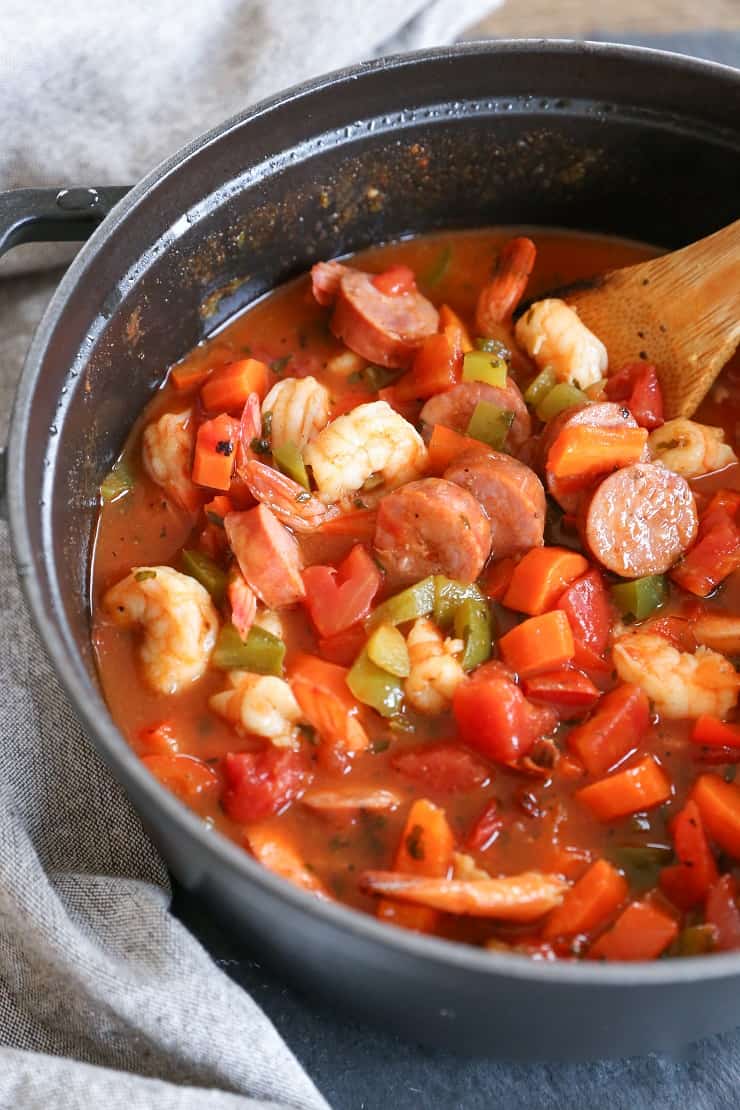 That catches us up to today. I'm showing you my go-to shrimp gumbo recipe which is gluten-free (gumbo is often made with roux), only requires about 30 – 45 minutes to make, and can be prepared any ol' night of the week.
For me, shrimp gumbo is one of those instant gratification dishes. The fact that it's big on flavor, is nice and filling, and (the way I make it) takes hardly any time to make always puts a smile on my face.
All the more reason to make it a staple in my food life, am I right? MMMHMM!
If you're already wide-eyed about the lack of authenticity about this dish, it gets better. I don't use gumbo file in the recipe, or bouillon cubes, or butter, or margarine. I know…such a rebel.
I will say: a typical gumbo includes chicken, and I do love adding chicken to my gumbo from time to time.
SO if you're on team chicken, feel free to chop up a boneless skinless chicken breast and throw 'er in.
Gumbo is typically served like a thick gravy with rice or corn grits, but I made this meal while I was doing Whole30 in January, so I skipped the rice and made a soup situation out of it.
If you're looking to add a little carb to the meal, definitely rice it up!
OR, you can also take the noodle approach by making the Shrimp Gumbo Pasta (<-just as authentic as this recipe, if not more) I posted umpteen years ago.
I think that's all you need to know for now in order to be successful at this dish. Alligator boots optional. Bluegrass music mandatory. Off you go!
Scoot!
More Healthy Soup Recipes:
Shrimp Gumbo Soup
Shrimp Gumbo Soup made gluten-free and dairy-free and paleo friendly.
Ingredients
2

tablespoons

avocado oil

or olive oil

1/2

medium yellow onion

see note*

2

large carrots

chopped

2

bell peppers

colors of choice, cored and chopped

4

cloves

garlic

minced, see note*

1

15-ounce can diced tomatoes

4

cups

chicken broth

1

pound

raw shrimp

peeled and deveined

2

andouille sausage links

sliced, see note**

1/2

cup

fresh parsley

choped

2

teaspoons

paprika

1

teaspoon

dried thyme

2

teaspoons

dried oregano

1

teaspoon

sea salt

to taste

3

chives

chopped, for serving
Instructions
Heat the oil in a large stock pot over medium heat. Add the onion and carrot and saute until onion begins to turn translucent, about 3 to 5 minutes. Add the bell peppers and garlic and continue cooking until garlic is very fragrant, about 3 minutes.

Add the diced tomatoes and chicken broth and bring to a full boil. Add the remaining ingredients and return to a gentle boil. Reduce heat, cover, and cook 20 minutes.

Serve heaping bowls of shrimp gumbo with chives or green onion on top and enjoy! Note: the gumbo becomes even more flavorful as it sits, so this is a great recipe to make ahead of time and allow it to sit in the refrigerator 1 to 2 days before eating.
Notes
*Omit the onion and garlic to make Low-FODMAP
**I use chicken andouille sausage, which comes pre-cooked
Nutrition
Serving:
1
of 4
|
Calories:
281
kcal
|
Carbohydrates:
10
g
|
Protein:
26
g
|
Fat:
11
g
|
Fiber:
4
g
|
Sugar:
6
g