Gluten-Free Lavender Chocolate Chip cookies made with dried lavender are a unique spin on classic chocolate chip cookies!
With subtle lavender flavor, these rustic cookies are amazing with a mug of tea or coffee!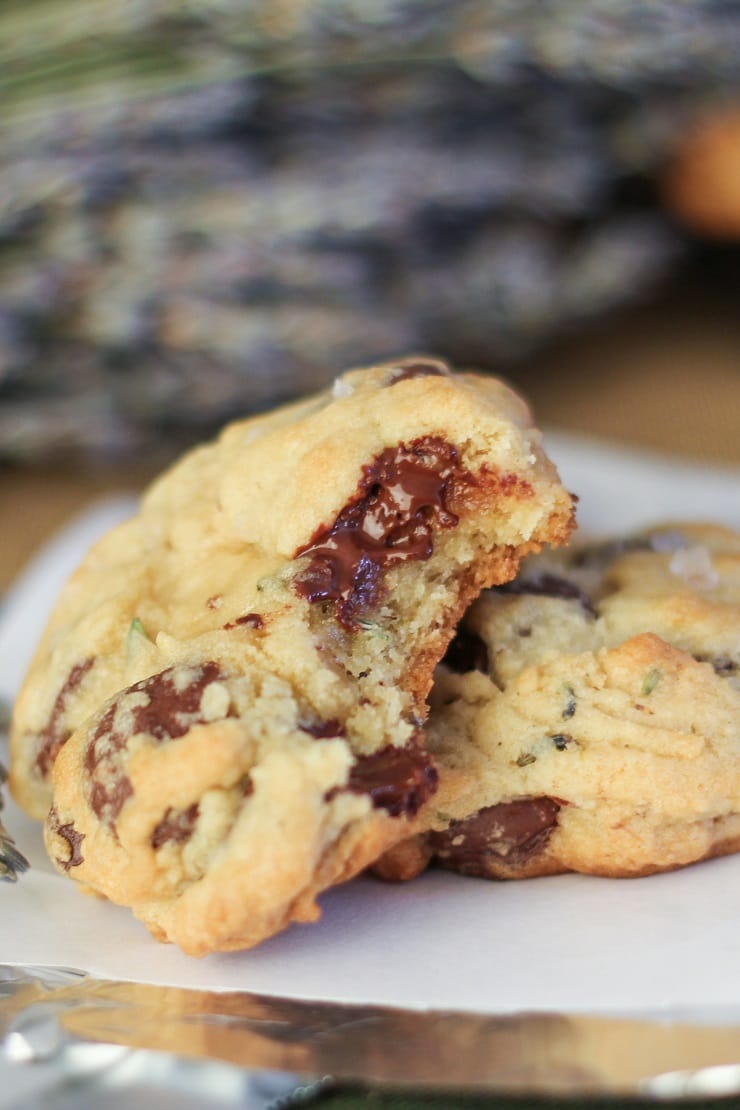 This recipe dresses up self control in a tri-color neon leotard, sticks it on a chair, and spins it around in circles. Out. Of. Control.
When sweetpea and I travel, we snicker at restaurants with self-proclaimed "best of" signs – Home of the World's Best Pancake!
Best Huevos Rancheros in Texas! Idaho's Greatest Mashed Potatoes! We tend to shy away from the "Best Of's" because neither of us have had the Best Ever experience at a Best Of place.
Nevertheless, my interest is usually piqued if you want me to give it to you straight.
Curiosity always takes hold and if you tell me you're the mecca of the dill pickle or your brisket is the bomb diggity. I'm likely going to want to try it despite my surly snicker and upturned nose.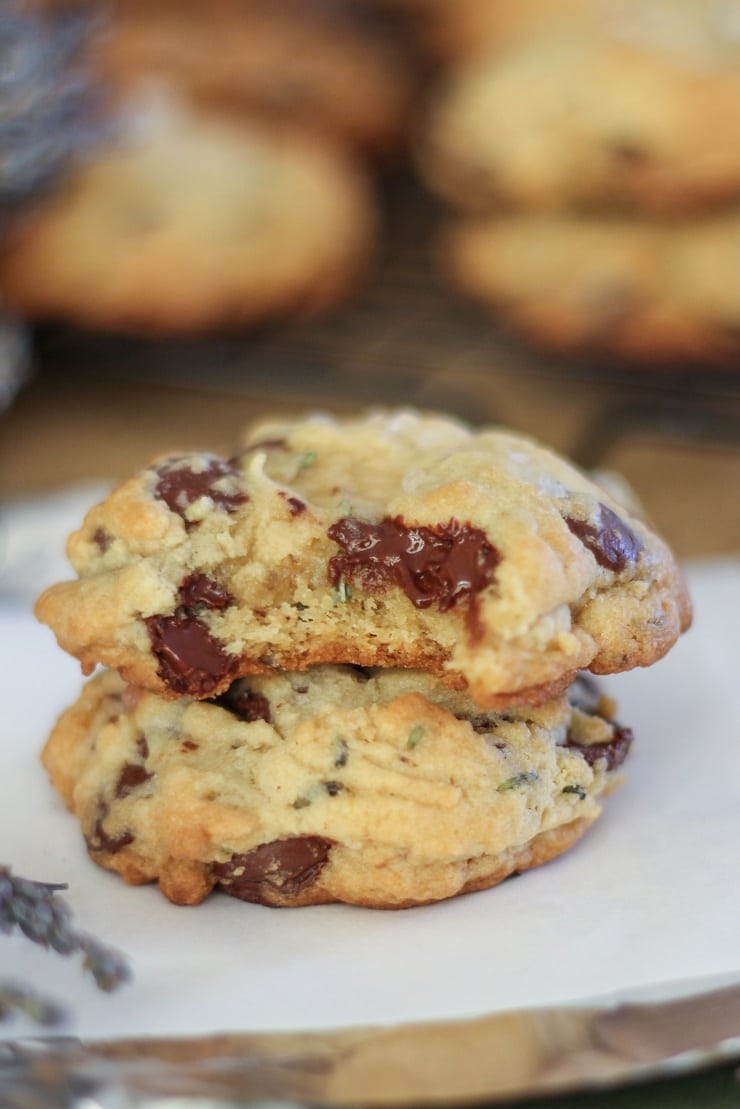 There is a Best Of that my sweet tooth has intelligently avoided for months and it comes in the form of a newspaper recipe, not a Best Of brick and mortar restaurant.
Lack-of-self-control Land is where my sweet tooth has lived for the past two months and has concurrently won every battle.
I thus caved (nay, bowed) to the infamous and once intelligently avoided recipe with which I worked so hard to not make eye contact.
I feel sheepish when I say this…I cower with my tail between my legs and if I could make my font smaller to appear as though I'm whispering this to you, I would.
It's the much-revered Best Chocolate Chip Cookie Ever recipe from the New York Times. I've been aware of it…it shows its melty chocolatey face on pinterest at least weekly…I've avoided…it conquered.
I shake my fist at you, NY Times, I certainly do. My once passive-aggressive relationship with this recipe is now a smitten obsession.
As I write this, a cookie in my belly, a cookie to my right, a cup of coffee to my left, I can certainly say these cookies have a magnetic pull.
If you're able to walk past the tupperware container in which these cookies are stored without so much as petting them or taking a whiff, my hats off to you because I wore my tri-colored leotard on the spinny chair of out-of-controledness the second this recipe materialized in my kitchen until the very last crumb had been consumed.
Despite the tour of my own inability to put the cookie down, what I really set out to talk to you about is lavender. Lavender in your highly addicting cookie.
Health Benefits of Lavender:
Lavender is a natural remedy for anxiety and stress, although when mixed with poisonous sugar, the calming effect may be a wash, who knows.
I added dried lavender buds to the World's Best Chocolate Chip Cookie and served it to about 15 different people.
Some loved everything about it and some would have preferred the cookie sans lavender. I myself thought the earthy flavor was great for dressing up a classic treat and taking it out for a night on the town.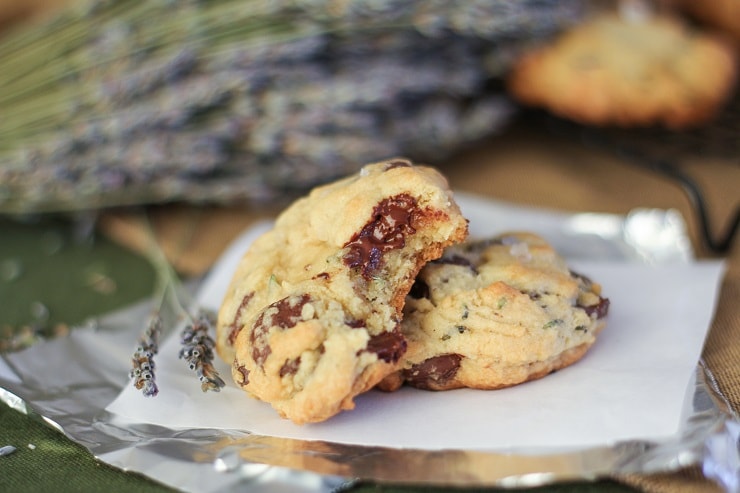 More Gluten-Free Cookie Recipes:
Lavender cookies for life!
My cookbook,
Paleo Power Bowls
, is now available! CLICK HERE to check it out. Thank you for your support!
If you make this recipe, please feel free to share a photo and tag @TheRoastedRoot on Instagram!
Lavender Chocolate Chip Cookies
The best NY Times Chocolate Chip Cookies made gluten-free with lavender
Instructions
In a mixing bowl, combine the flour, baking soda, baking powder, salt and lavender buds. Whisk to combine and set aside.

In a mixer, beat sugar and butter until completely combined and smooth.

Add the eggs and vanilla extract and mix until creamy.

Slowly incorporate the flour/lavender bud mixture into the wet mixture and mix just until the dough forms and ingredients are combined. Add in the chocolate chips and mix.

Cover the mixing bowl with plastic wrap and refrigerate for at least 24 hours. This step is crucial if you want the Best Of…if you'd rather have instant gratification, skip the refrigeration but expect different result.

When ready to bake, preheat the oven to 350 degrees.

Scoop mounds the size of dough the size of golf balls and space evenly on a lightly oiled or parchment –lined baking sheet. Sprinkle dough with coarse sea salt. Don't roll the dough into balls…rolling makes the texture of the cookie turn out to be dense and not as wonderful as unrolled mounds of dough.

Bake in the oven for 11 to 12 minutes (or up to 14 minutes if you prefer crispier cookies) SEE NOTE

Repeat until all of the Best Ever Dough is all baked up and you can taste the smell of your house. Unless you're a dough eater like me, in which case, grab a spoon, hun!
Notes
Ingredients Notes: *The NY Times calls for cake flour and bread flour. **The amount of lavender I used for this recipe is slightly higher than what you will find in other cookie recipes but I did not find the lavender to be overpowering. Nevertheless, if you are new to baking with lavender, consider using 2 - 3 tablespoons as opposed to 1/4 cup ***NY Times calls for a POUND of chocolate chips. I had one bag, so that's what I put in. Instructions Note: The recipe in the NY Times said to bake the cookies for 18 to 20 minutes for golf-ball sized mounds of dough. Unless the NY Times has access to ogre-sized golf balls and clubs fit for a giant, I don't see an 18 to 20 minute-long bake time as conducive to the edibleness of these cookies. I baked one of my batches for 15 minutes and they turned out a little too crispy for my taste. I found 11 to 12 was the magical time.
Nutrition
Serving:
1
cookie
|
Calories:
248
kcal
|
Carbohydrates:
28
g
|
Protein:
2
g
|
Fat:
14
g
|
Fiber:
1
g
|
Sugar:
19
g