Grain-free, sugar-free, low-carb keto edible cookie dough. This vegan edible cookie dough recipe requires only a few ingredients and a few minutes to prepare!..Plus it's a no-bake treat, so no need to fire up the oven!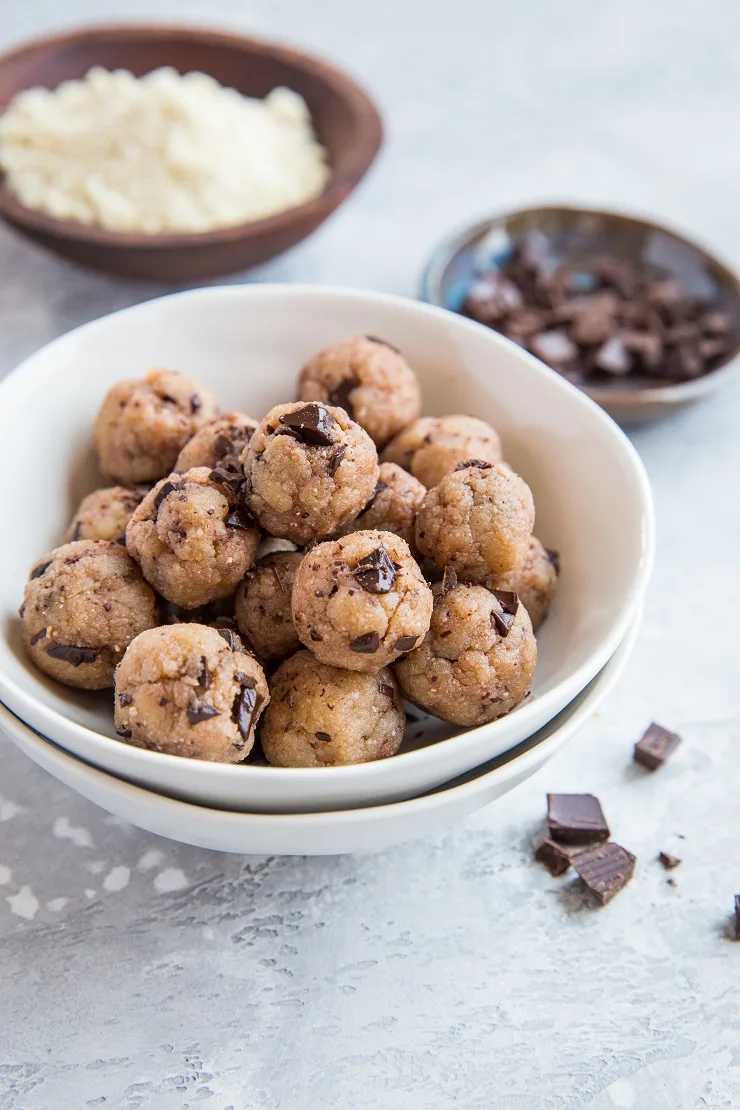 If you remember my Paleo Chocolate Chip Edible Cookie Dough, you're familiar with the concept of the grain-free edible cookie dough. Well, we're revisiting the topic to make a low-carb, sugar-free, dairy-free keto edible cookie dough that happens to also be vegan. Version 2.0 if you will!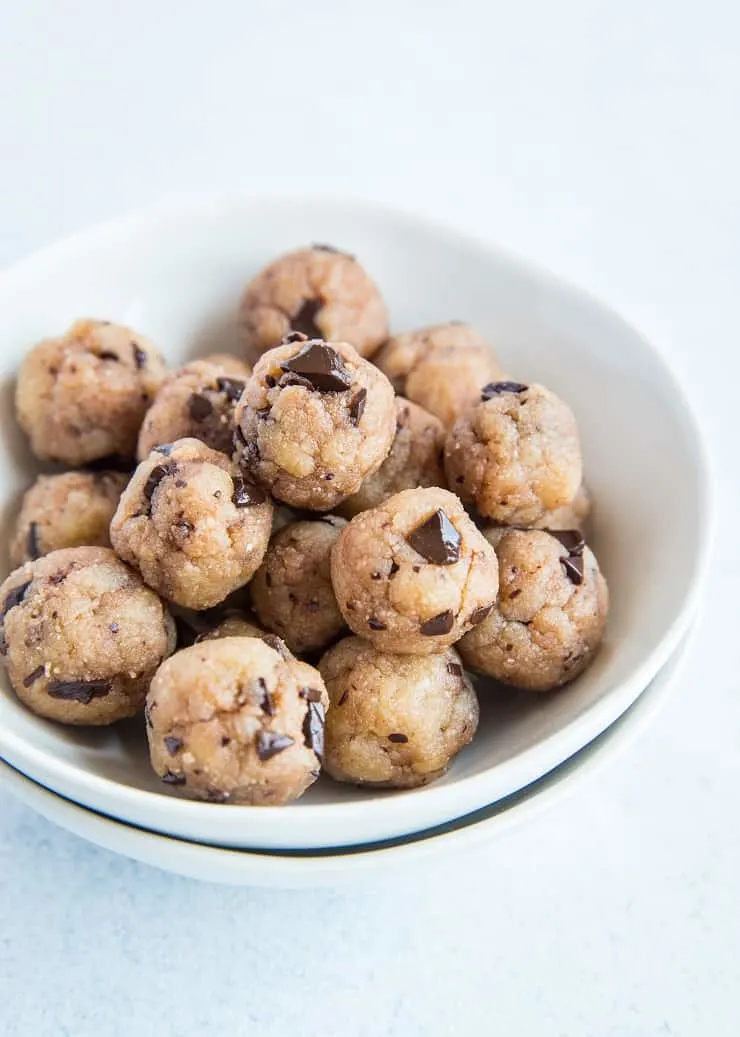 What is Edible Cookie Dough?:
For those of you who are new to the concept of edible cookie dough, we essentially make an egg-free dough that is ready for the eating – no leavening agents required!
This generates a treat that's perfect for us chocolate chip cookie fiends who sometimes crave the dough more than the actual baked cookie. I'm willing to bet there are a few of you in the house 😉
My original version of paleo edible chocolate chip cookie dough calls for ghee, but we're swapping ghee for coconut butter to keep it dairy-free.
We're also trading out pure maple syrup for a zero-sugar sweetener to make it sugar-free and low-carb.
Hint: those of you who are neither vegan nor keto can absolutely follow the original recipe for a paleo version.
What Type Of Sweetener To Use:
We have a lot of options when it comes to the sweetener.
You can use a granulated or powdered sweetener, like Swerve, Stevia, Monk Fruit Sweetener, etc., or you can use liquid Stevia.
I've also been enjoying this organic maple flavored syrup, which is stevia-based and can be used as a 1:1 replacement for regular pure maple syrup (note: if you use this sweetener, use 3 tablespoons and cut the measurement of coconut butter back to 3 tablespoons).
My preference is the maple-flavored syrup or Stevia drops (or any form of liquid zero-sugar) sweetener over the granulated type.
If you'd like, you can also use sugar-free confectioners sweetener.
If you go this route, use three tablespoons of the confectioners sweetener and add an additional three tablespoons of melted coconut butter.
What Type of Chocolate To Use:
Let's discuss the chocolate chip portion of the recipe.
To keep the recipe keto, you'll want to go with a chocolate chip or chocolate bar sweetened with a zero-sugar sweetener.
I like Lily's Chocolate Chips for a vegan sugar-free chocolate chip option, but they do contain soy, so if you're soy-free, a better option would be buying a sugar-free vegan chocolate bar and chopping it up.
If you're like me and you aren't Keto, you can go with a Paleo chocolate bar. Eating Evolved, Hu Chocolate, and ZazuBean are my favorite paleo, vegan dark chocolate bars.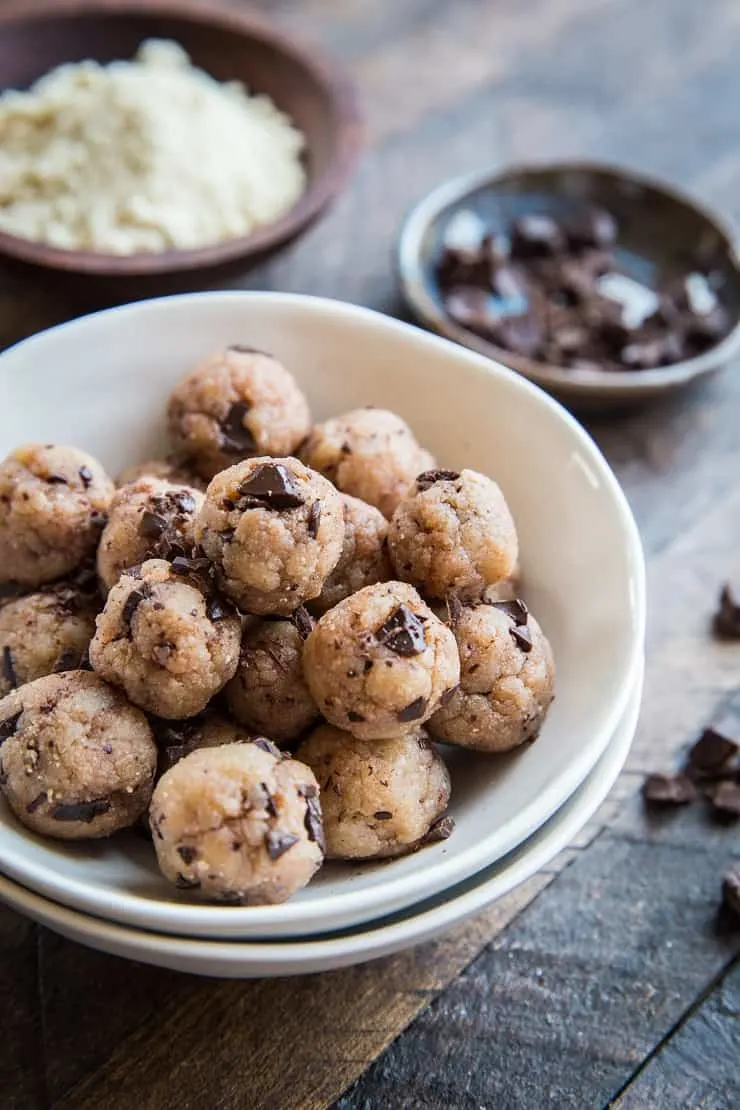 How to Make Edible Cookie Dough:
Okay, so now that all that business is out of the way, let's talk prep.
You guys, this is silly simple to make. You just stir everything together in a bowl until it's combined, and you're done.
Either munch on your edible cookie dough right then and there, or roll it into little cookie dough bites (which is what I did, as you may have gathered).
The dough is a bit greasy when you first make it, so if you are planning on rolling it into balls, you can refrigerate it first for an easier rolling experience.
Whip up a batch of this edible cookie dough and use it in Keto Cookie Dough Ice Cream!
My cookbook,
Paleo Power Bowls
, is now available! CLICK HERE to check it out. Thank you for your support!
If you make this Keto Edible Cookie Dough, please feel free to share a photo and tag me at @The.Roasted.Root on Instagram!
Eat that dough!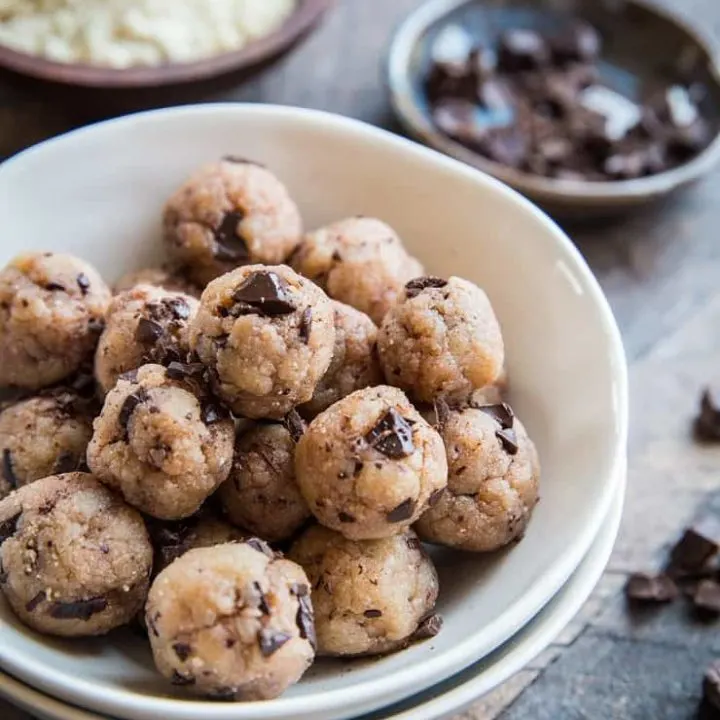 Keto Edible Cookie Dough
Low-carb keto edible cookie dough made with only a few basic ingredients
Instructions
Add all ingredients to a small bowl and stir until combined. Taste edible cookie dough for flavor and add more sweetener to taste.
Note: If rolling dough into bite-sized balls, it's easiest to refrigerate the dough for 1 hour before rolling, but this is not mandatory.
Store in the refrigerator in an air-tight container.
Notes
*I used Pyure's stevia-sweetened maple-flavored syrup. You can use a liquid sweetener sweetened with monk fruit, or use a sugar-free confectioners sweetener. If using granulated, increase the coconut butter to 6 Tbsp and use 3 Tbsp granulated sweetener. If using Stevia drops, start with 3 drops and increase according to taste.
**Use stevia-sweetened chocolate chips or chopped chocolate bar, or chop part of a paleo chocolate bar.
Nutrition Information
Yield

1
Serving Size

1 (of 16)
Amount Per Serving
Calories

80
Saturated Fat

2g
Unsaturated Fat

0g
Carbohydrates

5g
Sugar

1g
Protein

3g