Keto-friendly donut holes are a carb-conscious version of a fast food classic! Grain-free and dairy-free, these tasty donut holes are ideal for those with dietary restrictions looking to enjoy a sweet treat!
This post is sponsored by Truvia® Natural Sweetener.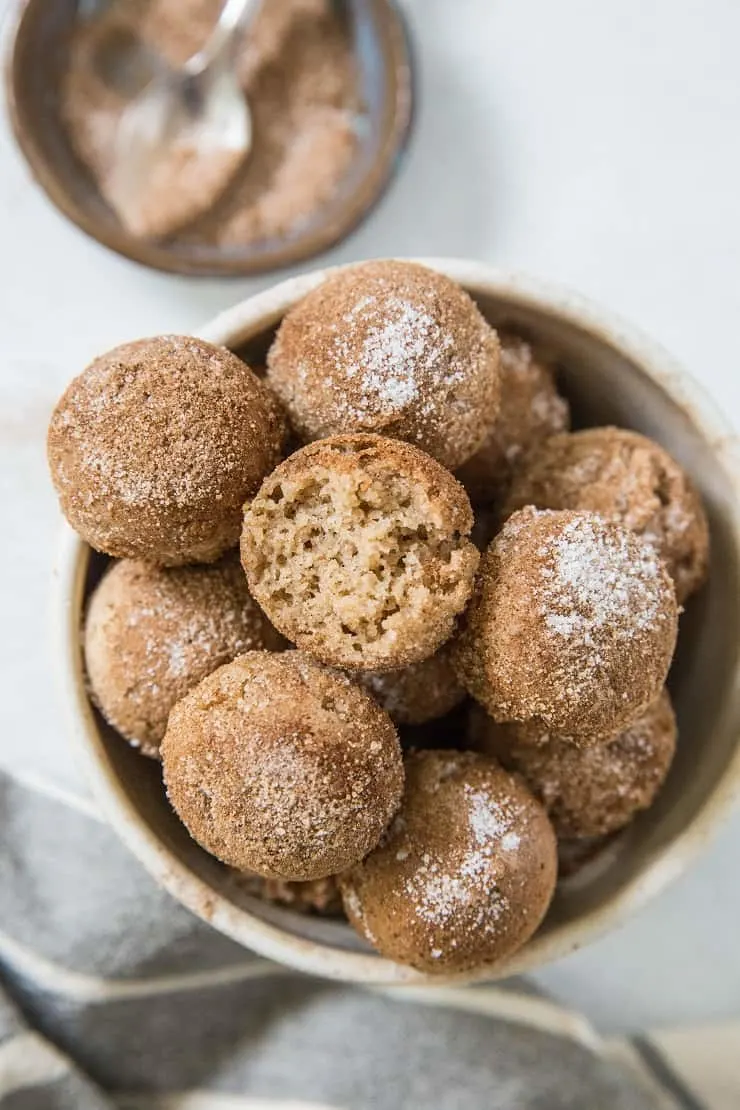 If you're anything like me, you periodically find yourself smack dab in the middle of a donut hole craving. Instead of succumbing to the drive-thru, I make these to satisfy my fast food fix without sacrificing any of my wellness goals.
Made with almond flour, coconut flour, Truvia® Natural Sweetener, and coconut milk, these carb-conscious donut holes are perfect as a sweet treat, and they're dairy and gluten free!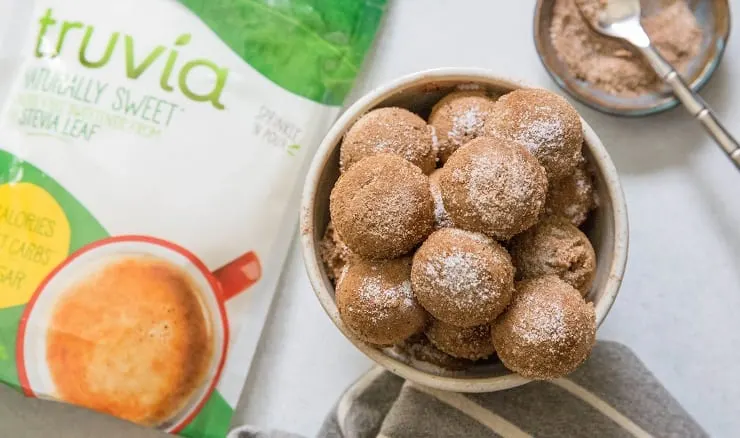 Instead of sugar, I used Truvia® Natural Sweetener, a zero-calorie sweetener made from stevia leaf extract, erythritol, and natural flavors. Truvia® Natural Sweetener products are also a breeze to use in any application – sprinkled, stirred, or poured!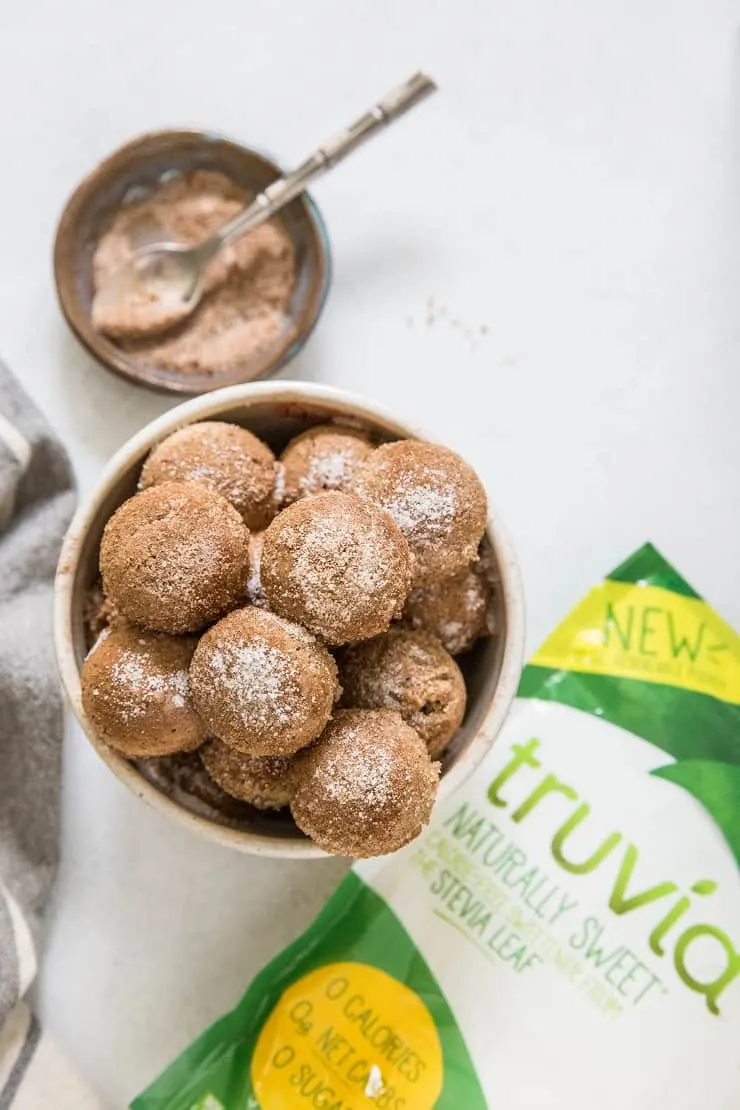 Available in packets, a Spoonable Jar and a new 17oz bag, Truvia® is the ideal addition to your morning coffee or for cooking and baking.
Recipe Adaptations:
Replace the coconut milk with pumpkin puree to make these a pumpkin treat! If you do so, be sure to add some pumpkin spice seasoning as well!
The almond flour may be replaced with hazelnut flour.
Because coconut flour is a finicky flour that absorbs four times more liquid than other flours, there is no way of easily replacing it with another flour without changing the rest of the recipe.
You can create a glaze for the donut holes, rather than rolling them in Truvia® and cinnamon. Just combine 1 Tbsp Truvia® + 1/2 cup full-fat coconut milk. Heat mixture on stovetop until reduced by half. Allow mixture to cool before dipping the donut holes.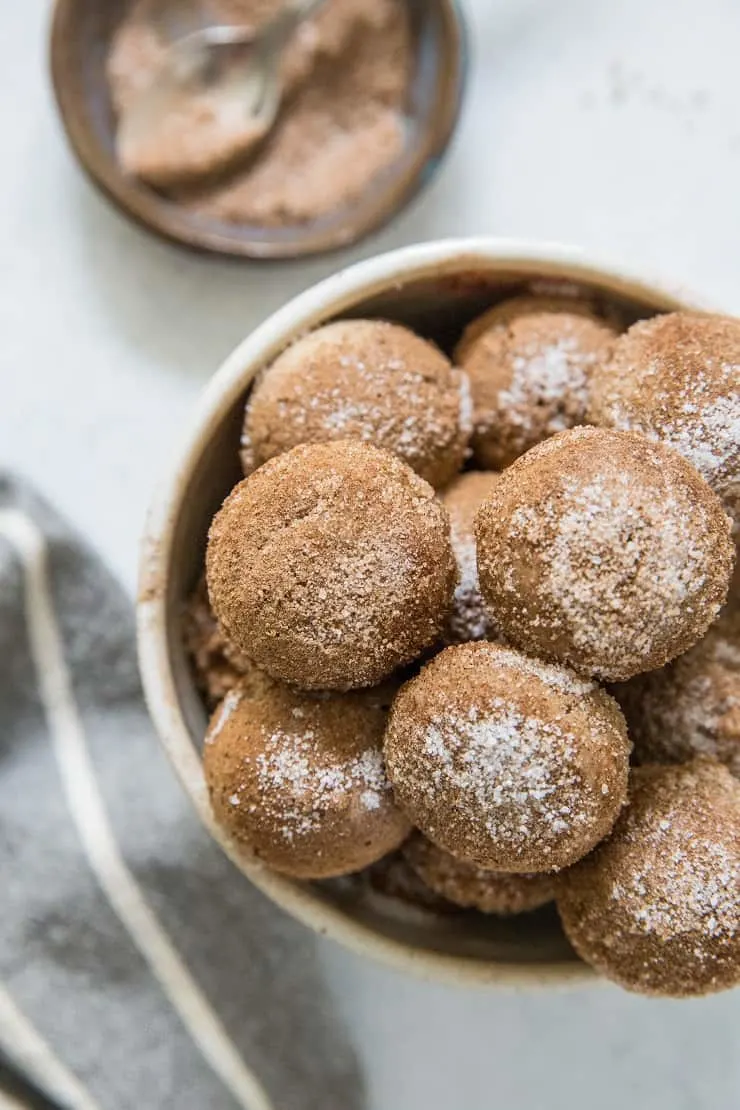 Let's bake these keto-friendly donut holes, shall we?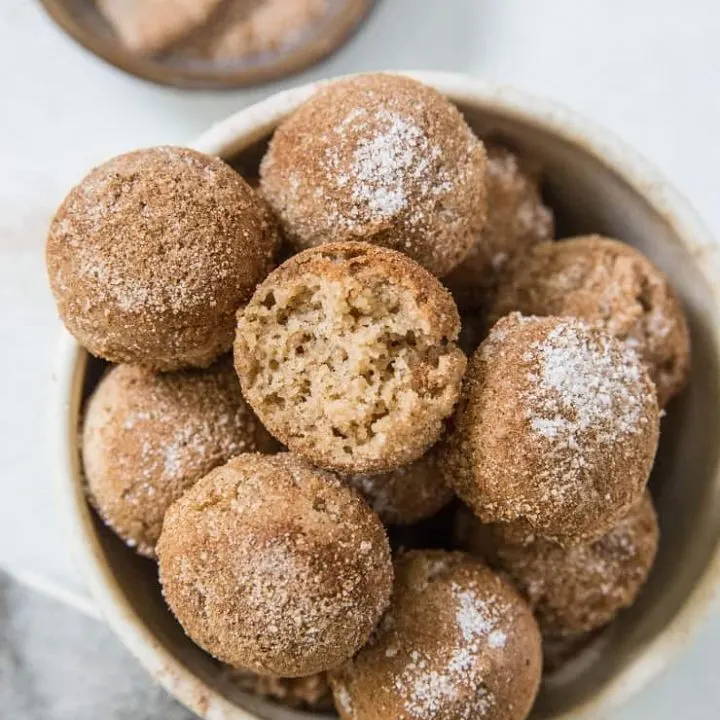 Keto Donut Holes
Low-carb donut holes made with almond flour
Ingredients
Donut Holes:
For Rolling:
Instructions
Preheat the oven to 350 degrees F and lightly spray a silicone cake pop mold (or a mini donut tray!) and place on a baking sheet.
Whisk the eggs, coconut milk, and vanilla extract together in a mixing bowl until well combined. In a separate mixing bowl, stir together the remaining (dry) ingredients.
Pour the wet ingredients into the bowl with the dry ingredients and stir well until combined. The batter will be nice and thick.
Spoon (or pipe) the donut batter into the prepared cake pop mold, filling the holes most of the way up. Secure the lid on the cake pop mold and place the whole baking sheet in the oven. Bake 20 minutes.
Remove the donut holes from the oven and allow them to cool at least 5 minutes before taking the lid off. Allow the donut holes to cool to room temperature.
Add the ingredients for rolling (Truvia® Natural Sweetener and cinnamon) to a small bowl or plate and stir well.
Run a spoon between the mold and the donut holes to pop them out of the mold. Roll the donut holes in the Truvia® Natural Sweetener and cinnamon mixture, and serve!
Nutrition Information
Yield

30
Serving Size

1 of 30
Amount Per Serving
Calories

59
Total Fat

3g
Unsaturated Fat

0g
Carbohydrates

5g
Net Carbohydrates

4g
Fiber

1g
Sugar

3g
Protein

2g