Keto Chia Pudding made with just three basic ingredients is a creamy and delightful breakfast, dessert or snack!
This post includes tips on making the creamiest chia seed pudding as well as detailed information on gellan gum, a nature-based ingredient found in most non-dairy milks that helps them maintains their creamy texture. Make it ahead of time for an easy, low-carb, dairy-free treat.
This post is sponsored by CP Kelco, maker of gellan gum.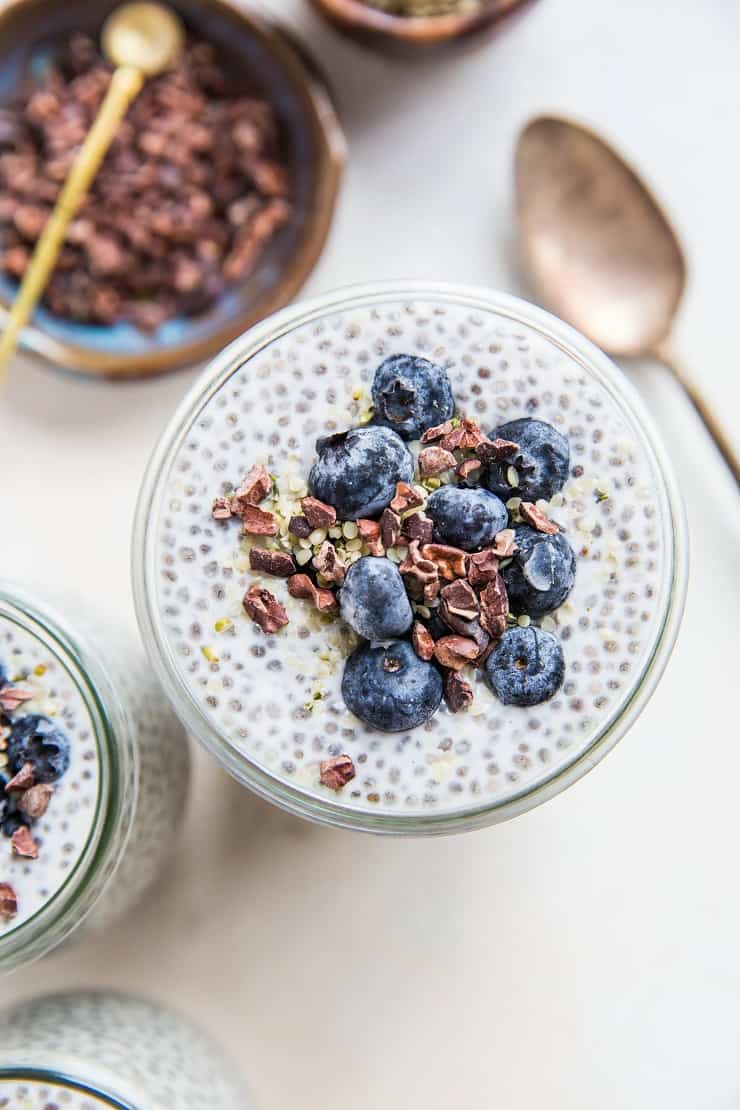 If you have followed this site for a number of years, you know there have been quite a few chia pudding recipes. Everything from Bananas Foster Chia Seed Pudding to Blackberry Smoothie Chia Seed Pudding Parfaits and even Whisky-Spiked Creamy Chocolate Chia Seed Pudding, we have chia-d our way to deliciousness time and again!
I have covered the pudding extensively for good reasons! It is:
Thick, creamy, and delightful
Vegan
Gluten-Free
Paleo
Full of antioxidants, omega-3 fatty acids and plant-based protein
SUPER quick and easy to prepare
Perfect for breakfast, snack, AND dessert!
WELL. We're re-visiting the topic, but this time in the form of keto chia pudding for a low-carb version of this great treat. I know many of you watch your sugar intake, so I thought it appropriate to have an option.
You can look at this keto chia pudding recipe as a gateway to many, many more flavors! Get creative with your add-ins (such as chocolate, matcha, fresh or dried fruit, etc) and toppings!
Because much of the appeal of chia pudding is its thick, creamy nature, I want to dive into how to make the creamiest, dreamiest chia seed pudding for best results.
Let's get started!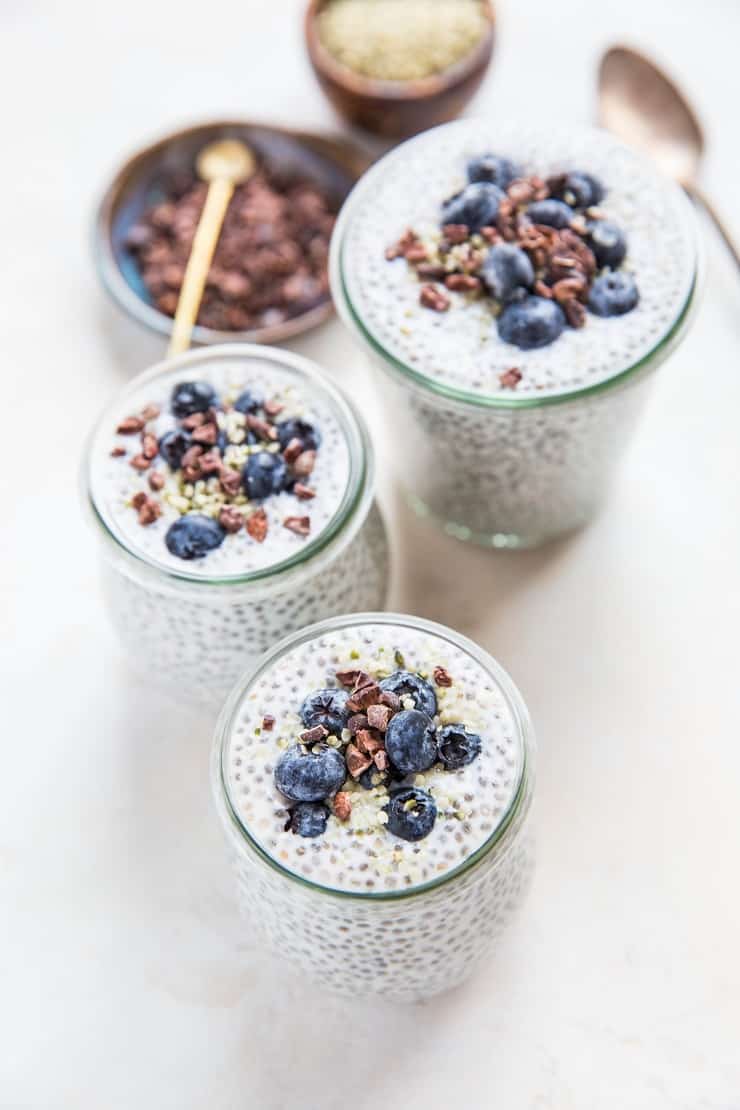 What Type of Milk Should I Use?:
I have found chia pudding turns out the best (thicker and creamier) when I use non-dairy milk that contains a stabilizer like gellan gum. While the chia pudding will still work if you use milk without gums, the seeds will not distribute quite as well and the pudding will not become as thick and creamy.
With that said, let's discuss gellan gum in detail, as there are often misconceptions around gums like gellan.
What is Gellan Gum?:
Gellan gum is used to thicken, stabilize, and keep ingredients evenly mixed in many foods and beverages you likely already consume. For example, in dairy-alternative beverages such as oat milk or almond milk, just a tiny amount of gellan gum keeps the beverage nice and blended, which keeps sediment from forming at the bottom of the milk and maintains the thick and creamy texture.
Gellan gum is produced by bacteria through fermentation. After the fermentation process, gellan gum is dehydrated and milled into a powder so it can be easily mixed into recipes. It can be used alone, or in combination with other ingredients to help manufacturers create a variety of textures and aid in shelf-stabilization.
As health-conscious individuals, you're probably wondering, "Is gellan gum safe?" Yes, gellan gum is safe!
It has been extensively studied, tested and proven safe for use in food for 30+ years. It has also been approved for use by the U.S. Department of Agriculture, the European Union and the World Health Organization's Joint Council on Food Additives.
Want to learn more about gellan gum? Check out WhatIsGellanGum.com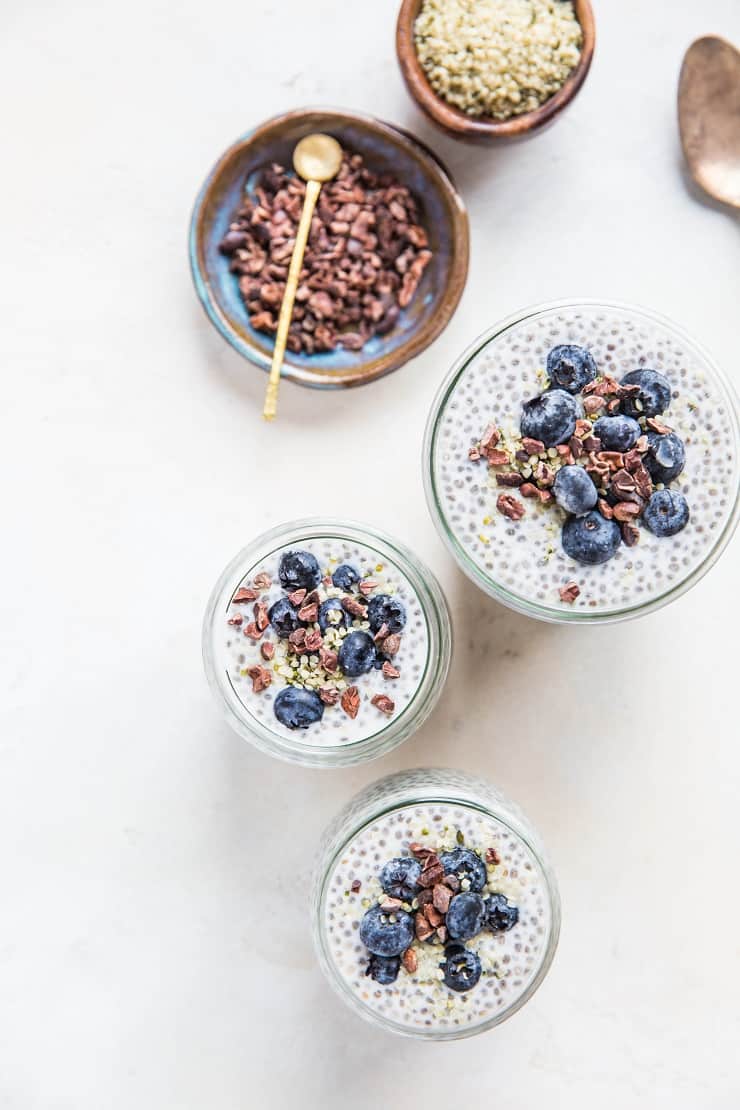 Troubleshooting Chia Seed Pudding:
Have you noticed chia seeds settle at the bottom of the jar and clump together? To avoid this, you can do two things:
Be sure you shake the pudding very well at the very beginning (bonus: continue stirring or shaking every hour or so and allow the pudding to refrigerate 12 hours for best results).
Use non-dairy milk with an emulsifier like gellan gum. This ensures the chia seeds stay suspended in the milk and results in the best, creamy texture.
What can you do if the chia seeds do settle and clump up at the bottom of the jar?
Stir the pudding very well. Use a spoon to remove the clumps, then with clean hands, squish the clumps of seeds to help them spread out and place them back in the jar and stir well.
For the ultimate creamy chia pudding, use full-fat canned coconut milk. The end result is truly decadent. For those of you who are cognizant of their fat intake, you can use almond milk or cashew milk found in a carton, which has a much lower fat content than full-fat canned coconut milk.
How to Make Keto Chia Pudding:
Pour the almond milk (or non-dairy milk of choice) into a large jar, followed by the chia seeds and your sugar-free sweetener of choice. Secure the lid on the jar and shake vigorously for 1 to 2 minutes, until well-combined. Note: Be sure you shake very well so that the chia seeds don't all settle at the bottom of the jar.
Refrigerate at least 4 hours (preferably 12) before consuming. If possible, shake the jar well every 1 to 2 hours to ensure the chia seeds stay well-distributed throughout the milk and ensure you end up with a thick and creamy pudding.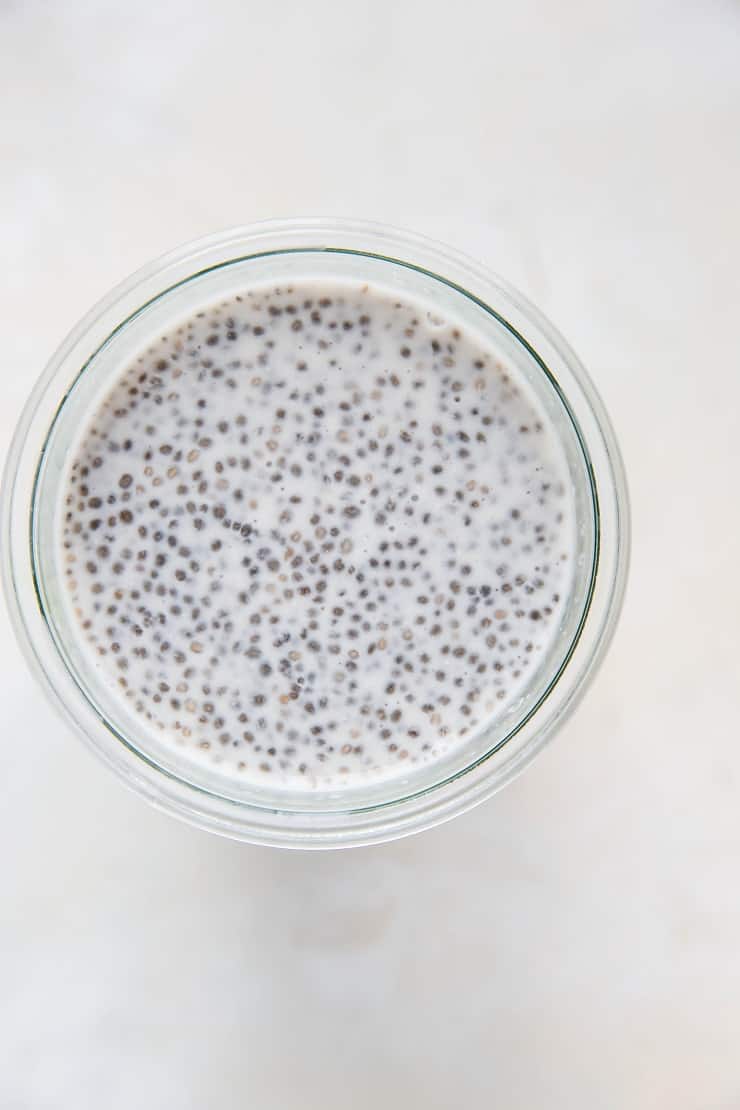 When ready to consume, stir the pudding well and serve with choice of toppings. I like blueberries, cacao nibs and hemp hearts!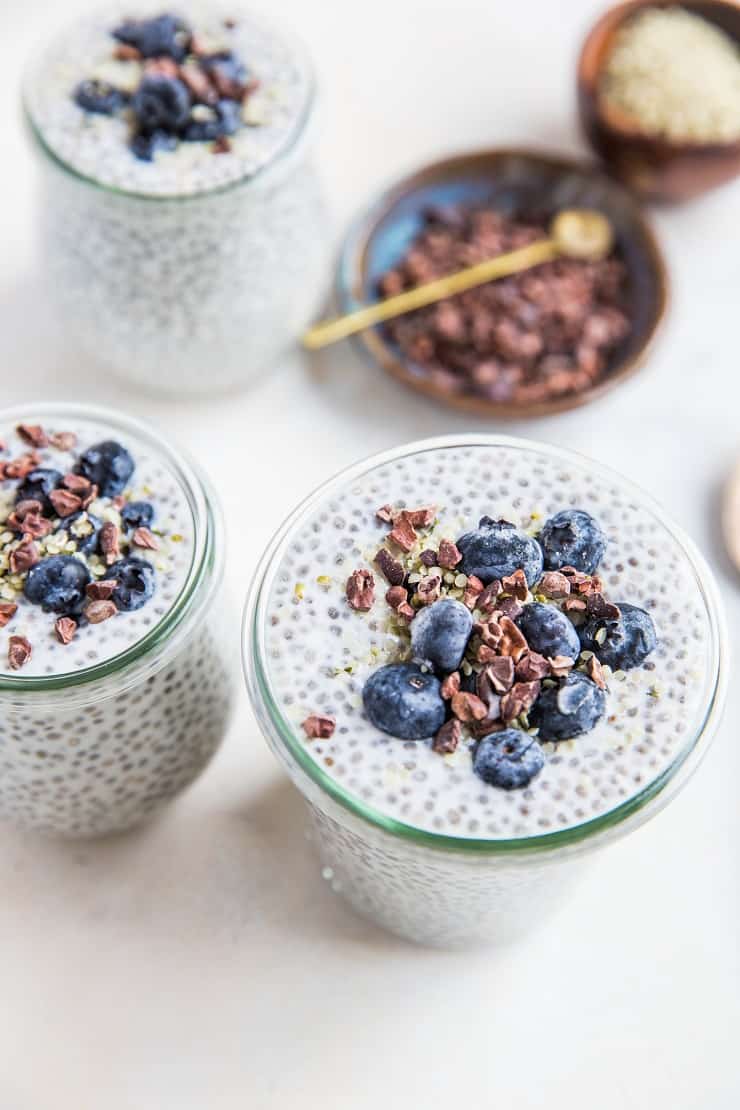 Sweetener Options:
Use your favorite sugar-free sweetener for this chia pudding. I love using Swerve, but you can use monk fruit sweetener, xylitol, erythritol or Stevia drops.
If you aren't following a low-carb or keto diet, you can use 2 to 3 tablespoons of pure maple syrup, honey, agave, or coconut nectar.
Keto Chia Pudding
Keto chia pudding made with only a few basic ingredients.
Ingredients
2 1/2

cups

non-dairy milk

2/3

cup

chia seeds

2

Tbsp

sugar-free sweetener

of choice
Instructions
Pour the almond milk (or non-dairy milk of choice) into a large jar, followed by the chia seeds and sweetener. Secure the lid and shake very well for 2 minutes.

Refrigerate at least 4 hours (preferably overnight). If you can shake the jar every 1 to 2 hours to ensure the chia seeds don't sink to the bottom and clump up.

When ready to consume, stir well and top with your choice of toppings, such as cacao nibs, hemp seeds, and/or berries.
Nutrition
Serving:
1
of 4
|
Calories:
200
kcal
|
Carbohydrates:
15
g
|
Protein:
7
g
|
Fat:
13
g
|
Fiber:
13
g