Creamy Kale & Artichoke Soup is a quick, easy and creamy soup made dairy-free and so nutritious! Serve it hot or chilled depending on the time of year.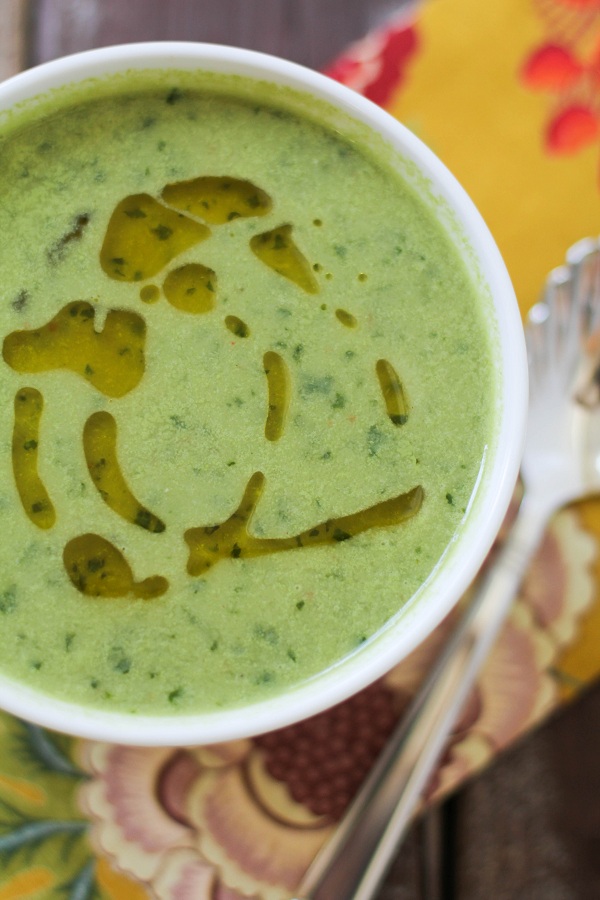 Yes, it is 85 degrees in Cal town.
Yes, winter has been over since it began.
Yes, I sweated bullets while eating this soup and melted on the ground afterwards and muttered incoherently, "I'm soooo hoooooot" over and over while the boyfriend rolled his eyes (And then got smart and refrigerated the leftovers to enjoy the soup cold for future meals).
This soup comes together astonishingly quickly…it's one of those recipes that at the end, you say to yourself, "that's it?"
And then you take in a spoonful and think you've gone to heaven. So easy, so tasty, so healthy. Give the soup a little drizzle of olive oil before serving.
Perchance a garlic-infused olive oil? Citrus-infused? Get real fancy, folks!
I enjoyed this soup both hot and cold.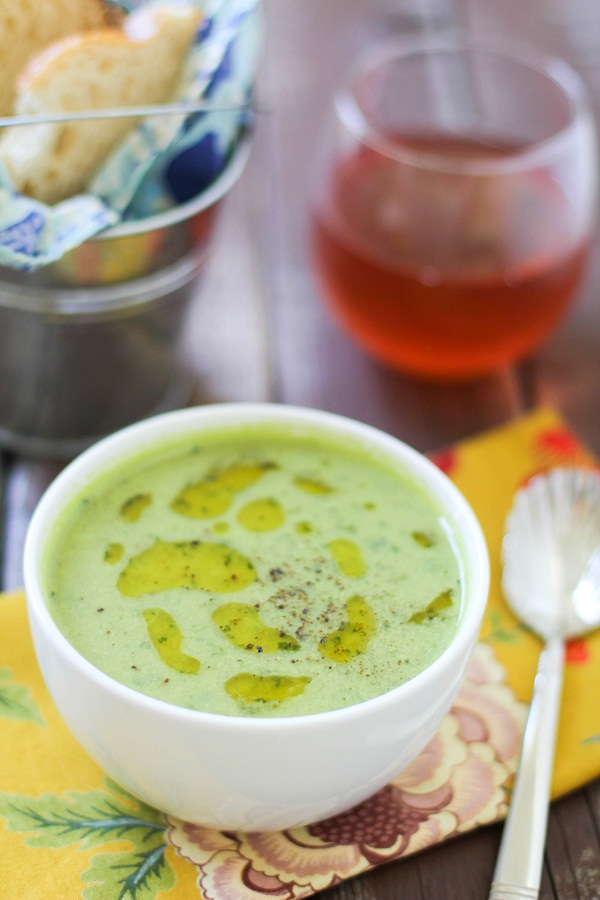 I heated it on the stove after it came out of the blender and ate the leftovers chilled for a refreshing meal-beverage.
If it's hot where you're at, I highly suggest serving this soup chilled!
Adapted from Far Away Kale & Artichoke Soup.
Kale & Artichoke Soup
Creamy kale and artichoke soup is PACKED with flavor and tons of nutrients!
Instructions
Heat the oil over medium heat in a pot or Dutch oven. Sauté onion until it begins to turn translucent, about 8 to 10 minutes.

Add the sweet potato and continue cooking until sweet potato is soft, stirring frequently.

Add the artichoke hearts, chicken broth, cayenne, nutmeg and salt and bring to a boil.

Reduce heat and simmer 10 minutes.

Add the kale leaves and cover the pot until kale leaves have wilted, about 1 minute.

Pour the soup into a blender with the almond milk and blend until smooth. This will likely need to be done in batches.

Strain the soup into the same pot you used for cooking in order to catch the strands of artichoke hearts.

If serving the soup hot, pour it back into a pot and heat gently, stirring frequently until the soup is to desired temperature. If serving chilled, pour the soup into a sealable container and refrigerate until cold.

Serve with crusty bread and a drizzle of oil on top.
Notes
*You can also use regular olive oil plus 4 cloves of garlic. Saute the garlic with the onion **Artichoke hearts are available fresh in many delis and they are typically marinated in oil and garlic, which is what I used. You can also use canned or frozen artichoke hearts.
Nutrition
Serving:
1
of 3
|
Calories:
312
kcal
|
Carbohydrates:
40
g
|
Protein:
14
g
|
Fat:
12
g
|
Fiber:
16
g
|
Sugar:
10
g