Jicama and Turnip Slaw is a light, refreshing, flavorful condiment for your sandwiches, burgers, and more!
It's Monday! Have some Jicama.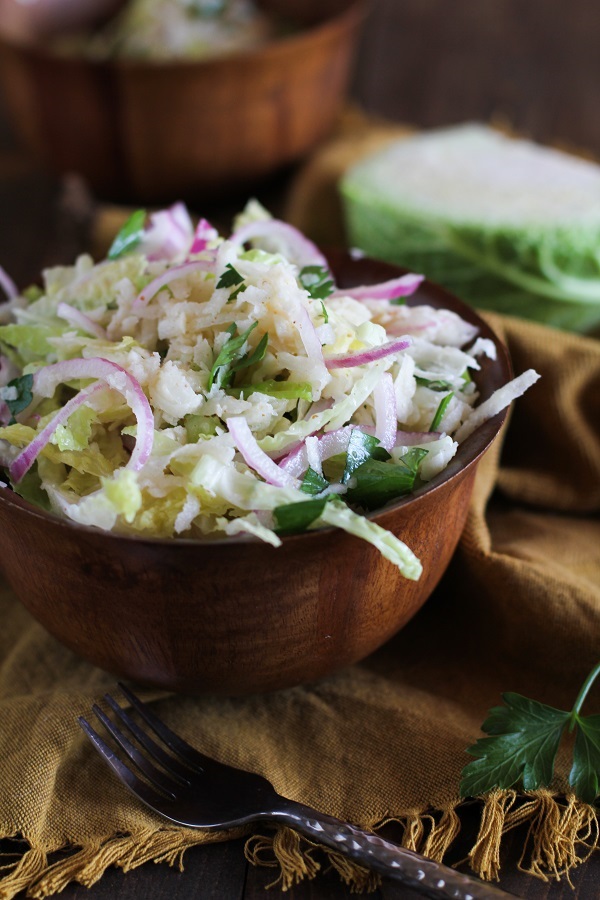 Last Monday began with Roasted Celery Root and Carrots, and it got me thinking: what would you do if I showed you a root vegetable recipe every Monday? Would you high-tail it outty? Would Mondays be the day you expressly avoid this space, or the day you intentionally come to The Roasted Root?
Would you be all, "yo…cool it wit da woots!" < – I assume you speak exactly as I do…
…or would you be like, "It's totes Monday and I need a detox. Think I'll take a gander at what's cookin' on The Roasted Root."?
??
Let's get cereal, cause seriously, I wanna know if you're up for all about the roots or if you really just come here for the ice creams. I wouldn't blame you either way.
But: jicama. Is jicama not the coolest root name ever?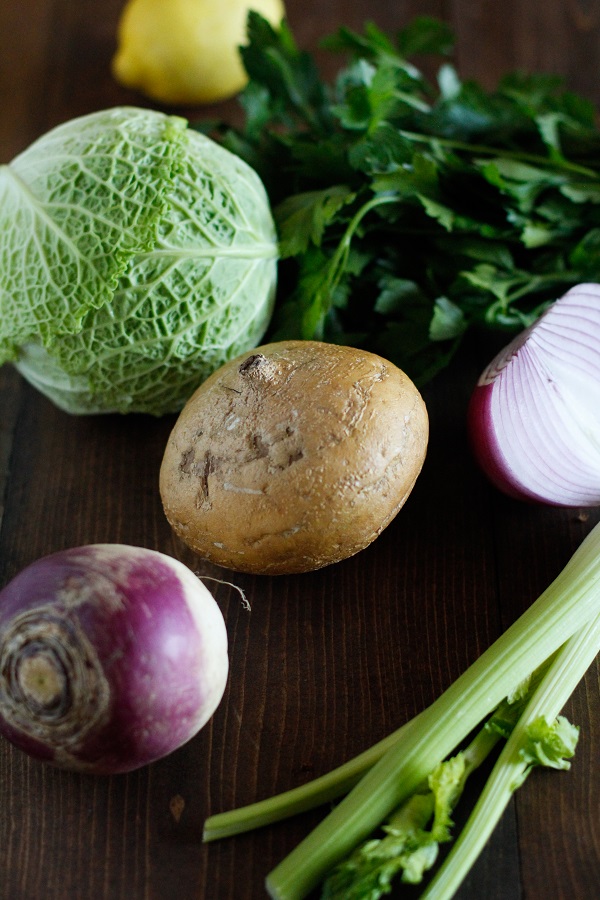 Jicama is a megalorighteouserriffictastic root vegetable. Since this is jicama's first appearance on The Roasted Root, here's what you need to know –
Jicama 101
What is a Jicama?: Jicama (pronounced hickuhmuh) is a starchy taproot that has a mild, sweet flavor and is popular in Central America, South Asia, and the Caribbean. It can be eaten both raw or cooked and has a similar texture to water chestnuts with a mild, sweet flavor.
Health Benefits of Jicama: Jicama is full of soluble fiber, which helps stabilize your blood sugar level and promotes digestion. It's a good source for Vitamin C which is an antioxidant that helps boost your immune system, protects against disease, and is good for your skin and eyes. The root also contains a small amount of copper and magnesium, albeit nothing to write home about. All in all, jicama is a healthful veggie to add to your diet, plus it's one of the more pleasant tasting roots…so there is that.
How to Cook with Jicama: In order to cook with jicama, rinse the root well peel it using a paring knife or vegetable peeler. The skin does take some elbow grease to get off, but once peeled, jicama can be diced and cooked, sliced, grated, or julienned. There are a variety of ways you can serve jicama, and I really enjoy it in slaw!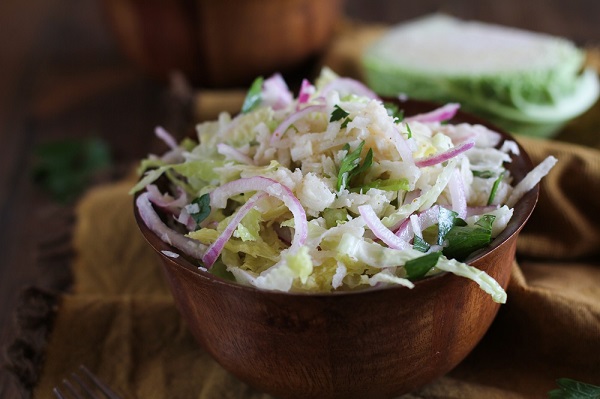 This slaw. It's amazeballs. We're double root whammy-ing the crap out of it with both jicama and turnip. The slaw is super crunchy/snappy/good for your face. It's amazing on fish and burgers, and can be added to a green salad to give it a little sprucing. Sidled right up next to pulled pork? That'll do too!
It's still slaw season – let's put 'er on eee'erythang.
Jicama and Turnip Slaw
A crazy unique slaw recipe made with root vegetables
Ingredients
1

medium jicama root

peeled and shredded (3 cups)

1

small turnip

peeled and shredded (2 cups)

½

small head green cabbage

thinly sliced (3 cups)

½

red onion

thinly sliced

2

ribs celery

finely chopped

½

cup

fresh parsley

chopped

2

tablespoons

fresh lemon juice

2

tablespoons

apple cider vinegar

¼

cup

grapeseed or olive oil

1 1/2

tablespoons

stone ground mustard

1

teaspoon

pure maple syrup

¼

teaspoon

salt

or to taste
Instructions
Wash and peel the jicama and turnip. Using a box grater, shred both root vegetables (as an alternative, you can chop them in quarters and process them in a food processor).

Add the shredded jicama, turnip, cabbage, red onion, celery, and parsley to a large bowl.

In a small bowl, whisk together the lemon juice, cider vinegar, olive oil, mustard, maple syrup, and salt until well-combined.

Pour the dressing over the veggies and toss well so that everything is coated.

Serve the slaw as a side dish alongside your favorite entrée or in burgers/sandwiches.
Nutrition
Serving:
1
of 6
|
Calories:
129
kcal
|
Carbohydrates:
11
g
|
Protein:
2
g
|
Fat:
9
g
|
Fiber:
4
g
|
Sugar:
6
g