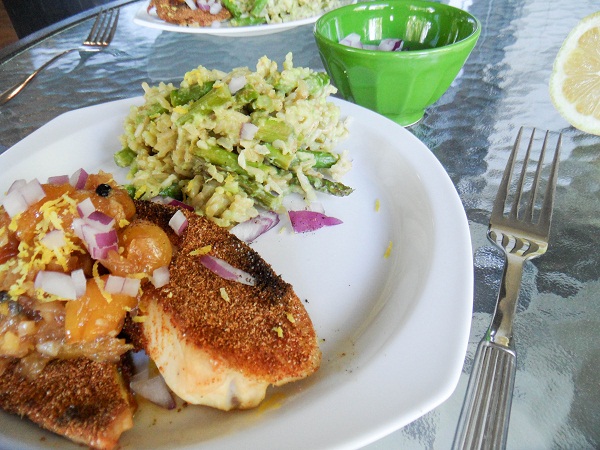 Hold the phone. Even if you have a bomb diggity killer fish recipe, so noteworthy that your friends and family say "so and so (meaning you) does this salmon (insert fish type here)" and everyone rants and raves about it, you should still try this recipe.
Cherry chutney and all. The tilapia is on your plate so that cherry chutney can happen in your mouth…be sure to not leave it out. You can go back to your bomb diggity killer fish recipe as though this fish recipe never happened, no harm no foul…but this one will rock your insides, I guaran-freakin-tee it.
My friend, Faith is my all-time favorite taste tester. We do our girl stuff…chit chat, drink wine and play catch up while cooking. We bounce ideas off of each other, have very similar food tastes, and get mistaken for sisters (people seem to think that all gingers are related.
It just so happens that not all gingers are related). Faith's my rockin taste tester (and a damn good girl friend) and everyone who likes to cook should have a Faith.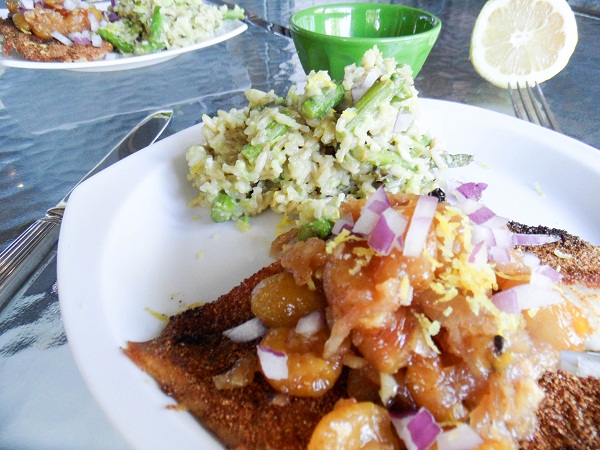 This weekend, while G was at a bachelor party for his sister's fiancé, Faith and I had a relaxing day in Tahoe. We went for a hike, caught some rays at the beach with Deschutes Black Butte Porters in hand, made a great meal (this here meal), then took a short drive into the California side of Lake Tahoe so that Faith could play the lottery.
This was a first-time lottery experience for the two of us. We had to ask the cashier how it worked. Results are out tomorrow. Cross your fingers that Faith wins, because if so, I'll be $10 million richer…it's nice to have friends who share.
Ingredients:
2 tilapia fillets
2 teaspoons onion powder
2 teaspoons coriander
1 teaspoon ground ginger
2 teaspoons cumin
½ teaspoon turmeric
1 teaspoon paprika
½ teaspoon salt
Ground black pepper to taste
Pinch of cayenne pepper (optional)
See here for the cherry chutney recipe.
To Make:
Lightly oil a baking or casserole dish. Put your oven on the high broil setting. In a small bowl, add all of the spices and stir to combine. Lay the tilapia fillets in the oiled baking dish and sprinkle evenly with the dry rub, making sure the whole fillet gets spiced. If you would like, you can drizzle oil or butter over the fish first, but I don't find this step to be necessary. Bake on the highest rack in your oven for 10 to 12 minutes (shorter depending on how intense your broil setting is) until the edges of the fish are crispy and juices are bubbling out.
Serve with a heaping scoop of Cherry Chutney (I prepared the chutney ahead of time and heated it up, but if you prefer it cold that works too), chopped red onion and fresh lemon zest.
The rice dish I served with the fish ended up turning out so well that It's definitely worth sharing the recipe. It's basmati brown rice with a sautéed asparagus in creamy avocado dressing.
Ingredients:
For the rice:
1 cup basmati brown rice
6 cloves garlic, minced (and separated)
2 tablespoons grapeseed oil (separated)
2 cups water
Dash of salt
½ bushel thin asparagus (8 – 10 stalks), chopped into 1.5" pieces
3 – 4 tablespoons water
1 teaspoon onion powder
½ teaspoon coriander
Ground black pepper to taste
For the creamy avocado dressing:
½ avocado, mashed
1 tablespoon lemon juice
2 teaspoons lemon zest
1 tablespoon plain yogurt
½ teaspoon ground ginger
Salt to taste
To Make:
In a saucepan, heat about about a tablespoon of grapeseed (or olive) oil to medium high heat. Add 3 cloves of chopped garlic and sauté 3 minutes. Add the dry basmati brown rice, and sauté stirring frequently, another 5 minutes. Add 2 cups of water, a dash of salt and bring to a full boil. Allow the rice to boil about 1 minute then reduce the heat to low (or medium low depending on your range's settings), cover and cook (no peaking!) 45 to 50 minutes until all the liquid is absorbed.
While the rice is cooking, prepare the creamy avocado dressing. Mash up the avocado in a mixing bowl with a fork and add all ingredients, mashing until mixture is very creamy. Set aside.
Wash the asparagus, chop off and discard the bottom 1 to 1.5 inches of the stalks and chop into 1.5-inch pieces. In a skillet, heat about a tablespoon of grapeseed oil to medium high heat. Sauté the remaining 3 cloves of garlic about 3 minutes. Add the asparagus, stir to coat with oil. Add 3 to 4 tablespoons of water (which should sizzle when you pour it in the skillet), cover and allow asparagus to cook about 5 minutes. Remove the cover and check to see if all of the water has evaporated. If the water has burned off, add another tablespoon or two of water and cover, cooking an additional 3 minutes. Remove the cover and sprinkle the onion powder, coriander, black pepper and salt to taste. Stir, and increase heat slightly to allow all of the water to evaporate if it hasn't already.
Once rice is finished cooking, pour all of it into the skillet with the asparagus. Keep the skillet at medium high heat and mix together. Add all of the thick creamy avocado dressing and mix until everything is coated in the dressing. I like my rice suuuuper lemony, so I typically squeeze more lemon juice and salt over the portion I serve myself but leave the dish as is for others to decide if they want more salt and lemon.