Hoisin Turkey Stir Fry Bowls are loaded with vegetables and flavor for an easy yet delicious and filling meal.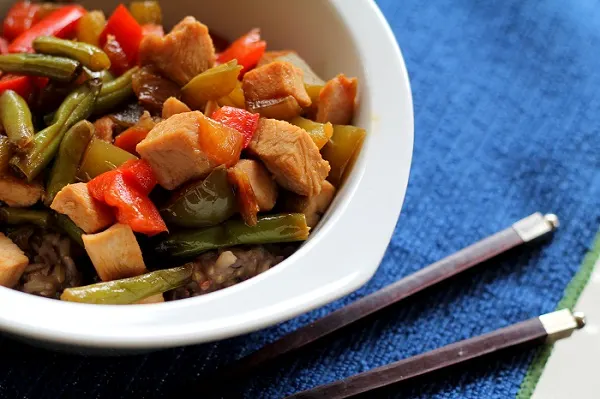 Can you guess how many of my meals last week consisted of stir fry with rice?
Excuse me while I spoon feed myself hoisin sauce. Call me boring, but I could have a bowl of stir fry for virtually all meals including breakfast.
After a trail run, stir fry meets me in heaping portions and replenishes me. Following a long mountain bike ride, Hoisin Stir Fry Bowl hits the spot and kicks my crazy salt craving.
It has everything I feel like I need short of dark, dark, dark chocolate – various vegetables and any meat I desire embraced in salty, sweet, savory, satisfying sauces on top of brown or wild rice.
The best part is the sauce. In this case, hoisin sauce to be exact. Hoisin is an Asian style sauce used in all sorts of recipes.
This peanut buttery soy hybrid with a chili kick and vinegary tang is the exact sauce I could use for just about anything. Salad, lettuce wraps, stir fry, dipping sauce for…oh I don't know…everything. Bring. It. On. Put it in my bowl and refill!
More Chinese Inspired Recipes:
My cookbook,
Paleo Power Bowls
, is now available! CLICK HERE to check it out. Thank you for your support!
If you make this recipe, please feel free to share a photo and tag @TheRoastedRoot on Instagram!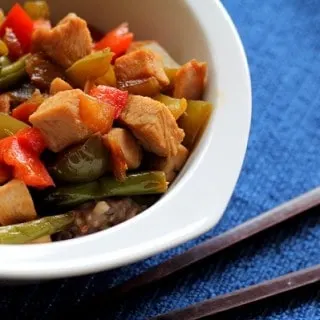 Hoisin Turkey Stir Fry Bowls
Hoisin Turkey Stir Fry Bowls with vegetables are a quick and easy and loaded with flavor for a delicious weeknight meal.
Ingredients
For the Stir Fry
1 tablespoon sesame oil
½ yellow onion, chopped
1 red bell pepper, chopped
1 green bell pepper, chopped
6 ounces green beans, chopped into 1" pieces
3-4 tablespoons Hoisin sauce or to taste, see recipe below
salt to taste
1 pound turkey or chicken breasts (I used Diestel Farms roasted turkey breast, which came already cooked), chopped into ½" pieces
For the Hoisin sauce
1/4 cup soy sauce, or liquid aminos
2 teaspoons white vinegar
1 teaspoon sesame seed oil
2 tablespoon unsalted unsweetened peanut butter
1/8 teaspoon garlic powder
½ teaspoon sriracha or other chili sauce of choice, or more
Instructions
Start with the wild rice. Bring 2 cups of water to a boil, add the uncooked wild rice and a pinch of salt. Return to a boil, reduce the heat to medium low and simmer until all of the water is absorbed. It took my wild rice about an hour and 20 minutes to cook.
Add all of the ingredients for the hoisin sauce to a blender and blend until smooth and combined. Set aside.?
While rice is cooking, chop vegetables and meat. When rice is about halfway finished, begin preparing the stir fry.
Saute onion 8 to 10 minutes in sesame oil over medium-high heat.
Add bell pepper, sauté 4 minutes covered.
**If using raw turkey or chicken, add it now and brown the meat one minute before adding the green beans
Add green beans, sauté 6 – 8 minutes covered until green beans have softened but still have a nice al dente texture.
If using already cooked meat, add the meat now.
Add 3 – 4 tablespoons hoisin sauce or to taste. If you used raw meat, check it to be sure it is cooked all the way through. Serve in bowls with wild rice.
Nutrition Information
Yield

4
Serving Size

1 of 4
Amount Per Serving
Calories

401
Total Fat

8g
Unsaturated Fat

0g
Carbohydrates

40g
Fiber

3g
Sugar

11g
Protein

41g