Egg Drop Soup with Bok Choy and Mushrooms is a unique, flavorful, comforting soup for a lovely belly-pleasing meal.

Any time I lose creativity in the kitchen, the one thing that gets me back on track is taking a simple and fun approach and trying new types of cuisines. Which brings me to my next point.
Dropping eggs.
It's a freaking blast.
Trying out a new cuisine or technique is what fuels my fire and keeps me interested in my own culinary pursuits Egg drop soup is one of those dishes I thought was impossible to prepare at home until I did.
I've always waited until a Chinese takeout extravaganza in order to enjoy the slurp-able soup. Turns out, egg drop soup is not only easy peasy to make, it comes out with an authentic flavor that will parallel (if not, rival) the real deal.
While a simple egg drop soup is fine by me any ol' day, I like adding fresh vegetables to ramp up to provide extra flavor, and make the soup more filling. I added mushrooms and baby bok choy, which required only a few extra minutes of sauté time.
Recipe Adaptations:
Customizations? We've got plenty of potential.
You can add any combination of your favorite hearty vegetables (try broccoli, cauliflower, bell pepper, squash, etc.), tofu, and/or meat of choice.
You can also eliminate all the frills and keep this a simple sipping soup. Are you a spice lover like me?
Add chilis, hot sauce, and/or chili paste.
The recipe calls for cornstarch, which you can replace using tapioca starch – the texture will not turn out quite the same, but the tapioca will do the trick for thickening.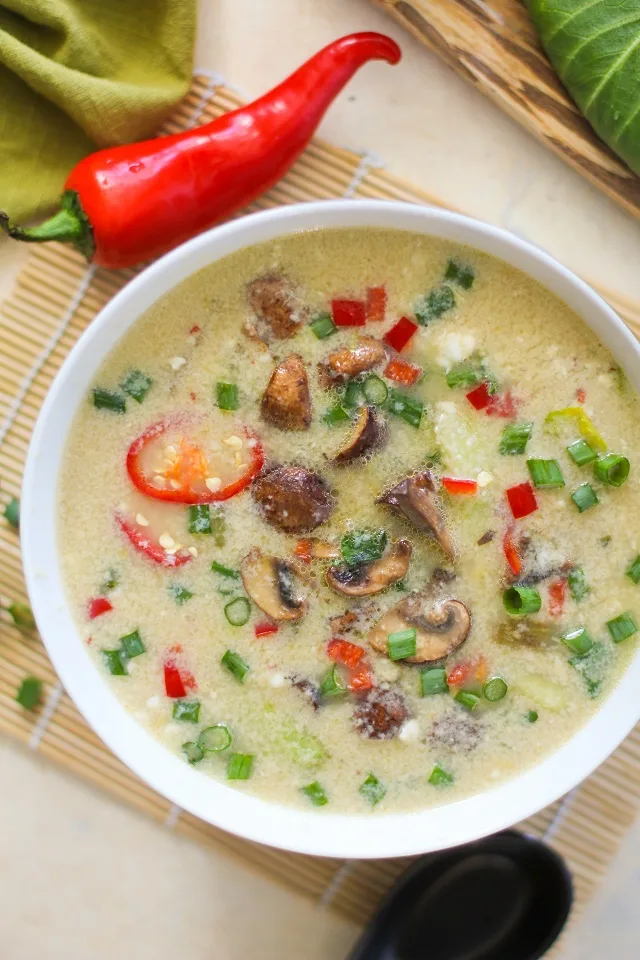 If you love this recipe, also try my Thai Tom Kha Gai or my Green Curry Thai Noodle Soup.
Drop some eggs!
Egg Drop Soup with Bok Choy and Mushrooms
Egg Drop Soup with Bok Choy and Mushrooms is fun to make and a delight to eat!
Ingredients
2 tablespoons olive oil
2 cinnamon sticks
1 star anise
2 inch stalks lemongrass, halved and chopped into 3- pieces
1 2- inch piece ginger, sliced into rounds
3 cloves garlic, minced
½ teaspoon red pepper flakes, optional
2 bulbs baby bok choy
4 mushrooms, chopped
4 cups low-sodium chicken broth
2 tablespoons liquid aminos, to taste
3 large eggs
1-½ tablespoons cornstarch, separated**
1 bunch green onion, chopped
Instructions
Heat the olive oilover medium-high in a large saucepan or pot. Add cinnamon sticks, anise, lemongrass, garlic, and red pepper flakes and cook, stirring frequently, until spices are very fragrant, about 3 minutes.
Add the chicken broth and liquid aminos and stir well. Bring mixture to a full boil, then reduce the heat, cover, and simmer for 15 to 20 minutes.
While the broth is simmering, saute the bok choy and mushrooms in a separate skillet. To do so, heat 3 tablespoons of olive oil in a skillet over medium-high and saute the veggies until browned and softened, about 5 to 8 minutes. Once cooked, transfer veggies to the broth.
Taste the broth for flavor. Add more liquid aminos (or miso paste) if desired. Remove the ginger rounds, cinnamon sticks, anise, and lemongrass stalks from the broth using a slotted spoon, and discard.
Add 1 tablespoon of cornstarch to a small bowl and pour in 1/3 to 1/2 cup of the hot broth. Stir well until dissolved.
Transfer the cornstarch mixture to the pot with the broth and stir well, leaving the broth at a very gentle simmer.
Add eggs to a small bowl, along with the remaining (1/2 tablespoon) cornstarch. Whisk together until well-combined.
Slowly pour the egg/starch mixture into the simmering broth through the tines of the fork. Do this a little bit at a time, whisking the broth between pours. Once all of the egg has been poured into the soup, allow broth to sit at low heat for a couple of minutes, whisking occasionally, to ensure egg cooks all the way.
Serve the egg drop soup with freshly chopped green onion, and enjoy!
Notes
*Replace chicken broth with vegetable broth to make this vegetarian. **You can replace cornstarch with tapioca starch
Nutrition Information
Yield

3
Serving Size

1 Serving
Amount Per Serving
Calories

241
Total Fat

16g
Unsaturated Fat

0g
Carbohydrates

12g
Fiber

1g
Sugar

2g
Protein

16g