This week's healthy vegetarian meal plan includes hearty, comforting winter-centric meals that are all packed with seasonal veggies with lots of health benefits! Print out the grocery list and get to shopping!

Hey hey, heeeey!
Have you recovered from Thanksgiving yet? I'm about one hot pilates class away from feeling good as new…just in time to start baking Christmas goodies! It's been sunny yet chilly here, so lately, I've been all about massive bowls of rice and vegetables for dinner. Those Broccoli, Beet, and Kale Brown Rice Bowls with Pesto, the Spaghetti Squash with Broccoli-Pumpkin Seed Pesto, and the Wasabi Vegetables Bowls have been my my quick, comforting dinner go-tos this week.
Weekend vibes? Probably do some spinning, potentially some yoga-ing, and the manacle and I will be hiking to chop down a Christmas tree with a couple of our buds in Tahoe. It'll be my very first Christmas tree, if you can believe it! Other than that? I'll be sipping on a boozy version of that Dairy Free Paleo Eggnog I showed you yesterday, and cooking up some proper cold weather comfort food.
This week's worth of eats: We have a fresh yet comforting brussels sprouts risotto, a gnocchi enchilada skillet, a fully loaded kale salad with homemade cranberry dressing, lemony lentil and greens soup, and a tempeh sausauge-stuffed acorn squash!
Questions? Holler at your girl!
Sunday
Brussels Sprouts Risotto from Eats Well With Others
Prep Ahead Tip: Risotto takes a bit of time given all the stirring, which is why it's better served as a weekend meal. To save time, you could always prepare the brussels sprouts ahead of time.
Vegan/Gluten-free Substitutions: I love the smoky cheese in this, but as a vegan substitue use your favorite vegan cheese along with a dash of smoked paprika. The recipe is already gluten free!
Monday
30-Minute Gnocchi Enchilada Skillet from She Likes Food
Prep Ahead Tip: Peppers and onions can be chopped a few days ahead of time. Recipe can also be made ahead of time and heated on the stovetop or in the oven before eating.
Vegan/Gluten-free Substitutions: Recipe is already vegan. Use gluten free gnocchi to make gluten free.
Tuesday
Cranberry Kale Salad with Roasted Pecans and Feta from The Roasted Root
Prep Ahead Tip: Prepare the cranberry vinaigrette up to 5 days in advance, and roast the pecans 1 day ahead of time.
Vegan/Gluten-free Substitutions: Make this salad vegan by omitting the feta cheese.
Wednesday
Lemony Lentil and Greens Soup from Making Thyme for Health
Prep Ahead Tip: This recipe comes together in just 30 minutes but you can cut the chard and shallot ahead of time, if desired.
Vegan/Gluten-free Substitutions: Recipe is already vegan and gluten-free.
Thursday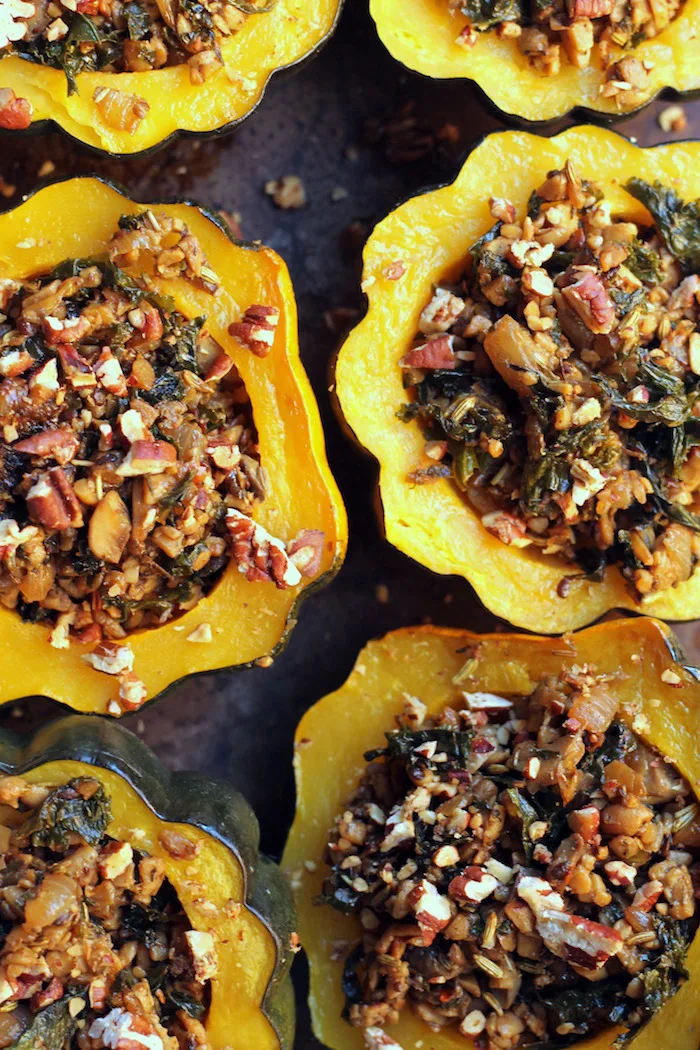 Tempeh Sausage Stuffed Squash from Hummusapien
Prep Ahead Tip: Squash can be baked before and re-heated the next day.
Vegan/Gluten-free Substitutions: Vegan and gluten-free per recipe instructions (check that tempeh is gluten-free and sub tamari for soy sauce).
Click HERE to print the shopping list!
Click HERE to view previous Healthy Vegetarian Meal Plans