Loaded sweet potatoes with black beans and guacamole make for a super simple side dish, or even dinner! A simple, colorful nutritious vegan recipe that'll make you swoon!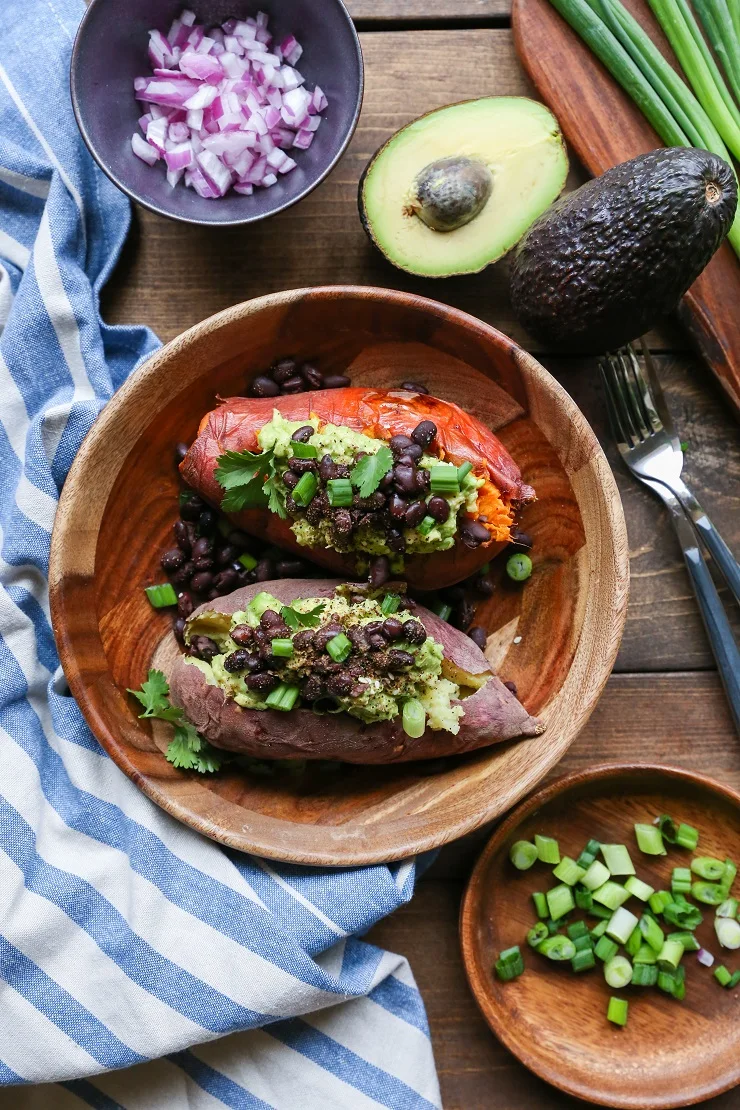 Well hello, healthy loaded sweet potatoes of my dreams!
This super simple recipe couldn't be any easier AND delicious. It is an amalgamation of three basic foods:
Roasted sweet potatoes
Quick and easy homemade guacamole
Black beans
And bonus: pistachio Dukkah.
What is Dukkah?:
If you aren't familiar with dukkah, it is a spice condiment consisting of dried spices, herbs, and/or nuts. It is often used in Egyptian cuisine for sprinkling over food.
The Dukkah is not mandatory, but it adds lovely flavor and texture to the dish! Don't skip it unless you're in a hurry!
You can serve these loaded sweet potatoes with any additional toppings, such as green or red onion and/or cilantro. If you aren't vegan, just add cheese!
While my intention for sharing this recipe was to provide a healthy appetizer for you to share with your people, one of these potatoes is practically a meal in and of itself.
That's one of the beauties of this recipe: You can serve these loaded sweet potatoes as a side dish or use them as a main entrée. Just add a side salad! Cut them in half, thirds, or quarters to turn the experience into an appetizer situation.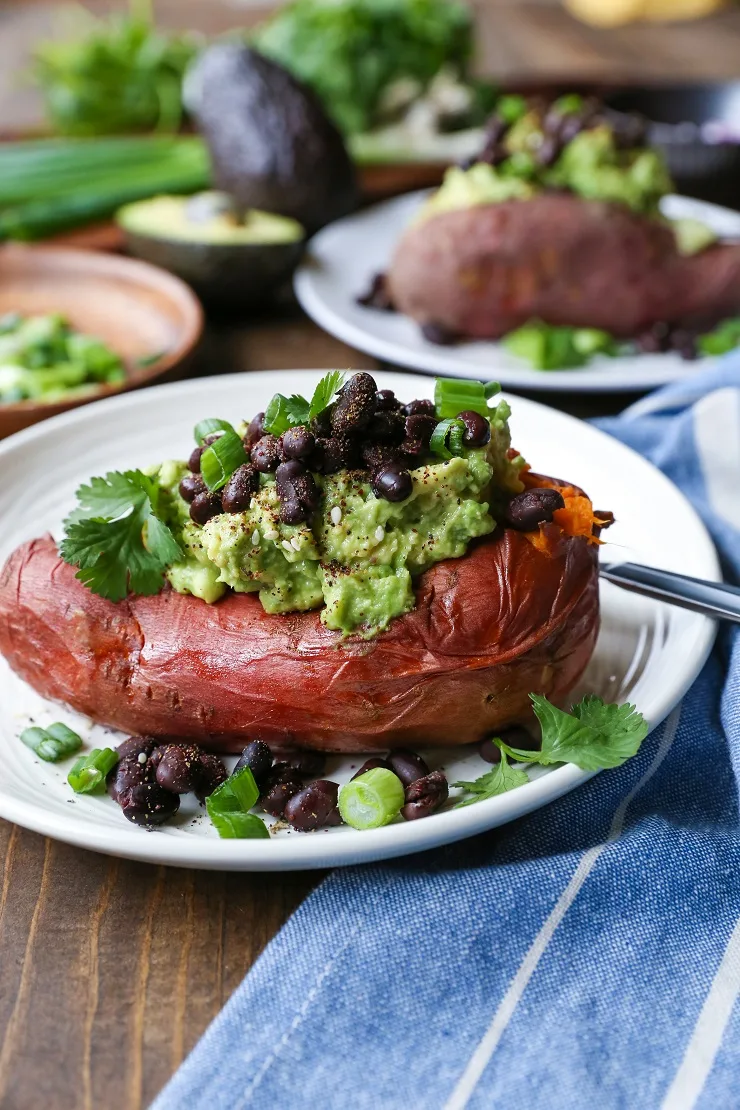 How to Make Black Bean Loaded Sweet Potatoes:
To prepare this recipe, simply roast a few sweet potatoes to desired squishiness (I like mine real squishy). Poke the sweet potatoes several times with a fork, wrap them in foil, and roast for 60 to 90 minutes (depending on the size of the sweet potato).
While the sweet potatoes are roasting, prepare the guacamole, pistachio Dukka, and heat up the black beans.
Once the sweet potatoes have finished roasting, un-wrap them from the foil and create a large slit lengthwise. I like to fluff the flesh with a fork and sprinkle it with salt. You can also add butter here if you'd like!
Stuff the sweet potatoes with the guacamole and black beans, and a sprinkle of pistachio Dukkha. Serve with chopped green or red onion on top and fresh cilantro if desired.
Additional serving options? Add a dollop of sour cream, some cooked thick-cut bacon, red onion, even some fully loaded turkey chili.
More Healthy Sweet Potatoes Recipes:
My cookbook,
Paleo Power Bowls
, is now available! CLICK HERE to check it out. Thank you for your support!
If you make this recipe, please feel free to share a photo and tag @The.Roasted.Root on Instagram!
Stuff thy potatoes!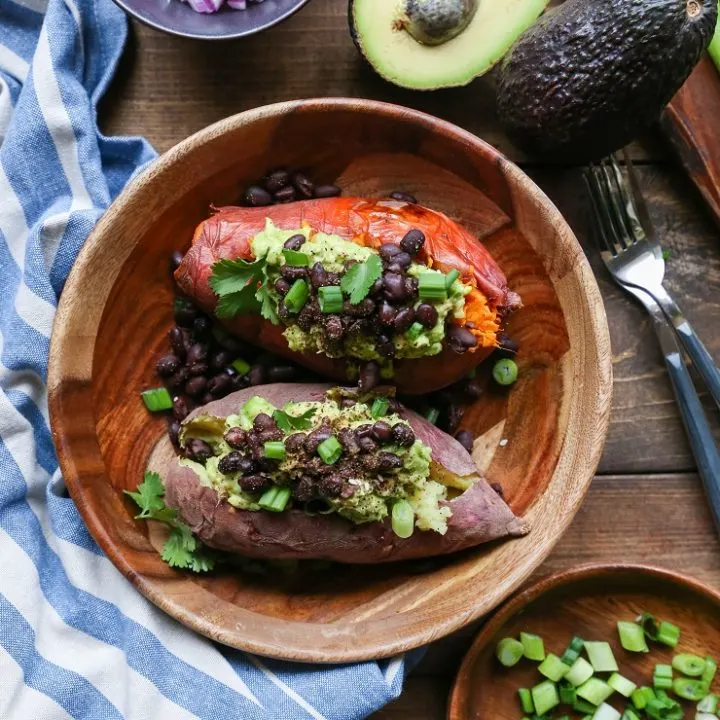 Guacamole and Black Bean Loaded Sweet Potatoes
Total Time:
1 hour
10 minutes
Loaded sweet potatoes with black beans and guacamole is a healthy vegan dish
Ingredients
4 medium sweet potatoes
2 (14-ounce) cans black beans, drained
Easy Guacamole
3 large ripe avocadoes
3 large cloves garlic, minced
1/4 cup fresh lime juice, to taste
1 small jalapeno, seeded and chopped
Pistachio Dukkah
1/2 cup shelled pistachios, chopped
1 teaspoon ground coriander
1 teaspoon sesame seeds
For Serving
1 bunch green onion, chopped
1/2 cup fresh cilantro, chopped
Instructions
Preheat the oven to 400 degrees F. Poke several holes in each sweet potato using a fork and wrap with foil. Place foil-wrapped sweet potatoes on a baking sheet and roast until very soft, about 60 to 80 minutes (depending on the size of the sweet potatoes).
While the sweet potatoes are roasting, prepare the guacamole by mashing all of the ingredients in a bowl to desired consistency (I like leaving mine slightly chunky). Refrigerate until ready to use.
Stir together all of the ingredients for the Dukkah in a small bowl. Set aside until ready to use.
When sweet potatoes have finished baking, allow them to cool enough to handle, then unwrap them and cut a long slit down the center. Use a fork to dig a well in each potato and sprinkle the flesh with sea salt.
Stuff each sweet potato with desired amount of black beans (I heat mine up on the stove top first) and guacamole. Sprinkle with pistachio Dukkah spice blend and serve with chopped green onion and fresh cilantro.
Nutrition Information
Yield

4
Serving Size

1 grams
Amount Per Serving
Unsaturated Fat

0g