Grated Broccoli Salad with carrots, apples, dried cranberries, walnuts, and warm maple bacon dressing.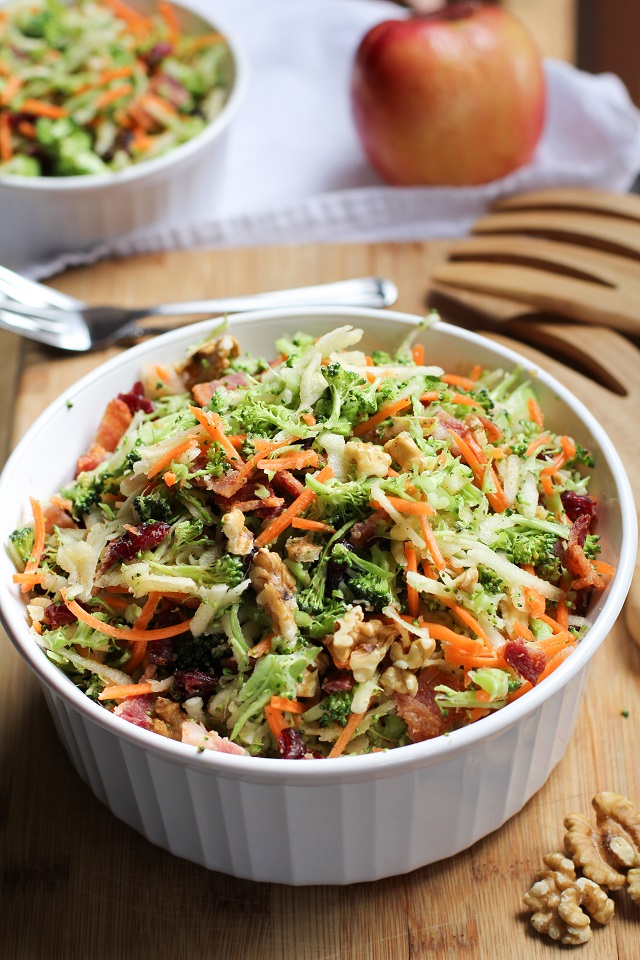 This grated broccoli salad. What an explosion of flavor and texture (italics mine)! Salty, sweet, nutty, bacon fatty flavors all sitting in the same bowl, ready for the mass consumption.
Shaving the broccoli for this salad makes it go down super easily because you aren't chewing forever on raw broccoli florets.
Pretty much the whole salad is grated for your chewing convenience, then tossed in a citrusy maple-y bacon dressing for your yumming pleasure. Carrots, apples, and broccoli, actual bacon, dried cranberries, and walnuts make for a real wish-granting factory.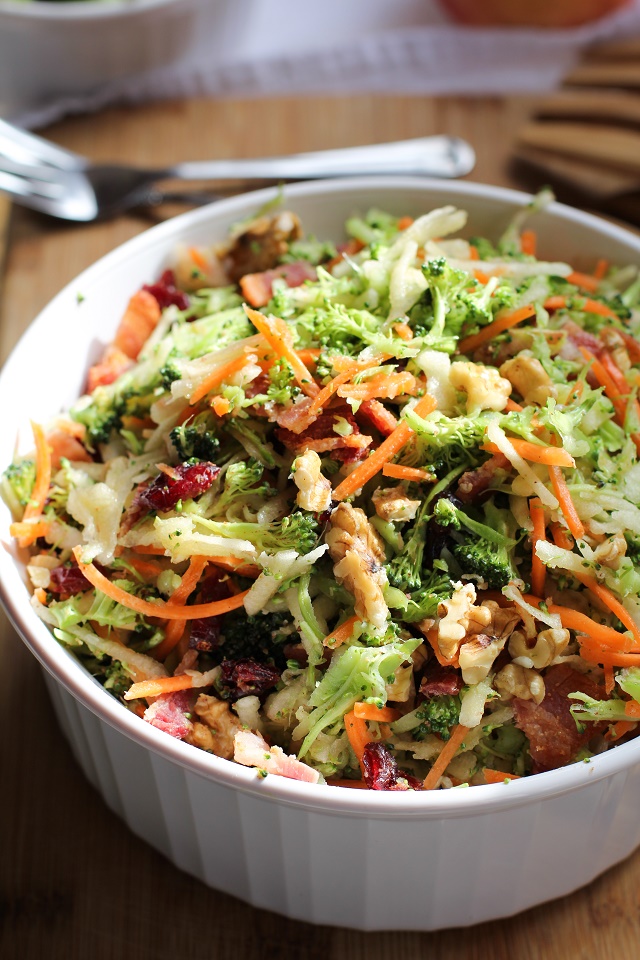 I'm not going to lie, this salad requires some elbow grease. Grating the broccoli and apple is quite the arm workout. I used pre-grated carrots to save myself some time and effort, because: lazy. Other than the grating and bacon frying, assembling the salad takes no time at all.
I typically make broccoli salad with a creamy greek yogurt dressing, but because I already knew I was cooking bacon for the salad, I figured I'd use my bacon fat resource. And you guys, warm bacon dressing is just so good!
You'll just have to trust me on the dressing recipe, as I combined the bacon drippings with lemon juice, maple syrup, and cinnamon. It may seem strange, but I assure you, the dang thing works like a little prayer.
There's so much crunch and spunk to this salad, I can barely stand it! And it saves well! You'd think that the bacon fat dressing would do weird things to the salad after refrigeration, but it doesn't – it stays nice and fresh for days on end (I was eating on mine for 5 days and it stayed crunchy)!
Plus the recipe feeds fifty billion people…as in 6 to 8 people. Super comfortably.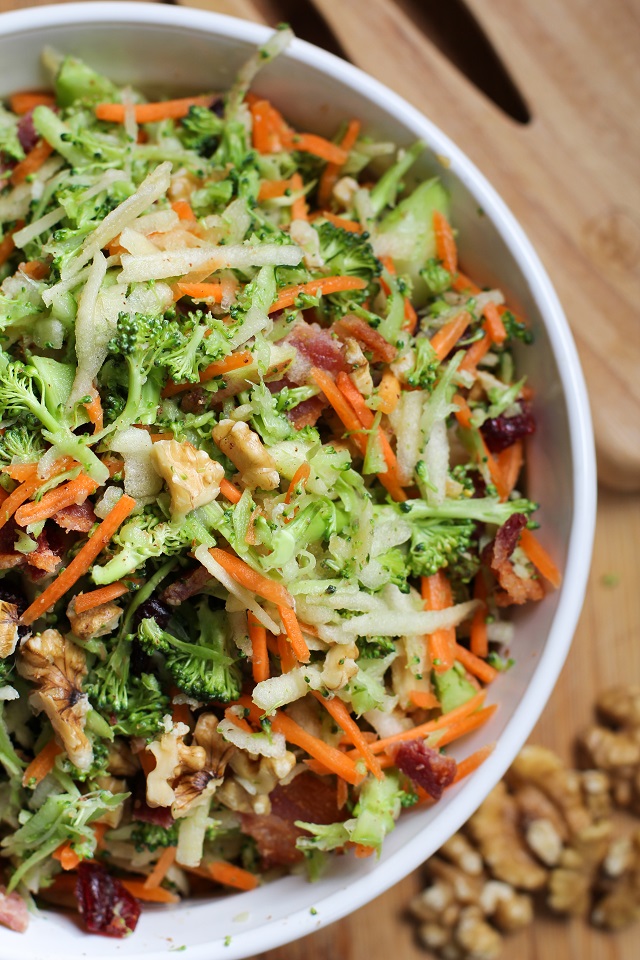 P.S. If you're interested in dying Eater eggs the au natural way, check out my lil' recipe for Natural Easter Egg Dye using Love Beets's beet juice!
Catch ya on the flippity flip! <- Don't elbow me.
Grated Broccoli Salad with Carrots, Apples, and Warm Bacon Vinaigrette
Grated Broccoli Salad with Carrots, Apples, and Warm Bacon Vinaigrette is a nutritious side dish perfect for any gathering
Ingredients
Grated Broccoli Salad:
4

strips thick cut bacon

2

cups

crowns broccoli

grated (7 )

3

cups

shredded carrot

2

cups

large honeycrisp apples

peeled and grated* (4 )

1-1/4

cup

raw walnuts

chopped

1

cup

dried cranberries
Instructions
Cook the bacon over medium-high until crispy. Pour ¼ cup of the bacon fat into a measuring cup and reserve for the warm bacon dressing.

Add the grated vegetables to a large mixing bowl along with the chopped walnuts and dried cranberries.

Whisk together all of the ingredients for the dressing and pour over the salad. Toss everything together well and serve in abundance! Note: if the bacon fat has congealed by the time you make the dressing, you can zap it in the microwave for 20 to 30 seconds to get it to liquefy again.
Notes
*Or your favorite apples.
Nutrition
More Broccoli Salad Recipes: