Grain-free vegan peppermint brownies made with ground flax seed, almond flour, almond butter, coconut oil, and coconut sugar. This healthier brownie recipe has amazing texture and flavor!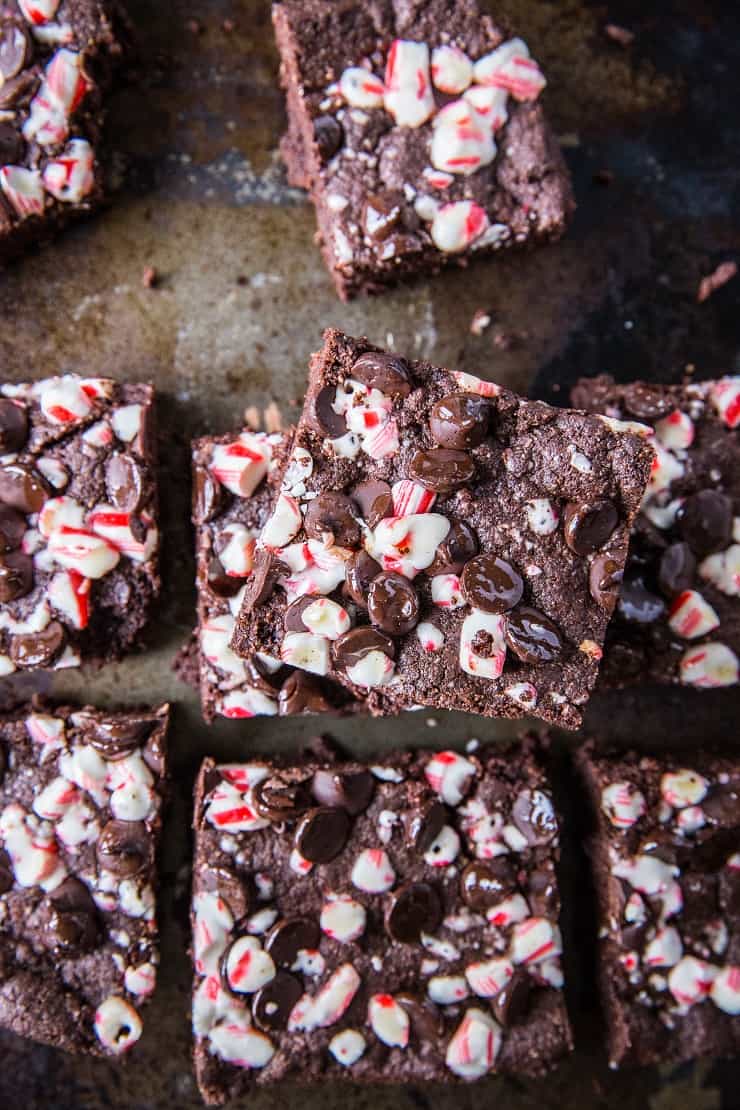 If you're anything like me and your love for chocolate knows no bounds, you'll happily accept chocolate in combination with other flavors.
Could you be tempted by a chocolatey treat involving raspberry, orange, coffee, peanut butter, or in this case: peppermint?
This time of year, I am all about the chocolate-peppermint combination. Peppermint hot chocolate? Forgetaboutit, I'm all in!
I took my recipe for Paleo Vegan Fudge Brownies and infused it with peppermint flavor. I simply added pure peppermint extract and crushed up some candy canes for the top; the rest is basically identical.
If you're cane sugar-free, no sweat: the brownies have enough peppermint flavor on their own that you don't need the crushed candy canes. I just like them because they make a pretty brownie and also are a indicator of the flavor.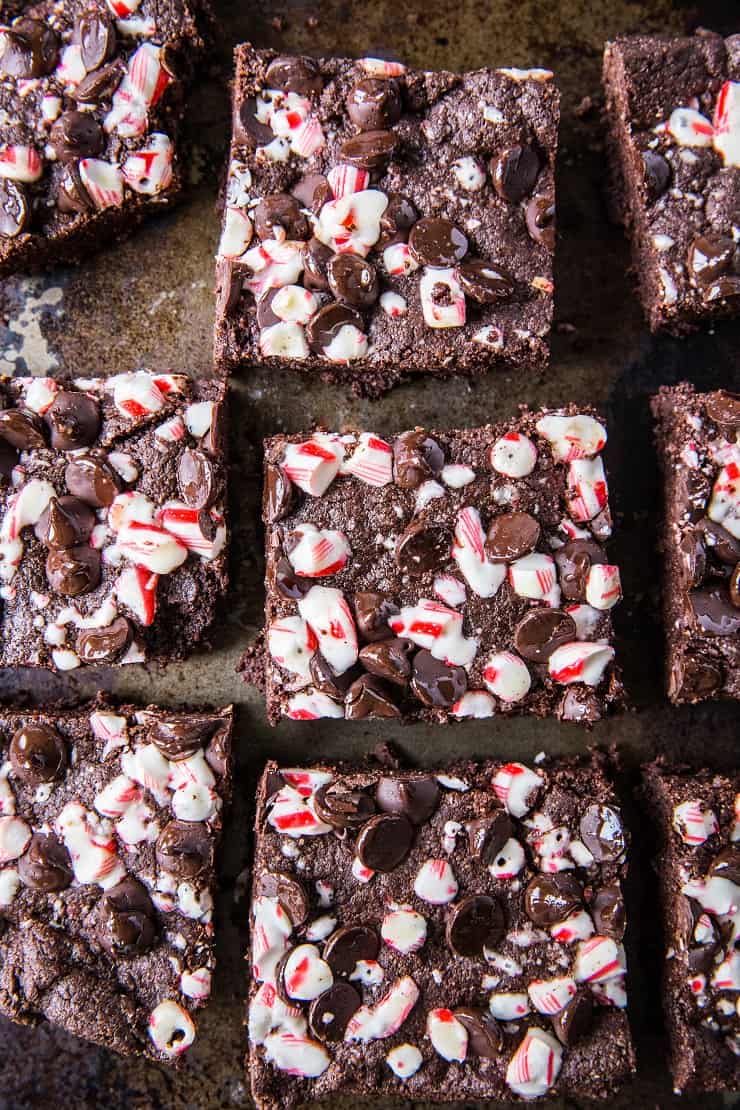 How to Make Peppermint Vegan Brownies
We start by whipping up a couple flax "eggs." Mix the flax seed with water to create the egg replacer. This mixture will need to sit at least 15 minutes so that it thickens to the consistency of an actual egg.
Once our flax "eggs" have been "egged," we add them to a stand mixer with the rest of the wet ingredients and beat until combined.
Just like you would a regular brownie recipe, add in the dry ingredients, beet, and then you have your batter!
Transfer said batter to a parchment-lined 9″ x 5″ loaf pan, bake, and try to exercise your patience virtue so that you don't go cray cray over the whole batch.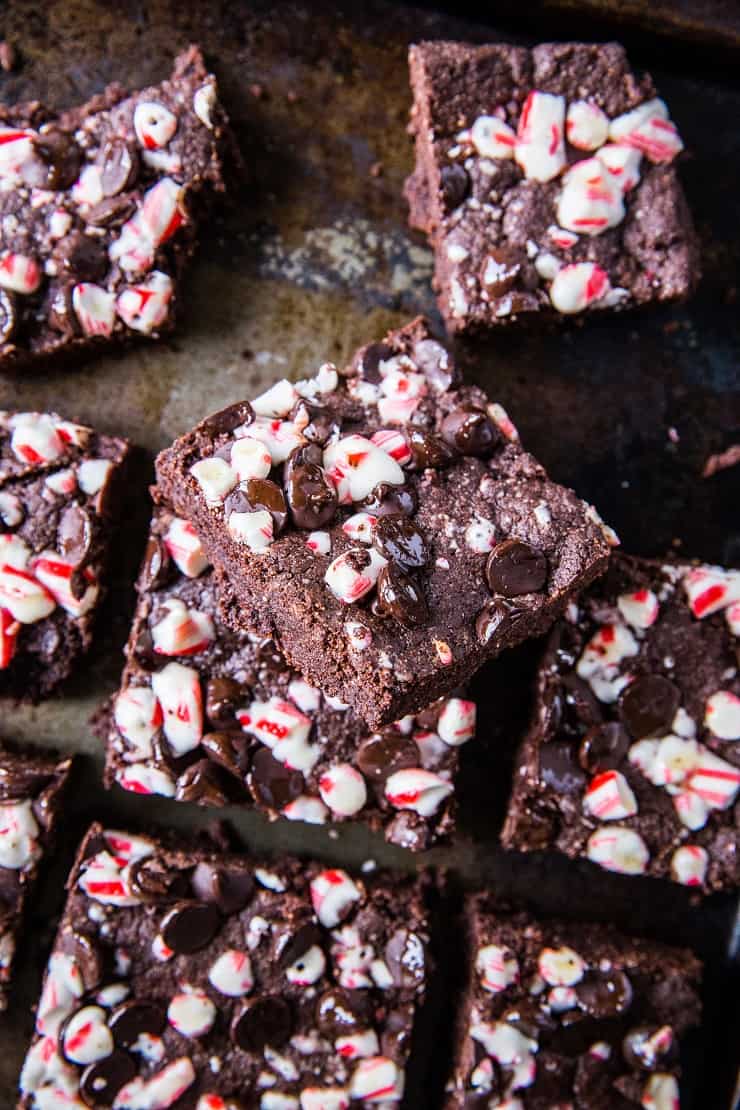 Similar to the Paleo Chocolate Chip Cookie Bars I showed you last week, you can absolutely under-bake these vegan brownies to make them a goo-fest, scoopable adventure.
Since there are no eggs, you don't need to worry about thoroughly baking them.
Serve them up with some ice cream for a whirlwind of an adventure!
If you're gifting baked goods to friends and family during the holidays, these are an excellent brownie to add to the mix. They fulfill both the chocolate and the peppermint requirement, are perfect for those with multiple dietary restrictions, and they travel well!
That chocolate-peppermint life!
More Healthy Brownies Recipes:
Grain-Free Peppermint Vegan Brownies
Grain-Free Peppermint Vegan Brownies made with almond flour
Instructions
Preheat the oven to 350 degrees F and line a 9" x 5" loaf pan with parchment paper (or spray with cooking spray).

Start by preparing the flax "eggs." Stir together the ground flax seed and water together in a small bowl. Allow mixture to sit, stirring occasionally, until thickened and the consistency of beaten eggs, about 15 minutes.

Transfer the flax "egg" mixture to a stand mixer, along with the almond butter and coconut oil. Beat until well-combined and creamy. Add the remaining ingredients (except chopped candy canes) and continue beating until well-combined. The batter will be thick and slightly crumbly - this is normal.

Transfer the brownie batter to the prepared loaf pan and smooth into an even layer. Sprinkle with chopped candy canes (if desired) Bake on the center rack of the preheated oven for 25 to 35 minutes, until set up and brownies are cooked to desired doneness (for fudgier brownies, bake 25 minutes, and for cakier brownies, bake 30 to 35 minutes).

Remove from the oven and allow brownies to sit for 30 minutes before pulling on the parchment paper and releasing them from the loaf pan. Sprinkle with sea salt (if desired), cut into squares, and enjoy.
Nutrition
Serving:
1
Brownie
|
Calories:
326
kcal
|
Carbohydrates:
25
g
|
Protein:
6
g
|
Fat:
24
g
|
Fiber:
4
g
|
Sugar:
21
g