These grain-free, refined sugar free snickerdoodles are paleo, and super easy to bake! Whip up a quadruple batch for giving as holiday gifts to friends and family!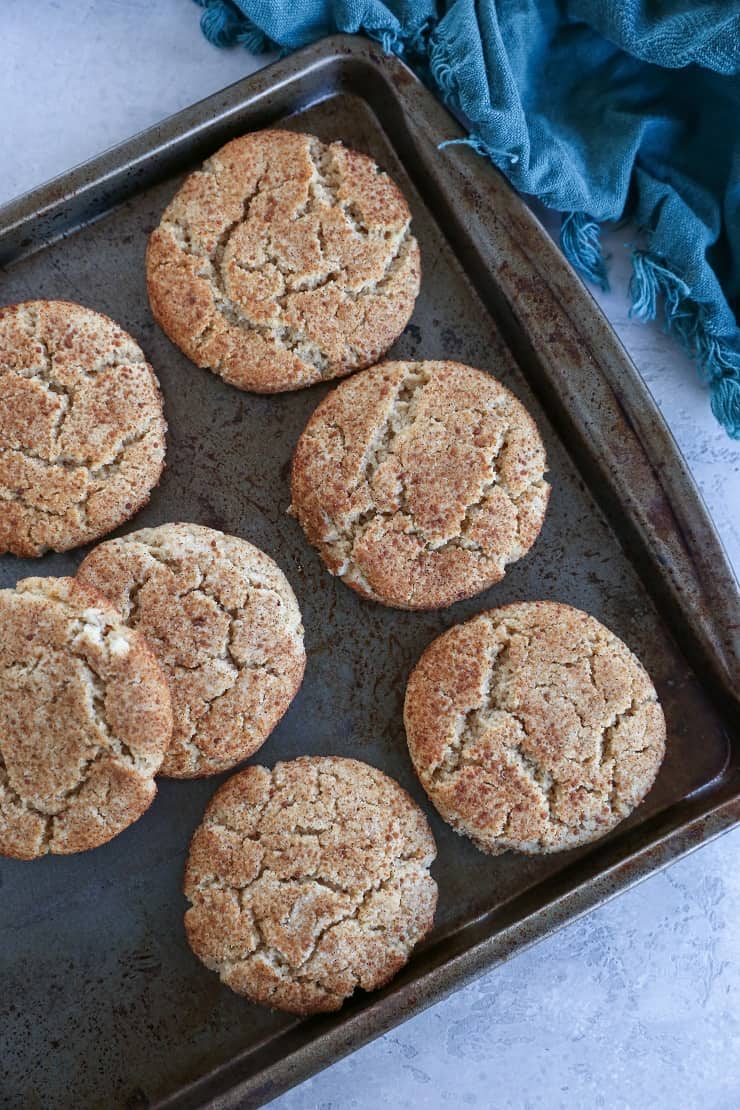 This is the story about how I made snickerdoodle gummy bears and didn't even think it was weird. Thaaaasright…snickerdoodle gummy bears.
Let's back up.
In hot pursuit of a grain-free snickerdoodle recipe, I tossed some coconut flour and arrowroot flour in a bowl, added some liquid, gave it a stir, batter looked great, baked them off and out popped: gummy bears cookies. Correction: gummy cookies that taste like snickerdoodles, slash snickerdoodles with gummy bear texture. However you want to look at the sitch.
Using my deductive brain organ, I realized I had used too much arrowroot flour. I re-formulated using less arrowroot flour, batter looked great, baked them off, annnnnd: POOF! More gummy bears. I then benched the project, because gummy bears are great and all, but only in tiny portions, and only when they don't taste like snickerdoodles.
After taking a hiatus from Snickerdoodle gummy bears…errr…I mean snickerdoodle recipe development…I went ahead and got back on the horse. I traded the arrowroot for less tapioca flour and used almond flour instead of coconut flour. I was awarded with a crispy-on-the-outside-soft-on-the-inside cinnamon and sugar delight – just the way a good snickerdoodle should be.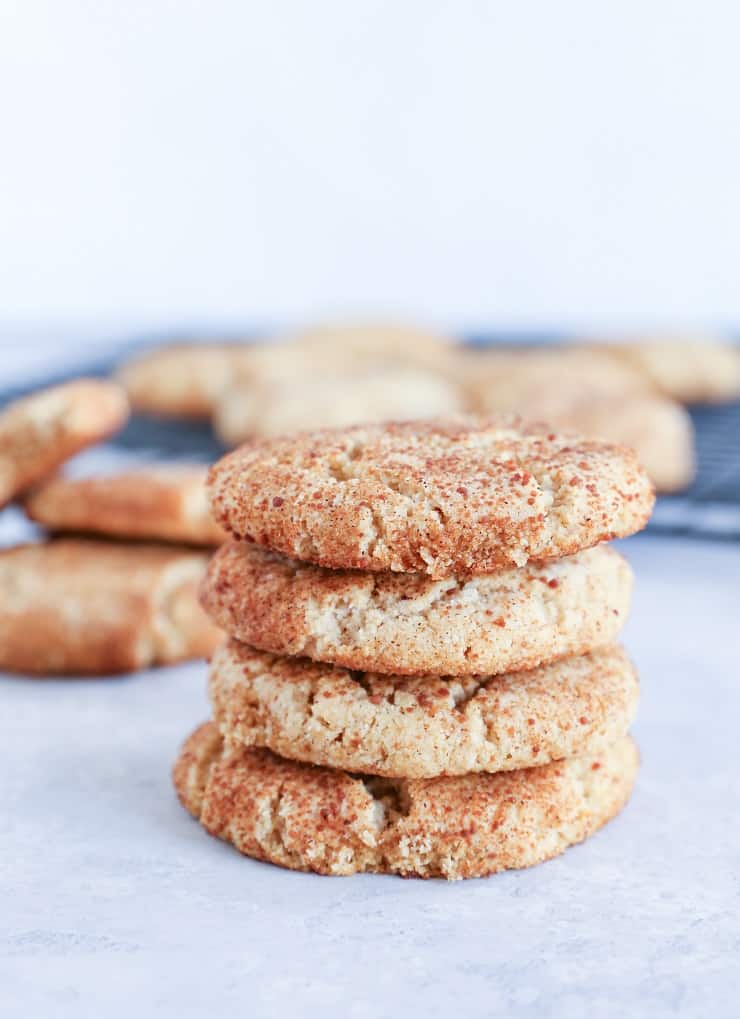 Prior to baking these bad boys, I refrigerated the dough and gave it a good roll in coconut sugar and cinnamon. The cookies basically come out tasting like cinnamon and sugar pancakes…little crispy churro cookies, if you will. But, like with all the protein and healthy fat in them.
I'm envisioning these going down on your list of Christmas Cookies To Bake, but they're also an all-around great staple cookie to have around…the kind of treat you want when you first walk in the door after a long day.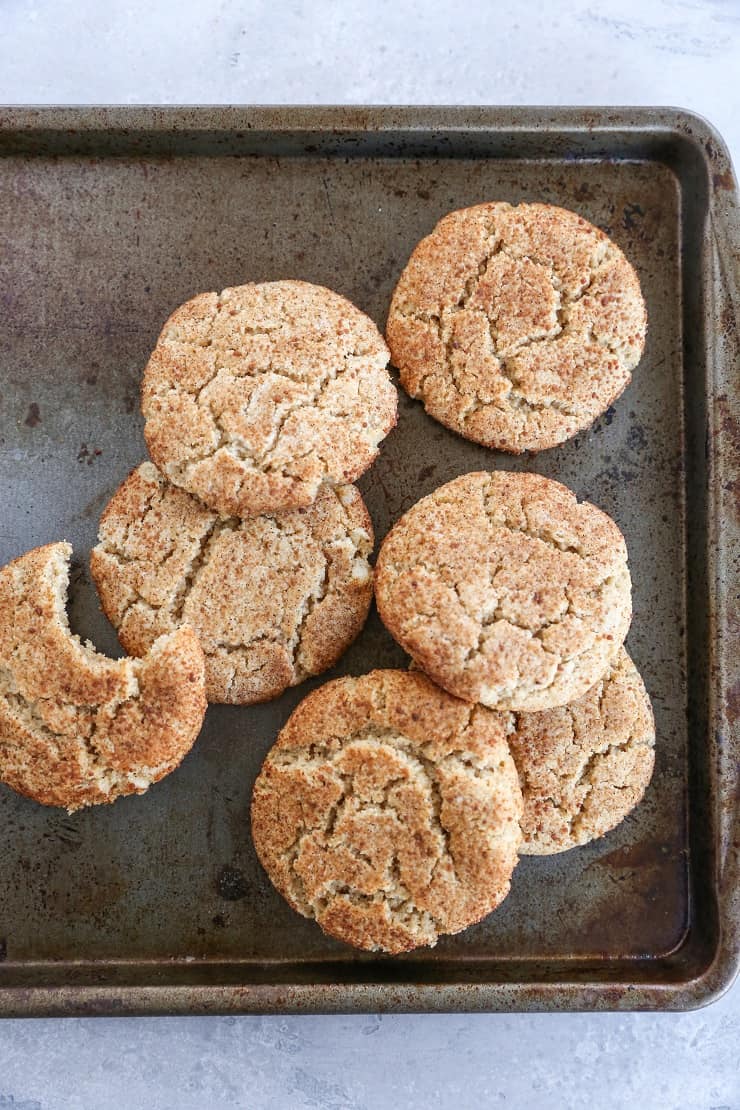 Please do!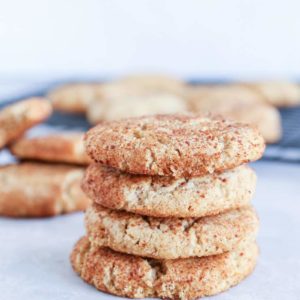 Grain-Free Snickerdoodles
Print
Instructions
Add the egg, cooled (or softened) coconut oil, maple syrup, and vanilla extract to a mixing bowl. Whisk together until well-combined. Add the remaining dry ingredients and stir together until combined. Cover and refrigerate for at least 1 hour.

Preheat the oven to 350 degrees F.

Stir together the coconut sugar and cinnamon (for rolling) in a small bowl. Roll a ball of cookie dough in your palms, then roll it in the coconut sugar/cinnamon mixture. Press the dough to flatten and place on a parchment-lined (or oil-sprayed) cookie sheet. Repeat for remaining dough.

Bake on the center rack for 13 to 17 minutes - for softer cookies, bake for 13 to 14 minutes, and for crispier cookies, bake for 15 to 17.

Remove from the oven and allow cookies to cool before diving in!