One of the hottest places I have ever visited in the summer (North Carolina) is now cooling off for fall. Leaves are floating gracefully from the trees and bright reds, yellows and oranges are peaking through the sea of green.  I am visiting my friend Sandi, who I lived with for three years in California, in the land of Bojangles, sweet tea, and The Avett Brothers.
Wonderful company and a gorgeous, crisp time of year calls for fall baking.  These gluten free pumpkin muffins are warm and spicy, great for sharing. The sharing part is key not only because it's kind and considerate but also because you certainly will eat the muffins gone even if you have no help. The fact that they can be considered breakfast food will be your top reason for muffin-after-muffin consumption, followed by "It's been a day" or simply, "I could really use a muffin right now."
I baked these gluten free pumpkin muffins with gluten-free all-purpose flour and coconut flour, and the recipe can easily be modified to use only coconut flour (or almond flour), with slight changes to the amount of liquid.  The muffins turn out with just the right density and have soothing fall flavors all wrapped up inside of them. While the muffins were baking and I was poking through my friend's cabinets, I happened upon a bag of butterscotch chips which I thought needed some pumpkin muffin batter to hang with. If this happens to you while you're baking, don't think twice, add the butterscotch. Either way, be sure to spoon-feed yourself some batter before it all gets baked into muffins. It's been a day, you could really use some batter.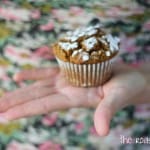 Gluten-Free Pumpkin Muffins
Print
Instructions
Preheat the oven to 350 degrees.

Add all dry ingredients (including spices and brown sugar) together in a bowl. Whisk together to combine.

In a separate bowl, add all wet ingredients and whisk/stir until combined.

Pour the wet pumpkin mixture into the bowl with the dry ingredients. Stir just until the batter is smooth and there are no clumps, careful not to over-mix.

Line a muffin tray with muffin liners or spray the tray with oil. Pour batter into the muffin holes and fill about ¾ of the way full. Bake for 22 minutes.
Recipe Notes
Optional: Sprinkle confectioner's sugar on a plate and dab the tops of the muffins in the sugar
*If using a fresh pumpkin, cut it in half, remove the seeds, place cut-side down on a baking sheet and roast in the oven at 375 for one hour or until the skin moves away from soft flesh. Puree flesh in a blender or food processor and save excess pumpkin for other delicious treats.
**Feel free to substitute the grapeseed oil for applesauce to lighten these muffins up.