One of the hottest places I have ever visited in the summer (North Carolina) is now cooling off for fall. Leaves are floating gracefully from the trees and bright reds, yellows and oranges are peaking through the sea of green. I am visiting my friend Sandi, who I lived with for three years in California, in the land of Bojangles, sweet tea, and The Avett Brothers.
Wonderful company and a gorgeous, crisp time of year calls for fall baking. These gluten free pumpkin muffins are warm and spicy, great for sharing. The sharing part is key not only because it's kind and considerate but also because you certainly will eat the muffins gone even if you have no help. The fact that they can be considered breakfast food will be your top reason for muffin-after-muffin consumption, followed by "It's been a day" or simply, "I could really use a muffin right now."
I baked these gluten free pumpkin muffins with gluten-free all-purpose flour and coconut flour, and the recipe can easily be modified to use only coconut flour (or almond flour), with slight changes to the amount of liquid. The muffins turn out with just the right density and have soothing fall flavors all wrapped up inside of them. While the muffins were baking and I was poking through my friend's cabinets, I happened upon a bag of butterscotch chips which I thought needed some pumpkin muffin batter to hang with. If this happens to you while you're baking, don't think twice, add the butterscotch. Either way, be sure to spoon-feed yourself some batter before it all gets baked into muffins. It's been a day, you could really use some batter.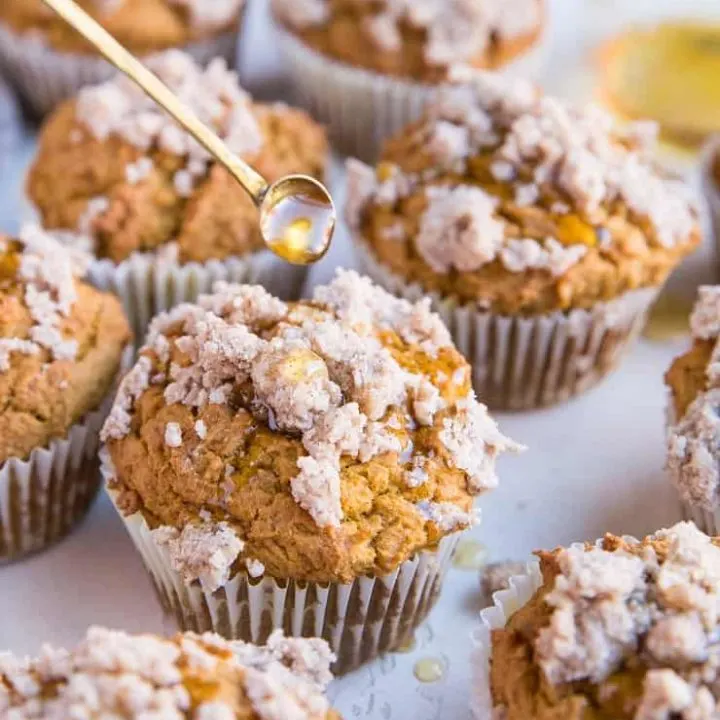 Gluten-Free Pumpkin Muffins
The easiest, best pumpkin muffins! So moist and perfect for fall and winter.
Ingredients
Pumpkin Muffins:
1 (15-oz) can pumpkin puree
2 large eggs
1/2 cup (1 stick) butter, melted
2 tsp pure vanilla extract, optional
2 cups gluten-free flour blend
1 cup raw cane sugar or coconut sugar
2 tsp pumpkin pie spice
1 tsp baking soda
1 tsp sea salt
Streusel Topping:
⅓ cup gluten-free all-purpose flour
3 Tbsp sugar
2 Tbsp melted butter
Pinch of sea salt
Instructions
1. Preheat the oven to 350 degrees F and line a muffin tray with papers (note: this recipe makes 15 to 18 muffins depending on your size preference, so you'll need to make two batches).

2. Whisk the pureed pumpkin, eggs, melted butter, and pure vanilla extract together in a mixing bowl until well-combined.

3. In a separate bowl, combine the flour, sugar, pumpkin pie spice, baking soda, and sea salt and stir until well-combined.

4. Pour the flour mixture into the bowl with the wet pumpkin mixture and mix until a thick dough forms and everything is combined.

5. In a small bowl, stir together the ingredients for the streusel topping.

6. Fill the muffin holes with the muffin batter and top with streusel topping. Bake on the center rack of the preheated oven for 30 to 35 minutes, or until muffins are golden-brown on top and test clean. Allow muffins to cool at least 1 hour before unwrapping and eating.

7. For an ultra delicious muffin, drizzle with honey when they are fresh out of the oven.
Notes
Nutrition Facts calculated without the streusel topping.
Nutrition Information
Yield

15
Serving Size

1 of 15
Amount Per Serving
Calories

191
Total Fat

7g
Unsaturated Fat

0g
Carbohydrates

31g
Fiber

1g
Sugar

13g
Protein

2g