Mayo-free Fennel and Cabbage Slaw is crisp, vibrant, healthier coleslaw recipe and perfect for serving as a side dish or as a condiment for your tacos, sandwiches, burgers, and more!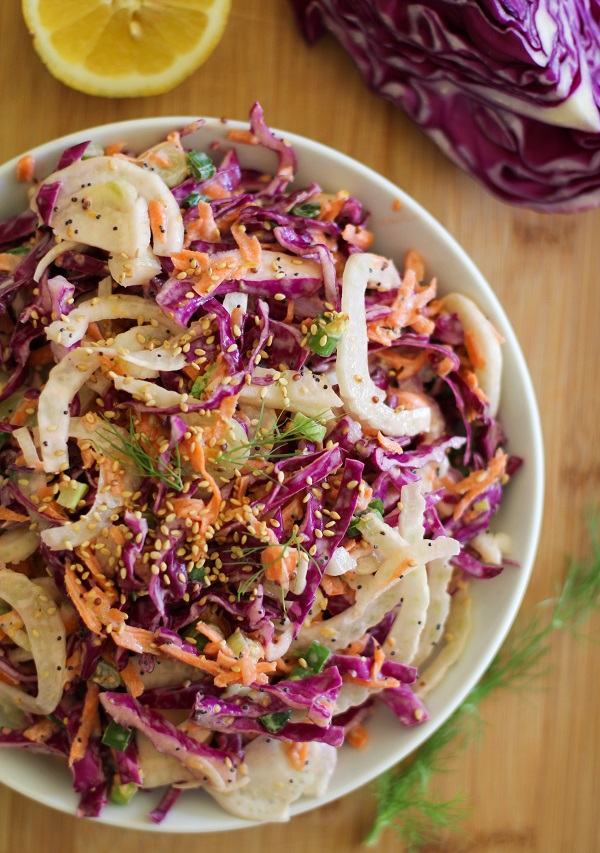 First things first: the weather has been so gorgeous here on the west side that the words have been sucked right out of me like that alien did to Zander's brains in Starship Troopers.
But in a more amazing/pleasant/inspiring, less disgusting/brain-sucking/alien-involved way.
It's been sunny and warm and the birds are chirping.
I just want to lay in the sand by the lake and Sudoku my face off. Which for me just means writing arbitrary numbers in boxes and calling it a win, because can anyone really win at Sudoku?
The answer is no. Sudoku is, in a word, impossible.
I don't mean to tease you folks who are still cold and buried in snow with my talk of sun and sand and Sudoku, but I just can't hold it in. This weather…sigh…this weather, other than sucking out my brain words and making me make Ewok noises (do Ewoks make noises?), has forced me to make vibrant, crisp food like fennel and cabbage slaw.
Slaw. Coleslaw.
I never used to like it. Because it's soaked in mayonnaise. Not cool.
Once I realized plain yogurt can be used to replace mayo, I began making slaw all by my lonesome and lemme tell you, it's so un-disgusting that it's amazing.
True story. This is a fennel and cabbage slaw (that, my friends, is a twofer) with carrots, sesame seeds, poppy seeds and a zesty lemon-yogurt dressing.
I loved it so hard that I ate 80% of it off of a fork instead of using it as intended (on burgers, tacos, anything you like!).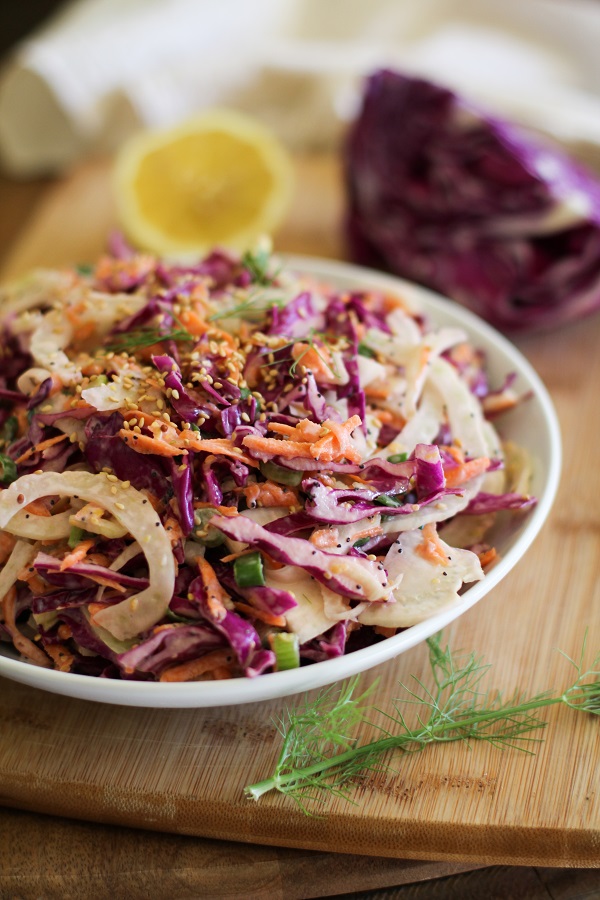 I put this mayo-free healthy coleslaw to use on my Blackened Tilapia recipe.
It's fennel season!
Do you love it?
I used to be intimidated by fennel in all its bulbous nature, but it's really no different from incorporating any other vegetable into your cooking.
You encourage its distinct flavor by using it in a way that compliments it. You can leave it raw in salads and slaw, or cook it up into soups, stews, or stir fry.
Once upon a time, I made Fennel and Rice Soup. The end. Just kidding, it was delicious. Now, the end.
Fennel and Cabbage Slaw
Fresh, unique slaw recipe that is mayo-free and full of amazing flavor. Use it as a side dish or a condiment for your sandwiches, burgers, and more!
Ingredients
½

medium red cabbage sliced

about 4 cups

2

large carrots peeled and grated

1

fennel bulb thinly sliced

3

green onions sliced

Zest of 1 lemon

½

cup

plain Greek yogurt

2

Tbsp

fresh squeezed lemon juice

1

tsp

pure maple syrup

optional

2

Tbsp

rice vinegar

1

tablespoon

whole grain mustard

1

tsp

sesame seeds

1

tsp

sea salt
Instructions
Transfer the sliced cabbage, grated carrots, sliced fennel, and chopped green onions to a large bowl.

Whisk together the remaining ingredients in a small bowl or measuring cup to make a dressing for the slaw. Pour the dressing over the veggies and mix well. Taste the slaw for flavor and add more sea salt or lemon juice to taste. Use this slaw on your sandwiches, burgers, tacos, or serve it as a side dish.
Nutrition
Serving:
1
Serving
|
Calories:
70
kcal
|
Carbohydrates:
14
g
|
Protein:
3
g
|
Fat:
2
g
|
Fiber:
4
g
|
Sugar:
6
g