Blackened Tilapia with Fennel and Cabbage Slaw is by far one of the best life choices you will have ever made.
Yesterday, I posted Fennel and Cabbage Slaw recipe and enjoyed it so much, I ate 80% of it as is.
Well the other 20% went on top of blackened tilapia, which is by far one of the best life choices I have ever made.
Have you ever blackened a flounder and eaten it with an amazing crunchy, fresh topping? This process comes highly recommend by me.
The crispy spiced blackened tilapia with the fennel slaw and avocado slices is so flavorful and fresh that I will love it forever and ever, amen.
Blackened fish is the buzzard's gizzard.
As in, you're gonna want it in your face trap. If you've never blackened, it's really quite simple.
You spice the crap out of the fish, heat up oil in a cast iron skillet until the it's all smoky-like, then you FLASH cook it. < – – – Meaning it goes quickly. You can do it on a work night. Or date night. Or any night.
Anyway: like a flash, the fish cooks quickly because you pan-fry it on high heat on both sides until the fish encases itself in crisped-up spices.
This leaves the fish crunchy on the outside and ever so tender on the inside. And then you are struck with brilliancy and decide to top it off with fennel and cabbage slaw. This is by far one of the best life choices you will have ever made.
That right there is known as future perfect tense.
Will = auxiliary verb. Have = auxiliary verb. Done = main verb.
It's a string of verbage (get it? Verb-age?), and I learned all of this off of englishclub.com. Are you sick of my English lessons and pointy arrows yet?
What just happened? (Besides sheer lunacy? Don't answer that. T'was rhetorical).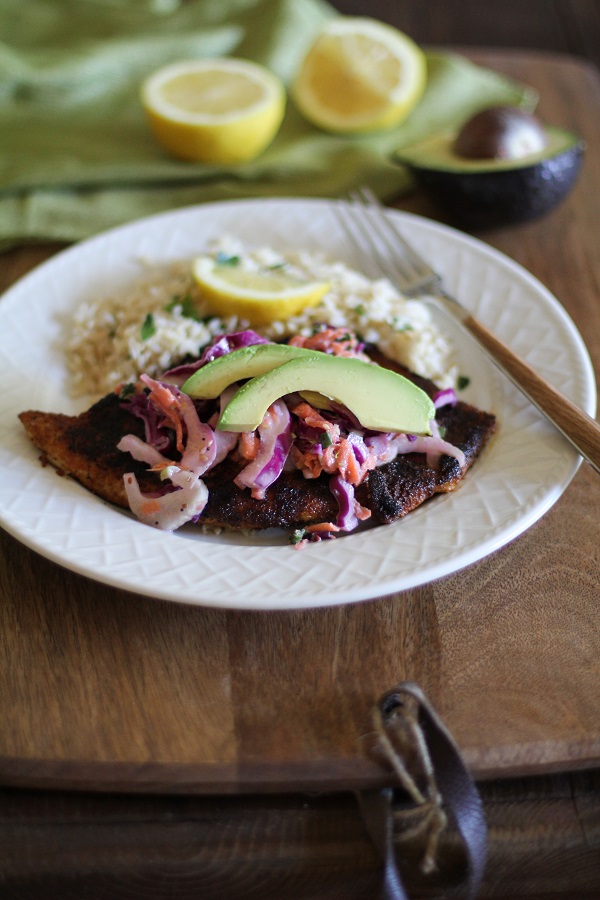 Fish. Blackened fish n' slaw happened in your gizzard. Ridiculously good.
Your order of operations for this recipe is to (1) thinly slice your slaw veggies + toss in zesty plain yogurt dressing, (2) whistle while you work, (3) eat slaw while you blacken, and (4) enjoy the fruits of your labor.
Make good decisions. In the present and future perfect.
Blackened Tilapia with Slaw
Blackened tilapia is crispy, flavorful and an excellent way of getting in your fish! Serve it up with slaw for an epic dinner!
Ingredients
4

1/2-pound Tilapia fillets

2

tablespoons

garlic powder

see note*

1

tablespoon

onion powder

see note*

1

tablespoon

paprika

2

teaspoons

ground cumin

2

teaspoons

kosher salt

Serve with Fennel and Cabbage Slaw
Instructions
In a small bowl, stir together the spices.

Heat enough oil to generously coat a cast iron skillet over medium-high heat, about 3 to 4 tablespoons. Coat each side of each fillet generously with the spice mixture to encase the fish. Pat the spices gently into the flesh. You may not need to use all of the spice mixture.

When the skillet is completely hot and the oil begins to smoke, carefully place one or two of the tilapia fillets on the skillet.

Allow the fillet(s) to cook until the sides have firmed up and the bottom is blackened, about 4 to 5 minutes depending on the thickness of the fillet.

Carefully flip fish to the other side and cook an additional 4 to 5 minutes, until both sides are blackened.

Repeat for remaining fillets, adding oil to the skillet first if necessary.

Serve fish with desired amount of fennel slaw, avocado slices, and brown rice.
Notes
You can scale up or down the spice measurements depending on how many tilapia fillets you use.
*Omit the garlic powder and onion powder if you follow a low-FODMAP diet
Nutrition
Serving:
1
Serving
|
Calories:
333
kcal
|
Carbohydrates:
26
g
|
Protein:
35
g
|
Fat:
13
g
|
Fiber:
7
g
|
Sugar:
13
g