Fresh, flavorful fennel & rice soup with vegetables is an amazing belly-warming meal. Add your favorite vegetables and animal protein to customize to your heart's delight!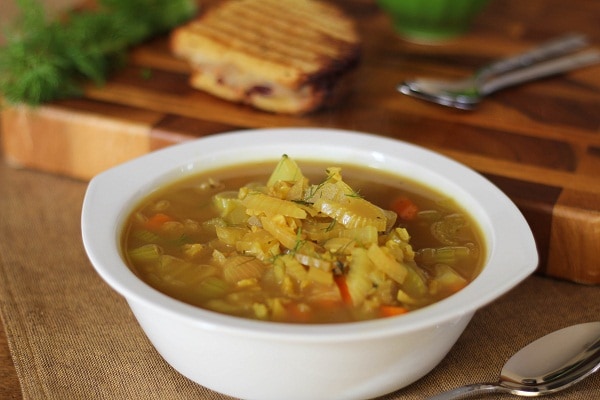 Northern California has been precipitating. Hard. The whole weekend and a few days prior: rain, rain, rain. When it rains like this, Mother Nature wins, so there's no use in fighting her. Rain in this proportion yields soup, tea, and hot chocolate. It yields a trip to the gym or two, followed by soup, tea, hot chocolate and a handful of movies from RedBox. It does not yield pretty hair and flawless makeup.
Fennel & rice soup? Let's do this!
It does not matter how many times you change your jeans, you aren't going anywhere. And if you do, your jeans will be wet when you get there anyway, so you may as well stick with the first pair you find crumpled up on the floor. If you were wondering why your pinterest has been blowing up with heavy delicious recipes it's because we Northern Californians don't have a whole lot to do right now.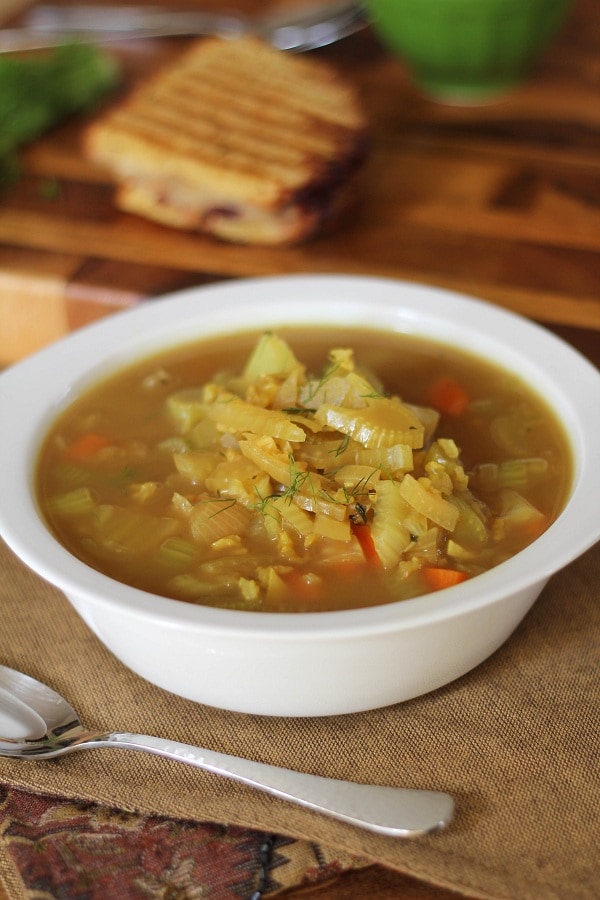 A week's worth of rain yields a week's worth of soup. Please don't break my heart and tell me you're a Not Big on Soup kind of person. I'm too fragile and innocent to accept "Not Big on Soup" people exist. If you are an NBS, you might want to check in next week…because all I have for you this week is steamy, comforting soup. It's what I've got. And it's marvelous.
First up, Fennel & Rice Soup. This soup is light and refreshing with unique flavor. It should be served with a cheesy melty Panini in my humble opinion.
Fun Facts About Fennel:
Fennel is a bulb (I love bulbs) and is related to carrots, dill and parsley. It is great for your ligaments, tendons and blood vessels because it helps form collagen. It also provides relief to anemia, indigestion, constipation (fennel is high in fiber), flatulence (seriously?! If you're going to get cooped up with a soup, it should probably be this one), menstrual disorders, colic, and protects your eyes from inflammation.
Learn more about Fennel from the Livestrong website.
You can easily add protein to this soup by browning up some chicken or turkey sausage after sauteing the veggies. Or keep it vegetarian by using vegetable stock instead of chicken stock.
The rain's not stopping, so there's more soup where this came from. And if you're in Northern California like me, I'll be right there on pinterest with you, pinning my little heart out.
More Healthy Soup Recipes:
My cookbook,
Paleo Power Bowls
, is now available! CLICK HERE to check it out. Thank you for your support!
If you make this recipe, please feel free to share a photo and tag @TheRoastedRoot on Instagram!
Fennel & Rice Soup
Fresh, flavorful fennel & rice soup is a nourishing, delicious comforting meal
Ingredients
1

tablespoon

avocado oil

or oil of choice

1/2

cup

brown rice

1

large yellow onion

diced

2

stalks celery

chopped

1

carrot

peeled and chopped

6

cloves

garlic

minced

1

large fennel bulb

chopped

½

teaspoon

fennel seeds

¼

teaspoon

rosemary

½

teaspoon

turmeric

1

teaspoon

herbs de Provence

or Italian seasoning

1

teaspoon

salt

or to taste. Adjust amount of salt according to how salty your broth is

8

cups

chicken or vegetable broth
Instructions
Add the chicken/vegetable broth and bring to a full boil.

Cover the pot, reduce heat to medium low and simmer for 40 minutes.

The soup is ready when the veggies are soft but still al dente. If you prefer very soft veggies, cook longer at a higher temperature.
Nutrition
Serving:
1
serving
|
Calories:
239
kcal
|
Carbohydrates:
15
g
|
Protein:
15
g
|
Fat:
5
g
|
Fiber:
3
g
|
Sugar:
4
g