A cleaner approach to traditional eggs benedict, poached eggs are served on top of roasted root vegetables with avocado hollandaise sauce. An easy and nutritious approach to brunch!
This post is sponsored by California Avocado Commission.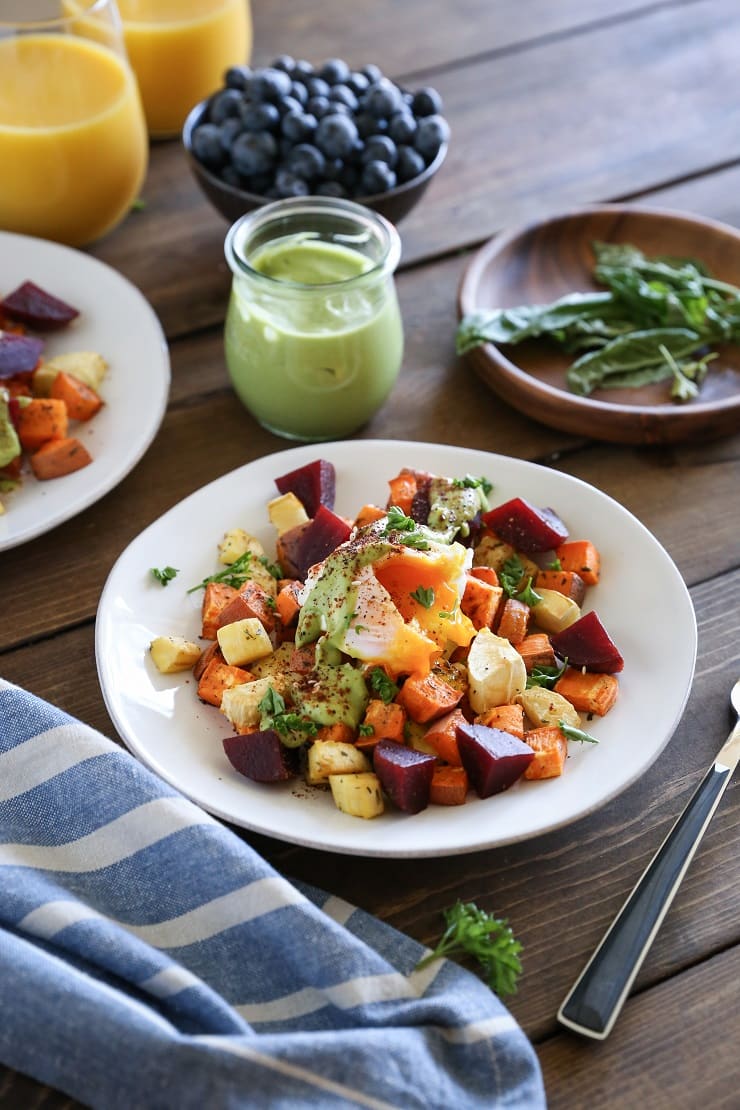 We already know I'm the captain of Team Breakfast Err'day; however, I wouldn't consider myself to be an expert at brunching in spite of the fact that it's been a huge To Do in my geographical area for several years.
The reason there's room for improvement in the Brunch Steaze Department is due to the sheer fact that I have a difficult time waiting to eat. The virtue of patience doesn't coarse rampantly through my veins, you see.
While I historically haven't been a huge brunch person, Springtime is the time of year I do dabble and indulge in the brunch scene.
Whether it's a patio breakfast at my house or going out to a local brunch establishment, the warm, sunny weather conjures up the brunch feels. For those Springtime brunch vibes, I can buck up and pre-brunch snack.
AND Mother's Day is right around the corner. What're you doing to celebrate? Each year, I make some sort of gluten-free or grain-free muffin, and I join my ginormous family for a backyard bash. Historically, we've been a quiche and cinnamon roll family, but I've been able to sneak in a couple vegetable-infused options.
Which brings me to Exhibit A.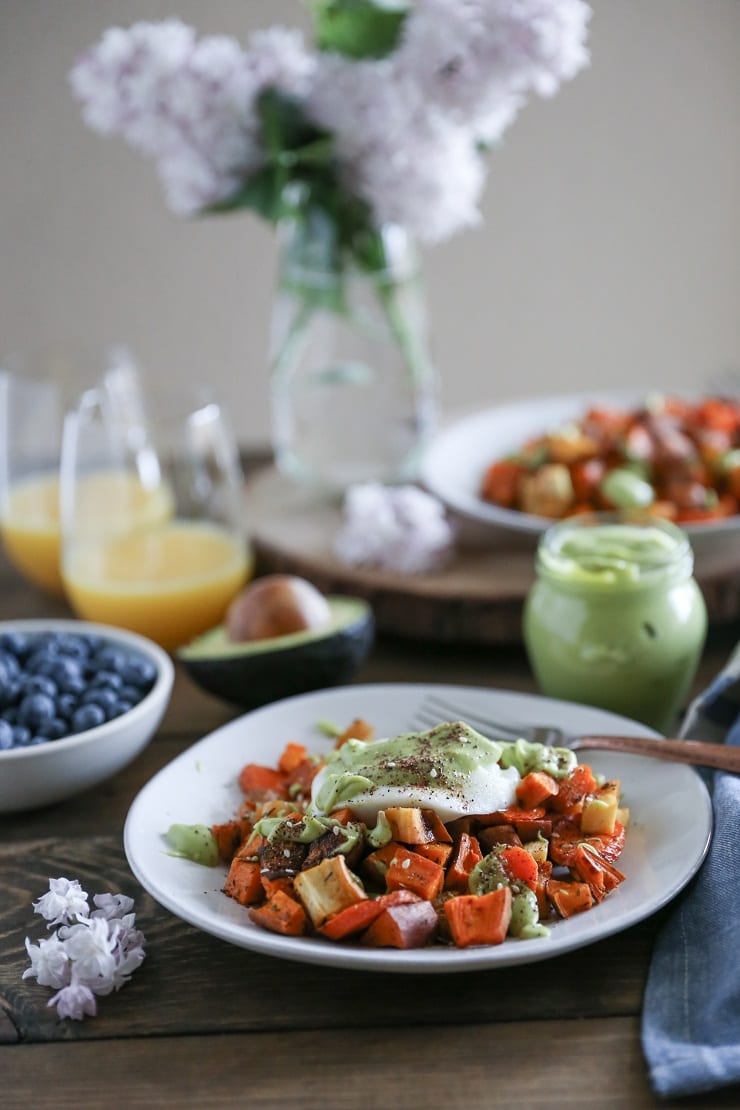 A rustic approach to eggs benedict with just the easiest hollandaise sauce you'll ever make.
Rather than making a traditional hollandaise, I used one California Avocado to make a super approachable hollandaise – or fauxlandaise if you will. You needn't to worry about whisking egg yolks or burning your sauce on the stovetop, as the hollandaise is prepared by simply blending together avocado, coconut milk, and cider vinegar. It's just so simple! I also love the appeal of the avocado-based sauce being more healthful than a traditional hollandaise.
Keeping this recipe grain-free and paleo friendly, I skipped the English muffin and served the poached egg on top of roasted root veggies with the California avocado hollandaise sauce. If you want to get real fancy, you can whip up the Orange Ginger Turmeric Roasted Root Vegetables, I showed you a few months ago, or keep it super simple with Sweet Potato Home Fries.
If you can't go sans biscuit, but you still want to keep it paleo, you can always whip up a batch of these Grain-Free Biscuits.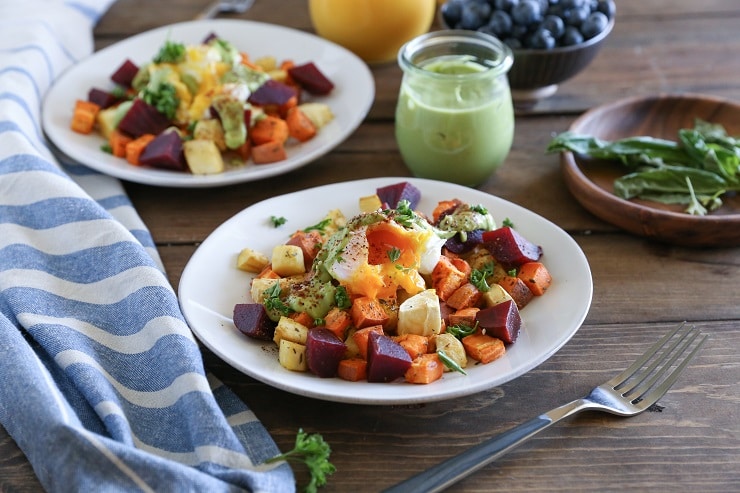 Let's discuss recipe prep. We already know the avocado hollandaise sauce is the easiest part about this recipe, but let's talk…
Egg poaching. Are you a pro? As much as I wish I were talented in the poaching department, my skill set is far from impressive. If, like me, you are challenged by the technique in spite of your finest efforts, you can always use a cheap egg poacher to get the job done with grace and minimal egg wastage.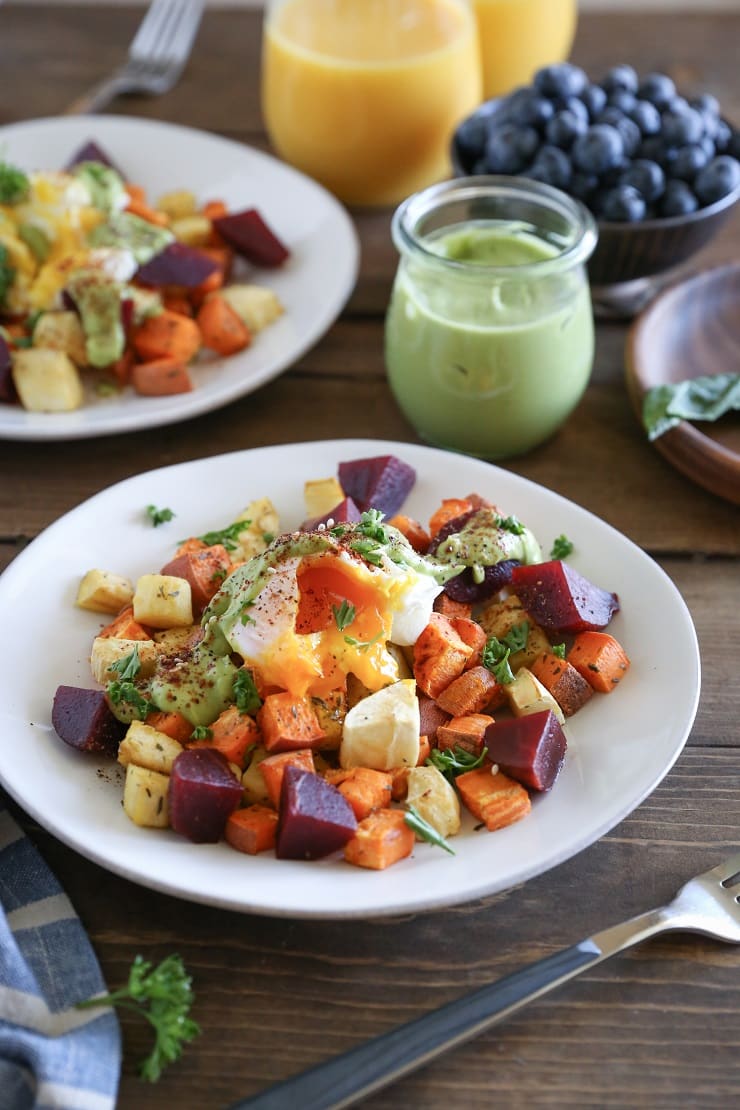 I've made this brunch recipe with and without roasted beets – it definitely requires a little less time and hassle if you go beet-less, but just in case you're all about them beets, I have included instructions for roasting them.
If you love making recipes ahead of time, you can easily do the veggie prep the night before (or even up to 3 days before) your brunch. Minimizing same-day tasks can keep the brunch flow relaxed, so this recipe concept is pretty handy for that.
Eggs Benedict with Avocado Hollandaise
Step up your brunch game with this nutritious Eggs Benedict with Avocado Hollandaise and roasted veggies
Ingredients
2

large carrots

peeled and chopped

1

large parsnip

peeled and chopped

1

large sweet potato

chopped

1

medium beet

chopped

2

tablespoons

olive oil

2

teaspoons

Italian seasoning

see note*

4 to 6

eggs

white vinegar

for poaching eggs
Avocado Hollandaise Sauce:
Instructions
Roast the Vegetables:
Preheat the oven to 400 degrees F. Spread the chopped carrots, parsnip, and sweet potato over a large baking sheet. Drizzle with olive oil and sprinkle with sea salt and Italian seasoning (or seasonings of choice). Use your hands to toss everything together so that it is well coated.

Place the chopped beet on a long sheet of foil and wrap the chunks in a foil packet (make sure the foil packet is nice and secure, because beet juices will begin to seep out while roasting).

Place both the sheet of vegetables and the foil packet in the preheated oven. Roast 20 minutes, stir the vegetables on the tray, and roast an additional 10 minutes. Remove the tray from the oven and allow the beet to continue roasting another 10 minutes, or until beet chunks are very tender and juicy.
Prepare the Hollandaise:
Add the ingredients for the avocado hollandaise sauce to a blender and blend until completely smooth. Taste for flavor and add more salt, cayenne, and/or vinegar to taste. For thinner consistency, add more water.
Poach the Eggs:
Fill a pot with a couple inches of water and bring it to a full boil. Reduce the heat to a gentle simmer (water should be steamy but not bubbly) and add a splash of white vinegar. Crack an egg into a small bowl or ramekin, then gently transfer it to the hot water. Use a slotted spoon to gently bring the whites toward the yolk in order to keep the egg together. Remove from heat, cover, and allow egg to cook 3 to 4 minutes. Use a slotted spoon to gently lift egg out of the water. Repeat for remaining eggs.
Notes
*You can use any combination of dried herbs you have on hand in place of the Italian seasoning. I like using dried chives, parsley, and thyme.
Nutrition
Serving:
1
Serving
|
Calories:
350
kcal
|
Carbohydrates:
34
g
|
Protein:
11
g
|
Fat:
20
g
|
Fiber:
11
g
|
Sugar:
5
g