Rich and creamy eggnog tapioca pudding made dairy-free, refined sugar-free, and paleo-friendly. This decadent dessert is perfect for sharing during the holidays!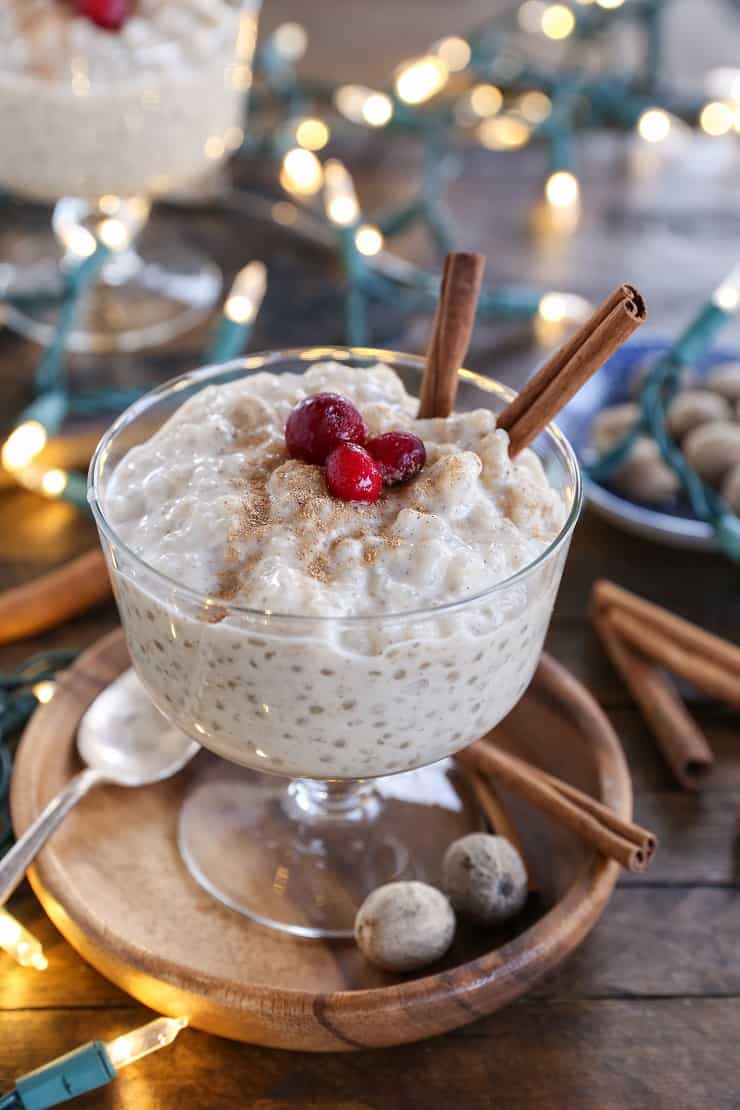 Let's talk about two of my favorite things!: Eggnog and Tapioca Pudding.
When my siblings and I were children, we were obsessed with "frog egg pudding." Did you call tapioca pudding, "frog egg pudding," too??
Did you have a different name for it?
Of course, my older brother and sister were aware of the fact there are no actual frog eggs in tapioca pudding (tapioca, in actual reality, comes from yuca root), but as the game of telephone goes in life, that little piece of information didn't trickle down to me.
So I thought I was consuming actual frog eggs, and I didn't even give a care because it was so delicious.
Moving right along.
When I posted my Coconut Tapioca Pudding recipe a couple years back,, you all went wild.
I was actually quite shocked, as tapioca pudding is one of those love-it-or-hate it situations. It turns out, there are plenty of folks who love it, and not a plethora of recipes to fuel your passion.
So we agree, tapioca pudding = worthy of praise.
Lettuce discuss eggnog meow.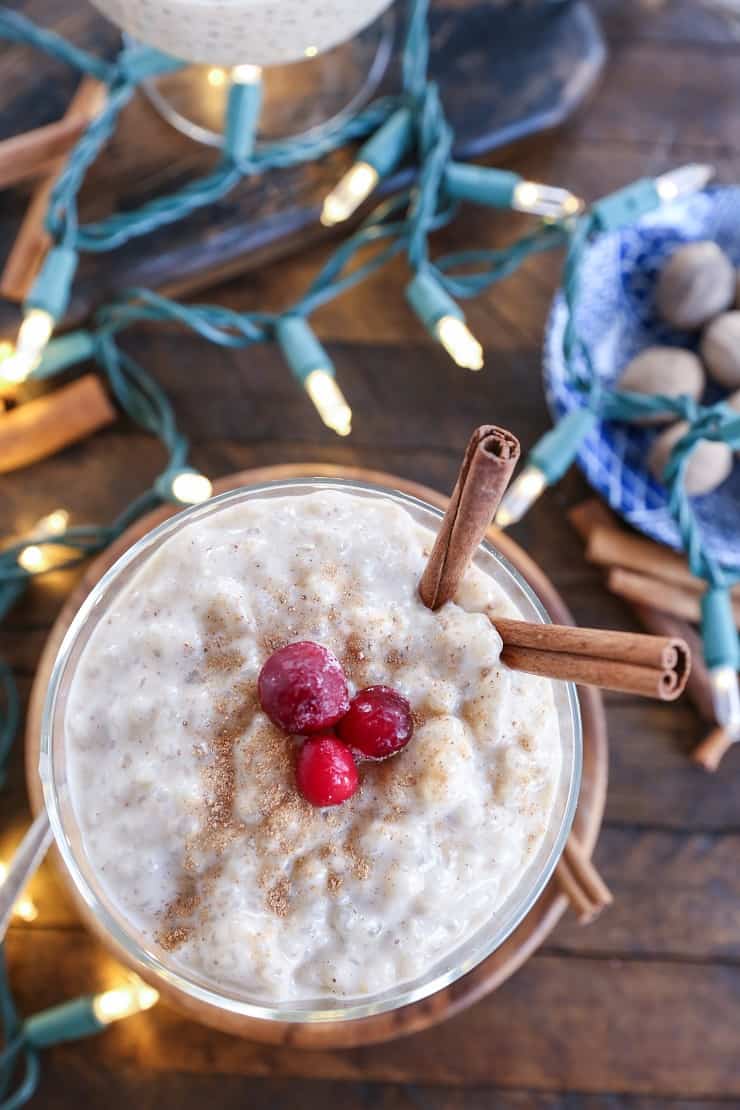 Right around this time last year and in previous years, I've confessed my undying love for eggnog.
This probably has to do with the fact that my very first eggnog experience was nothing but positive, so I have always equated the holiday beverage to be cheerful and joyous.
The first time I drank eggnog, it was homemade by my uncle during a visit over the holidays.
Never in my wildest dreams could I imagine any beverage would be so incredibly sultry. It gave my daily Nestle's Chocolate Quick a run for its money.
Okay, so tapioca pudding = worthy of praise, eggnog = elixir of the Gods…therefore, tapioca pudding + eggnog = paradise. Can we agree?
This is one of those recipes you'd think would be complicated, but is actually super simple.
First off, tapioca pudding is ridiculously easy to make, and all we're doing is adding classic eggnog ingredients to it: lots of nutmeg, cinnamon, and egg yolks. I sweeten with pure maple syrup to keep it naturally sweetened.
You can omit the egg yolks to make the pudding vegan…the pudding will still taste super flavorful and warmly-spiced, but the yolks do lend a super comforting richness to the dessert.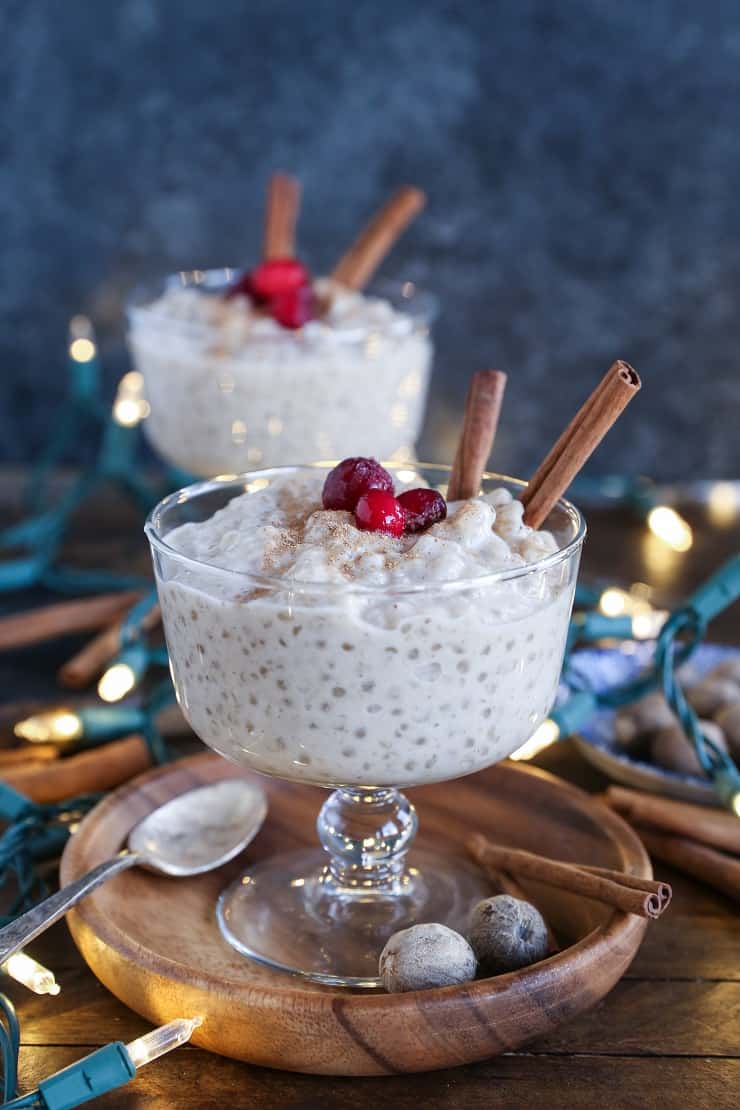 From start-to-finish, this pudding only takes about 40 minutes to prepare, and it can be served either hot or cold.
You can serve it with all sorts of toppings like chopped nuts, coconut milk whipped cream, fresh fruit, a drizzle of almond butter, caramel, or pure maple syrup, you name it!
I'm thinking this is one of those crowd-pleasing desserts you can whip up for entertaining guests at home, and it also makes for a show-stopping holiday party number.
If you want to be real badass, you can add a shot of whisky, brandy, or rum to make it a spiked treat.
Eggnog Tapioca Pudding
Combining creamy tapioca pudding with your favorite holiday beverage makes for a fun, festive, delicious dessert perfect for sharing!
Instructions
Add small pearl tapioca and water to a saucepan and soak for 30 minutes. Do not drain after soaking.

Add the coconut milk and pure maple syrup and and cook over medium heat, stirring occasionally, until mixture comes to a gentle bubble. Reduce the heat to low.

Whisk the egg yolks in a small bowl. Add a small amount of the hot tapioca mixture to the bowl with the yolks to temper the yolks and whisk well. Transfer the egg yolk mixture to the saucepan and whisk well. Add the remaining ingredients.

Simmer uncovered over very low heat for 10 to 15 minutes, stirring occasionally, until mixture is thick. Taste pudding for flavor and add more pure maple syrup and/or nutmeg to taste.

Serve tapioca pudding warm or chilled.
Nutrition
Serving:
1
of 4
|
Calories:
310
kcal
|
Carbohydrates:
26
g
|
Protein:
4
g
|
Fat:
20
g
|
Sugar:
19
g