Creamy vegan tapioca pudding makes for a unique and delicious recipe. This naturally sweetened dessert is on the healthy end of the dessert spectrum.
This post is sponsored by Bobs Red Mill.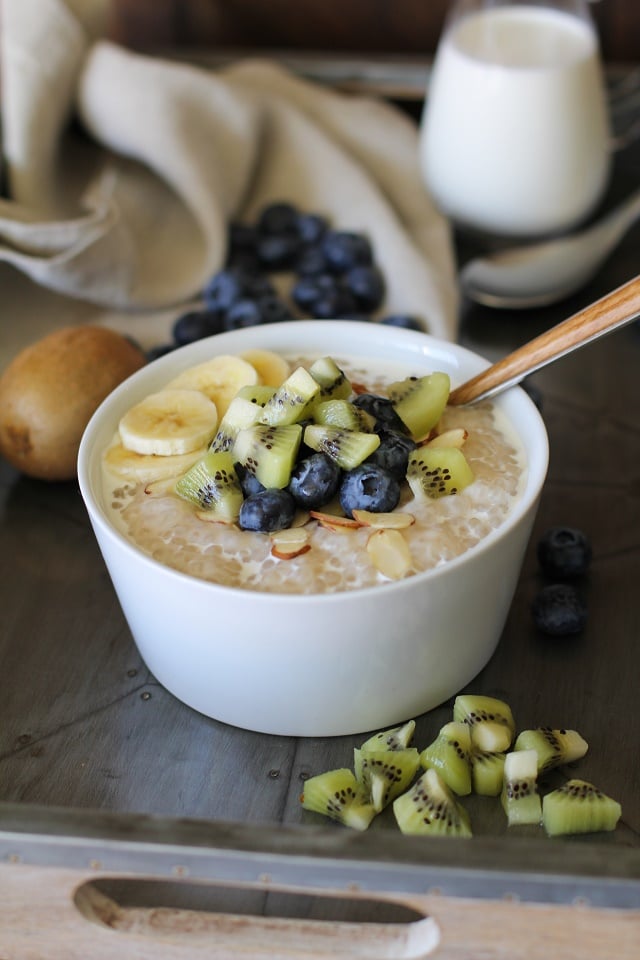 Here's what I'm thinking:
Breakfast pudding. Can you dig? I've got no qualms. In fact, I welcome the breakfast pudding with open arms. Fresh fruit and nuts (or granola) atop tapioca num nums? May we all live by the, "life's short, eat dessert first," mantra.
Move over, smoothie bowls, there's a new breakfast in town, and it's going to take coffee shops, family diners, breakfast nooks, and hippie cafes by storm. Be the first person in your life to re-discover tapioca and let it spread like FIRE!
Let's talk texture!
Tapioca.
What a strange, strange substance.
Delightful, though.
Besides the obvious – goo balls of bliss – what the heck is tapioca? According to my sister when we were kids, frog eggs. False, Laura. Real false. While I fully believed for years on end that my sister enjoyed eating undeveloped amphibian offspring, as it turns out tapioca is not, in fact, frog eggs.
Tapioca comes from cassava (a.k.a. yuca) root and are starchy little pearls of goo bliss that when cooked in milk become thick, gelatinous, and creamy.
It didn't dawn on me to make tapioca at home until I came across Bob's Red Mill's Small Pearl Tapioca, at which point I had instantaneous visions of all of the ways in which I'd be enjoying various flavors of tapioca pudding.
Preparing the pudding is super simple and takes very little time. The tapioca pudding recipe comes together quickly and seamlessly on the stove top, much like the way you would prepare oatmeal or rice.
Now that I'm aware of how uncomplicated it is to make tapioca, I've been making it in large batches and eating it for breakfast and dessert. And snack. And just because. #DessertFirst. Moving right along.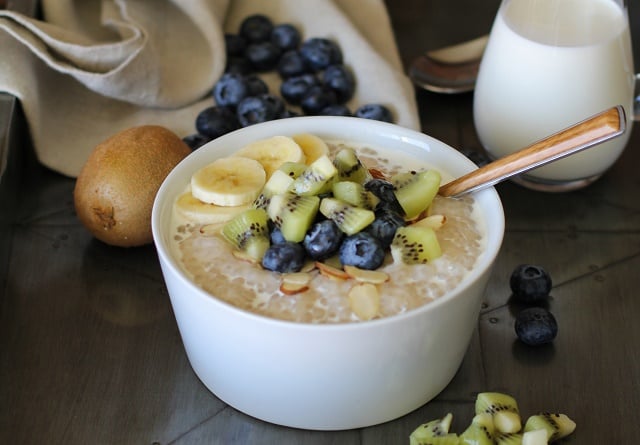 While you traditionally add tempered egg yolks to tapioca pudding, I found cooking the tapioca pearls in full-fat coconut milk made it plenty thick and rich, eliminating the need for the extra step. This recipe requires so few ingredients and yet is full of decadent flavor – you'd never know it was dairy-free, refined sugar-free, and vegan.
Recipe Adaptations:
I wouldn't recommend using any other milk besides coconut or cows. Almond milk will separate, and most non-dairy milks will not yield the same creamy texture.
Sweeten with honey for a non-vegan version, or even go the brown sugar route.
You can cook up some fresh fruit for a super flavorful fruit-infused dessert, or add cocoa powder if chocolate is your jam. Serve with some chopped nuts and fresh fruit to keep it simple and healthy.
Get your goo ball on!
My cookbook,
Paleo Power Bowls
, is now available! CLICK HERE to check it out. Thank you for your support!
If you make this recipe, please feel free to share a photo and tag @TheRoastedRoot on Instagram!
Coconut Tapioca Pudding (vegan)
Creamy dairy-free tapioca pudding recipe that only requires basic ingredients!
Ingredients
For Serving:
Sliced almonds

Sliced banana

fresh blueberries

kiwi

peeled and chopped
Instructions
Add small pearl tapioca and water to a saucepan and soak for 30 minutes. Do not drain after soaking.

Add the coconut milk and sea salt and cook over medium heat, stirring occasionally, until mixture comes to a gentle boil. Simmer uncovered over very low heat for 10 to 15 minutes, stirring occasionally, until mixture is thick.

Remove from heat and cool for 15 minutes before stirring in pure maple syrup and vanilla extract. Either serve warm, or transfer to a sealable container and refrigerate until chilled.

Serve with fresh chopped fruit, nuts, coconut milk, and/or granola
Nutrition
Serving:
1
of 4
|
Calories:
322
kcal
|
Carbohydrates:
34
g
|
Protein:
2
g
|
Fat:
18
g
|
Sugar:
18
g